---
In the News:
Marcellus and Utica fields spur Appalachian Basin pipeline development
Williams Partners LP last week announced an open season for capacity on its Western Marcellus Pipeline project. This follows Williams's August 26 open season announcement for the Diamond East project. Both of these pipeline projects are expansions on Williams's Transcontinental Pipeline (Transco) and are designed to move natural gas out of the Marcellus and Utica supply regions, increasing the takeaway capacity from that area by about 2 to 3 billion cubic feet per day (Bcfd).
Western Marcellus Pipeline, nearly 400 miles in length with a proposed capacity of 1 to 2 Bcfd, will move gas from Williams's Ohio Valley Midstream processing and gathering system in northern West Virginia to a Transco compressor station in southern Virginia, where it will join the Transco pipeline. Modification to the Transco mainline would allow both northbound flow of this gas to the proposed Zone 6 River Road point in Pennsylvania and southbound flow to Transco's Zone 3 in Mississippi.
The second project, Diamond East, proposes to move gas directly east through more than 50 miles of new pipe. This 1 Bcfd pipeline originates in Pennsylvania's Lycoming and Luzerne counties, and will move gas to markets in Pennsylvania, New Jersey, and New York.
Both of these projects have proposed completion dates of mid- to late-2018.
These two projects are among several that are planned or have recently come online in the Marcellus and Utica regions. Although many of these projects have been proposed by pipeline companies, in the last month, two projects were announced that represent partnerships between pipeline companies and natural gas utilities or marketers, with anticipated completion by late 2018.
One of these projects, PennEast Pipeline Co. LLC, announced August 12, is a joint project of AGL Resources, NJR Pipeline Company, South Jersey Industries, and UGI Energy Services. UGI will manage the project and operate the pipeline, while all will split the investment costs. The PennEast Pipeline will provide up to 1 Bcfd of natural gas to markets in the Northeast along a newly constructed 100-mile length from Luzerne County in northeastern Pennsylvania to Transco's Trenton-Woodbury interconnection in New Jersey. According to project sponsors, this project could begin in 2017.
Dominion, Duke Energy, Piedmont Natural Resources, and AGL Resources announced on September 2 their joint venture to build the Atlantic Coast Pipeline. Also a new construction project, the 550-mile Atlantic Coast Pipeline would flow 1.5 Bcfd of Marcellus gas from its origination point in Harrison County, West Virginia, which is east of Charleston, through Greensville County, Virginia, located in southeastern Virginia on the border with North Carolina, and then south into eastern North Carolina. The Atlantic Coast Pipeline would pass east of Raleigh and terminate in Robeson County, North Carolina, on the border with South Carolina. The pipeline would be built and operated by Dominion, which would also own the largest stake (45%), followed by Duke Energy (40%). An extension of this project to provide natural gas to the Hampton Roads, with termination in Chesapeake, Virginia, is being planned as well.
Overview:
(For the Week Ending Wednesday, September 10, 2014)
Prices at most major market locations outside of the Northeast increased this week. The Henry Hub spot price rose from $3.94 per million British thermal unit (MMBtu) last Wednesday, September 3, to $3.96/MMBtu yesterday, September 10.
At the New York Mercantile Exchange (Nymex) the price of the near-month (October 2014) contract rose from $3.847/MMBtu last Wednesday to $3.954/MMBtu yesterday.
Working natural gas in storage rose to 2,801 Bcf as of Friday, September 5, according to the U.S. Energy Information Administration (EIA) Weekly Natural Gas Storage Report (WNGSR). A net increase in storage of 92 Bcf for the week resulted in storage levels 13.7% below year-ago levels and 14.2% below the five-year average for this week.
The total rig count was 1,925 as of Friday, September 5, according to data from Baker Hughes Inc. This represents an increase of 11 from the previous week, and rigs are 158 units greater than last year's level. The natural gas rig count rose by 2 units to 340, and is 54 rigs below year-ago levels. The oil rig count rose by 9 to 1,584, and is 219 units greater than last year.
The Mont Belvieu natural gas plant liquids composite price rose 1.3% to $9.53/MMBtu for the week covering September 1 — September 5. The ethane price fell 2.9%, while the prices of natural gasoline, isobutane, butane, and propane rose 0.4%, 1.2%, 2.3%, and 3.0%, respectively.
Prices/Demand/Supply:
Weather is moderate, prices rise slightly. Prices fell mid-week at most market locations before rising at the end of the week. Henry Hub prices remained below the $4/MMBtu threshold as overall temperatures were mild and demand was moderate. Consumption of gas for power generation fell over the week, as slightly warm temperatures at the beginning of the report week gave way to cooler weather. Demand and supply both declined slightly.
Henry Hub prices drop mid-week. Henry Hub spot prices fell to $3.84/MMBtu on Friday, September 5, before rising back to $3.96/MMBtu at the end of the report week for an overall increase of 2 cents per MMBtu. Henry Hub prices have remained relatively low for the past several months as natural gas production growth has been very strong and summer weather has been mild. Prices at major non-Northeastern trading points also rose slightly this week. In the Rockies, Opal prices rose from $3.78/MMBtu last Wednesday to $3.87/MMBtu yesterday. Over the same period, Midwestern prices rose 11 cents to $4.03/MMBtu at the Chicago Citygate, and California prices at the PG&E Citygate rose from $4.38/MMBtu to $4.50/MMBtu over the report week. At most locations, prices fell to their lowest point on Friday before rising at the end of the report week.
Northeast consumption area spot prices drop. In the Northeast, prices at market areas fell and prices in production areas rose. The biggest decreases were in New England. At the Algonquin Citygate, which serves Boston consumers, prices fell from $4.32/MMBtu last Wednesday to $3.25/MMBtu yesterday. Similarly, prices on Tennessee Pipeline's Zone 6 200L line (which runs through Massachusetts, Rhode Island, and New Hampshire) fell from $4.25/MMBtu last Wednesday to $3.19/MMBtu yesterday. New York prices on Transcontinental Pipeline's Zone 6 fell from $3.11/MMBtu to $3.06/MMBtu.
Production area-prices increase in the Northeast. At Tennessee Pipeline's Zone 4 Marcellus trading point, prices rose from $2.40/MMBtu last Wednesday to $2.64/MMBtu yesterday. On Tuesday, Transco began unplanned maintenance on a compressor station in Bear Creek, Pennsylvania, on its Leidy line, limiting flows west to east. Prices rose from $2.51/MMBtu last Wednesday to $2.73/MMBtu yesterday. Transco expects to complete maintenance by October 3.
Nymex prices increase. At the Nymex, the price of the near-month (October 2014) contract rose by 10.7 cents/MMBtu, from $3.847/MMBtu last week to $3.954/MMBtu yesterday. However, the week's gains were erased after today's WNGSR release, when intraday Nymex prices dropped to the low $3.80s/MMBtu. A net injection larger than market expectations preceded the drop in prices.
Supply and demand fall slightly. Dry production fell this week by 0.3%, but remains 6.8% greater than year-ago levels. Maintenance on the Leidy line, as well as maintenance in the San Juan Basin in the Rockies, contributed to production declines. Declines in September are typical, as companies usually perform maintenance during the month where demand is relatively low. Imports from Canada declined week-over-week by 7.3%, and LNG sendout remained at minimal levels. Total consumption fell 1.5%, led by a 5.2% decrease in power burn.
Storage
Net injections into storage much higher than average. The net injection reported for the week ending September 5 was 92 Bcf, 32 Bcf larger than the five-year average net injection of 60 Bcf and 28 Bcf larger than last year's net injection of 64 Bcf. Working gas inventories totaled 2,801 Bcf, 443 Bcf (13.7%) less than last year at this time and 463 Bcf (14.2%) below the five-year (2009-13) average.
Storage build is larger than market expectations. Market expectations called for a build of 84 Bcf. When the EIA storage report was released at 10:30 a.m., the price for the October natural gas futures contract fell 7 cents to $3.83/MMBtu on the Nymex.
From the week ending on April 4 through the week ending on September 5, net storage injections totaled 1,979 Bcf versus 1,544 Bcf for the same 23 weeks in 2013, and 1,450 Bcf for these weeks between 2009 and 2013, on average. The average unit value of what storage holders put into storage from April 4 to September 5 was $4.34/MMBtu, 14% higher than the average value for the same 23 weeks last year of $3.80/MMBtu. The highest winter-month Nymex price (for the January 2015 contract) in trading for the week ending on September 5 averaged $4.14/MMBtu. This is 21 cents more than the current front month Nymex contract price for that week. A year ago, the difference was 34 cents/MMBtu, providing a bit more financial incentive to buy and store gas in the summer for sale in the winter.
There currently are 8 more weeks in the injection season, which traditionally occurs April 1 through October 31, although in many years injections continue into November. EIA forecasts that the end-of-October working natural gas inventory level will be 3,477 Bcf, which, as of August 12, would require an average injection of 85 Bcf per week through the end of October. EIA's forecast for the end-of-October inventory levels are below the five-year (2009-13) average peak storage value of 3,851 Bcf. To reach the five-year average peak value, average weekly injections through the end of October would need to be 131 Bcf.
All three regions post larger-than-average builds. The East, West, and Producing regions had net injections of 60 Bcf (13 Bcf larger than its five-year average), 12 Bcf (8 Bcf larger than its five-year average), and 20 Bcf (10 Bcf larger than its five-year average), respectively. Storage levels for all three regions remain below their year-ago and five-year average levels.
Temperatures during the storage report week were warmer than the 30-year average. Temperatures in the Lower 48 states averaged 75.4 degrees for the week, 4.1 degree warmer than the 30-year normal temperature and 0.6 degree cooler than during the same period last year. There were 75 population-weighted cooling degree days during the storage report week, 23 higher than the 30-year normal and 4 lower than the same period last year.
See also: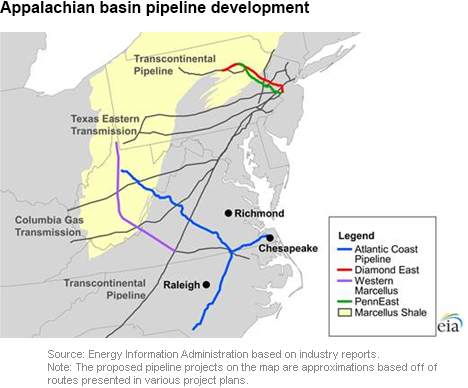 Spot Prices ($/MMBtu)

Thu,
04-Sep

Fri,
05-Sep

Mon,
08-Sep

Tue,
09-Sep

Wed,
10-Sep

Henry Hub

3.89

3.84

3.85

3.94

3.96

New York

2.76

2.09

2.51

2.92

3.06

Chicago

3.91

3.86

3.91

4.06

4.03

Cal. Comp. Avg,*

4.08

4.03

4.09

4.22

4.21

Futures ($/MMBtu)
October Contract

3.819

3.793

3.876

3.984

3.954

November Contract

3.869

3.847

3.927

4.035

3.869

*Avg. of NGI's reported prices for: Malin, PG&E citygate, and Southern California Border Avg.
Source: NGI's Daily Gas Price Index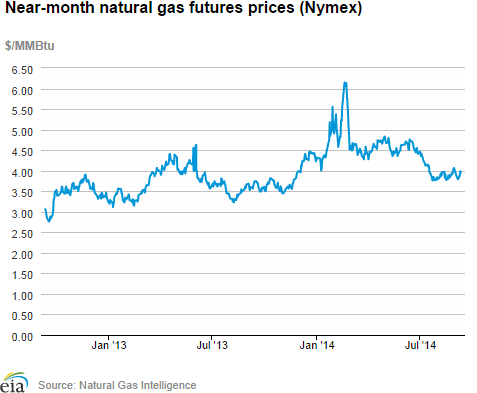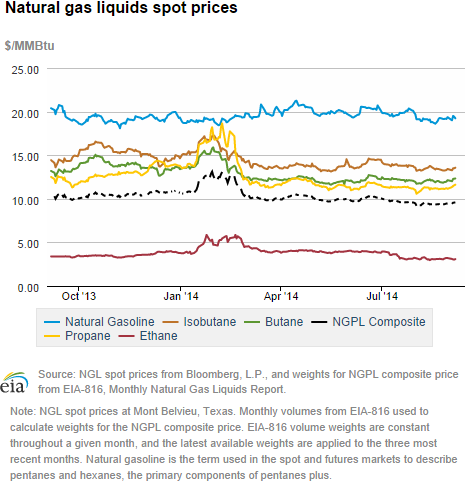 U.S. Natural Gas Supply - Gas Week: (9/3/14 - 9/10/14)

Percent change for week compared with:

last year

last week

Gross Production

6.82%

-0.33%

Dry Production

6.76%

-0.32%

Canadian Imports

-8.43%

-7.25%

West (Net)

-19.64%

-4.44%

MidWest (Net)

10.62%

-8.27%

Northeast (Net)

253.53%

109.41%

LNG Imports

-75.92%

-22.36%

Total Supply

5.26%

-0.84%

Source: BENTEK Energy LLC
U.S. Consumption - Gas Week: (9/3/14 - 9/10/14)

Percent change for week compared with:

last year

last week

U.S. Consumption

-1.7%

-1.6%

Power

-7.0%

-5.2%

Industrial

0.8%

0.6%

Residential/Commercial

8.6%

4.2%

Total Demand

-0.8%

-1.5%

Source: BENTEK Energy LLC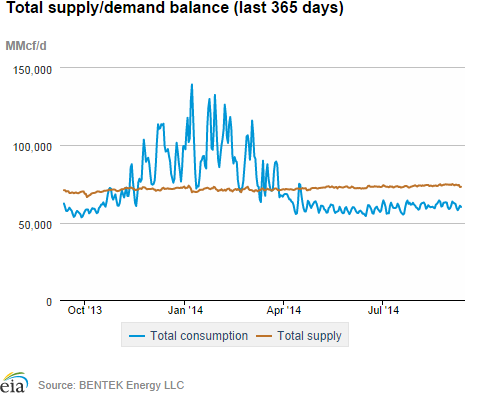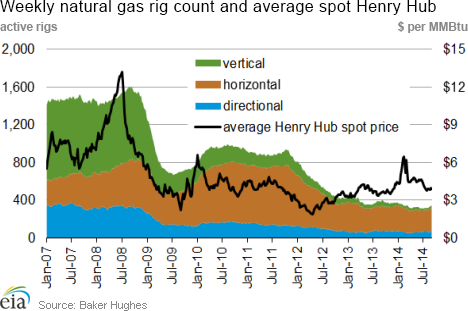 Rigs

Fri, September 05, 2014

Change from

last week

last year

Oil Rigs

1,584

0.57%

16.04%

Natural Gas Rigs

340

0.59%

-13.71%

Miscellaneous

1

0.00%

-87.50%
Rig Numbers by Type

Fri, September 05, 2014

Change from

last week

last year

Vertical

368

-1.60%

-16.74%

Horizontal

1,333

0.23%

24.00%

Directional

224

6.67%

-10.40%

Source: Baker Hughes Inc.
Working Gas in Underground Storage

Stocks
billion cubic feet (bcf)

Region

2014-09-05

2014-08-29

change

East

1,522

1,462

60

West

438

426

12

Producing

841

821

20

Total

2,801

2,709

92

Source: U.S. Energy Information Administration
Working Gas in Underground Storage

Historical Comparisons

Year ago
(9/5/13)

5-year average
(2009-2013)

Region

Stocks (Bcf)

% change

Stocks (Bcf)

% change

East

1,640

-7.2

1,737

-12.4

West

507

-13.6

476

-8.0

Producing

1,097

-23.3

1,052

-20.1

Total

3,244

-13.7

3,264

-14.2

Source: U.S. Energy Information Administration
Temperature -- Heating & Cooling Degree Days (week ending Sep 04)

HDD deviation from:

CDD deviation from:

Region

HDD Current

normal

last year

CDD Current

normal

last year

New England

5

-5

4

41

25

-1

Middle Atlantic

2

-4

2

53

25

-6

E N Central

1

-9

-4

57

29

7

W N Central

2

-13

-3

57

19

-11

South Atlantic

0

-1

0

104

27

6

E S Central

0

-1

0

97

27

3

W S Central

0

-1

0

124

19

-11

Mountain

8

-11

8

65

10

-15

Pacific

3

-4

3

58

20

-15

United States

2

-6

0

75

23

-4

Note: HDD = heating degree-day; CDD = cooling degree-day

Source: National Oceanic and Atmospheric Administration
Average temperature (°F)
7-Day Mean ending Sep 04, 2014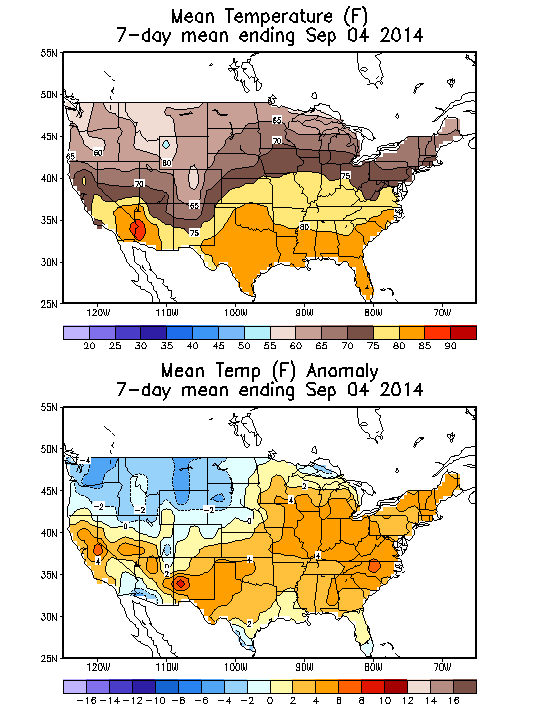 Source: NOAA/National Weather Service
Deviation between average and normal (°F)
7-Day Mean ending Sep 04, 2014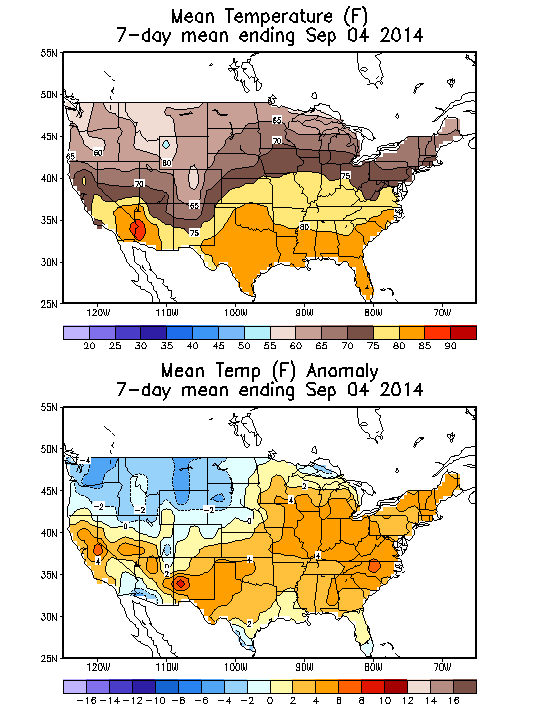 Source: NOAA/National Weather Service