---
In the News:
LNG satisfies less U.S. natural gas consumption, although helpful in New England
In five of the past six years, total U.S. natural gas consumption has peaked in January, when cold weather drives up demand from residential and commercial consumers, industrial operators, and electric generators. Daily consumption data from Bentek Energy LLC through the first three weeks of January 2014 show that this trend continues. Daily natural gas consumption averaged 97.2 billion cubic feet per day (Bcf/d), a 7% increase over the first three weeks of last year. Demand levels spiked during periods of cold weather, with heating degree days (HDDs) weighted for natural gas heating rising by 3% for the three weeks ending on January 18, 2014, compared to the same period in 2013, according to data from the National Oceanic and Atmospheric Administration.
While consumption of natural gas through the first three weeks of January exceeded comparable levels from last year, the amount of sendout from liquefied natural gas (LNG) terminals to U.S. consumers decreased by 29%, according to Bentek data. This was a decline from 0.81 Bcf/d in the first three weeks of January 2013 (0.9% of total U.S. natural gas consumption), to 0.57 Bcf/d in the first three weeks of January 2014 (0.6% of total U.S. consumption). As recently as 2010, LNG sendout satisfied 3.0% of total U.S. natural gas consumption during this period. LNG imports have declined significantly since then, with inland U.S. production meeting a greater portion of U.S. consumption, particularly in the greater Northeast.
This has resulted in reducing U.S. natural gas prices, making the nation less attractive for other countries that ship LNG in global trade. Greater inland U.S. production has increased the discount for spot natural gas traded at the U.S. benchmark Henry Hub in Erath, Louisiana, compared to the National Balancing Point spot price in the United Kingdom. The difference, which averaged $2.18 per million British thermal units (MMBtu) in 2010, increased to $6.92/MMBtu in 2013, according to EIA calculations based on data from Bloomberg, making the United States a relatively less attractive market for shipments of LNG spot cargoes.
Within the United States, the importance of LNG sendout varies greatly by region. It plays a particularly significant role in New England, which utilizes LNG sendout when demand peaks to levels that exceed available capacity to bring gas on pipelines from inland production areas. However, New England has followed a similar trend to the rest of the United States. LNG sendout for the first three weeks in January has declined from an average 22% of total consumption there from 2010-12, to 14% in 2013 and 11% in 2014, according to Bentek data. New England primarily receives its LNG supplies as sendout from two of its four available terminals, as well as from Canadian offshore production and above-ground storage facilities operated by local distribution companies (LDCs), as detailed below:
Overview:
(For the Week Ending Wednesday, January 22, 2014)
Natural gas spot prices increased in most of the country, particularly in the Northeast, where prices rose to record highs on extremely cold weather in high-population areas. The Henry Hub spot price increased from $4.44/MMBtu last Wednesday, January 15, to $4.91/MMBtu yesterday.
At the New York Mercantile Exchange, the February 2014 futures contract rose from $4.325/MMBtu last Wednesday to $4.689/MMBtu yesterday. The near-month futures price is currently above the 12-month strip (the average of the February 2014 through January 2015 contracts).
Working natural gas in storage decreased to 2,423 Bcf as of Friday, January 17, according to the U.S. Energy Information Administration (EIA) Weekly Natural Gas Storage Report (WNGSR). A net storage withdrawal of 107 Bcf for the week resulted in storage levels 19.8% below year-ago levels and 13.2% below the 5-year average.
The natural gas rotary rig count totaled 365 as of January 17, an increase of 8 from the previous week and down 64 from the same week last year, according to data released by Baker Hughes Inc. The oil rig count rose by 15 to 1,408 active units, up 92 from one year ago. The total rig count is 1,777, up 23 rigs from the previous week and up 28 from a year ago.
The weekly average natural gas plant liquids composite price rose 4.1% this week (covering January 13 through January 17) compared to the previous week, and is now at $11.27/MMBtu. Ethane and propane spot prices at Mont Belvieu, Texas, both rose significantly, driving the increase in the composite price. The ethane price rose by 7.2% over last week, while propane rose by 5.9%. Butane and isobutane prices were up as well, rising by 3.2% and 2.5%, respectively. Natural gasoline prices were flat over the period.
Prices/Demand/Supply:
Prices rose across the country, with record increases in the Northeast. The Henry Hub spot price in Erath, Louisiana, rose by 47 cents/MMBtu, from $4.44/MMBtu last Wednesday, to $4.91/MMBtu yesterday. The extremely cold weather on Tuesday and Wednesday caused substantial price increases in populous, pipeline-constrained parts of the Northeast such as New York City and Boston. Transco Zone 6 serving New York City saw record price increases, beginning the report week at $4.92/MMBtu last Wednesday, more than tripling to $16.95 on Friday, then reaching a record $121.68/MMBtu on Tuesday. (Markets were closed Monday for the holiday.) The price fell somewhat on Wednesday, closing at $84.02/MMBtu. Transco Zone 5 and Transco Zone 6 non-NY saw similar price movements. Algonquin Citygate, serving Boston, also featured extreme price jumps late in the report week. It began the week at $6.63/MMBtu, tripling to $20.90/MMBtu on Friday, reaching $58.39 on Tuesday, and closing at $78.30/MMBtu yesterday.
Natural gas futures prices rose 36 cents/MMBtu over the week. The near-month (February 2014) futures price began the report week at $4.325/MMBtu and ended at $4.689/MMBtu yesterday. At $4.689/MMBtu, February natural gas futures reached the highest level since June 2011. Forecasts for persistent cold weather and expectations of strong storage pulls contributed to this price increase. The 12-month strip (the average of the 12 contracts between February 2014 and January 2015) rose by 20 cents from $4.173/MMBtu last Wednesday to $4.369/MMBtu yesterday. The 12-month strip is currently below the near-month futures price, reflecting market expectations that elevated winter prices will be a short-term phenomenon.
Unusually cold weather contributes to propane shortages and increasing propane prices. With propane stocks well below last year's levels and cold winter weather driving up heating demand, several Midwestern states, including Michigan, Indiana, and Ohio, have suspended rules restricting hours of propane drivers to help meet product demand in the region. Going into the winter, propane stocks in the Midwest were already low because of its use in drying an unexpectedly large, wet corn crop. Increased demand and constrained supply have contributed to rising wholesale propane prices. Propane traded at Conway, Kansas, which has more direct access to PADD 2 Midwestern markets than Mont Belvieu, has increased substantially over the last few days, as well.
Gas consumption increased significantly as temperatures fall. Total natural gas consumption for the report week rose 18.9% above last week's levels, as temperatures fell once again. Consumption in the residential/commercial sectors drove the increase, rising 27.8%, largely because of the sharp temperature drop Tuesday and yesterday. The industrial sector, which also uses some amount of natural gas for heating, consumed 3.9% more gas week-on-week.
Electric sector consumption rose by 18.9%, driven largely by the Southeast and the Midwest. The largest volumetric increase in electric sector gas consumption was in the Southeast, where power burn increased from about 6 billion cubic feet per day (Bcf/d) over the weekend, to nearly 9.3 Bcf/d yesterday, increasing 29.3% over the report week. The Midwest saw the largest percentage increase because of extremely cold weather late in the report week, rising 83.5% week-on-week. Midwest consumption increased from around 0.6 Bcf/d over the weekend to around 2.4 Bcf/d Tuesday and yesterday.
Increased production and imports pushed supply up for the week. Bentek estimated dry production at 1.7% above the previous week's levels, despite some occurrences of well freeze-offs in Texas, the Southeast, and the Northeast. To meet cold-weather demand, pipeline imports from Canada increased by 9.4%, with the Northeast receiving 31.8% more Canadian gas than last report week. LNG sendout increased by 45.4%, but is a small piece of U.S. supply.
Storage
Gas storage sees a smaller-than-average net withdrawal. The net withdrawal reported for the week ending January 17 was 107 Bcf, 74 Bcf smaller than the 5-year average of 181 Bcf and 61 Bcf smaller than last year's net withdrawal of 168 Bcf. Current inventories totaling 2,423 Bcf are 598 Bcf (19.8%) less than last year at this time and 369 Bcf (13.2%) below the 5-year (2009-13) average.
Storage draw is in line with market expectations of 106 Bcf. When the EIA storage report was released, the price for the February natural gas futures contract rose a few pennies on the New York Mercantile Exchange. At 10:30 a.m., the price of the near-month (February 2014) contract increased to $4.85/MMBtu. Prices continued trading around that level in the hour following the release.
Net withdrawals in all three regions smaller than average. The East, West, and Producing regions had net withdrawals of 67 Bcf, 15 Bcf, and 25 Bcf, respectively. All three gas storage regions remain below their year-ago and 5-year average levels.
Temperatures during the storage report week warmer than normal. Temperatures in the Lower 48 states averaged 41.1 degrees for the week, 8.3 degrees warmer than the 30-year normal temperature and 2.6 degrees warmer than during the same period last year.
See also: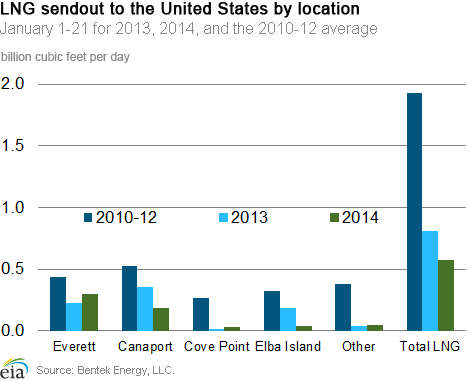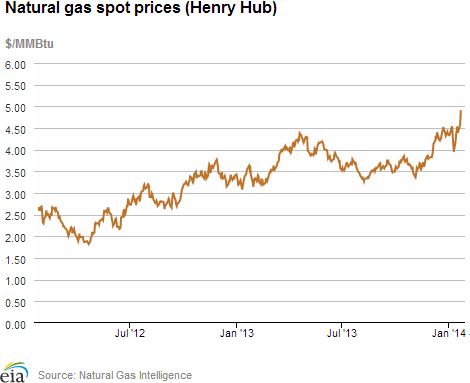 Spot Prices ($/MMBtu)

Thu,
16-Jan

Fri,
17-Jan

Mon,
20-Jan

Tue,
21-Jan

Wed,
22-Jan

Henry Hub

4.54

4.39

Holiday

4.58

4.91

New York

4.87

16.95

Holiday

121.68

84.02

Chicago

5.13

5.18

Holiday

6.73

8.99

Cal. Comp. Avg,*

4.62

4.51

Holiday

4.62

4.81

Futures ($/MMBtu)
February Contract

4.382

4.326

Holiday

4.431

4.689

March Contract

4.324

4.259

Holiday

4.358

4.550

*Avg. of NGI's reported prices for: Malin, PG&E citygate, and Southern California Border Avg.
Source: NGI's Daily Gas Price Index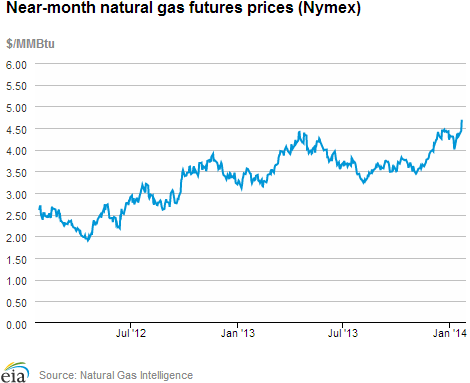 U.S. Natural Gas Supply - Gas Week: (1/15/14 - 1/22/14)

Percent change for week compared with:

last year

last week

Gross Production

4.31%

1.70%

Dry Production

4.26%

1.68%

Canadian Imports

8.67%

9.44%

West (Net)

15.56%

4.40%

MidWest (Net)

18.07%

5.15%

Northeast (Net)

-13.21%

31.79%

LNG Imports

-34.28%

45.39%

Total Supply

4.33%

2.45%

Source: BENTEK Energy LLC
U.S. Consumption - Gas Week: (1/15/14 - 1/22/14)

Percent change for week compared with:

last year

last week

U.S. Consumption

2.2%

19.5%

Power

-4.1%

18.9%

Industrial

-0.1%

3.9%

Residential/Commercial

6.1%

27.8%

Total Demand

1.9%

18.9%

Source: BENTEK Energy LLC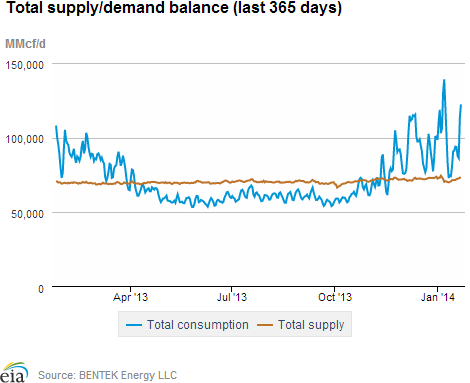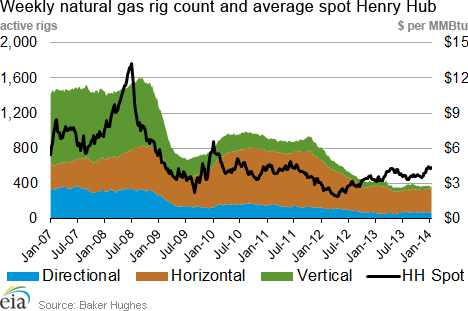 Rigs

Fri, January 17, 2014

Change from

last week

last year

Oil Rigs

1,408

1.08%

6.99%

Natural Gas Rigs

365

2.24%

-14.92%

Miscellaneous

4

0.00%

0.00%
Rig Numbers by Type

Fri, January 17, 2014

Change from

last week

last year

Vertical

385

3.49%

-12.90%

Horizontal

1,173

1.30%

4.08%

Directional

219

-2.23%

21.67%

Source: Baker Hughes Inc.
Working Gas in Underground Storage

Stocks
billion cubic feet (bcf)

Region

1/17/14

1/10/14

change

East

1,187

1,254

-67

West

349

364

-15

Producing

887

912

-25

Total

2,423

2,530

-107

Source: U.S. Energy Information Administration
Working Gas in Underground Storage

Historical Comparisons

Year ago
(1/17/13)

5-year average
(2009-2013)

Region

Stocks (Bcf)

% change

Stocks (Bcf)

% change

East

1,531

-22.5

1,440

-17.6

West

422

-17.3

390

-10.5

Producing

1,068

-16.9

962

-7.8

Total

3,021

-19.8

2,792

-13.2

Source: U.S. Energy Information Administration
Temperature -- Heating & Cooling Degree Days (week ending Jan 16)

HDD deviation from:

CDD deviation from:

Region

HDD Current

normal

last year

CDD Current

normal

last year

New England

195

-79

7

0

0

0

Middle Atlantic

193

-69

14

0

0

0

E N Central

235

-62

15

0

0

0

W N Central

240

-78

-35

0

0

0

South Atlantic

142

-41

59

8

0

-8

E S Central

149

-42

45

0

-2

-3

W S Central

93

-48

-35

1

-2

-2

Mountain

186

-49

-116

0

0

0

Pacific

71

-51

-107

0

-1

0

United States

169

-58

-20

2

0

-2

Note: HDD = heating degree-day; CDD = cooling degree-day

Source: National Oceanic and Atmospheric Administration
Average temperature (°F)
7-Day Mean ending Jan 16, 2014
Source: NOAA/National Weather Service
Deviation between average and normal (°F)
7-Day Mean ending Jan 16, 2014
Source: NOAA/National Weather Service