---
In the News:
Local distribution companies rely on supplemental fuels, stored LNG to augment gas supplies.
During times of high demand, local distribution companies (LDCs) have several other sources of natural gas supply in addition to what they buy on the spot market or under long-term contracts, have in underground storage, or have otherwise hedged for the winter. LDCs can add other gaseous substances to increase the amount of natural gas available for disposition. Additionally, many LDCs have supplies of liquefied natural gas (LNG) in above-ground storage. While these fuels make up a very small percentage of total consumption, they are important in meeting needle-peak winter demand.
As of the end of 2012, Massachusetts had the largest overall holdings of LNG supplies, at almost to 10 billion cubic feet (Bcf). The reasons for this are proximity and necessity. Pipeline infrastructure in New England is insufficient to meet peak demand; during times of cold weather prices frequently spike. On Tuesday, for example, prices at the Algonquin Citygate, which serves Boston consumers, rose to $20.75 per million British thermal unit (MMBtu). This was more than $16/MMBtu greater than the national benchmark price. Massachusetts has an LNG import terminal in Everett, and it is currently one of the few LNG import terminals in the United States that occasionally receives cargoes.
Propane-air is another option LDCs can use to supplement pipeline gas. It is a mixture of propane and air that can be added to the natural gas stream. Propane-air injection accounted for about 0.3 Bcf in 2012, which is less than 1% of total supplies, but still a useful tool for some LDCs when demand spikes. Washington Gas Light Co., which serves customers in Virginia, Maryland and the District of Columbia, reported the largest use of propane-air injections in 2012.
Number of days that futures prices were lower than spot prices (November 2010-13)

| Month | Number of trade days | Dates within month |
| --- | --- | --- |
| Nov 2010 | 1 | 18 |
| Nov 2011 | 4 | 14,16,17,18 |
| Nov 2012 | 1 | 30 |
| Nov 2013 | 8 | 1,4,8,12,13,14,19,26 |
Overview:
(For the Week Ending Wednesday, December 11, 2013)
Natural gas spot prices increased slightly at most trading locations in the country. The Henry Hub spot price rose from $3.79/MMBtu last Wednesday, November 27, to $3.88/MMBtu yesterday.
At the New York Mercantile Exchange, the January 2014 contract rose from $3.895/MMBtu last Wednesday to $3.960/MMBtu yesterday.
Working natural gas in storage decreased to 3,614 Bcf as of Friday, November 29, according to the EIA Weekly Natural Gas Storage Report (WNGSR). Stocks declined by a record 162 Bcf for the week. This is the largest November withdrawal since EIA started publishing weekly storage data in 1994. Storage levels are 5.2% below year-ago levels and 2.8% below the 5-year average.
The Baker Hughes natural gas rotary rig count totaled 367 this week, a decrease of 2 from the previous week, according to data released November 27 by Baker Hughes Inc. The oil rig count rose by 4 to 1,391 active units. The total rig count is 1,763, up 2 rigs from the previous week and down 48 from a year ago.
The weekly average natural gas plant liquids composite price fell this week (covering November 25 through November 27) compared to the previous week by 1.2%, and is now at $10.62/MMBtu. Ethane and natural gasoline rose by 3.1% and 0.2%, respectively, while propane, isobutane, and Butane fell between 2.4% and 3.1%.
Prices/Demand/Supply:
Prices rose in most parts of the country, with the exception of the price decrease in the Northeast. As cold weather took hold in the western United States, prices at locations in that area increased. Below-zero temperatures hit the Rockies on Wednesday and prices at Opal in Wyoming increased 20 cents/ MMBtu to $4.18/MMBtu from Tuesday. Generally, prices in the western United States increased between 2 cents/MMBtu and 62 cents/MMBtu from last Wednesday. The Henry Hub price rose slightly from $3.79/MMBtu last Wednesday to $3.88/MMbtu yesterday.
Warmer weather in the eastern United States, following unseasonably cold weather last week, led to price decreases at most trading points. Although price decreases at most locations in the Northeast were moderate, prices at the Algonquin Citygate, which serves Boston consumers, fell by $1.26/MMBtu to $4.13/MMBtu yesterday. The average price for the Northeast decreased by 7 cents/MMBtu from last Wednesday to $3.78/MMbtu yesterday.
Gas consumption falls despite cold in the Rockies, Southwest, and Pacific Northwest. Total natural gas consumption for the report week fell 10.5%, representing overall week-over-week declines in the industrial, residential/commercial, and power sectors. Natural gas consumption for power generation, which decreased in all parts of the country, fell the most, by 16.6% from the previous week.
Total supply declined 0.7% over the week. Total U.S. dry gas production stayed relatively flat week-over-week but remained 2.7% greater than that over the same period last year. Imports from Canada declined 9.5%, and LNG sendout remained at minimal levels.
Natural gas futures price rises 7 cents/MMBtu over the week. The near-month (January 2014) futures price began the week at $3.895/MMBtu and ended at $3.960/MMBtu. The 12-month strip (the average of the 12 contracts between January 2014 and December 2014) rose by 7 cents to $3.989/MMBtu yesterday.
Storage
Gas storage sees record high November net withdrawal. The net withdrawal reported this week was 162 Bcf, 100 Bcf larger than last year's withdrawal of 62 Bcf and 121 Bcf larger than the 5-year average withdrawal of 41 Bcf. Current inventories totaling 3,614 Bcf are 200 Bcf (5.2%) less than last year at this time, and 104 Bcf (2.7%) below the 5-year (2008-12) average.
Net withdrawal significantly larger than market expectations. When the EIA storage report was released, there was an increase in prices for natural gas futures on the New York Mercantile Exchange. At 10:30 a.m., the price of the near-month (January 2014) contract rose 7 cents to $4.09/MMBtu and remained near that level in the hour following trading.
All three regions post decreases this week. All three gas storage regions are now below their year-ago levels, though only the East remains below its 5-year average. The largest withdrawals occurred in the East and Producing regions, which had net withdrawals of 78 Bcf and 68 Bcf, respectively.
Significantly cooler weather prompts large storage withdrawal. Temperatures in the Lower 48 states averaged 36.7 degrees for the week, 5.7 degrees cooler than the 30-year normal temperature and 7.4 degrees cooler than the same period last year.
See also: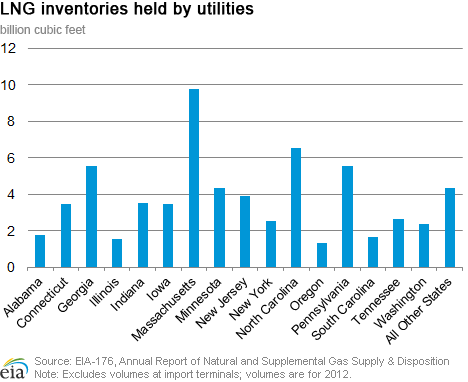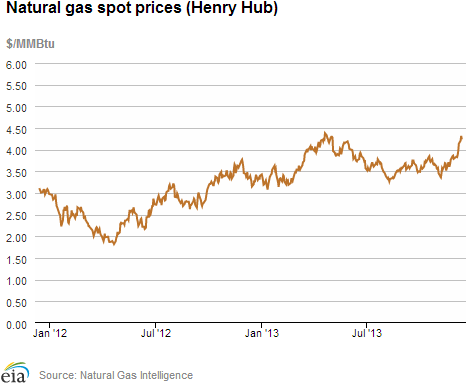 Spot Prices ($/MMBtu)

Thu,
5-Dec

Fri,
6-Dec

Mon,
9-Dec

Tue,
10-Dec

Wed,
11-Dec

Henry Hub

3.98

4.14

4.21

4.32

4.24

New York

3.96

4.17

5.04

8.02

16.54

Chicago

4.28

4.57

4.87

5.09

4.60

Cal. Comp. Avg,*

4.41

5.34

6.77

4.95

4.66

Futures ($/MMBtu)
January Contract

4.132

4.114

4.232

4.237

4.337

February Contract

4.114

4.110

4.225

4.231

4.331

*Avg. of NGI's reported prices for: Malin, PG&E citygate, and Southern California Border Avg.
Source: NGI's Daily Gas Price Index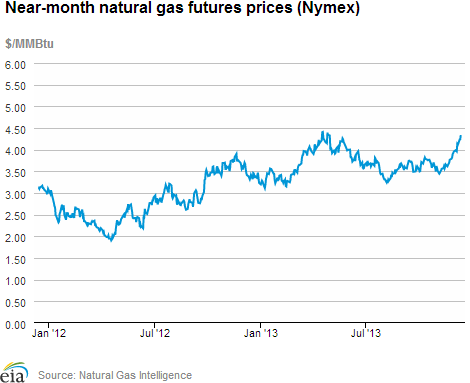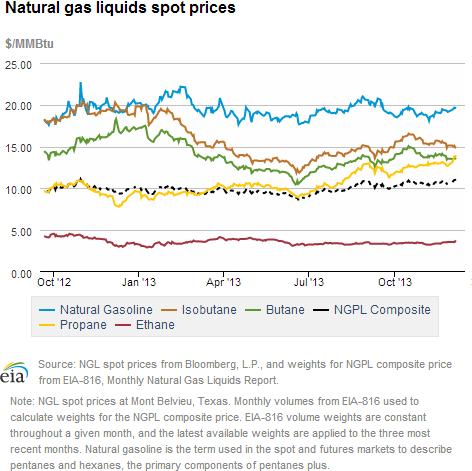 U.S. Natural Gas Supply - Gas Week: (12/4/13 - 12/11/13)

Percent change for week compared with:

last year

last week

Gross Production

-0.38%

-3.36%

Dry Production

-0.37%

-3.33%

Canadian Imports

64.16%

30.51%

West (Net)

44.70%

11.51%

MidWest (Net)

121.54%

54.05%

Northeast (Net)

22.80%

36.70%

LNG Imports

-31.95%

12.66%

Total Supply

3.37%

-0.81%

Source: BENTEK Energy LLC
U.S. Consumption - Gas Week: (12/4/13 - 12/11/13)

Percent change for week compared with:

last year

last week

U.S. Consumption

43.1%

33.9%

Power

40.5%

40.5%

Industrial

7.6%

5.8%

Residential/Commercial

66.2%

46.1%

Total Demand

42.3%

33.4%

Source: BENTEK Energy LLC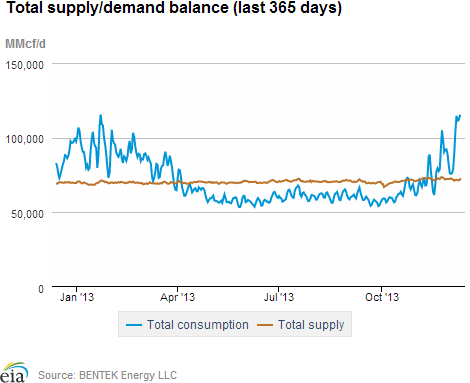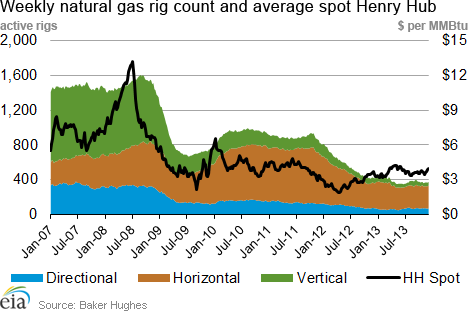 Rigs

Fri, December 06, 2013

Change from

last week

last year

Oil Rigs

1,397

0.43%

1.09%

Natural Gas Rigs

375

2.18%

-10.07%

Miscellaneous

3

-40.00%

200.00%
Rig Numbers by Type

Fri, December 06, 2013

Change from

last week

last year

Vertical

415

0.24%

-17.98%

Horizontal

1,137

0.89%

3.08%

Directional

223

0.45%

16.75%

Source: Baker Hughes Inc.
Working Gas in Underground Storage

Stocks
billion cubic feet (bcf)

Region

12/6/13

11/29/13

change

East

1,815

1,861

-46

West

504

530

-26

Producing

1,214

1,223

-9

Total

3,533

3,614

-81

Source: U.S. Energy Information Administration
Working Gas in Underground Storage

Historical Comparisons

Year ago
(12/6/12)

5-year average
(2008-2012)

Region

Stocks (Bcf)

% change

Stocks (Bcf)

% change

East

1,976

-8.1

1,970

-7.9

West

547

-7.9

498

1.2

Producing

1,283

-5.4

1,173

3.5

Total

3,806

-7.2

3,642

-3.0

Source: U.S. Energy Information Administration
Temperature -- Heating & Cooling Degree Days (week ending Dec 05)

HDD deviation from:

CDD deviation from:

Region

HDD Current

normal

last year

CDD Current

normal

last year

New England

216

13

23

0

0

0

Middle Atlantic

199

5

33

0

0

0

E N Central

201

-22

57

0

0

0

W N Central

233

-16

68

0

0

0

South Atlantic

133

-2

25

9

-1

-1

E S Central

111

-28

18

3

2

3

W S Central

79

-22

37

8

5

-10

Mountain

196

-13

60

0

0

-1

Pacific

109

-1

36

0

-1

0

United States

165

-10

43

3

1

-1

Note: HDD = heating degree-day; CDD = cooling degree-day

Source: National Oceanic and Atmospheric Administration
Average temperature (°F)
7-Day Mean ending Dec 05, 2013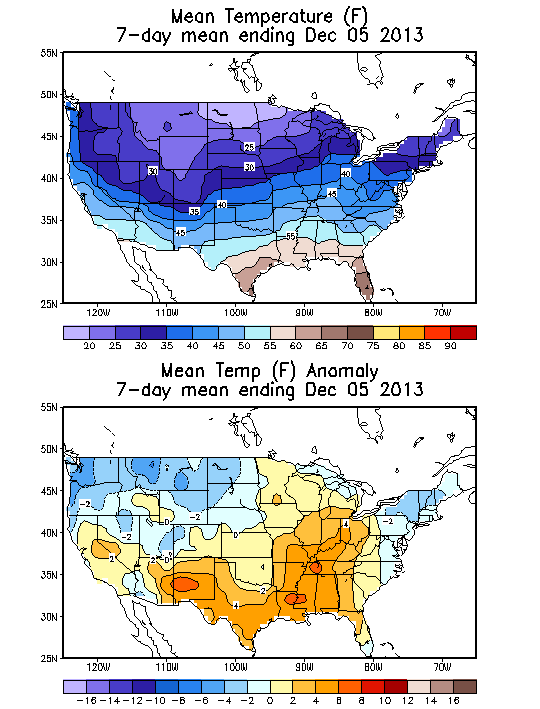 Source: NOAA/National Weather Service
Deviation between average and normal (°F)
7-Day Mean ending Dec 05, 2013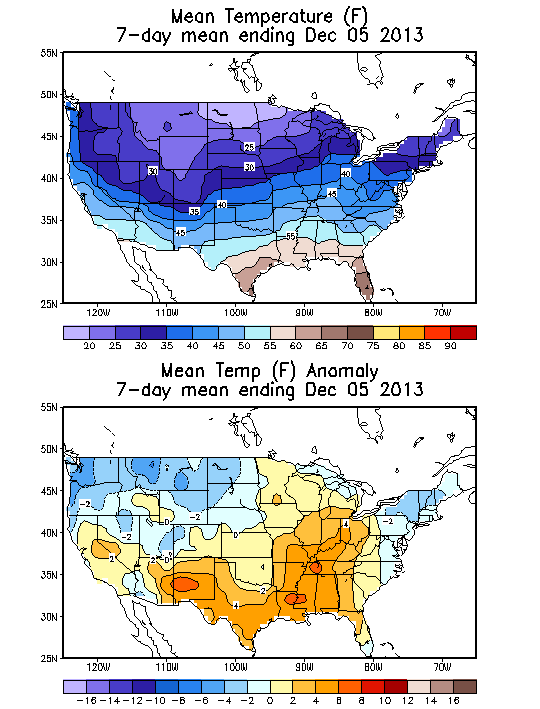 Source: NOAA/National Weather Service