---
In the News:
In the News: Australia building 8 Bcf/d of new LNG export capacity
Construction is underway on seven projects that would expand Australia's liquefied natural gas (LNG) export capacity by a combined 8.0 billion cubic feet per day (Bcf/d) by the end of this decade. This would raise Australia's total LNG export capacity to 11.2 Bcf/d, which is more than one-third of the 2012 world LNG trade and more than 200% above Australia's current 3.2 Bcf/d of capacity.
The largest of the seven projects currently underway is the Gorgon LNG terminal, which is scheduled to begin operations by March 2015, and would ultimately have the capacity to liquefy and ship 2.0 Bcf/d of natural gas. Gorgon LNG is on the northwest coast of Australia and will sell to contracted customers in Japan, China, India, Korea, and Mexico, as well as to spot market customers. Three other LNG export projects (Ichthys, Wheatstone, and Prelude), providing 2.8 Bcf/d of additional capacity, are underway in the basins off Australia's northwest coast. The remaining three projects (Queensland Curtis, Australia Pacific, and Gladstone) are under construction in the northeastern Queensland region; they are slated to provide the capacity to ship 3.3 Bcf/d of natural gas extracted from coalbed methane.
There are an additional seven planned projects that would add a combined 4.4 Bcf/d to Australia's LNG export capacity. All of these projects have announced in-service dates between 2016 and 2020, but some will likely come on line after their announced dates since construction has not started.
Australia exported 2.7 Bcf/d of LNG last year, with more than three-quarters of its exports destined for Japan, making Australia the world's third-largest LNG exporter behind Qatar and Malaysia. Australia's largest existing terminal is North West Shelf LNG, which has capacity to ship 2.1 Bcf/d of natural gas, primarily to contract buyers in Japan. Australia became Japan's largest LNG supplier last year in the wake of the Fukushima power plant accident, and also has a number of long-term purchase agreements with all three Chinese national oil companies
This information and much more is available in EIA's just-updated Australia Country Analysis Brief.
Overview:
(For the Week Ending Wednesday, June 26, 2013)
Natural gas hub prices decreased in most areas during the report week (Wednesday, June 19, to Wednesday, June 26). The Henry Hub spot price closed yesterday at $3.72 per million British thermal units (MMBtu), down 21.0 cents from $3.93 the previous week.
At the New York Mercantile Exchange (Nymex), futures prices also decreased over the week. The near-month contract (July 2013) expired yesterday at $3.707, down 25.6 cents from $3.963 per MMBtu a week earlier. The August contract price, which today becomes the prompt month price, settled yesterday at $3.737.
Working natural gas in storage increased to 2,533 Bcf as of Friday, June 21, according to the U.S. Energy Information Administration's (EIA) Weekly Natural Gas Storage Report (WNGSR). A net storage injection of 95 Bcf for the week resulted in storage levels 17.1% below year-ago levels, and 1.2% below the 5-year average.
The Baker Hughes natural gas rotary rig count totaled 349 active units as of Friday, June 21, a decline of 4 rigs from the previous week. The oil rig count decreased by 8 to 1,405. Bentek Energy reported dry gas production this week averaged 64.7 Bcf/d, up nearly 2% from a year ago.
The weekly average natural gas plant liquids composite price decreased this week (covering June 17 through 21) by 4% to $8.55 per MMBtu from the previous week. Propane, butane, and isobutane spot prices decreased by around 6%. The natural gasoline spot price was down slightly for the week, while the ethane spot price remained unchanged.
Prices/Demand/Supply:
Natural gas prices fell over the report week at most locations with the exception of price increases in the Northeast. The Henry Hub spot price decreased from $3.93 per MMBtu last Wednesday to $3.72 per MMBtu yesterday. With warmer-than-normal temperatures arriving on Monday, natural gas prices in the Northeast increased between 10% and 20%. Since Monday, the temperature in Boston has been around 10 degrees Fahrenheit above normal. The price at the Algonquin Citygate, which serves Boston, rose $1.05 to close at $5.48 per MMBtu on Monday. Similarly, the price at Transcontinental Pipeline's Zone 6 trading point for delivery into New York City rose $0.36, to $4.27 per MMBtu during the same period.
At the Nymex, the futures price decreased during the week. The price of the July 2013 contract, which expired yesterday, fell from $3.963 per MMBtu last Wednesday to $3.707 yesterday. Prices during bidweek trading, which began on Monday, remained relatively flat. The 12-month strip (the average of the 12 contracts between July 2013 and June 2014) decreased from $4.097 per MMBtu last Wednesday to $3.899 per MMBtu yesterday.
Total consumption increased week-on-week with large gains in power demand. According to Bentek Energy Services estimates, total natural gas consumption in the United States increased by 3.0%, driven by an 11.1% increase in the power sector. Warmer temperatures across most of the country, and the corresponding increase in air conditioning load, likely contributed to the demand increases. Natural gas consumed in the power sector increased across most of the country. However, gains were particularly strong in the Northeast and Midwest where week-over-week consumption increased 35.5% and 78.3%, respectively, as temperatures increased by around 20 degrees Fahrenheit from the previous week. Increases in natural gas consumed for electric generation offset the decreases of natural gas used in the industrial, residential, and commercial sectors.
Total supply increased 1.3% during the week due to higher natural gas production and imports. According to Bentek, dry natural gas production and imports increased by 0.5% and 9.3%, respectively, during the week. Dry natural gas production this week was 2.0% higher than a year ago.
Butane and isobutane spot prices at Mont Belvieu, Texas, were the lowest since July 31, 2009, and July 22, 2009 respectively, with butane falling to $10.46 per MMBtu on Monday, June 17, and isobutane falling to $11.86 per MMBtu on Friday, June 21. Butane demand faces seasonality as less is blended into gasoline during summer months. Additionally, Bentek estimates that production of butane is up by about 10% compared to year-to-date production in 2012, and exports of liquid petroleum gases, including butane, are facing structural constraints. Two new natural gas liquids pipelines were brought on line, which may also be increasing supply to Mont Belvieu. The Sand Hills Pipeline is capable of transporting 200,000 barrels per day (bbl/d) from the Permian Basin to the Gulf Coast, and the Southern Hills Pipeline is now able to transport 150,000 bbl/d from the Midcontinent to the Gulf Coast.
Storage
Working natural gas in storage increased to 2,533 Bcf as of Friday, June 21, according to EIA's WNGSR. The 95 Bcf gain in storage levels was higher than both the 5-year average and year-ago stock changes for the week, which had net injections of 79 Bcf and 58 Bcf, respectively. Despite the large build, current inventories remain 522 Bcf (17.1%) less than last year at this time and 31 Bcf (1.2%) below the 5-year average of 2,564 Bcf.
All three storage regions posted increases higher than their 5-year averages this week. In particular, the East and Producing regions stocks increased by 58 Bcf (the 5-year average net injection is 53 Bcf) and 24 Bcf (the 5-year average net injection is 14 Bcf), respectively. In the Producing region, working natural gas inventories increased 2 Bcf (0.8%) in salt cavern facilities and increased 21 Bcf (3.1%) in nonsalt cavern facilities. The West region's net injection this week was 13 Bcf, 1 Bcf higher than the 5-year average net injection.
The net injection was larger than the market expectations, which, on average, were reported to be 89 Bcf. Natural gas near-month Nymex futures prices fell over $0.10 per MMBtu to just over $3.60 per MMBtu around the time of WNGSR's release. In the hour following the release, prices remained around this level.
Seasonal temperatures during the storage report week supported this week's net injection. Temperatures in the Lower 48 states were 0.3 degrees warmer than the 30-year normal temperature and 0.6 degrees cooler than the same period last year, and averaged 71.4 degrees for the week, compared to 72.0 degrees last year and the 30-year normal of 71.1 degrees.
See also: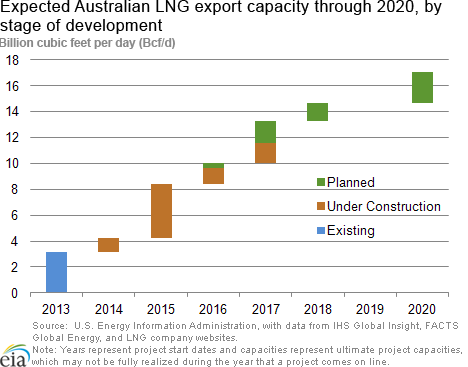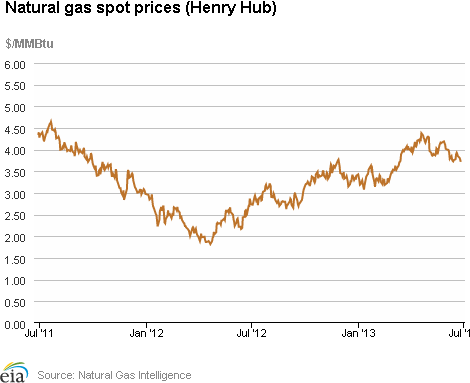 Spot Prices ($/MMBtu)

Thu,
20-Jun

Fri,
21-Jun

Mon,
24-Jun

Tue,
25-Jun

Wed,
26-Jun

Henry Hub

3.90

3.85

3.81

3.77

3.72

New York

3.90

3.91

4.27

4.60

4.17

Chicago

3.94

3.87

3.88

3.82

3.75

Cal. Comp. Avg,*

3.81

3.73

3.73

3.72

3.72

Futures ($/MMBtu)
July Contract

3.877

3.771

3.739

3.647

3.707

August Contract

3.899

3.793

3.760

3.670

3.737

*Avg. of NGI's reported prices for: Malin, PG&E citygate, and Southern California Border Avg.
Source: NGI's Daily Gas Price Index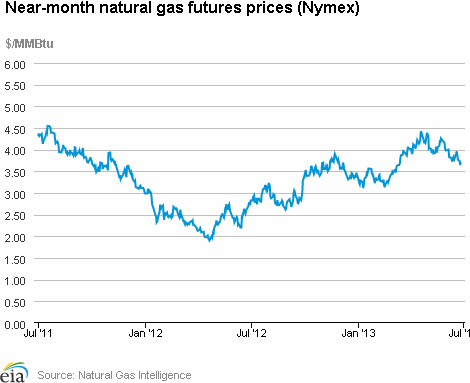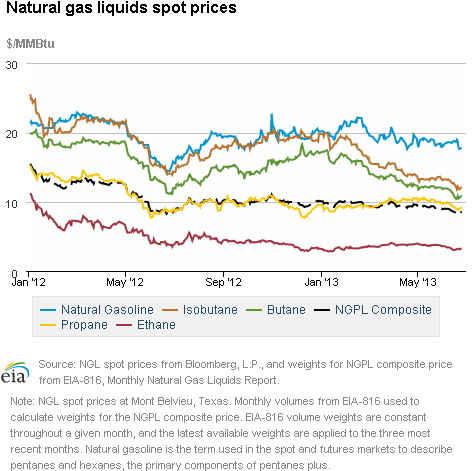 U.S. Natural Gas Supply - Gas Week: (6/19/13 - 6/26/13)

Percent change for week compared with:

last year

last week

Gross Production

2.05%

0.48%

Dry Production

2.03%

0.48%

Canadian Imports

-10.25%

9.33%

West (Net)

-2.38%

3.59%

MidWest (Net)

12.26%

-2.62%

Northeast (Net)

-71.54%

-397.93%

LNG Imports

-34.00%

55.63%

Total Supply

0.67%

1.31%

Source: BENTEK Energy LLC
U.S. Consumption - Gas Week: (6/19/13 - 6/26/13)

Percent change for week compared with:

last year

last week

U.S. Consumption

-8.76%

3.00%

Power

-15.49%

11.14%

Industrial

-1.02%

-1.65%

Residential/Commercial

-1.84%

-6.85%

Total Demand

-8.51%

3.03%

Source: BENTEK Energy LLC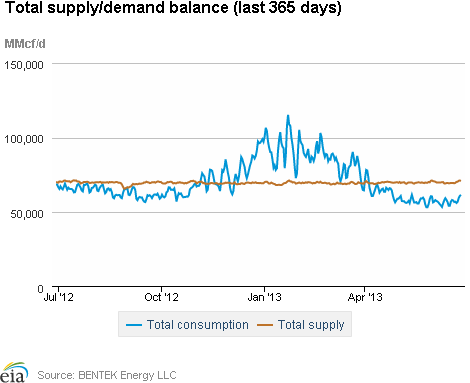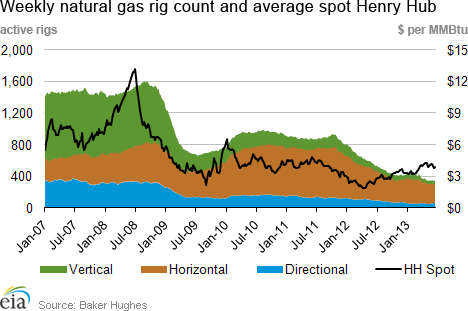 Rigs

Fri, June 21, 2013

Change from

last week

last year

Oil Rigs

1,405

-0.57%

-1.13%

Natural Gas Rigs

349

-1.13%

-35.49%

Miscellaneous

5

0.00%

25.00%
Rig Numbers by Type

Fri, June 21, 2013

Change from

last week

last year

Vertical

438

-0.68%

-22.89%

Horizontal

1,079

-0.64%

-7.38%

Directional

242

-0.82%

3.86%

Source: Baker Hughes Inc.
Working Gas in Underground Storage

Stocks
billion cubic feet (bcf)

Region

6/21/13

6/14/13

change

East

1,143

1,085

58

West

433

420

13

Producing

957

933

24

Total

2,533

2,438

95

Source: U.S. Energy Information Administration
Working Gas in Underground Storage

Historical Comparisons

Year ago
(6/21/12)

5-year average
(2008-2012)

Region

Stocks (Bcf)

% change

Stocks (Bcf)

% change

East

1,472

-22.4

1,232

-7.2

West

455

-4.8

388

11.6

Producing

1,128

-15.2

944

1.4

Total

3,055

-17.1

2,564

-1.2

Source: U.S. Energy Information Administration
Temperature -- Heating & Cooling Degree Days (week ending Jun 20)

HDD deviation from:

CDD deviation from:

Region

HDD Current

normal

last year

CDD Current

normal

last year

New England

13

3

-10

6

-9

5

Middle Atlantic

6

0

2

18

-11

2

E N Central

10

1

3

26

-10

-31

W N Central

2

-7

-2

53

6

-10

South Atlantic

0

-1

-1

78

1

12

E S Central

0

0

0

73

1

-1

W S Central

0

0

0

117

13

9

Mountain

5

-14

1

65

9

-4

Pacific

6

-9

-1

16

-8

-14

United States

5

-3

0

50

-1

-4

Note: HDD = heating degree-day; CDD = cooling degree-day

Source: National Oceanic and Atmospheric Administration
Average temperature (°F)
7-Day Mean ending Jun 20, 2013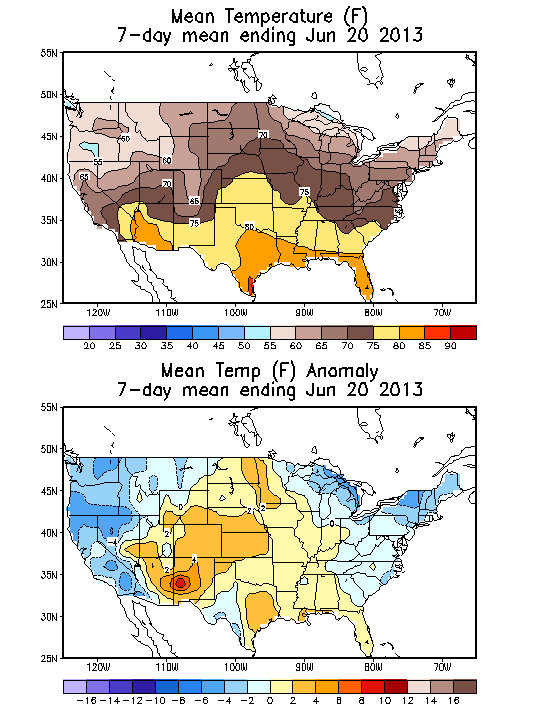 Source: NOAA/National Weather Service
Deviation between average and normal (°F)
7-Day Mean ending Jun 20, 2013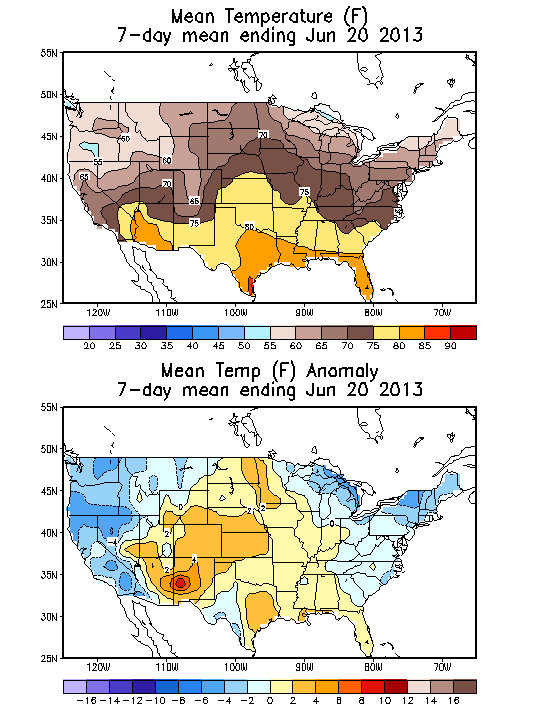 Source: NOAA/National Weather Service