---
In the News:
Working Natural Gas in Storage at All-Time High for March.
Thursday's release of the Energy Information Administration's (EIA) Weekly Natural Gas Storage Report (WNGSR) represented the last full week of the winter heating season (November 1 March 31). Although traditionally net withdrawals of working natural gas in storage occur during these months, this year net injections began the week ending March 16. Because the latest WNGSR represents inventory levels as of March 30, it excludes the last day of the winter heating season; official end-of-month levels will not be reported until the May Natural Gas Monthly is released.
Working natural gas in storage as of March 30 totaled 2,479, which is 816 billion cubic feet (Bcf) greater than the 5-year (2007-2011) maximum for that date. Inventories for each week ending in March have been greater than 2,300 Bcf; the next highest March inventory level of any year for the 18 years for which EIA has data is 1,887 Bcf, recorded for the week ending March 3, 2006. The high levels of storage this winter have been the result of abundant supplies as well as a very mild winter that has reduced demand for natural gas.
Overview:
(For the Week Ending Wednesday, April 4, 2012)
Although temperatures generally remained somewhat higher than normal, natural gas prices increased at many trading points across the country with cooler weather following record-high March temperatures. The Henry Hub price closed at $2.06 per million British thermal units (MMBtu) on April 4, up 2 cents for the week.
At the New York Mercantile Exchange (NYMEX), the May 2012 natural gas contract fell 14.1 cents per MMBtu for the week, closing yesterday at $2.141 per MMBtu.
Working natural gas in storage rose last week to 2,479 Bcf as of Friday, March 30, according to EIA's WNGSR. An implied storage build of 42 Bcf for the week positioned storage volumes 845 Bcf above year-ago levels.
The natural gas rotary rig count, as reported March 30 by Baker Hughes Incorporated, rose by 6 to 658 active units, marking the first increase after 11 consecutive weeks of decline. Meanwhile, oil-directed rigs increased by 5 to 1,318 units.



Prices:

Consistent with increasing natural gas prices across much of the country, the Henry Hub day ahead price rose 1.0 percent during the report week, from $2.04 per MMBtu the previous Wednesday to $2.06 per MMBtu yesterday. Prices fell consistently through Monday, dropping to $1.89 per MMBtu (dipping below $2.00 per MMBtu for the first time since September 2009) before rebounding on Tuesday and Wednesday.

At the NYMEX, the May 2012 contract fell from $2.282 per MMBtu last Wednesday to $2.141 per MMBtu yesterday, a decrease of 14.1 cents (6.2 percent). Prices reached a low of $2.126 on Friday, before climbing to $2.187 on Tuesday, then falling back again yesterday.

Natural gas prices rose at most downstream trading locations over the week as temperatures generally dropped from last month's record-highs. Spot price increases were particularly pronounced on Tuesday in the Northeast. At the Algonquin Citygate trading point for delivery into Boston, the spot price rose by 45 cents, and at the Transcontinental Pipeline's Zone 6 trading point (which serves New York City markets), the spot price increased by 21 cents. Spot prices in the Pacific Northwest (represented by the Sumas trading point located in Washington State) rose daily after dipping modestly on Thursday, ending the week up 24 cents (12.9 percent).

After daily decreases from Thursday through Sunday, U.S. demand rebounded on Monday and Tuesday, registering an overall increase for the week. According to estimates from BENTEK Energy LLC (Bentek), domestic natural gas consumption rose by 3.7 percent from the previous week. The residential/commercial sector posted the largest increase, z5.8 percent, while power and industrial sector demand ended the week up 3.8 percent and 1.4 percent, respectively.

U.S. imports from Canada were up 10.6 percent for the week, driven by increases in all reporting regions. Shipments to the Northeast and Midwest rose by 15.1 and 12.6 percent, respectively, reflecting colder weather in each of those regions. In combination with essentially flat dry gas production and an overall drop in LNG sendout, this resulted in virtually no change in overall supply over the week. According to Bentek estimates, the week's average total natural gas supply declined 0.4 percent from last week's average. Domestic weekly dry gas production dipped slightly, down 0.8 percent from last week, although it is over 4.0 percent higher compared with the same period last year. Despite the week-over-week increase, total weekly imports from Canada fell 4.6 percent from year-ago volumes due largely to a significant decrease in imports into the Northeast region. Reflecting still warmer-than-normal temperatures in the Northeast, U.S. LNG sendout declined 42.0 percent over the week; volumes were 68.2 percent below year-ago levels.

Storage

Working natural gas in storage increased to 2,479 Bcf as of Friday, March 30, according to EIA's WNGSR. This represents a net injection of 42 Bcf from the previous week. The implied net injection is greater than both the five-year (2007-2011) average injection for the week of 8 Bcf and last year's storage change, which was a net withdrawal of 29 Bcf. (Frosty temperatures at the end of March last year likely led to the net withdrawal.) Inventories increased this week in all three regions. The East posted an 11 Bcf injection; the West, 5 Bcf; and the Producing Region, 26 Bcf.

Stocks this week are currently 887 Bcf greater than their year-ago levels of 1,592 Bcf, and 934 Bcf greater than the 5-year average of 1,545. Inventories in the East and Producing regions are more than 60 percent greater than their respective 5-year average levels, and working inventories in all three regions are well above historical levels.

Working inventories in the Producing Region increased in both salt caverns and non-salt facilities. Stocks in salt caverns increased on the week by 11 Bcf, to total 260 Bcf, while non-salt cavern storage facilities posted a net injection of 16 Bcf to total 1,045 Bcf. (Because of independent rounding, non-salt and salt totals do not add to the overall total for the region.)

Temperatures across most of the country were unseasonably warm. The overall temperature in the lower 48 states averaged 55.1 degrees, 7.7 degrees warmer than the 30-year normal and 13.9 degrees warmer than the same week the previous year. All Census divisions were warmer than last year, with the East North Central and West North Central the warmest in comparison to last year and the 30-year normal, with average temperatures more than 20 degrees greater than last year. Averaging 51.1 degrees during the week ending March 29, the Pacific Northwest was the only region with temperatures that were colder relative to normal.





See also:
Working Natural Gas in Storage, End of March Inventories
billion cubic feet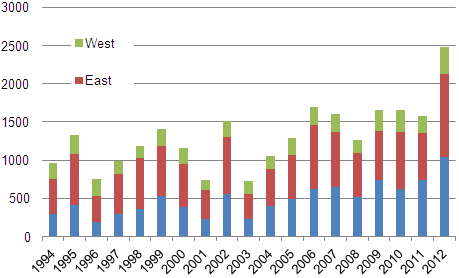 Source: 1994 - 2011 data from Natural Gas Monthly; 2012 data from WNGSR, data are as of March 30.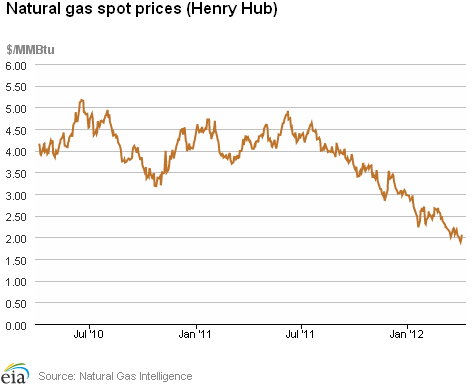 Spot Prices ($/MMBtu)

Thu,
29-Mar

Fri,
30-Mar

Mon,
02-Apr

Tue,
03-Apr

Wed,
04-Apr

Henry Hub

2.02

2.00

1.89

1.95

2.06

New York

2.21

2.16

2.08

2.29

2.32

Chicago

2.07

1.99

1.97

2.11

2.20

Cal. Comp. Avg,*

2.15

2.15

2.15

2.29

2.34

Futures ($/MMBtu)
May Contract

2.149

2.126

2.152

2.187

2.141

June Contract

2.270

2.259

2.290

2.318

2.267

*Avg. of NGI's reported prices for: Malin, PG&E citygate, and Southern California Border Avg.
Source: NGI's Daily Gas Price Index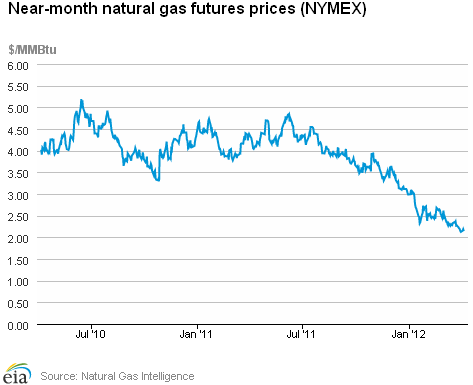 U.S. Natural Gas Supply - Gas Week: (3/28/12 - 4/4/12)

Percent change for week compared with:

last year

last week

Gross Production

3.90%

-0.82%

Dry Production

4.35%

-0.91%

Canadian Imports

-4.41%

10.74%

West (Net)

11.69%

8.09%

MidWest (Net)

5.28%

12.51%

Northeast (Net)

-45.49%

15.60%

LNG Imports

-68.26%

-42.04%

Total Supply

2.65%

-0.41%

Source: BENTEK Energy LLC
U.S. Consumption - Gas Week: (3/28/12 - 4/4/12)

Percent change for week compared with:

last year

last week

U.S. Consumption

0.15%

2.89%

Power

41.87%

1.63%

Industrial

-2.52%

1.30%

Residential/Commercial

-22.78%

5.76%

Total Demand

0.06%

2.82%

Source: BENTEK Energy LLC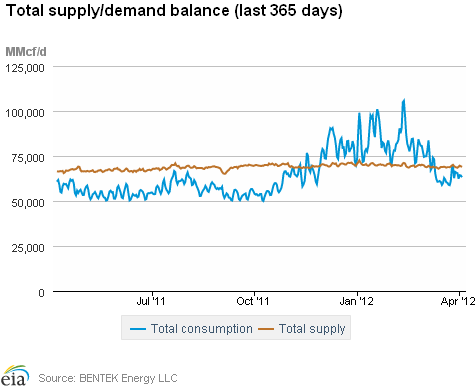 Weekly natural gas rig count and spot Henry Hub
active rigs$ per MMBtu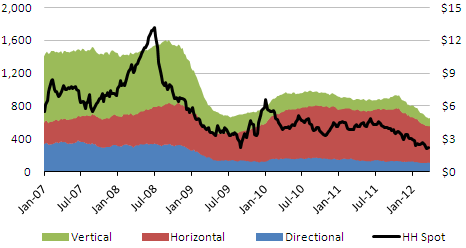 Source: Baker Hughes
Rigs

Fri, March 30, 2012

Change from

last week

last year

Oil Rigs

1,318

0.38%

49.71%

Natural Gas Rigs

658

0.92%

-26.82%

Miscellaneous

3

0.00%

-62.50%
Rig Numbers by Type

Fri, March 30, 2012

Change from

last week

last year

Vertical

566

0.53%

6.03%

Horizontal

1,180

0.51%

15.44%

Directional

233

0.87%

1.32%

Source: Baker Hughes Inc.
Working Gas in Underground Storage

Stocks
billion cubic feet (bcf)

Region

3/30/12

3/23/12

change

East

1,085

1,074

11

West

349

344

5

Producing

1,045

1,019

26

Total

2,479

2,437

42

Source: U.S. Energy Information Administration
Working Gas in Underground Storage

Historical Comparisons

Year ago
(3/30/11)

5-year average
(2007-2011)

Region

Stocks (Bcf)

% change

Stocks (Bcf)

% change

East

631

71.9

660

64.4

West

220

58.6

241

44.8

Producing

741

41.0

644

62.3

Total

1,592

55.7

1,545

60.5

Source: U.S. Energy Information Administration
Temperature -- Heating & Cooling Degree Days (week ending Mar 29)

HDD deviation from:

CDD deviation from:

Region

HDD Current

normal

last year

CDD Current

normal

last year

New England

132

-46

-83

0

0

0

Middle Atlantic

107

-56

-116

0

0

0

E N Central

88

-82

-157

0

0

0

W N Central

66

-101

-169

2

1

2

South Atlantic

39

-52

-92

22

10

5

E S Central

26

-59

-88

8

3

8

W S Central

15

-33

-36

29

16

8

Mountain

85

-58

-63

4

0

2

Pacific

97

15

-2

0

-1

0

United States

77

-51

-94

8

3

3

Note: HDD = heating degree-day; CDD = cooling degree-day

Source: National Oceanic and Atmospheric Administration
Average temperature (°F)
7-Day Mean ending Mar 29, 2012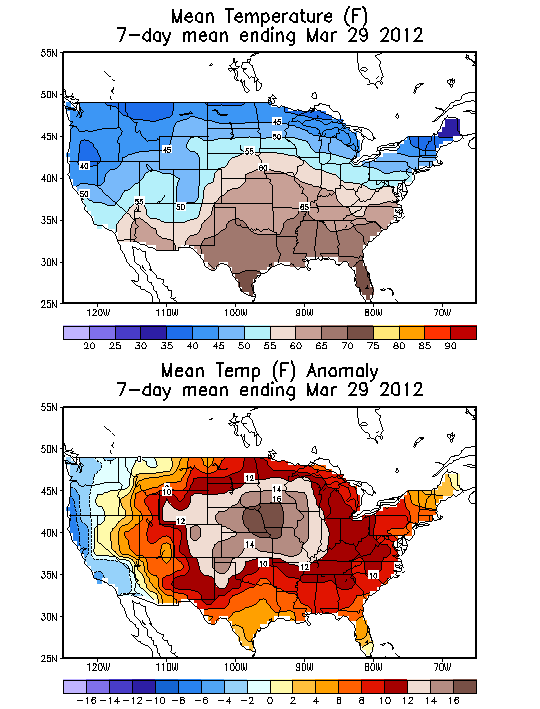 Source: NOAA/National Weather Service
Deviation between average and normal (°F)
7-Day Mean ending Mar 29, 2012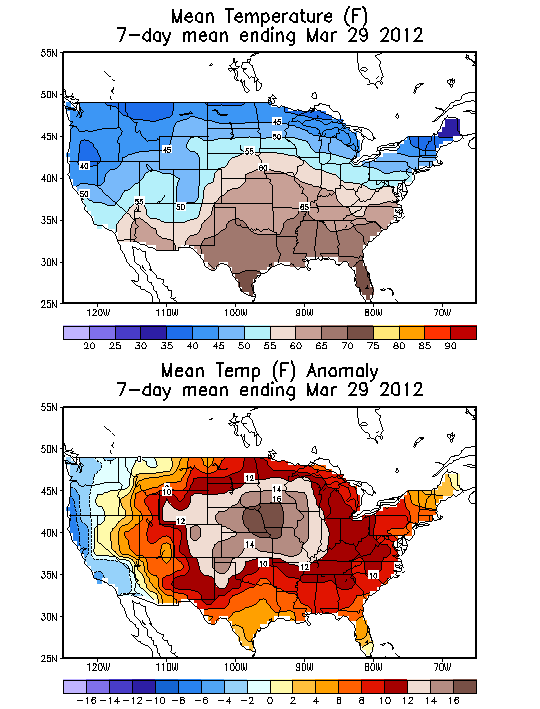 Source: NOAA/National Weather Service
Monthly dry shale gas production
billion cubic feet per day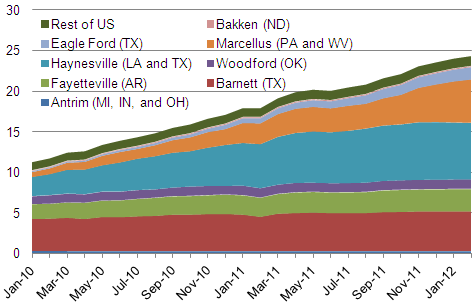 Source: Lippman Consulting, Inc. Gross withdrawal estimates are as of February 2012 and converted to dry production estimates with EIA-calculated average.