---
In the News:
Alternative Transportation Fuels Infrastructure Increases from Mid-2000s Levels.
Natural gas vehicles can run on either compressed natural gas (CNG) or liquefied natural gas (LNG). LNG and CNG fueling infrastructure has grown over the past several years, and recently, companies in the private sector have announced plans to invest in infrastructure and new technology.
Currently, the vast majority of vehicles that use natural gas are powered by CNG, and over 900 of these fueling stations exist in the United States, with more than 50 percent restricted to private access only. The state with the most CNG fueling stations is California with more than 200, followed by New York with more than 100. Most of the 45 LNG fueling stations in the U.S. are also located in California. CNG stations reached levels greater than 1,400 in the late 1990s. Since then, the largest declines have occurred in Georgia, Texas, Ohio, and New Mexico, while California and New York have seen increases. The General Electric Company, Chesapeake Energy Corporation, and Clean Energy Fuels Corporation each recently announced initiatives to expand natural gas vehicle fueling infrastructure.
Natural gas is used mostly as a fuel for large fleets of vehicles, such as trucks and buses, although Honda manufactures a Civic that runs on natural gas. This week, both General Motors and Chrysler announced plans to manufacture natural-gas powered pickup trucks.
Overview:
(For the Week Ending Wednesday, March 14, 2012)
Persistent warmer-than-normal temperatures throughout the report week contributed to the lengthening downward trend in natural gas prices across much of the country. The Henry Hub price closed at $2.13 per million British thermal units (MMBtu) on March 14, down 11 cents for the week.
At the New York Mercantile Exchange (NYMEX), the April 2012 natural gas contract fell 1.8 cents per MMBtu for the week to close at $2.284 per MMBtu.
Working natural gas in storage fell last week to 2,369 billion cubic feet (Bcf) as of Friday, March 9, according to the U.S. Energy Information Administration's (EIA) Weekly Natural Gas Storage Report (WNGSR). The implied net withdrawal for the week was 64 Bcf, positioning storage volumes 735 Bcf above year-ago levels.
The natural gas rotary rig count, as reported March 9 by Baker Hughes Incorporated, fell for the ninth consecutive week, decreasing by 21 to 670 active units, 24 percent below last year's level for the week and the lowest count since July 2009. Meanwhile, the oil-directed rig count rose by 3 to 1296, 57 percent above the year-ago level.



Prices:

Consistent with declining natural gas prices across most of the nation, the Henry Hub day ahead price fell 4.9 percent, from $2.24 per MMBtu the previous Wednesday to $2.13 per MMBtu yesterday. With the exception of last Thursday (when there was no change), the price fell consistently throughout the week as warmer temperatures moved across most of the country.

At the NYMEX, the April 2012 contract fell from $2.302 per MMBtu last Wednesday to $2.284 per MMBtu yesterday, a decrease of 1.8 cents (0.8 percent). There was some volatility during the week, however, with prices reaching a high of $2.324 on Friday before falling to a low of $2.269 the following Monday, then rebounding on Tuesday.

Natural gas prices continued to trend downward across most of the country throughout the week. An exception was for deliveries into the Pacific Northwest, where prices at the Sumas trading point (located in Washington State) fell toward the end of last week before rebounding on Monday, ending the week up 2 cents (0.9%). Prices for the Algonquin citygate, which serves Boston markets, began the week at $2.97 per MMBtu, rose 16 cents per MMBtu on Tuesday before dropping significantly, ending the week at $2.45 per MMBtu, down $0.52 per MMBtu for the report week. Similarly, spot prices at Transcontinental Pipeline's Zone 6 trading point for delivery into New York City started the week at $2.44 per MMBtu, then rose briefly before declining steadily throughout the balance of the week, closing yesterday at $2.21 per MMBtu (down 9.4 percent). The Chicago citygate spot price over the same period registered daily declines, finishing the week at $2.12 per MMBtu (down 8.6 percent).

After increasing modestly on Friday, consumption posted daily declines through Wednesday, registering an overall decline for the week. According to estimates from BENTEK Energy LLC (Bentek), domestic natural gas consumption fell by 13.1 percent from the previous week. The residential/commercial sector posted the largest decrease, 24.9 percent, while power and industrial sector demand ended the week down 4.1 percent and 3.7 percent, respectively.

U.S. imports from Canada were down 8.0 percent for the week, driven by a 46.2 percent drop in shipments to the Northeast, reflecting much warmer temperatures in that region, that offset comparatively modest increases to both the West and Midwest regions. In combination with essentially flat dry gas production and an overall drop in LNG sendout, this resulted in virtually no change in overall supply over the week. According to Bentek estimates, the week's average total natural gas supply declined 0.1 percent from last week's average. Compared with the same period last year, however, domestic weekly dry gas production was up 5.4 percent, and both total weekly imports from Canada and U.S. LNG sendout volumes were below last year's levels, by 6.0 percent and 63.9 percent, respectively.

Storage

Working natural gas in storage fell to 2,369 Bcf as of Friday, March 9, according to EIA's WNGSR. This represents an implied net withdrawal of 64 Bcf from the previous week, which is less than both the 5-year average implied net withdrawal of 79 Bcf, but higher than the year-ago implied net withdrawal of 60 Bcf. Inventories in all three regions posted declines, with the East Region contributing the most to this week's implied net withdrawal, with a decrease of 55 Bcf (a 4.9 percent decline from the previous week's level).

Stocks were 807 Bcf higher than the 5-year average level of 1,562 Bcf and 735 Bcf higher than last year at this time. Inventories in the Producing Region remain well above their 5-year average, at 361 Bcf (59.8 percent) above the region's 5-year average of 604 Bcf . Stocks in the East and West Regions are also above their 5-year averages by 340 Bcf (47.3 percent) and 106 Bcf (44.4 percent), respectively.

Temperatures during the week ending March 8 were 3.7 degrees warmer than the 30-year normal temperature and 3.1 degrees warmer than the same period last year. During the week all regions with the exception of the Mountain Region in the West were warmer than normal. The East North Central Region in the Midwest and the Middle Atlantic Region in the Northeast were particularly warm, averaging 5.6 and 5.4 degrees warmer than normal, respectively. The average temperature in the Mountain Region in the West was cool, averaging 0.4 degrees cooler than normal. Heating degree-days nationwide were down 15.0 percent from normal and 12.9 percent from last year.





See also:
U.S. CNG and LNG Alternative Fueling Stations, 1992 - 2011
number of fueling dtations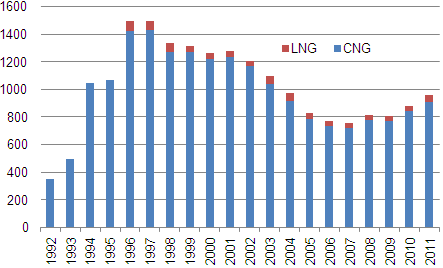 Source: Department of Energy Alternative Fuels Data Center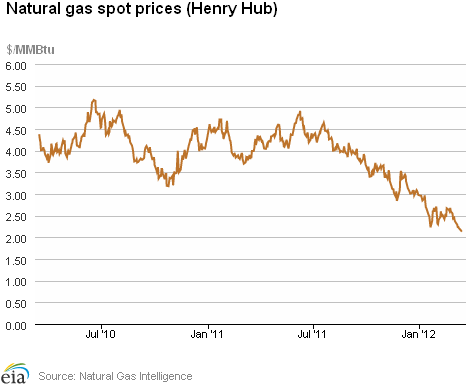 Spot Prices ($/MMBtu)

Thu,
08-Mar

Fri,
09-Mar

Mon,
12-Mar

Tue,
13-Mar

Wed,
14-Mar

Henry Hub

2.24

2.21

2.17

2.15

2.13

New York

2.45

2.36

2.29

2.25

2.21

Chicago

2.28

2.24

2.20

2.13

2.12

Cal. Comp. Avg,*

2.32

2.25

2.26

2.24

2.25

Futures ($/MMBtu)
April Contract

2.272

2.324

2.269

2.299

2.284

May Contract

2.372

2.425

2.373

2.408

2.416

*Avg. of NGI's reported prices for: Malin, PG&E citygate, and Southern California Border Avg.
Source: NGI's Daily Gas Price Index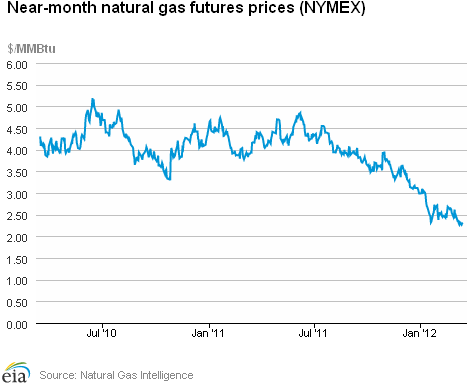 U.S. Natural Gas Supply - Gas Week: (3/7/12 - 3/14/12)

Percent change for week compared with:

last year

last week

Gross Production

5.41%

-0.05%

Dry Production

6.03%

-0.06%

Canadian Imports

-5.97%

-8.04%

West (Net)

23.95%

3.97%

MidWest (Net)

-10.68%

12.43%

Northeast (Net)

-47.13%

-46.24%

LNG Imports

-63.94%

-11.86%

Total Supply

4.02%

-0.75%

Source: BENTEK Energy LLC
U.S. Consumption - Gas Week: (3/7/12 - 3/14/12)

Percent change for week compared with:

last year

last week

U.S. Consumption

-4.61%

-13.09%

Power

29.64%

-4.08%

Industrial

-1.99%

-3.69%

Residential/Commercial

-23.67%

-24.86%

Total Demand

-4.70%

-12.73%

Source: BENTEK Energy LLC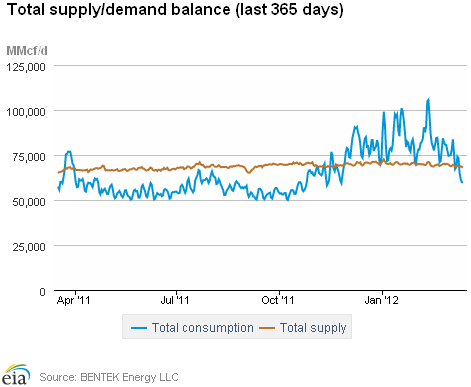 Weekly natural gas rig count and spot Henry Hub
active rigs$ per MMBtu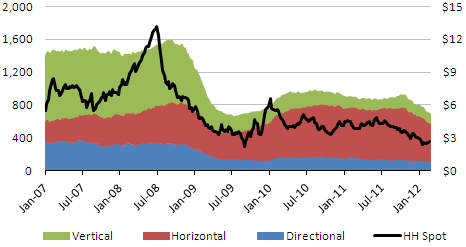 Source: Baker Hughes
Rigs

Fri, March 09, 2012

Change from

last week

last year

Oil Rigs

1,296

0.23%

56.35%

Natural Gas Rigs

670

-3.04%

-21.66%

Miscellaneous

7

40.00%

-16.67%
Rig Numbers by Type

Fri, March 09, 2012

Change from

last week

last year

Vertical

597

-1.16%

18.66%

Horizontal

1,164

-0.51%

19.27%

Directional

212

-1.40%

-4.44%

Source: Baker Hughes Inc.
Working Gas in Underground Storage

Stocks
billion cubic feet (bcf)

Region

3/9/12

3/2/12

change

East

1,059

1,114

-55

West

345

352

-7

Producing

965

967

-2

Total

2,369

2,433

-64

Source: U.S. Energy Information Administration
Working Gas in Underground Storage

Historical Comparisons

Year ago
(3/9/11)

5-year average
(2007-2011)

Region

Stocks (Bcf)

% change

Stocks (Bcf)

% change

East

712

48.7

719

47.3

West

222

55.4

239

44.4

Producing

701

37.7

604

59.8

Total

1,634

45.0

1,562

51.7

Source: U.S. Energy Information Administration
Temperature -- Heating & Cooling Degree Days (week ending Mar 08)

HDD deviation from:

CDD deviation from:

Region

HDD Current

normal

last year

CDD Current

normal

last year

New England

201

-23

-20

0

0

0

Middle Atlantic

174

-38

-33

0

0

0

E N Central

183

-40

-33

0

-1

0

W N Central

194

-29

-48

0

-1

0

South Atlantic

109

-21

-18

13

3

2

E S Central

94

-31

-13

3

0

3

W S Central

48

-30

-20

12

3

5

Mountain

174

2

3

0

-1

0

Pacific

92

-2

7

0

-1

0

United States

142

-25

-21

4

1

1

Note: HDD = heating degree-day; CDD = cooling degree-day

Source: National Oceanic and Atmospheric Administration
Average temperature (°F)
7-Day Mean ending Mar 08, 2012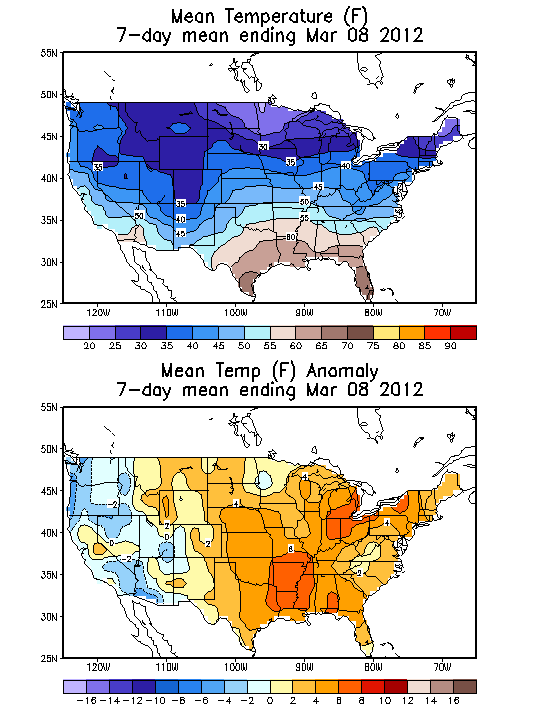 Source: NOAA/National Weather Service
Deviation between average and normal (°F)
7-Day Mean ending Mar 08, 2012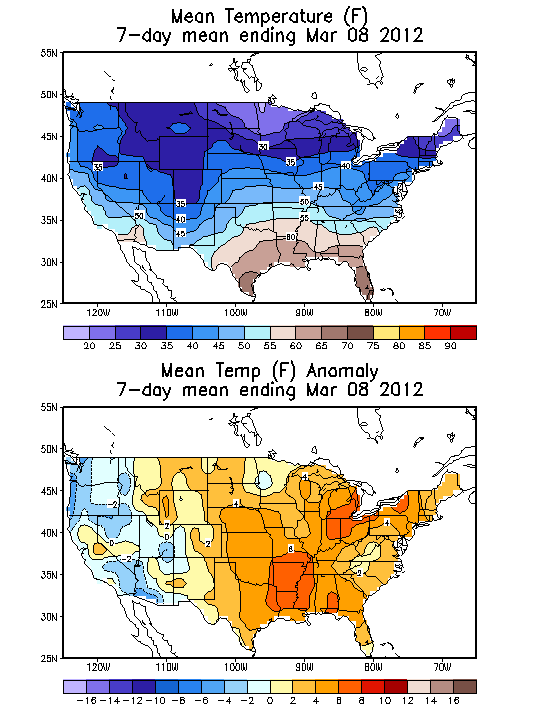 Source: NOAA/National Weather Service
Monthly dry shale gas production
billion cubic feet per day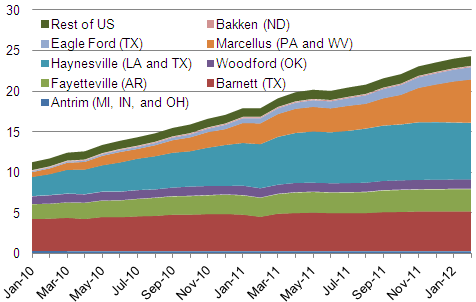 Source: Lippman Consulting, Inc. Gross withdrawal estimates are as of February 2012 and converted to dry production estimates with EIA-calculated average.