JUMP TO: In The News | Overview | Prices | Storage
---
In the News:
Several major pipeline outages across the United States earlier this week affected flow patterns in parts of the country, and may have contributed downward price pressure at pricing points associated with production areas, as produced natural gas had difficulty entering the pipeline grid, according to recent trade press reports and analysis by BENTEK Energy, LLC (Bentek). Price changes as a direct result of the pipeline outages are difficult to isolate in general, and in this report week particularly as warmer-than-normal weather near the end of the report week also likely contributed to the overall drop in prices.
Among the major outages:
El Paso Corporation declared force majeure on the Ruby Pipeline, the 680-mile pipeline from Opal, Wyoming, to interconnections near Malin, Oregon, following a fire and damage to a compressor station in Utah. Flows have been at zero since Sunday, and the pipeline is expected to be back in service sometime between December 17 and December 21. While Kinder Morgan's Rockies Express Pipeline (REX) initially picked up some Wyoming production and sent it eastward, REX outflows fell off somewhat on Wednesday. Spot prices at the Opal Hub fell after the event and are expected to remain weak until Ruby returns to service.
TransCanada Corporation's Bison Pipeline, which brings Rockies gas to Midwestern markets, was offline December 10 through December 13. Bison is a 300-mile pipeline running from Gillette, Wyoming, and through Montana before terminating at interconnections with Northern Border's system in North Dakota. Midwest imports from Canada increased about 8.2 percent from the previous week, according to Bentek, likely to bring gas to Upper Midwestern markets that Bison would normally serve.
Millennium Pipeline extends from Steuben County, New York, to Rockland County, New York, serving New York and other Northeastern markets. Prices on Tennessee Gas Pipeline's Line 300 Zone 4, a trading point near Marcellus shale production areas, dropped to $2.23 per million British thermal units (MMBtu) on December 12, before rebounding to almost $3 per MMBtu when the pipeline came back online Wednesday. The pipeline conducted a pig run (a type of cleaning operation) on December 13 before coming back online.
Overview:
(For the Week Ending Wednesday, December 14, 2011)
An absence of significantly lower seasonal temperatures, coupled with continued high storage levels, put downward pressure on natural gas prices this week. The Henry Hub price closed down 37 cents for the week to $3.08 per MMBtu on December 14.
At the New York Mercantile Exchange (NYMEX), the January 2012 natural gas contract slid 28.5 cents per MMBtu for the week to close at $3.136 per MMBtu, a two-year low.
Working natural gas in storage eased only slightly last week to 3,729 billion cubic feet (Bcf) as of Friday, December 9, according to the U.S. Energy Information Administration's (EIA) Weekly Natural Gas Storage Report (WNGSR). The implied net withdrawal for the week was 102 Bcf, positioning storage volumes 154 Bcf above year-ago levels.
The natural gas rotary rig count, as reported December 9 by Baker Hughes Incorporated, fell by 36 to 820 active units. Meanwhile, oil-directed rigs increased by 29 to 1,161 units.
Prices:
Movement in the Henry Hub day-ahead price reflected the widespread decline of market prices in this week's cash market by falling 10.7 percent from $3.45 per MMBtu the previous Wednesday to $3.08 per MMBtu yesterday.
As the accompanying table on the left shows, the Henry Hub cash price progressed steadily downward with five days of consecutive losses even though end-use markets increased their weekly gas consumption modestly.
At the NYMEX, the January 2012 contract fell every day except Tuesday, from $3.421 per MMBtu last Wednesday to $3.136 per MMBtu yesterday, a drop of 28.5 cents (8.3 percent). Over the same period, the February 2012 natural gas futures contract dropped slightly less, by 27.1 cents per MMBtu, and now stands only 5.1 cents above the January contract, possibly reflecting the effects of high natural gas storage levels and continued strong production.
All downstream trading locations responded with lower prices from reduced weather load this week. Spot prices at Transcontinental Pipeline's Zone 6 trading point for delivery into New York City, which started the week at $3.94 per MMBtu, showed a 58 cent per MMBtu price loss over the week (Wednesday to Wednesday) to close at $3.36 per MMBtu (down 14.7 percent). Over the same period, the Chicago citygate spot price registered a somewhat smaller 39 cent per MMBtu price loss (from $3.60 per MMBtu last Wednesday) and ended the week at $3.21 per MMBtu (down 10.8 percent).
In the midst of somewhat seasonal, but not especially cold temperatures, consumption posted a modest increase for the week. According to estimates from Bentek, domestic gas consumption increased by 7.9 percent over last week. The residential/commercial sector led the increase with a 12.3 percent gain while the industrial sector tallied a 2.6 percent increase. The power sector posted a 5.0 percent increase indicating a building, but still generally light, weather load.
Despite last week's continued production erosion and clear price slide, overall supply was up slightly. According to Bentek estimates, the week's overall average total gas supply posted a 0.9 percent increase from last week's level despite another softening in dry gas production. Domestic weekly dry gas production averaged 63.3 Bcf per day, 0.5 percent lower than the previous week, but 7.7 percent above this time last year. The slight fall in this week's dry gas production was partially offset by a 17.5 percent increase in imports from Canada, which averaged 6.1 Bcf per day over the period. Imports from Canada stand 22.1 percent below year-ago volumes for the same week. There were also modest supply gains registered in the liquefied natural gas (LNG) arena during the week, where imports averaged 787 million cubic feet (MMcf) per day but remained 40.9 percent below year-ago levels.
Storage
Working natural gas in storage fell to 3,729 Bcf as of Friday, December 9, according to EIA's WNGSR. This represents an implied net withdrawal of 102 Bcf, much smaller than both the 5-year average withdrawal of 142 Bcf and last year's 154 Bcf draw. Stocks are now 347 Bcf above the 5-year average and 154 Bcf above last year.
After three weeks of small builds, the West Region saw a major draw last week, with storage dropping by 24 Bcf. This was the only region to exceed the average draw for the week. Unusually cold temperatures throughout much of the region increased heating demand. The next several weeks could also see relatively large draws in the West due to a fire and resulting outage in the Ruby Pipeline, which moves gas into the region.
Temperatures during the week ending December 8 were 1.0 degrees warmer than the 30-year normal temperature and 5.9 degrees warmer than last year. While the overall temperatures were warm during the week, regional differences were very large. The Mountain Region averaged just 27.1 degrees, 7.3 degrees colder than normal, while New England averaged 43.0 degrees, 8.1 degrees warmer than normal. Heating degree-days for the week were down only 3.9 percent from normal, but down 18.3 percent from last year.
See also: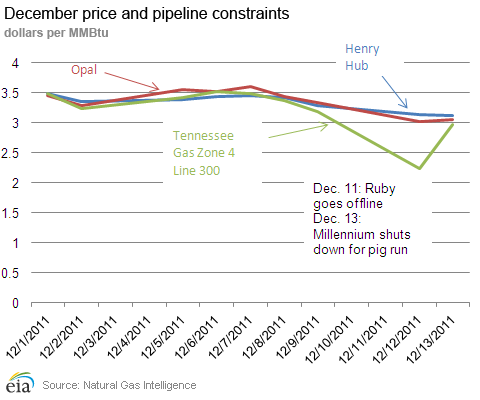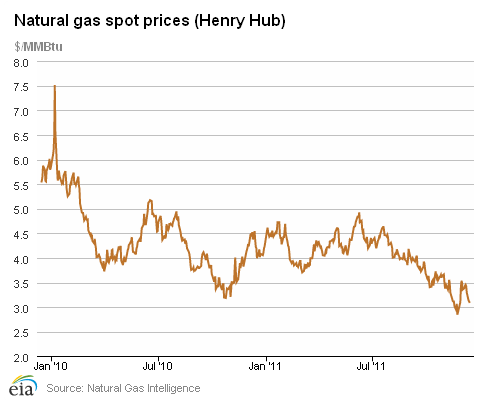 Spot Prices ($/MMBtu)

Thu,
08-Dec

Fri,
09-Dec

Mon,
12-Dec

Tue,
13-Dec

Wed,
14-Dec

Henry Hub

3.42

3.29

3.13

3.11

3.08

New York

3.80

3.80

3.46

3.45

3.36

Chicago

3.61

3.42

3.21

3.22

3.21

Cal. Comp. Avg,*

3.62

3.55

3.58

3.59

3.56

Futures ($/MMBtu)
January delivery

3.457

3.317

3.254

3.279

3.136

February delivery

3.486

3.353

3.294

3.321

3.187

*Avg. of NGI's reported avg. prices for: Malin, PG&E citygate, and Southern California Border Avg.
Source: NGI's Daily Gas Price Index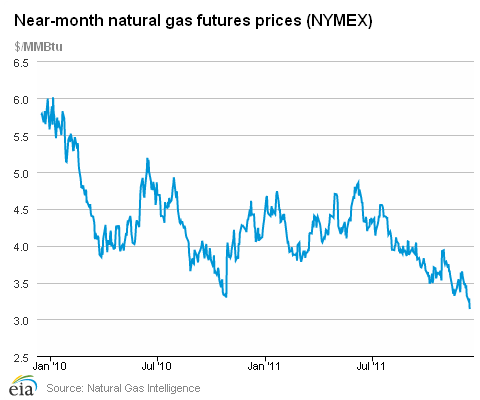 Working Gas in Underground Storage

Stocks
billion cubic feet (bcf)

Historical Comparisons

Year ago
(12/9/10)

5-year average
(2006-2010)

Region

12/9/11

12/2/11

change

Stocks (Bcf)

% change

Stocks (Bcf)

% change

East

2008

2058

-50

1907

5.3

1875

7.1

West

493

517

-24

468

5.3

458

7.6

Producing

1228

1256

-28

1200

2.3

1048

17.2

Total

3729

3831

-102

3575

4.3

3382

10.3

Source: U.S. Energy Information Administration
Temperature -- Heating & Cooling Degree Days (week ending Dec. 8)

HDD deviation from:

CDD deviation from:

Region

HDD Current

normal

last year

CDD Current

normal

last year

New England

154

-57

-80

0

0

0

Middle Atlantic

156

-45

-83

0

0

0

E N Central

204

-27

-90

0

0

0

W N Central

278

21

-24

0

0

0

South Atlantic

111

-29

-99

9

0

8

E S Central

127

-17

-88

0

-1

0

W S Central

131

25

6

2

-1

1

Mountain

265

51

87

0

0

0

Pacific

134

22

40

0

-1

0

United States

174

-7

-39

2

0

2

Note: HDD = heating degree-day; CDD = cooling degree-day

Source: National Oceanic and Atmospheric Administration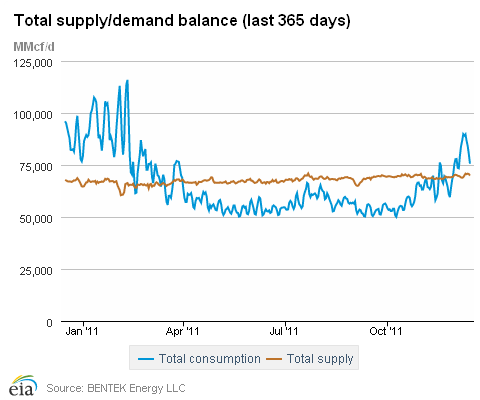 U.S. Natural Gas Supply - Gas Week: (12/7/11 - 12/14/11)

Percent change for week compared with:

last year

last week

Gross Production

6.92%

-0.46%

Dry Production

7.73%

-0.51%

Canadian Imports

-22.11%

17.53%

West (Net)

4.00%

9.68%

MidWest (Net)

-31.34%

8.16%

Northeast (Net)

-39.60%

48.34%

LNG Imports

-40.89%

8.53%

Total Supply

3.32%

0.94%

Source: BENTEK Energy LLC
U.S. Consumption - Gas Week: (12/7/11 - 12/14/11)

Percent change for week compared with:

last year

last week

U.S. Consumption

-7.73%

7.93%

Power

-2.49%

4.98%

Industrial

-1.89%

2.59%

Residential/Commercial

-12.47%

12.28%

Total Demand

-8.79%

-6.14%

Source: BENTEK Energy LLC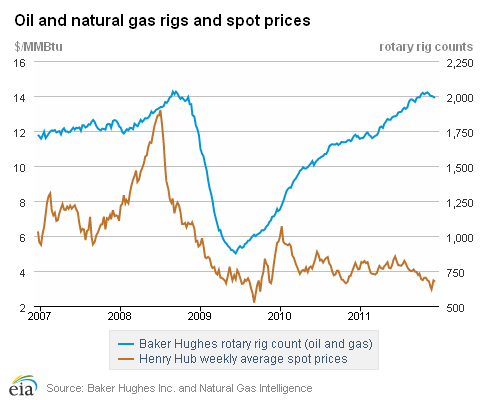 Rigs

Fri, December 09, 2011

Change from

last week

last year

Oil Rigs

1161

2.56%

48.36%

Natural Gas Rigs

820

-4.21%

-9.70%

Miscellaneous

6

20.00%

-58.33%
Rig Numbers by Type

Fri, December 02, 2011

Change from

last week

last year

Vertical

619

-0.16%

16.54%

Horizontal

1151

-0.43%

19.67%

Directional

217

0.00%

-3.56%

Source: Baker Hughes Inc.