Released: October 20, 2011 at 2:00 P.M.
Next Release: Thursday, October 27, 2011
Overview (For the Week Ending Wednesday, October 19, 2011)
Natural gas prices posted modest net gains at most market locations across the lower 48 States. The Henry Hub spot price increased from $3.54 per million Btu (MMBtu) last Wednesday, October 12, to $3.58 per MMBtu yesterday, October 19. Intra-week trading showed strong rallies followed by quick retreats.

At the New York Mercantile Exchange, the price of the near-month futures contract (November 2011) gained about 10 cents on the week from $3.489 per MMBtu last Wednesday to $3.586 per MMBtu yesterday.

Working natural gas in storage rose to 3,624 billion cubic feet (Bcf) as of Friday, October 14, according to EIA's Weekly Natural Gas Storage Report (WNGSR).

After 2 weeks of double digit increases, the natural gas rotary rig count as of October 14, as reported by Baker Hughes Incorporated, rose by a modest 1 rig to 936. The oil rotary rig count, on the other hand, posted a gain of 10 to reach 1080.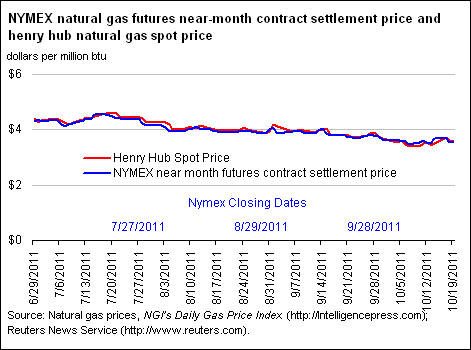 More Summary Data
Henry Hub prices posted only slight increases over the week. Although projections of significantly cooler temperatures in the Midwest and other portions of the country likely caused prices to rise at all points but one on Monday, they retreated at most points on Tuesday and Wednesday, with the Henry Hub price closing the report week out at $3.58 per MMBtu, only a slight increase over last Wednesday's $3.54 per MMBtu. Monday's rally saw gains at the Chicago citygate, Transcontinental's Zone 6 (Transco Z6) point for delivery into New York, and the Henry Hub of 29, 31, and 23 cents, respectively. Although prices at Transco Z6 and the Henry Hub subsequently declined, the Chicago citygate price remained high, closing yesterday 2 cents above Monday's closing price, likely due to forecasts of cold weather.

Overall demand increases over the week were offset by declines in gas consumed for electricity generation. Power burn fell by 2.9 percent over the week according to estimates from BENTEK Energy Services, LLC. The drop was mostly a result of declines in Texas and the Southeast, where cooler temperatures likely caused the pullback in demand. Increases in the other sectors more than offset the power generation declines, and total consumption, as reported by BENTEK, increased by 5.5 percent over the report week.

Demand increases were met largely by higher imports, predominately from Canada. Imports from Canada increased by 4.1 percent and averaged 5.6 billion cubic feet per day, while LNG imports grew by 22.2 percent and averaged 641 million cubic feet (MMcf)/day. According to BENTEK Energy estimates, the week's average dry gas production showed only a 0.1 percent increase from last week's level. Domestic dry gas production stands 7.6 percent above this time last year. Canadian imports are at present less than 1 percent below this time last year, while LNG imports, in spite of their large percentage gain this week, are 6.2 percent below this week last year.

At the New York Mercantile Exchange, the price of the near-month contract (November 2011) increased about 10 cents, from $3.489 per MMBtu last Wednesday to $3.586 per MMBtu yesterday. The price of the 12-month strip increased slightly, from $3.948 per MMBtu last Wednesday to $3.956 per MMBtu yesterday. All of the contracts in this year's winter strip (November 2011—March 2012) settled below $4 per MMBtu on Wednesday.

More Price Data
Working natural gas in storage rose to 3,624 Bcf as of Friday, October 14, according to EIA's WNGSR (see Storage Figure). Following a net injection of 103 Bcf from the previous week, stocks are now 46 Bcf below last year and 113 Bcf above the 5-year average. The injection was much larger than the 5-year average injection of 58 Bcf and last year's injection of 93 Bcf.

Thus far, the shoulder season between summer electric power demand and winter heating demand has seen a series of very large builds driven by mild weather and high production. Last year, which also saw historically strong builds during the first two weeks of October, witnessed 183 Bcf of net injections. The 5-year average build for the first two weeks of the month is just 130 Bcf. This year, roughly 215 Bcf has been added to storage, a 41 percent increase over the average. Three of the last four weeks have seen triple digit builds.

Temperatures during the week ending Thursday, October 13 averaged 63.1 degrees, 4.1 degrees warmer than normal and 0.7 degrees warmer than last year (see Temperature Maps and Data). Temperatures were above average in every region except for the Mountain Region. Weather was generally mild with the warmest region, the West South Central, averaging 72.7 degrees and every region but the Mountain and New England Regions averaging at least 60 degrees. Heating degree-days were 49 percent below average for the week while cooling degree-days were just 7 percent above average.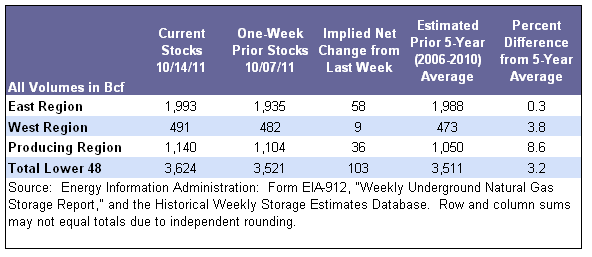 More Storage Data
CFTC Finalizes Position Limits Rules. On Tuesday, October 18, the Commodity Futures Trading Commission (CFTC) passed regulations on position limits for futures and swaps by a 3-2 vote. The regulations established limits on speculative positions in 28 commodities, including NYMEX Henry Hub Natural Gas, NYMEX Light Sweet Crude Oil, NYMEX New York Harbor Gasoline Blendstock, and NYMEX New York Harbor Heating Oil. The rule was implemented in response to the October 2010 Dodd-Frank Wall Street Reform and Consumer Protection Act, which requires the CFTC to establish speculative position limits.
See Weekly Natural Gas Storage Report for additional Natural Gas Storage Data.
See Natural Gas Analysis for additional Natural Gas Reports and Articles.
See Short-Term Energy Outlook for additional Natural Gas Prices, Supply, and Demand.