Released: April 2, 2009
Next Release: April 9, 2009
Overview (For the Week Ending Wednesday, April 1, 2009)
Despite a persistent heating load in some areas of the country, most notably in the Midwest and the Midcontinent, natural gas spot prices fell at most market locations this report week, undoubtedly reacting to the drops in futures prices since last Wednesday (March 25).

The first day of the refill season (April 1 to October 31) was characterized by natural gas prices that reached their lowest levels in years on both the spot and futures markets.

Much like other trading locations in the Lower 48 States, the spot price at the Henry Hub in Louisiana continued its downward trend this week, ending the week 57 cents per million Btu (MMBtu) lower at $3.56.

At the New York Mercantile Exchange (NYMEX), the May 2009 contract closed lower on the week, settling yesterday at $3.695 or 72 cents lower than on the previous Wednesday. The April 2009 futures contract expired on Friday, March 27, at $3.631 per MMBtu, losing 45 cents or more than 10 percent during its tenure as the near-month contract.

Working gas in storage was unchanged from last week, remaining at 1,654 billion cubic feet (Bcf) as of Friday, March 27, although absent reported reclassifications and data corrections the implied net change would have been an addition of 9 Bcf.
West Texas Intermediate (WTI) crude oil fell below $50 per barrel again this week, decreasing in three out of this week's five trading sessions. As of yesterday, crude oil traded at $48.46 per barrel, $8.36 per MMBtu or about 7 percent lower than last Wednesday.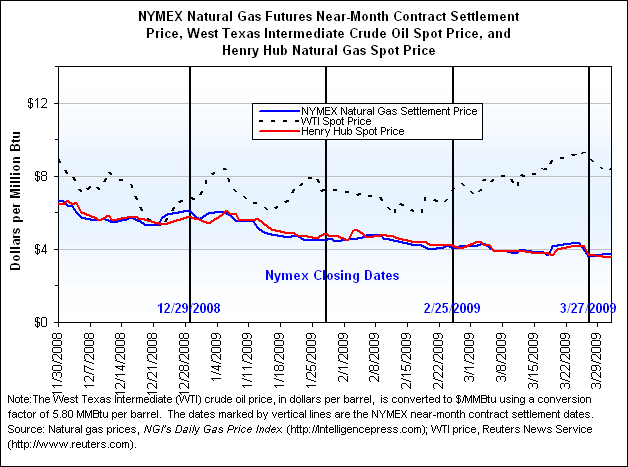 More Summary Data
Prices
Natural gas spot prices continue to show considerable weakness, decreasing at nearly all market locations in the Lower 48 States since Wednesday, March 25, and reversing the previous week's gains. Despite cold temperatures in many areas of the Lower 48 for much of the report week, spot prices fell in tandem with the futures prices. Decreases occurred at all trading locations covered by this report with the exception of five points, which registered modest increases. The natural gas spot price at the Henry Hub fell 57 cents per MMBtu or nearly 14 percent since last Wednesday, decreasing during 4 consecutive trading days. Similarly, prices at other trading locations in Louisiana fell by an average of 50 cents or 12 percent. Most of the other trading locations in the producing regions of the Lower 48 States also reported price decreases on the week, with price declines ranging between 29 and 56 cents per MMBtu. Notable exceptions to the price decreases occurred at Carthage and Natural Gas Pipe Line's Texas-Oklahoma trading locations, where prices increased by 28 and 26 cents, respectively.

As of yesterday, April 1, all trading locations in the Lower 48 States recorded prices below $4 per MMBtu, except for most of the points located in the Northeast. Spot natural gas in the Northeast continues to trade at a premium compared with the rest of the country, with the regional average ending the week at $4.11 per MMBtu, despite a decline of 44 cents. Other trading regions ended the week at significantly lower prices. Regional average prices at three of them (Rocky Mountains, Midcontinent, and West Texas) ended the week below $3 per MMBtu. Despite some heating demand that has persisted, prices in the largest gas-consuming areas of the country also showed weakness. In the Midwest, natural gas spot prices fell by an average of 43 cents to $3.71 per MMBtu, while the Midcontinent reported an average decline of 12 cents.

The April NYMEX futures contract expired last Friday at $3.631 per MMBtu, reaching the lowest closing price for a near-month contract since September 2002. During its tenure as the near-month contract, the April 2009 contract decreased 45 cents or nearly 11 percent from the initial $4.077 per MMBtu price. The April 2009 contract was the fourth consecutive contract with a closing price lower than the previous one, beginning with the January 2009 futures contract. Continuing the downward price pattern on the futures market, the new near-month contact (for delivery in May) fell about 72 cents since last Wednesday, ending trading yesterday at $3.695 per MMBtu, or about 16 percent lower on the week.

Apparent lack of expectation for any market tightness pushed futures contracts lower further out in the future as well. Prices for futures contracts in the 12-month strip (May 2009-April 2010) were lower on the week, falling by $0.594 per MMBtu to $4.742. The nearly 12-percent decrease recorded on the week for the strip indicates that with more than 1,600 Bcf already in storage and continued economic weakness affecting demand, natural gas supplies are expected be sufficient in the future, despite expected lower production and Canadian imports over the next year. With some producers announcing lower production volumes as a result of the current price climate and the recession, Baker Hughes Incorporated reported last Friday that the number of natural gas rigs drilling fell to 810, which was the 18th weekly decrease in a row and the lowest rig count since April 25, 2003.

More Price Data
Storage
Natural gas in storage remained unchanged at 1,654 Bcf as of Friday, March 27, according to EIA's Weekly Natural Gas Storage Report. The latest storage report reflects reclassifications of working gas to base gas and data corrections, without which this week's report would have indicated an implied net injection of 9 Bcf. This net addition differs substantially from the 5-year average net withdrawal of 23 Bcf and last year's net withdrawal of 30 Bcf. Working gas in storage was 303 Bcf higher than the 5-year average and 402 Bcf higher than last year's volumes for the same week (see Storage Figure). With only 4 days remaining in the traditional heating season, the volume of gas in storage likely will finish the season above 1,600 Bcf, at the second highest level since March 1991 (1,692 Bcf was in storage in March 2006).

Lack of heating demand across much of the country likely contributed to the contrast between the latest net change in natural gas volumes compared with historical changes. The National Weather Service's heating degree-day (HDD) data indicate that temperatures in the country as a whole were both warmer than normal and warmer than last year. Deviations from normal varied among the Census Divisions with four divisions recording HDDs at least 11 percent above normal and the other five divisions at least 10 percent below normal (see Temperature Maps and Data). However, actual temperatures differed from normal by no more than 5 degrees.
More Storage Data
Other Market Trends
EIA Releases Annual Energy Outlook 2009. The Energy Information Administration (EIA) released the Annual Energy Outlook 2009 (AEO2009) on March 31. The AEO2009 presents projections of energy supply, demand, and prices through 2030, which are based on results from EIA's National Energy Modeling System (NEMS). The analysis in AEO2009 focuses primarily on a reference case and four other cases that assume higher and lower economic growth and higher and lower oil prices than in the reference case. In addition, the analysis includes more than 30 alternative cases examining different aspects of energy markets. Key issues highlighted in the AEO2009 include higher but uncertain world oil prices, growing concern about greenhouse gas (GHG) emissions and their impacts on energy investment decisions, the increasing use of renewable fuels, the increasing production of unconventional natural gas, the shift in the transportation fleet to more efficient vehicles, and improved efficiency in end-use appliances. The report also includes an in-depth discussion on topics of special interest that may affect the energy market outlook, which includes changes in Federal and State laws and regulations and recent developments in technologies for energy consumption and production and consumption.

Researchers Seek Patent for Coalbed Methane Production Technology. Technology sponsored by the U.S. Department of Energy's (DOE) Oil and Natural Gas Program has identified a method to distinguish between groundwater and water co-produced with natural gas, increasing opportunities to tap into natural gas. Researchers at the University of Wyoming are seeking a patent for this technology, which uses the ratio of isotopic carbon13 to carbon-12 to distinguish between groundwater and produced water. The National Energy Technology Laboratory for the DOE Office of Fossil Energy managed the project. Dealing with produced water in coalbed natural gas is one of the most difficult issues for researchers developing environmentally safe methods for recovering natural gas, since a large volume of water must be pumped out of natural-gas-bearing coal seams before production can occur. In the Powder River Basin in Wyoming, the number of coalbed methane wells in the basin increased 50 percent from 18,077 wells in December 2004 to 27,280 in November 2008. More information is available on DOE's website: http://www.fossil.energy.gov/news/techlines/2009/09020-Technology_Enhances_Gas_Recovery.html
Natural Gas Transportation Update
As of March 27, Nautilus Pipeline Company, L.L.C. continues to work on a damaged area of the Nautilus system. Recent inclement weather offshore has caused further delay in this process. The repair crew will resume the process of replacing and testing the damaged portion of pipe as soon as weather permits, which is expected to be later this weekend or early next week. If all goes as planned, a return to normal service is anticipated in approximately 2 weeks. Until further notice, the Nautilus system will remain out of service. The company will update notices as they become available.
On Tuesday, March 31, ANR Pipeline Company notified its customers that based on high line pressures and current operating conditions in its southwest operating area the company had to continue limiting receipt capacity at the Beaver-CIG interconnect in Oklahoma to 50,000 decatherm per day through April 30.

Sea Robin Pipeline Company announced on March 31 that it began unscheduled pipeline maintenance and repair work in the Gulf of Mexico. As a result, the offshore meters at South Marsh Island 40, Vermilion 175, and Vermilion 171 are expected to be shut in for up to 8 days.
See Weekly Natural Gas Storage Report for additional Natural Gas Storage Data.
See Natural Gas Analysis for additional Natural Gas Reports and Articles.
See Short-Term Energy Outlook for additional Natural Gas Prices, Supply, and Demand.