Overview (Wednesday, December 12 to Wednesday, December 19)
Released: December 20
Next release: January 4, 2008
Since Wednesday, December 12, natural gas spot prices decreased at virtually all markets in the Lower 48 States. Prices at the Henry Hub fell 4 cents per million Btu (MMBtu), or less than 1 percent to $7.18 per MMBtu.

At the New York Mercantile Exchange (NYMEX), the futures contract for January delivery at the Henry Hub settled yesterday (December 19) at $7.179 per MMBtu, falling 23 cents or 3 percent since Wednesday, December 12.

Natural gas in storage was 3,173 billion cubic feet (Bcf) as of December 14, which is 9 percent above the 5-year average (2002-2006).

The spot price for West Texas Intermediate (WTI) crude oil decreased $3.30 per barrel on the week (Wednesday-Wednesday) to $91.11 per barrel or $15.71 per MMBtu.
<![if !vml]>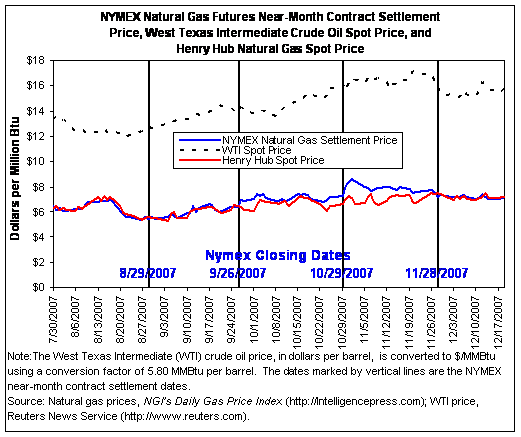 <![endif]>
Natural gas spot prices decreased on the week (Wednesday-Wednesday) at virtually all market locations, as moderating temperatures eased heating demand for natural gas. Nevertheless, natural gas spot prices traded in a relatively narrow range during the week at most locations, resulting in declines of less than 20 cents per MMBtu since Wednesday, December 12, or less than 3 percent. In fact, regional average prices declined less than 12 cents per MMBtu or about 1 percent in the Texas, Midwest, Louisiana, Alabama/Mississippi, Arizona/Nevada, and California regions. Markets in the Midcontinent and Rocky Mountain region posted considerably larger declines, falling 28 cents per MMBtu and 37 cents per MMBtu, respectively.
In stark contrast to the overall pattern of modest declines and relatively flat prices prevailing in most of the Lower 48 States, prices in the Northeast region exhibited considerable variability and posted significant declines since last Wednesday, December 12, while remaining the highest prices in the Lower 48 States. After increasing to their highest levels this heating season last Monday, December 17, prices declined in the 2 successive days of trading that followed. On Monday, December 17, prices peaked at the Algonquin citygate, which serves the New England natural gas markets, and at the New York citygate, at $20.08 per MMBtu and $21.18 per MMBtu, respectively. By Wednesday December 19, prices at these market locations had fallen to $9.85 and 11.49 per MMBtu, respectively.
Surging natural gas production in Texasin December 2007 may have mitigated price increases during the recent cold snap in the Lower 48 States. According to Bentek Energy, LLC, an energy markets information company, natural gas originating in Texas and flowing to other States hit a record high of about 10 Bcf per day recently. This is an increase of about 26 percent above levels in December 2006. These additional flows of natural gas production would have eased pressure on natural gas prices in some markets during the recent cold spell.
<![if !vml]>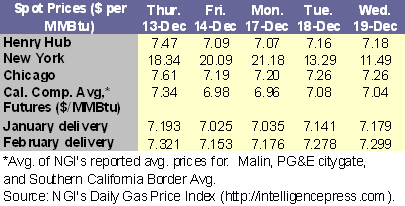 <![endif]>
At the NYMEX, plentiful supplies of natural gas and moderating temperatures likely contributed to falling futures prices. Prices for the futures contracts for delivery in each of the next 12 months decreased, with the 12-month futures strip (January through December 2008) declining about 11 cents per MMBtu, or about 1 percent, since last Wednesday, December 12. Prices of NYMEX futures contracts for delivery at the Henry Hub during the remaining heating season months (January 2008 through March 2008) fell by 20 cents per MMBtu, or 3 percent, on average since last Wednesday, December 12. Overall, the 12-month futures strip traded at a premium of about 46 cents per MMBtu relative to the Henry Hub spot price, averaging $7.637 per MMBtu as of Wednesday, December 19.
Recent Natural Gas Market Data
<![if !vml]>

<![endif]>
Working gas in storage was 3,173 Bcf as of Friday, December 14, which is 9 percent above the 5-year average inventory level for the report week, according to EIA's Weekly Natural Gas Storage Report (see Storage Figure). At 3,173 Bcf, working gas stocks were 4 Bcf below the 3,177 Bcf in storage at this time last year but exceeded the 5-year average by 266 Bcf.
Net withdrawals from working gas storage roughly approximated historical levels, but significantly exceeded the net withdrawal reported last year at this time. The net withdrawal from working gas storage of 121 Bcf compares with the 5-year average net withdrawal of 128 Bcf and last year's net withdrawal of 85 Bcf for the same report week. These differences likely reflected the heating demand for natural gas as temperatures in the Lower 48 States roughly approximated normal levels during the report week, but were considerably colder than last year at this time (see Temperature Maps and Data). Overall, gas-weighted heating degree-days equaled the normal level for the Lower 48 States. Most Census Divisions in the Lower 48 States posted colder-than-normal temperatures, while the Census Divisions along the southern tier of the Lower 48 States, including the South Atlantic, East, and West South Central Divisions, were warmer than normal.
<![if !vml]>
<![endif]>
Other Market Trends:
The Energy Information Administration's (EIA) annual energy conference will take place on April 7 and 8, 2008, at the Washington Convention Center in Washington, DC. In conjunction with EIA's 30th anniversary, the free conference will include more sessions on a wider range of energy-related topics than in previous years. Information on the conference and speakers is available on the EIA 2008 Energy Conference: 30 Years of Energy Information and Analysis page. Some of the highlights include sessions on the 2008 EIA Summer Fuels Outlook, 2008 EIA Annual Energy Outlook, The Outlook for Energy and Climate Legislation, and The Role of Energy Efficiency in Meeting Future Demand. On April 7 a session on The Future of LNG is planned; on April 8 The Ups and Downs of Natural Gas Prices is scheduled.
EIA 2008 Energy Conference: President Bush Signs New Energy Bill into Law President Bush signed into law an energy bill that raises automobile fuel economy standards for the first time in more than 30 years and requires significantly higher biofuel production. The Energy Independence and Security Act of 2007 (H.R. 6) sets a rising mandate for renewable energy production up to 36 billion gallons per year by 2022 and establishes higher fuel economy standards for passenger cars and light trucks. Cars and light trucks, minivans and sport utility vehicles, will have to average 35 miles per gallon by 2020, a 40-percent increase from current levels. The legislation also will result in a phaseout of most common types of incandescent light bulbs by 2014, as efficiency standards for light bulbs were increased by 30 percent. The new energy bill also accelerates the implementation of energy efficiency increases for Federal Government buildings, requiring a 30-percent energy consumption reduction by 2015.
Natural Gas Transportation Update:
The west segment of the Rockies Express Pipeline, LLC (REX) is expected to come into service by early January 2008, according to Kinder Morgan Energy Partners, LP. The 713-mile segment, which runs from Cheyenne Hub on the Colorado/Wyoming border to Audrain County, Missouri, was initially authorized by the Federal Energy Regulatory Commission (FERC) in April 2007. Furthermore, a westward extension of REX from Wamsutter in Wyoming to the Opal Hub (also in Wyoming) is also expected to be online at around the same time. The westward extension, which will utilize capacity on the Overthrust Pipeline, could deliver up to 1.5 Bcf per day into REX.

Tennessee Gas Pipeline Company declared a force majeure for the Port Sulphur compressor station in Louisiana on December 17. The force majeure resulted from repairs and testing at the compressor station, including the installation of two new compressor units. According to the pipeline, the compressor station is expected to reach 100 percent capacity in late December or early January.

Tennessee lifted the force majeure at Compressor Station 249 in Carlisle, New York, on Thursday, December 13.

Florida Gas Transmission Company reported that it is undertaking unscheduled examination of the pipeline upstream of Station 6 in Texas on December 20 and until further notice. During this time, scheduled volumes will be restricted to about 65,000 MMBtu per day through Station 6 from the maximum capacity of 300,000 MMBtu per day.

Trunkline Gas Company, LLC, extended the scheduled maintenance to the Kaplan compressor station in Louisiana by an additional 66 days. The maintenance originally began on October 10 and resulted in no available horsepower. As of December 14, the available capacity through the compressor station was 225,000 decatherms (Dth) per day.
Columbia Gulf Transmission Company declared a force majeure event for Line 100 in Delhi, Louisiana, as a result of a pipeline rupture on December 14. Lines 100, 200, and 300, all located in the Madison Parish, were taken out of service for evaluation purposes. By Sunday, December 16, Columbia reported that Lines 200 and 300 were back in service, but since Line 100 remained shut-in, capacity through the Delhi internal constraint was 2,074,000 Dth for December 16 and until further notice.

Only 5 days following the announcement that the engine repairs to the Greasewood compressor station in Colorado were complete, Questar Pipeline Company announced on December 19 that it will be performing modification at the compressor station to tie it into a new processing plant. The modifications are expected to last between January 14 and 24, 2008, during which time nominations will not be accepted at the TransColorado MAP 297.