Overview: Thursday, February 1, 2007 (next release 2:00 p.m. on February 8, 2007)
Since Wednesday, January 24, natural gas spot prices have increased at most market locations in the Lower 48 States, with increases ranging between 9 and 60 cents per MMBtu or about 1.1 to 8.4 percent at most markets. On Wednesday, January 31, prices at the Henry Hub averaged $7.75 per MMBtu, reflecting an increase of 29 cents per MMBtu or about 4 percent since Wednesday, January 24. The futures contract for February delivery at the Henry Hub closed at $6.917 per MMBtu on Monday, January 29, decreasing about 50 cents per MMBtu since Wednesday, January 24.By yesterday, (January 31), the futures contract for March 2007 delivery at the Henry Hub increased about 29 cents per MMBtu or about 4 percent since Wednesday, January 24.Natural gas in storage was 2,571 Bcf as of January 26, which is about 21 percent above the 5-year average. The spot price for West Texas Intermediate (WTI) crude oil increased $3.93 per barrel, or 7.3 percent to $58.17 per barrel or $10.03 per MMBtu. This week's WTI price change was the highest week-on-week increase since the week ended November 29, 2006, when crude oil increased $5.17 per barrel or $0.89 per MMBtu. Despite this week's relatively high increase, crude oil prices remain about 14.3 percent lower than a year ago.
<![if !vml]>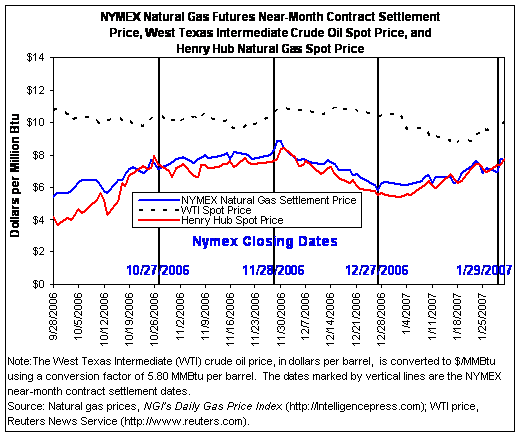 <![endif]>
Natural gas prices have increased at most market locations since Wednesday, January 24, with the exception of a few pricing points in the Northeast region. Continued strong space heating demand this week, along with the higher crude oil prices likely contributed to the increase in natural gas prices. The highest price increases in the Lower 48 States since January 24 occurred principally in the Midcontinent region, where prices climbed about 45 cents per MMBtu or about 6 percent on average. West of the Midcontinent region (Rocky Mountains, Arizona/Nevada, and California), average price increases on the week were smaller, ranging between 22 and 27 cents per MMBtu. In the producing regions along the Gulf of Mexico, prices increased between 27 and 43 cents, reflecting the increasing demand across the country. The only region to record decreases this week was the Northeast, where a few market locations recorded exceptionally high prices on Wednesday last week.After prices at the New York citygate (Transco Zone 6 New York) reached $20.07 per MMBtu on Wednesday, they increased again on Thursday, January 25, to $24.93 per MMBtu, which was the highest price for this location since the January 20, 2005, price of $29.14 per MMBtu. The New York citygate price decreased substantially thereafter, with a net decline of $10.65 on the week, which is about 53 percent of the price on Wednesday, January 24.The New York citygate still remained the highest-priced location in the Lower 48 States. The Algonquin citygate price decreased $4.94 per MMBtu since last Wednesday, to an average of $9.03 per MMBtu. Overall, prices in Northeast markets decreased between $0.17 and $10.65 per MMBtu on the week. Despite the significant decreases in the region, spot prices in the Northeast remain the highest in the Lower 48 States, averaging $8.57 per MMBtu yesterday (January 31). According to preliminary data, during the nomination period for natural gas for February 2007 (January 24 to 31), bidweek prices increased by more than 35 percent at the New York citygate, with the bidweek price at the Henry Hub rising to an average of $7.05 per MMBtu, which is an increase of $1.21 or about 21 percent relative to the preceding month.
<![if !vml]>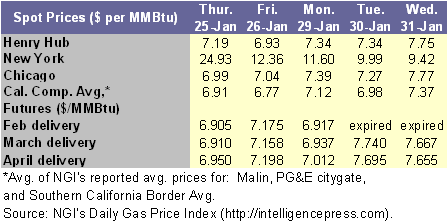 <![endif]>
At the NYMEX, the price of the futures contract for February delivery at the Henry Hub closed at $6.917 per MMBtu on Monday, January 29, increasing about $0.669 per MMBtu, or about 11 percent since its first day of trading as the near-month contract on December 28. Since January 24, the March 2007 futures contract increased about 29 cents per MMBtu or 4 percent to settle yesterday at $7.667 per MMBtu. Correspondingly, the April 2007 futures contract settled yesterday at $7.655 per MMBtu, representing an overall gain on the week (Wednesday to Wednesday) of about 34 cents or 5 percent. Contract prices for delivery through the end of 2007 all increased by an average of 34 cents, with highest increase recorded for the October 2007 contract of $0.372 or 4.8 percent. The 12-month futures strip (March 2007 - February 2008) ended trading yesterday $0.328 per MMBtu higher on the week from its January 24 price of $7.900 per MMBtu. The 12-month futures strip traded at a premium of $0.478 per MMBtu relative to the Henry Hub spot price, averaging $8.228 per MMBtu as of Wednesday, January 31.
Recent Natural Gas Market Data
Estimated Average Wellhead Prices

Aug-06

Sep-06

Oct-06

Nov-06

Dec-06

Jan-07

6.51

5.51

5.03

6.43

6.65

5.92

Price ($ per MMBtu)

6.34

5.37

4.90

6.26

6.48

5.76

Note: Prices were converted from $ per Mcf to $ per MMBtu using an average heat content of 1,027 Btu per cubic foot as published in Table A4 of the Annual Energy Review 2002.

Source: Energy Information Administration, Office of Oil and Gas.
Working gas in storage decreased to 2,571 Bcf as of Friday, January 26, 2007, according to EIA's Weekly Natural Gas Storage Report (See Storage Figure). Storage levels were 454 Bcf, or 21.4 percent, above the 5-year average, and 152 Bcf, or 6.3 percent, above the storage level at this time last year. Working gas in storage also exceeded the 5-year (2002-2006) maximum by 152 Bcf. This week's implied net withdrawal of 186 Bcf is about 11 percent higher than the 5-year average net withdrawal of 168 Bcf, and is significantly higher than last year's net withdrawal of 87 Bcf. The above-average net withdrawal likely resulted from continuing cold temperatures across much of the United States, as well as the spot price levels, both of which served as an incentive to withdraw natural gas from underground storage. In daily trading from January 19 to January 25, spot prices relative to the prices for near-month delivery contracts on the NYMEX went from strong contango, with spot prices almost 50 cents below the near-month NYMEX contract, to backwardation, in which spot prices were roughly 29 cents above the near-month contract price. As the relative value of natural gas in the future declined, holders of gas in storage have an economic incentive to rely more on gas from storage. For the week ended January 25, temperatures in the entire Lower 48 States were only slightly colder than normal as measured by National Weather Service heating degree-days (HDD) (See Temperature Maps). However, temperatures for the week were 4 percent colder than the previous week and 31 percent colder than last year. Temperatures in the Census Divisions along the Atlantic coast (New England, Mid Atlantic, and South Atlantic) were up to 4 percent colder than normal. The West South Central, Mountain, and Pacific Census Divisions all experienced temperatures that were much below normal.
<![if !vml]>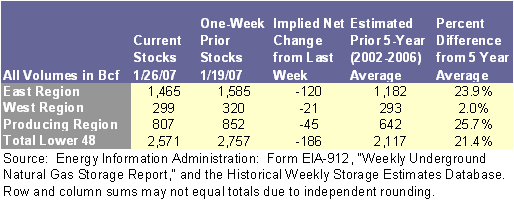 <![endif]>
Other Market Trends:
Federal Register Notice Issued for Proposed New EIA Standby Survey: The EIA proposed a new survey that will collect information on the status and operations of natural gas processing plants for use during periods of supply disruptions in areas affected by an emergency. The notice of the proposed collection, which appeared in the Federal Register on Tuesday, January 30, 2007, seeks to solicit comments on the proposed form, "Survey of Natural Gas Processing Plants." The form will consist of two schedules: Schedule A is the "Baseline Report," which will contain plant characteristics and will be collected at least once from all processing plants, and Schedule B is the "Emergency Status Report," which will contain operational information and will only be activated during an emergency situation. The activation, selection of respondents, and frequency of Schedule B will be determined based on the location and severity of the supply disruption. Information collected will include plant characteristics, operation capacity and utilization rates, operating constraints, and restoration timeframes. The information will be collected by phone, fax, or email and will be used to monitor energy supply in the affected area. The Federal Register notice asks interested parties to comment on the proposal by April 2, 2007, and provides general guidelines and issues to assist in preparing comments.
EIA Is Soliciting Comments on Revisions to the EIA-914 Survey: The Energy Information Administration (EIA) is asking for public comments on the proposed addition of 7 reporting States or regions while extending the Form EIA-914 for 3 years. EIA, through a Federal Register notice, seeks comments so that the agency can maximize the utility of the information collected and assess the impact of collection requirements on the public. The target respondents of Form EIA-914 are operators of natural gas wells. Currently there are 227 respondents, a sample drawn from a universe of about 8,300 known operators. Using information collected on Form EIA-914, EIA estimates and disseminates timely and reliable monthly natural gas production data at the national level, and for Texas and Louisiana (both including State offshore natural gas production), New Mexico, Oklahoma, Wyoming, and the Federal Gulf of Mexico. The proposed revisions would add Alaska, California, Colorado, Kansas, Montana, North Dakota, and the Federal Offshore Pacific. By adding these additional areas, the geographic coverage and accuracy of the gas production estimates will be improved. The sampling methodology will be the same as for current States. The EIA-914 data collection is considered essential to the mission of the U.S. Department of Energy (DOE) for the development, implementation, and evaluation of energy policy and legislation. It is important to the EIA because of the increasing demand for natural gas in the United States and the requirement for accurate and timely natural gas production information necessary to monitor the U.S. natural gas supply and demand balance.
DOE Microhole Initiative: The U.S. Department of Energy's (DOE) Microhole Initiative, a 2-year-old program launched to reduce costs and environmental impacts of oil and gas well drilling, is yielding new tools that are expected to be commercially available soon. The program's aim is to develop technologies to further the application of coiled-tube drilling in the United States, in turn improving the economics of recovering previously unattainable oil and natural gas resources in marginal or declining fields throughout the Nation. Some of these tools, designed to drill ultrasmall-diameter natural gas and oil wells, have been successfully field-tested and await full-scale commercialization. Several other microhole projects are being completed and will soon move into the field-test stage. Microhole drilling entails using coiled-tube drilling rigs, which are small, easily transportable rigs that unspool coils of thin tubing to drill wells with diameters of less than 4.5 inches or equally small-diameter "sidetrack" boreholes from existing wells. This approach leaves a much smaller footprint in environmentally-sensitive areas and produces much less drilling waste compared with conventional rigs that deploy standard-size drill pipe to drill larger-diameter holes. The main purpose behind the program was to find a way to economically develop the vast untapped oil and natural gas resource lying at shallow depths in tens of thousands of declining or depleted reservoirs. The United States has trillions of cubic feet of bypassed natural gas. Similarly, there are more than 218 billion barrels of bypassed conventional oil at less than 5,000 feet subsurface that is not recoverable with current technology. Recovering one-tenth of that oil would equal roughly 10 years of OPEC imports at current levels.
Natural Gas Transportation Update:
Iroquois Pipeline Operating Company declared an Operational Flow Order (OFO) on Thursday, January 25, and Friday, January 26, because of forecasted colder weather.Unscheduled shipper gas was not available during this time and operators were asked to adhere to daily nominated volumes in order to maintain system integrity.
Gulf South Pipeline Company announced that production may be shut in during a scheduled pigging maintenance on a New Orleans area line segment from January 30 through February 8.Depending on demand in the New Orleans area, capacity may be affected that would require the shut-in.
Gulf South Pipeline Company began unscheduled maintenance at the Koran Compressor Station in Haughton, Louisiana, on Tuesday, January 30.Capacity was expected to decrease by 20,000 decatherms per day for at least 3 days.
Florida Gas Transmission Company issued an Overage Alert Day for market-area customers because of cold weather and low linepack on Friday, January 26.The Overage Alert day extended through Monday, January 29, with a 15 percent tolerance for negative daily imbalance on Friday, and a 25 percent tolerance Saturday through Monday.
Operational developments caused Centerpoint Energy Gas Transmission Company to declare an Operational Alert on Saturday, January 27, until further notice.The pipeline is not allowing short imbalance and unauthorized overrun quantities in order to meet its firm obligations.