Overview: Thursday, July 27 (next release 2:00 p.m. on August 3, 2006)
Since Wednesday, July 19, natural gas spot prices have increased at all market locations in the Lower 48 States. For the week (Wednesday-Wednesday), prices at the Henry Hub increased by about 14 percent to $6.71 per MMBtu. Yesterday (July 26), the price of the NYMEX futures contract for August delivery at the Henry Hub settled at $6.887 per MMBtu in its next to last day of trading, increasing $1.025 or about 18 percent since last Wednesday (July 19).Natural gas in storage was 2,756 Bcf as of July 21, which is 21.6 percent above the 5-year average. The spot price for West Texas Intermediate (WTI) crude oil rose $1.03 per barrel or 1.4 percent on the week to $73.82 per barrel or $12.73 per MMBtu.
<![if !vml]>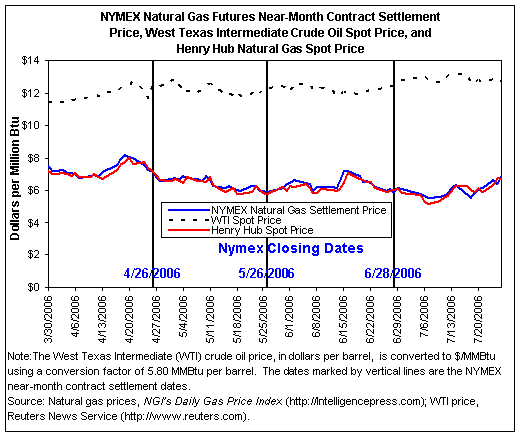 <![endif]>
As a result of the record-setting heat and correspondingly higher power usage in many areas, natural gas spot prices increased at all market locations since last Wednesday, July 19. The Edison Electric Institute (EEI) reported yesterday that U.S. electricity demand reached an all-time record last week. According to EEI, domestic utilities delivered 96,314 gigawatt hours (GWh) during the week ending July 22, surpassing the previous record, which was set last year during the week ending July 23, 2005, by more than 1 percent. Price increases on the week varied widely, ranging between 49 cents and $1.11 per MMBtu. Continued high crude oil prices also helped to boost the spot prices. In a reaction to the high heat-induced demand, prices at the Henry Hub increased 82 cents or about 14 percent to $6.71 per MMBtu since last Wednesday, while prices at other market locations in Louisiana increased by an average of 76 cents per MMBtu. Also, trading locations in Texas recorded similar increases on the week that averaged 78 cents per MMBtu, as a low pressure system, which was expected to become Tropical Storm Chris, resulted in heavy rainfall, diminishing cooling load in Texas and Louisiana. On the week, California recorded the highest regional increase since last week, rising by an average 95 cents to $6.74 per MMBtu. Comparable increases were recorded in the Northeast and the Rocky Mountains, where prices increased by an average of 94 cents per MMBtu.
<![if !vml]>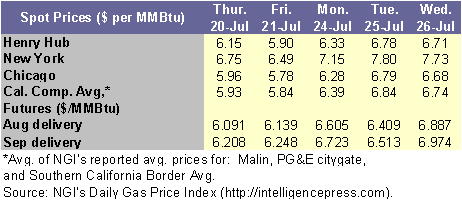 <![endif]>
At the NYMEX, the price of the futures contract for August delivery at the Henry Hub increased $1.025 per MMBtu or about 17 percent since last Wednesday to $6.887 per MMBtu in its second to last day of trading yesterday (July 26). The August 2006 contract was about 75 cents or 12 percent per MMBtu higher than its settlement price on June 29, its first full day of trading as the near-month contract. Should the August 2006 contract close with a net gain over the month, it would be only the second contract since the November 2005 contract closed on October 27, 2005, to record a net gain at its closing.Similarly, all futures contracts through the end of the next heating season (November 2006 - March 2007) increased by an average of about 50 cents per MMBtu. Futures contract prices for each month through the remaining months of 2006 and through February 2007 exceed the current Henry Hub spot price by differences between $0.18 and $4.11 per MMBtu, with the difference for each successive month larger that that of the preceding month. Despite this week's increases, futures contracts prices for the remainder of the refill season (August - October) remain below last year's levels at this time. Nevertheless, the futures contract prices for delivery during the upcoming heating season exceed last year's heating season contracts by an average of $1.508 per MMBtu, as the November 2006-through-March 2007 contracts traded yesterday at an average of $10.202 per MMBtu, compared with the November 2005-though-March 2006 strip's price of $8.694 per MMBtu on July 26, 2005.
Recent Natural Gas Market Data
Estimated Average Wellhead Prices

Jan-06

Feb-06

Mar-06

Apr-06

May-06

June-06

8.66

7.28

6.52

6.59

6.19

5.80

Price ($ per MMBtu)

8.43

7.09

6.35

6.42

6.03

5.65

Note: Prices were converted from $ per Mcf to $ per MMBtu using an average heat content of 1,027 Btu per cubic foot as published in Table A4 of the Annual Energy Review 2002.

Source:Energy Information Administration, Office of Oil and Gas.
Working gas in storage totaled 2,756 Bcf as of Friday, July 21, according to EIA's Weekly Natural Gas Storage Report. Working gas inventories are roughly 22 percent above the 5-year average for the report week, and about 16 percent above the level last year for the same week (See Storage Figure). For the first time in the weekly data for the warmer months of May through September from 1994 to the present, this week's report showed a net withdrawal of 7 Bcf for the week, contrasting sharply with the 5-year average net injection of 65 Bcf and last year's net injection of 41 Bcf. This week's net withdrawal was driven largely by higher temperatures and price incentives prevailing during much of the week. During the week ended July 20, the National Weather Service reported temperatures that were 36 percent warmer than normal, as measured by the cooling degree days (CDDs) (See Temperature Maps). While hot temperatures are expected during the summer months in the Lower 48 States, the average temperatures were extremely hot for parts of the country, contributing to the already high cooling demand. For the week ended July 20, temperatures in each Census Division were from 15 percent to 70 percent higher than normal.Temperatures across the West North Central Census Division averaged 80 degrees, with highs reaching into triple digits.Second, the backwardation between spot and futures prices that occurred between July 17 and 20 indicated supply tightness in the spot market. Additionally, the lower prices for the August 2006 contract presented significant arbitrage opportunities to replace gas withdrawn last week with lower priced gas next month. Thus, there was strong incentive to withdraw natural gas from storage, as opposed to purchasing it on the spot market. Prospectively, with the 12-month strip trading at a $2.134 premium to the Henry Hub spot price, the economic incentive to inject gas into storage remains significant, absent additional episodes of price backwardation. However, cooling demand will continue to compete with natural gas for storage during the warmest days of the summer.
<![if !vml]>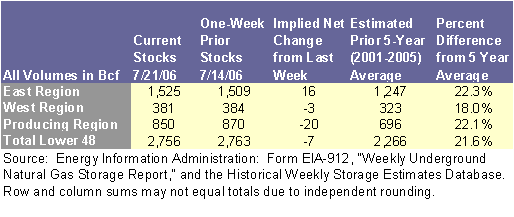 <![endif]>
Other Market Trends:
Natural Gas Rig Count: According to Baker-Hughes Incorporated, U.S. total rigs drilling reached a record high of 1,683 for the week ending July 21, 2006. The rig count for natural gas rigs was 1,381, which is second only to the record of 1,389 set earlier this year on June 2. Compared with last year, the number of natural gas rigs drilling exceeded the number of rigs by 153 rigs or about 12 percent. Although the count of gas rigs running may have flattened recently, gas drilling has been on an upward trend for more than 4 years, expanding from a low of 591 in April 2002. Indicative of the relative economics of drilling in the United States, the natural gas rig count has exceeded the oil rig count by a factor of at least 4 to 1 consistently since April 2001.
Natural Gas Transportation Update:
Florida Gas Transmission (FGT) ended an overage alert day (OAD) on Thursday, July 20, that had been in effect since the previous Friday (July 14). However, faced with forecasts of 90-degree weather, FGT reinstituted the OAD for Monday through Wednesday (July 24-26), with a 25 percent tolerance for negative daily imbalances. Further, FGT tightened the tolerance for negative daily imbalances to 20 and 15 percent for Tuesday's and Wednesday's gas day, respectively.
On Tuesday, July 25, Mississippi River Transmission Company (MRT) lifted the system protection warning (SPW) that had been issued July 18 because of pipe integrity work. However, the company added that another SPW will be in effect from Wednesday through the end of July. Generally, an SPW is issued if a pipeline anticipates problems that threaten operational integrity on any portion or all of its system. While an SPW is in effect, shippers are required to minimize any variances between scheduled quantities and actual flows, as well as to minimize any imbalance between receipts and deliveries.
El Paso Natural Gas Company announced Tuesday, July 25, that high demand combined with takes significantly in excess of receipts resulted in a system-wide strained operating condition (SOC) for gas day July 26 and the imbalance tolerance was set at 10 percent. Linepack on July 25 was running 100 MMcf lower than the day before. With the Washington Ranch storage facility at maximum withdrawals, further reductions in linepack could not be sustained according to the pipeline. Since July 10, Washington Ranch has had net withdrawals on all but one day, resulting in a total drawdown of more than 1.5 Bcf. El Paso lifted the SOC on Wednesday, July 26, because of a reduction in overall takes and discontinued withdrawals from the Washington Ranch storage facility.
Owing to low linepack on upstream pipelines and drafting of its system, Southwest Gas Company declared a stage 3 operational flow order (OFO) effective Wednesday, July 26 until further notice. The pipeline added that El Paso's SOC necessitated the OFO. Shippers were advised to ensure that scheduled supplies match or exceed gas usage for each day that the OFO is in effect, as the daily operating window has been reduced to zero and negative daily nominations for imbalance paybacks from Southwest to shippers have been eliminated.