Overview: Thursday, June 15 (next release 2:00 p.m. on June 22, 2006)
Natural gas spot prices increased at almost all locations this week (Wednesday - Wednesday, June 7-14) as wide ranging temperatures across the country affected some regional demand for both heating and air conditioning needs. The Henry Hub spot price rose 27 cents, or about 5 percent, to $6.09 per MMBtu.At the New York Mercantile Exchange (NYMEX), prices also increased for almost all the futures contracts listed. The NYMEX contract for July delivery rose about 62 cents, or about 10 percent, since last Wednesday to settle at $6.590 per MMBtu yesterday (June 14). Natural gas in storage as of Friday, June 9 was 2,397 Bcf, which is 37.9 percent above the 5-year average. The spot price for West Texas Intermediate (WTI) crude oil declined $1.78 per barrel, or about 3 percent, since last Wednesday, trading yesterday at $69.12 per barrel or $11.92 per MMBtu.
<![if !vml]>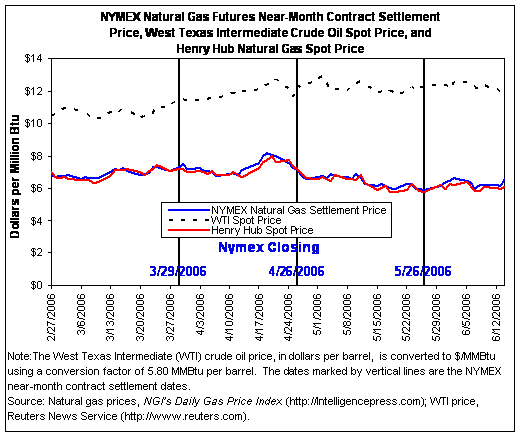 <![endif]>
Spot prices generally moved higher this week as mixed temperatures brought late-season heating demand in parts of the Northeast and Midwest as well as some power generation demand in Southern regions for air conditioning needs. Price increases ranged mostly between 14 cents and 35 cents, or about 3 and 7 percent, with most of the increases occurring on just two of the trading days (Friday and Wednesday). The Henry Hub spot price gained 27 cents on the week, averaging $6.09 per MMBtu yesterday. Florida markets provided an exception to the upward price trend this week, posting a decline of 17 cents on the week.Price movements at these locations varied, however, as hot temperatures early in the report week led to an Overage Alert Day declaration and a spike in the spot price. Later in the week, cooler temperatures and persistent rain eased demand and placed downward pressure on the spot price, which averaged $7.15 per MMBtu yesterday. Outside Florida, the Northeast reported the highest natural gas spot prices, ranging between $6.16 and $6.65 per MMBtu yesterday. Price increases in this region, where temperatures were unseasonably cool, averaged about 28 cents per MMBtu for the week.In contrast to late winter and spring this year, when spot prices showed an overall decreasing trend with intermittent upward swings, prices in the past few weeks have traded within a limited range with no clear longer term pattern. The Henry Hub spot price has varied between $6.41 and $5.77 per MMBtu since May 12.The Henry Hub spot price had been as high as $7.96 per MMBtu as recently as April 20.
<![if !vml]>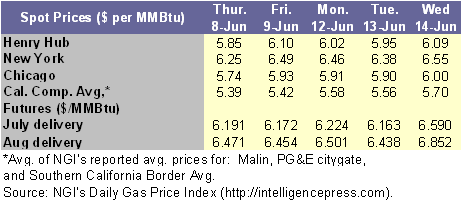 <![endif]>
At the NYMEX, the price of the futures contract for July delivery at the Henry Hub increased about 62 cents per MMBtu on the week including a jump of 43 cents in yesterday's trading. This contract settled at $6.590 per MMBtu yesterday, about 10 percent higher than last Wednesday, June 7. The rest of the natural gas futures contracts for delivery through this year's injection season (August, September, and October 2006) recorded similar gains on the week of at least 40 cents. In addition, all the contracts for months through March 2007 gained at least 29 cents in yesterday's trading. Every contract currently listed on the NYMEX continues to hold a significant premium to the Henry Hub spot price. The contract price of the near-term month was 50 cents higher than the Henry Hub spot price yesterday, and the January through March 2007 contracts traded at more than $4.10 per MMBtu higher than the Henry Hub spot price yesterday. This premium offers a strong economic incentive to inject natural gas into storage. The 12-month strip, which is the average price for contracts over the next year, closed yesterday at $8.49 per MMBtu, which is 30 cents or about 4 percent higher than last Wednesday.
Recent Natural Gas Market Data
Estimated Average Wellhead Prices

Dec-05

Jan-06

Feb-06

Mar-06

Apr-06

May-06

10.02

8.66

7.28

6.52

6.59

6.19

Price ($ per MMBtu)

9.76

8.43

7.09

6.35

6.42

6.02

Note: Prices were converted from $ per Mcf to $ per MMBtu using an average heat content of 1,027 Btu per cubic foot as published in Table A4 of the Annual Energy Review 2002.

Source:Energy Information Administration, Office of Oil and Gas.
Working gas in storage increased to 2,397 Bcf as of Friday, June 9, which is 37.9 percent above the 5-year average inventory level for the report week, according to EIA's Weekly Natural Gas Storage Report (See Storage Figure). The implied net injection of 77 Bcf is 20 percent less than the 5-year average of 97 Bcf and 1 percent less than last year's injection of 78 Bcf.Despite a smaller-than-average injection, natural gas storage levels remain at exceptionally high levels relative to the time of year. In fact, during all the years for which EIA has weekly data (1994 to present), stock levels have never reached the current level of 2,397 Bcf this early in the injection season (see Figure). Last year, stocks did not reach 2,397 Bcf until July 25, and in 2000, it took until September 21 for stocks to reach this high. Stocks are currently 659 Bcf higher than the 5-year average for this week. Weather-related demand in some regions may have partly contributed to the smaller-than-average net injection this week (See Temperature Maps). Cool temperatures along the east coast, particularly in New England, spurred some late-season heating demand in key natural gas consuming markets.Meanwhile, hot temperatures in the West Central and Mountain Census Divisions created space cooling demand that likely further detracted gas from storage.
<![if !vml]>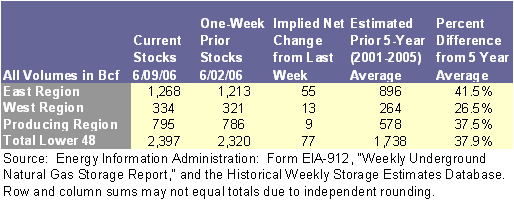 <![endif]>
Other Market Trends:
MMS Announces Results of the Central Gulf of Mexico Sale 198: The Minerals Management Service (MMS) announced June 13 that it has accepted high bids valued at $582 million and awarded 392 leases to the successful high bidders who participated in the Oil and Gas Lease Sale 198, held March 15, 2006. Lease Sale 198 attracted 82 companies that submitted 707 bids totaling $978 million for 405 tracts. However, MMS rejected 12 high bids as insufficient compared with their fair market value. The highest bid accepted on a tract was $43 million made by Amerada Hess Corporation for Green Canyon Block 287, a deep-water tract that received a total of 8 bids, while the second highest accepted bid was the $34 million Green Canyon Block 551, awarded to Anadarko Petroleum Corporation and Newfield Exploration Company. MMS said the results of Lease Sale 198 indicated a continued strong interest in shallow water areas, with 47 percent of the tracts receiving bids in less than 200 meters (656 feet) of water, while 53 percent of the tracts received bids in greater than 200 meters of water.
NEB Releases Summer Energy Outlook: Following a mild winter, the large amount of gas already in storage likely will be a key factor influence on natural gas prices this summer, according to Canada's National Energy Board (NEB). In its summer energy outlook, the agency reported that Canadian storage levels are approximately 25 percent higher than at this time in 2005, and about 800 Bcf above the 5-year average. The above-average storage levels will continue to place downward pressure on gas prices throughout the summer and into early fall, and the NEB expects that by September, natural gas could be priced at $5 per thousand cubic feet (Mcf) to compete with coal. However, weather remains a significant factor in gas pricing, as an unusually hot summer or an active hurricane season could stop the decline in prices. By the 2006-2007 winter, natural gas is expected to return into a tighter supply-demand situation, resulting in price increases. Additionally, U.S. consumers likely can expect continuing price volatility through the winter. Meanwhile, the agency expects that North American natural gas supply will strengthen. Canadian gas production is about 1 percent higher than it was in 2005, and onshore gas production in the United States has been rising. While about 13 percent of Gulf Coast natural gas production remains shut in from last year's hurricanes (representing about 2 percent of the total North American natural gas production), producers likely will maintain high drilling activity as prices will remain high relative to historical levels and the decrease in natural gas prices is expected to be only temporary. LNG imports also are expected to be higher this summer since facilities in Trinidad and Tobago, Nigeria, and Egypt have been expanded.
Natural Gas Transportation Update:
ANR Pipeline Company (ANR) announced that because of maintenance projects at various locations and the high levels of gas in its storage facilities, ANR will reduce injection capacity by 750 MMcf per day, leaving 750 MMcf per day available between June 10 and June 30.Effective June 13, ANR restricted interruptible storage injections until further notice. Based on current nominations, overruns will not be accepted on deferred delivery service (DDS), market balancing service (MBS), and firm storage service (FSS).ANR will continue to allow injections into storage for customers who have firm storage and small transportation service agreements.Owing to the significantly high levels of storage inventory, ANR is reviewing options that include the requirement of ordering all interruptible gas out of storage.
Tennessee Gas Pipeline Company announced that it was required to restrict interruptible storage injections across its system on Saturday, June 10, through Monday, June 12.
Southern California Gas Company will not allow any withdrawals or injections into its Goleta storage facility during the installation of a new compressor. The work is expected to take place on June 20, and will affect 110 MMcf per day of injection capacity and 240 MMcf per day of withdrawal capacity.
El Paso Natural Gas Company reported significant capacity drawdowns on Tuesday, especially on its South Mainline. The pipeline reported that the Washington Ranch storage facility was at maximum withdrawals at the time. Customers are urged to match their demand requirement with supplies, while shippers can obtain supplies at the Keystone and Waha storage facilities. A strained operating condition is being considered, owing to the problem caused by an unexpected increase in Southwest power generation load.