Overview: Thursday, June 8 (next release 2:00 p.m. on June 15, 2006)
Continuing moderate temperatures across much of the Lower 48 States, particularly in the eastern half of the country, helped lower natural gas spot and futures prices during the week (Wednesday to Wednesday, May 31 - June 7). The spot price at the Henry Hub decreased by $0.15 per MMBtu, or about 2.5 percent, for the week, to $5.82 in yesterday's (Wednesday, June 7) trading.At the New York Mercantile Exchange (NYMEX), the price of the futures contract for July delivery moved lower by 41 cents per MMBtu compared with its settlement price a week ago, ending yesterday at $5.974 per MMBtu. The Energy Information Administration (EIA) reported that natural gas inventories in underground storage were an estimated 2,320 Bcf as of Friday, June 2, which is 41.3 percent greater than the previous 5-year average. The spot price for West Texas Intermediate (WTI) crude oil decreased by $0.52 per barrel, or less than 1 percent on the week, bringing the WTI spot price in yesterday's trading to $70.90 per barrel, or $12.22 per MMBtu.
<![if !vml]>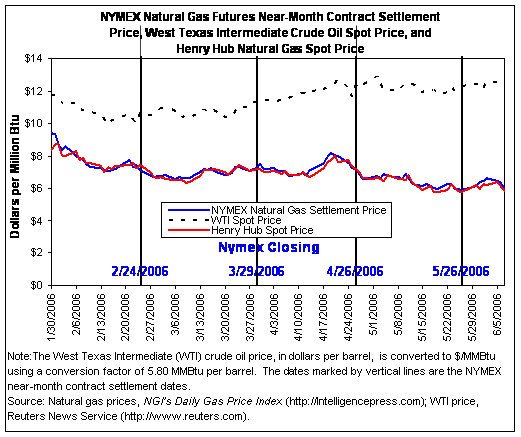 <![endif]>
Mild temperatures again prevailed over much of the country during most of the report week. As a result, spot prices decreased at most market locations, although prices increased at markets in the western half of the country as warmer weather moved into the Southwest and California on Monday. Despite increasing $0.44 per MMBtu by Monday, with the generally seasonal temperatures and perceived ample supplies in storage for this time of year, the Henry Hub spot price fell below the $6-mark again yesterday, averaging $5.82 per MMBtu, which was 15 cents lower on the week. Even as this year's hurricane season officially began on June 1, shut-ins in the Federal offshore Gulf of Mexico from last year's hurricane season continue to exceed 1 Bcf a day, bringing the total lost production to nearly 785 Bcf, according to the Minerals Management Service (MMS). However, the lost supplies are not reflected in the current ample storage levels, as storage operators such as Tennessee Gas Pipeline Co. and Southern Natural Gas Co. already are notifying customers that the current pace of injections and the high inventories following the warm winter could lead to restrictions in interruptible storage services. The largest price decreases this week were in the Northeast, where the spot price for delivery in Transcontinental Gas Pipe Line Corp.'s Zone 5 (the Mid-Atlantic) recorded the highest weekly decrease in the Nation, falling $0.70 per MMBtu to $6.10. Overall in the Northeast, the average spot price dropped 35 cents per MMBtu to $6.18. Week-on-week price increases were recorded in the California, Rockies, and Southwest regions, chiefly the result of a hot spell beginning Tuesday. During trading on Monday for next-day delivery, the Southern California border price was up 56 cents after the local utility ended a 12-day run of high-linepack operational flow orders. On the week the Southern California Border price rose 26 cents per MMBtu, or about 5 percent, to $5.54.
<![if !vml]>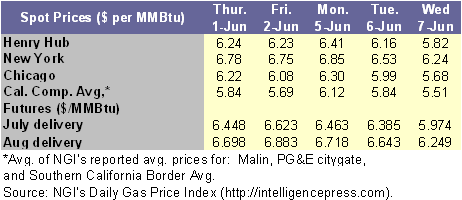 <![endif]>
At the NYMEX, the price of the futures contract for July decreased 41 cents, or about 6 percent on the week, settling at $5.974 yesterday (June 7), the contract's first settlement below $6 since January 21, 2005. Similarly, the August 2006 futures contract decreased on the week, settling yesterday at $6.249 per MMBtu, which was 37.2 cents lower than last Wednesday (May 31). The price of contracts for delivery through November 2006 all decreased (by an average of 23.7 cents on the week), while contracts for delivery during the other months of next winter (December 2006 - March 2007) increased by an average of 10 cents. The historically high prices of futures contracts next winter likely reflect market concerns about potential hurricane-related supply disruptions or warmer-than-normal temperatures during the upcoming summer despite current high storage levels relative to normal. The February 2007 contract is the highest priced contract over the next 12 months, settling yesterday at $10.229 per MMBtu, reflecting a $4.41 per MMBtu premium over the current Henry Hub spot price.
Recent Natural Gas Market Data
Estimated Average Wellhead Prices

Dec-05

Jan-06

Feb-06

Mar-06

Apr-06

May-06

10.02

8.66

7.28

6.52

6.59

6.19

Price ($ per MMBtu)

9.76

8.43

7.09

6.35

6.42

6.02

Note: Prices were converted from $ per Mcf to $ per MMBtu using an average heat content of 1,027 Btu per cubic foot as published in Table A4 of the Annual Energy Review 2002.

Source:Energy Information Administration, Office of Oil and Gas.
Working gas in underground storage as of Friday, June 2, was 2,320 Bcf, according to EIA's Weekly Natural Gas Storage Report (See Storage Figure). The implied net injection was 77 Bcf, significantly lower than the 5-year average net injection of 105 Bcf and last year's difference of 102 Bcf for the report week. The net injection, which was the lowest since the week ending April 28, marks the third week in a row that injections fell short of the 5-year average. Despite the relatively low net injection, storage levels remain 41.3 percent above the 5-year average of 1,642 Bcf and 24.2 percent above last year's level of 1,868 Bcf.Further, the differential of the current storage volume relative to the 5-year average is 678 Bcf after ending the heating season (March 31) at 654 Bcf, indicating that cumulative additions to storage have been above average since then. As measured by cooling degree days (CDDs) published by the National Weather Service, temperatures were warmer than normal in all Census Divisions but the Pacific, although deviations in many areas perhaps were not significant enough to have caused much weather-related demand. (See Temperature Maps).
<![if !vml]>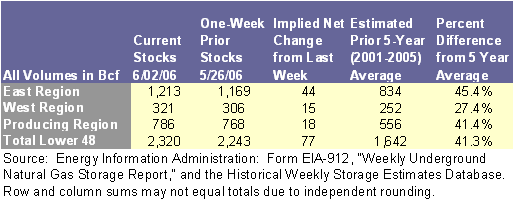 <![endif]>
Other Market Trends:
EIA Releases Its June Short-Term Energy Outlook:According to the Energy Information Administration's (EIA) latest Short Term Energy Outlook (STEO), released on June 6, natural gas spot prices at the Henry Hub in 2006 are expected to average $7.95 per MMBtu, or 12.6 percent less than the $9.10 average in 2005. Spot prices are expected to decline below $7.19 per MMBtu over the next few months, partly as a result of weak heating-related demand this winter and the resulting high levels of natural gas in storage. Total U.S. natural gas demand in 2006 is expected to fall about 0.2 trillion cubic feet (Tcf) or 0.9 percent below the 2005 level and then increase by about 0.8 Tcf or 3.8 percent in 2007. Domestic dry natural gas production in 2005 is estimated to have declined by 2.7 percent, mainly because of the hurricane-induced supply disruptions in the Gulf of Mexico, but it is projected to increase by 0.7 percent in 2006 and 1.2 percent in 2007. Some production still remains shut-in as a result of damage from hurricanes Katrina and Rita last year. According to the Minerals Management Service, an estimated 784.5 billion cubic feet or 19.7 percent of natural gas production from Federal offshore fields had been lost as of June 1. Katrina and Rita also damaged 457 pipelines and numerous refineries and natural gas processing plants. The June STEO also includes a special report, The Impact of Tropical Cyclones on Gulf of Mexico Crude Oil and Natural Gas Production, on the history of tropical storm and hurricane activity in the Gulf of Mexico and its impact on crude oil and natural gas production since 1960. Locations of future storms are unpredictable, but given the very active hurricane season predicted by the National Oceanic and Atmospheric Administration, EIA estimates that shut-in natural gas production in the Federal Outer Continental Shelf this hurricane season could reach 206 Bcf.
Natural Gas Transportation Update:
Only 2 months into the non-heating season, Southern Natural Gas Company announced that its storage facilities are nearly full. According to the latest notice, volumes of working gas in storage were 76 percent of the company's total capacity of 60 Bcf as of June 1, 2006. The current volume exceeds both the 2004 and 2005 volume for comparable periods by 14.6 Bcf and 13.5 Bcf, respectively. As a result of the relatively high working gas volume, Southern Natural Gas has imposed restrictions on interruptible storage transactions.
Because of warm weather forecasts and lower linepack, Florida Gas Transmission Company notified its market-area customers that it had issued an overage alert day for Thursday, June 1, with a 25 percent tolerance for negative daily imbalances.
Gulf South Pipeline announced that it started scheduled maintenance on Bistineau Compressor Station units 3 and 4 on Monday, June 5, and will continue for 3 weeks. Injection capacity for the Bistineau storage field in Louisiana could be reduced by 150,000 Mcf per day. However, given the current nominations, injection and withdrawal capacity should be sufficient.