Overview: Thursday, April 13 (next release 2:00 p.m. on April 20, 2006)
Springtime temperatures in most regions of the country this week led to an easing of natural gas spot and futures prices in the Lower 48 States since Wednesday, April 5. On the week (Wednesday-Wednesday, April 5-12), the Henry Hub spot price dropped 9 cents per MMBtu, or about 1.3 percent, to $6.79. At the New York Mercantile Exchange (NYMEX), the futures contract for May delivery fell 26.1 cents per MMBtu on the week to a daily settlement of $6.808 yesterday (April 12), the lowest closing price for a near-month contract in over a month (March 10). The first week of net injections this season brought natural gas storage supplies to 1,714 Bcf as of Friday, April 7, which is 63.4 percent above the 5-year average inventory for the report week. The spot price for West Texas Intermediate (WTI) crude oil increased $1.77 per barrel on the week to $68.53 per barrel, or $11.82 per MMBtu.
<![if !vml]>
<![endif]>
Moderate temperatures this week, especially in key space-heating markets in the Midwest and Northeast, left prices lower than the previous week at market locations across the Lower 48 States. For the week, prices at production-area trading locations along the Gulf Coast generally decreased between 18 and 44 cents per MMBtu. The Henry Hub spot price fell to $6.79 per MMBtu, which is 9 cents lower than last Wednesday and the lowest spot price at that trading location in more than 4 weeks. The lack of cold weather in the Northeast led to the largest declines of any region. Prices in the Northeast yesterday (April 12) averaged $7.10 per MMBtu, or 62 cents lower than the price on the previous Wednesday. The price in the New York City area off Transcontinental Gas Pipe Line (Transco) has dropped in each of the past six trading sessions, ending trading yesterday at $7.21 per MMBtu, reflecting a total decline for the week of 73 cents per MMBtu, or about 9 percent. Prices in the Midcontinent production region on average fell 38 cents per MMBtu, dropping below the $6-mark at all locations by yesterday, reflecting the impact of diminishing space heating demand in the region, as well as in its downstream markets in the Midwest. The price at the Chicago citygate fell 50 cents per MMBtu on the week to $6.05, the lowest price reported at this market since March 10, and 74 cents lower than yesterday's Henry Hub price. Prices in the western half of the country continued to be generally less than those in the East. The spot price at the Opal, Wyoming, trading location fell 44 cents per MMBtu to $5.50, which was $1.29 less than the Henry Hub price. Outages at nuclear power plants in Arizona and a coal plant in southern California during the week appeared to have little impact on prices for the region as prices in related trading locations dropped an average of 40 cents per MMBtu to a regional price of $5.89.
<![if !vml]>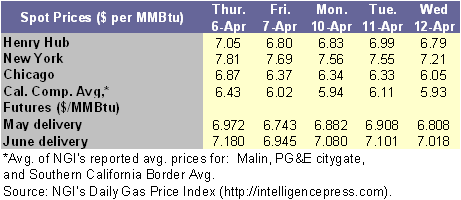 <![endif]>
NYMEX futures prices for months through this November also fell this week, likely in part owing to the perception that ample storage supplies will limit demand for injections through the refill season. The near-month contract (for May delivery) declined on the week by 26.1 cents per MMBtu, or 3.7 percent, as it settled yesterday at $6.808. Earlier in the week (on April 7), the near-month contract decreased to $6.743 per MMBtu, the lowest daily settlement price for the near-month contract since March 10. The May contract traded yesterday $0.425 per MMBtu lower than the April contract's final settlement price of $7.233. Nonetheless, the May contract price was still slightly higher ($0.06 per MMBtu) than the final settlement price of $6.748 for the May 2005 contract. In contrast to price movements for contracts through this November, prices for futures contracts for next winter (December 2006 - February 2007) increased an average of 16.6 cents per MMBtu. As a result, the 12-month strip, which is the average price for futures contracts over the next 12 months, closed yesterday at $8.80 per MMBtu, a slight increase of 4.7 cents since last Wednesday. Prices for contracts for the next winter heating season yesterday averaged $10.491 per MMBtu, considerably higher than the near-term contracts, and $3.70 more than the spot price at the Henry Hub. This price differential is providing a substantial economic incentive to either keep or place gas in storage for the upcoming winter.
Recent Natural Gas Market Data
Estimated Average Wellhead Prices

Oct-05

Nov-05

Dec-05

Jan-06

Feb-06

Mar-06

10.97

9.54

10.02

8.66

7.28

6.52

Price ($ per MMBtu)

10.68

9.29

9.76

8.43

7.09

6.35

Note: Prices were converted from $ per Mcf to $ per MMBtu using an average heat content of 1,027 Btu per cubic foot as published in Table A4 of the Annual Energy Review 2002.

Source:Energy Information Administration, Office of Oil and Gas.
Working gas in underground storage was 1,714 Bcf as of April 7, which is 63.4 percent above the 5-year average inventory level for the report week, according to EIA's Weekly Natural Gas Storage Report (See Storage Figure). The net change marks the first week of net injections this year. The implied net change for the week was a net injection of 19 Bcf, which is more than double the 5-year average net injection of 8 Bcf but less than half last year's net injection of 39 Bcf. As a result, the difference between current inventory levels and the 5-year average decreased slightly to 665 Bcf. The latest heating- and cooling-degree day statistics published by the National Weather Service for the period roughly coinciding with the week covered by this storage report show that weather-related gas demand was below normal, allowing for injections into storage. (See Temperature Maps) Only one of nine Census Divisions (Pacific) had greater-than-normal heating degree days (HDD).HDDs were at least 15 percent below normal in all other regions, and 22 percent less than normal for the nation as a whole.As to cooling degree days (CDD), some divisions showed large percentage differences from normal, but the actual CDD levels are relatively low compared with summer levels and therefore do not represent significant cooling demand.
<![if !vml]>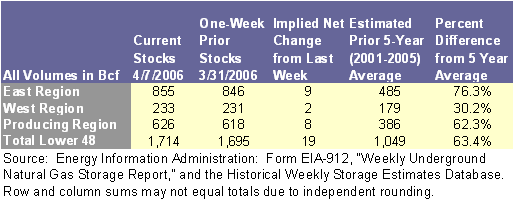 <![endif]>
Other Market Trends:
EIA's Short-Term Energy Outlook for Natural Gas:The Energy Information Administration (EIA) expects that natural gas prices at the Henry Hub will average about $7.68 per Mcf this summer (April - September 2006) according to the agency's Short-Term Energy and Summer Fuels Outlook, released April 11, 2006. The summer 2006 average represents a 9.9 percent decrease from the summer 2005 average ($8.52 per Mcf) when the already elevated fuel prices were further affected by shut-in natural gas production caused by Hurricanes Katrina and Rita. The decline in prices this summer will lead to an overall expected average of $8.07 per Mcf in 2006, which is 10.3 percent less than the 2005 average ($9.00 per Mcf). Owing to concerns about potential future supply tightness and continuing pressure from high oil market prices, however, prices are expected to rise next winter leading to an expected 2007 Henry Hub average of $8.40 per Mcf. By the beginning of the next heating season (November 1, 2006), working gas in underground storage is expected to rise to 3,370 Bcf, which would be about 6 percent above the previous 5-year average. Working gas storage levels are expected to end the calendar year at 2,740 Bcf which would represent a net addition of 100 Bcf in 2006. EIA projects that total natural gas consumption in 2006 will decrease by 0.2 Tcf, or 0.9 percent, compared to 2005 levels, partly because of warm temperatures in January 2006 that led to weak residential heating demand. Dry natural gas production in 2006 is projected to increase by 0.33 Tcf, or 1.8 percent, compared to 2005, and liquefied natural gas imports are projected to increase 22 percent to 770 Bcf in 2006.
Natural Gas Transportation Update:
Transcontinental Gas Pipeline Corp. announced Monday, April 10, that repairs to the West Cameron lateral offshore Louisiana have been completed. The lateral sustained damage as a result of Hurricane Rita, and approximately 75 MMcf per day were shut in on the West Cameron lateral. Transco began accepting nominations on Tuesday, April 11 at the WC 39, 110, 98, 61, and 41 meters, as well as the WC 110 separator facility. According to Transco, about 100 MMcf per day of production remain shut-in on its Southeast Louisiana lateral.
Panhandle Eastern Pipe Line Company announced an outage on the Haven 300 line from Gate Valve 306 to Gate Valve 308 owing to repairs. The outage began yesterday (April 12) and is expected to last 3 days. During the outage, the capacity through Houstonia compressor station will be limited to 1,255 MMcf per day.
Resulting from warmer weather and lower linepack in central Florida, Florida Gas Transmission Co. issued an Overage Alert Day for Friday and Saturday, April 7-8, 2006. The tolerance for negative daily imbalances was initially set at 20 percent, however it was reduced to 15 percent before it was lifted on Sunday.
Tennessee Gas Pipeline Co. declared a force majeure on Friday, April 7, owing to equipment failure at its Compressor Station 25 (Cleveland, Texas), which resulted in partial unavailability of capacity. Tennessee has partially restored the station, however, 2 units still remain out of service, which are targeted to be back in service by late May and mid-June, respectively.
Southern Natural Gas Co. has experienced an unscheduled outage on its north mainline system in Alabama, near the Calhoun Power delivery point. Southern will not be able to accept nominations for deliveries to the delivery point until repairs are completed.