Overview: Thursday, January 12, 2006 (next release 2:00 p.m. on January 19, 2006)
Warmer-than-normal temperatures throughout the country led to lower natural gas spot prices at many trading locations in the Lower 48 States, while some markets exhibited modest increases since last Wednesday. For the week (Wednesday-Wednesday, January 4-11), the price for next-day delivery at the Henry Hub decreased 70 cents per MMBtu, or 7.6 percent to $8.55 per MMBtu. The NYMEX futures contract for February delivery at the Henry Hub settled yesterday (January 11) at $9.238 per MMBtu, which was 96 cents less than last Wednesday's price. Natural gas in storage decreased to 2,621 Bcf as of January 6, leaving the inventories at 11.8 percent above the 5-year average. The spot price for West Texas Intermediate (WTI) crude oil moved up $0.50 per barrel or about 1 percent since last Wednesday to $63.91 per barrel or $11.02 per MMBtu. As natural gas prices have declined while crude oil prices remain above $60 per barrel, the relative position of these prices has returned to a more typical pattern, where the price of natural gas is below that of crude oil on a Btu basis. The Henry Hub spot price was 24 percent below the WTI crude oil price from the beginning of 2005 up to the point that Hurricane Katrina made landfall in late August. For the remainder of 2005, the Henry Hub spot price exceeded the WTI price by 15 percent. However, that unusual pattern of relative prices was changing by the end of 2005, and the Henry Hub spot price has been 17 percent below the WTI price on average so far in January.
<![if !vml]>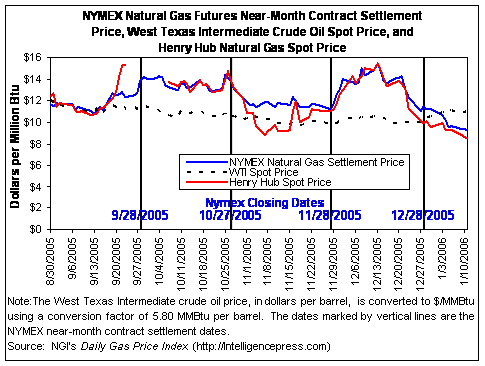 <![endif]>
Spot prices decreased at most market locations during the week, reflecting the above-normal temperatures that prevailed across the Lower 48 States. Spot prices at all market locations reported in NGI's Daily Gas Price Index for January 9 were below $10 per MMBtu for the first time since November 15, 2005. The Henry Hub spot price decreased 70 cents on the week to $8.55 per MMBtu, reaching the lowest price for this market location since August 4, 2005, more than 3 weeks before the major hurricanes of 2005 disrupted supply activities in the Gulf of Mexico region. Similarly, other market locations in Louisiana decreased by an average of 74 cents per MMBtu on the week, while Alabama/Mississippi and Northeast market locations experienced slightly larger average decreases of 83 and 89 cents per MMBtu, respectively. The spot price for delivery at the Transco Zone 6 NY market location recorded the highest weekly decrease in the Nation, falling $1.15 per MMBtu or 11 percent to $9.08. Spot prices generally increased at market locations in some regions, however gains were limited. The Northeast, Texas, Midcontinent, Rocky Mountains, Arizona, and California markets recorded average price increases between 0.9 and 3 percent since last Wednesday. Despite the week-on-week increases, average regional prices in Texas, the Midcontinent, andthe Rockies are equal to or lower than in the other regions since last Wednesday, January 4. On the week, the Opal market location in the Rockies recorded the highest weekly gain in the Lower 48 States of 38 cents or 5 percent per MMBtu.
<![if !vml]>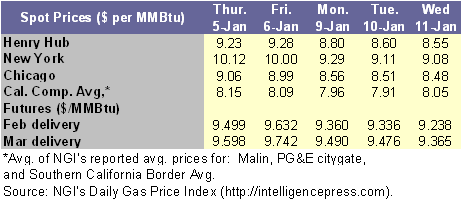 <![endif]>
At the NYMEX, the price of the futures contract for February delivery at the Henry Hub settled at $9.238 per MMBtu yesterday (Wednesday, January 11), decreasing $0.96 per MMBtu or 9.4 percent since Wednesday, January 4. On January 5, the February 2006 futures contract settled at $9.499 per MMBtu, the first time a near-month contract settled below $10 since the September 2005 contract settled at $9.792 on August 26, 2005. Similarly, the price for the March 2006 futures contract declined $0.92 per MMBtu on the week, settling yesterday at $9.365 per MMBtu. The futures contracts for delivery during the remaining 2 months of the current heating season and through the end of the upcoming injection season exhibited successively smaller decreases, as price decreases ranged from 96 to 36 cents, or 9.4 to 3.6 percent per MMBtu. While the February 2006 contract is currently trading at a 69-cent premium to the Henry Hub spot price, futures contract prices for each month from March 2006 through October 2006 exceed the Henry Hub spot price by at least $0.77 to about $1.09 per MMBtu. The 12-month futures strip (February 2006 through January 2007) traded yesterday at a premium of $1.233 per MMBtu relative to the Henry Hub spot price, averaging $9.783 per MMBtu.
Recent Natural Gas Market Data
Estimated Average Wellhead Prices

Jul-05

Aug-05

Sept-05

Oct-05

Nov-05

Dec-05

Price ($ per Mcf)

6.69

7.68

9.76

10.97

9.54

10.02

Price ($ per MMBtu)

6.51

7.48

9.50

10.68

9.29

9.76

Note: Prices were converted from $ per Mcf to $ per MMBtu using an average heat content of 1,027 Btu per cubic foot as published in Table A4 of the Annual Energy Review 2002.

Source:Energy Information Administration, Office of Oil and Gas.
Working gas in storage was an estimated 2,621 Bcf as of Friday, January 6, 2006, according to the EIA Weekly Natural Gas Storage Report. This inventory in underground storage is 276 Bcf, or 11.8 percent, more than the 5-year average for the report week and 2 Bcf, or about 0.1 percent, lower than the level last year (See Storage Figure). The implied net withdrawal during the report week was 20 Bcf, which is 77 Bcf or nearly 80 percent lower than the implied net change of 97 Bcf for the same week last year. At the same time, the average daily withdrawal of 2.9 Bcf per day for the report week is 18.8 Bcf per day lower than the 5-year (2000-2004) average daily withdrawal for January of 21.7 Bcf per day. An estimated 545 Bcf was withdrawn from underground storage during the month of December, which exceeds the 5-year (2000-2004) average by less than 3 percent, despite a 3-week drawdown of 526 Bcf in the period ending December 23. Warmer-than-normal temperatures across much of the Lower 48 States likely contributed to the relatively low net withdrawals of natural gas from storage for the week ending January 5. As measured by heating degree days (HDDs), the weather was more than 30 percent warmer than normal for the United States as a whole, according to National Weather Service data. The above-normal temperatures were especially pronounced in major gas-consuming markets as the weather for the Mid-Atlantic region during the report week was about 19 percent warmer than normal. The East North Central region, which includes Chicago, was almost 34 percent warmer than normal. (See Temperature Maps) During the report week, all nine Census Divisions recorded warmer-than-normal temperatures. Natural gas spot and futures prices are currently in contango (future delivery prices exceed current spot prices), providing suppliers economic incentives to rely more on current supplies (production and imports) and not on withdrawals from storage.
<![if !vml]>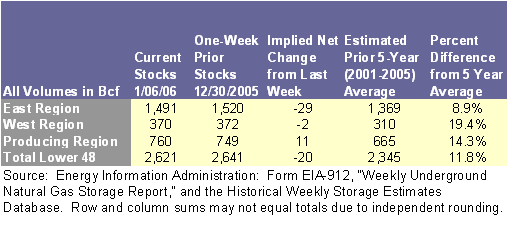 <![endif]>
Other Market Trends:
LNG Import Projects Moved Forward in 2005: Movement toward increased reliance on imports of liquefied natural gas (LNG) in the U.S. marketplace continued in 2005. Developments during the year included the beginning of operations at a new offshore port, ongoing construction of three more terminals, and the approval of several terminals by Federal officials. After receiving approval from the Maritimes Administration (MARAD) to begin operations, Excelerate Energy's Gulf Gateway Deepwater Port, the first offshore LNG import facility in the world, received its first cargo on March 19, 2005. The cargo arrived from Malaysia by ship, carrying the equivalent of 2.6 billion cubic feet (Bcf) of natural gas, according to the U.S. Department of Energy's Office of Fossil Energy.
In late January, Freeport LNG broke ground for the first new onshore terminal in the continental United States in more than 20 years. The terminal, located on Quintana Island, Texas, is expected to be complete in late 2007. Freeport LNG in 2005 also filed with the Federal Energy Regulatory Commission (FERC) to expand the terminal regasification capacity to 4.0 Bcf per day, which would make it the largest in the United States. Cheniere Energy started construction of its Sabine Pass terminal in Cameron Parish, Louisiana, in March, after the terminal received final approval from FERC in late 2004. Operations at the Sabine Pass terminal are expected to begin in late 2007 or early 2008. Cameron LNG, which was approved by FERC in December 2003, also began construction in November and expects to begin commercial operations by late 2008. The terminal's owner, Sempra LNG, signed an agreement to provide Tractebel LNG North America up to one-third of the capacity, or about 500 million cubic feet (MMcf) per day, for 20 years. Additionally, Italy's ENI signed a preliminary agreement with Sempra to take 600 MMcf per day of capacity for 20 years.
Federal regulators continued review of numerous LNG terminal applications, approving six terminals in 2005. ExxonMobil received approval from FERC for two terminals: the Golden Pass project near Sabine Pass, Texas, and the Vista del Sol terminal near Corpus Christi, Texas, each with the capacity to deliver up to 1 Bcf per day into the pipeline grid. FERC also approved Cheniere Energy's Corpus Christi LNG project in Texas; Hess LNG in Fall River, Massachusetts; and Occidental's Ingleside Energy in Texas. MARAD has approved Shell's Gulf Landing offshore LNG terminal to be located 38 miles off Cameron, Louisiana. The gravity-based structure will have a peak send-out capacity of 1.2 Bcf per day.
While the development of new import terminals is expected to increase LNG imports in the future, the volume of LNG imports entering the United States in 2005 now appears to have stayed roughly similar to 2004. Through November, the last month for which official data are available, LNG imports totaled 580 Bcf, or an average of 53 Bcf per month. If this pace continued in December, total receipts for the year would be less than 3 percent below the 652 Bcf received in 2004. The four active onshore terminals operated at an estimated 60 percent of capacity during the year, and Excelerate's Gulf Gateway received just two shipments through November. The spare capacity in the current facilities during 2005 indicates that there is potential for expanded imports. However, importers outside the United States competed successfully for volumes that were available on the spot market as spot prices in Europe and United Kingdom exceeded U.S. spot prices at times, even in recent months when U.S. prices were at historically high levels. Nevertheless, LNG import facilities likely will provide higher imports of LNG in the future as expected large volumes of LNG enter the United States under long-term contracts.
EIA Releases Its January Short-Term Energy Outlook:According to the Energy Information Administration's (EIA) latest Short Term Energy Outlook (STEO), released January 10, natural gas supply and demand are expected to increase in 2006 and natural gas prices are expected to remain high. Supported by higher oil prices, the Henry Hub natural gas price is expected to increase to $9.54 per MMBtu in 2006 from $8.76 per MMBtu in 2005. However, the natural gas spot price decreases to $8.61 in 2007, as prices of other fuels, including crude oil, decrease as well. Domestic dry natural gas production in 2005 is estimated to have declined by 3.1 percent, owing mainly to the hurricane-impacted supply disruptions in the Gulf of Mexico, but it is projected to increase by 3.8 percent in 2006 and about 1 percent in 2007. As of the beginning of January, 19.5 percent of the pre-Katrina Federal Gulf of Mexico natural gas production remained shut-in. Total domestic energy demand is projected to increase at an annual rate of about 1.3 percent in 2006 and 1.5 percent in 2007, led by increasing demand for petroleum. Residential natural gas demand is expected to increase by 0.8 percent in 2006 and 2007. The 2005-2006 winter residential space-heating expenditures are projected to be higher relative to the winter of 2004-05 owing to higher energy prices. On average, households using natural gas are expected to spend about $257 (35 percent) more for fuel this winter than last winter. However, expenditures could be significantly higher if actual temperatures are colder than normal. In addition to weather conditions, the average expenditures are dependent on the size of the homes, the type of heating equipment, and the thermostat setting.
Natural Gas Transportation Update: Several natural gas pipeline companies reacted to potential imbalances on natural gas transportation systems during this report week. Texas Eastern issued five customer-specific Operational Flow Orders (OFO's), effective January 9, that require these customers to transport the applicable contract's maximum daily quantity before using storage services. Pacific Gas & Electric issued a system-wide high-inventory OFO for Saturday, January 7. Penalties of $1 per dekatherm (Dth) were set for exceeding a daily tolerance level of 5 percent of the scheduled volumes. Florida Gas Transmission issued Overage Alert Day notices, which are similar to OFO's, for Saturday and Sunday (January 7 and 8) that required shippers' takes are not to exceed their daily volumes by more than 25 percent in order to maintain operational capability of the pipeline. Maintenance and system additions also have affected transportation capacities to some extent this week. Trunkline will limit nominations to 75,000 Dth per day during meter maintenance at the Ragley interconnect in Louisiana from January 16 through 19. Maintenance on a North Louisiana segment of the Gulf South pipeline may affect capacity by as much as 150 MMcf per day in certain regions. This maintenance was scheduled to begin Wednesday, January 11 and last for 3 days. El Paso reported that capacity at the Amarillo (TX) Station has been reduced by 100 MMcf per day pending resolution of controls problems.