Overview: Thursday, April 14 (next release 2:00 p.m. on April 21)
The emergence of more spring-like temperatures in most regions of the country, ample natural gas storage supplies, and lower oil prices resulted in natural gas spot prices easing 7 to 43 cents per MMBtu in the Lower 48 States since Wednesday, April 6. On the week (Wednesday-Wednesday, April 6-13), the Henry Hub spot price dropped 39 cents per MMBtu, or about 5 percent, to $7.07. At the New York Mercantile Exchange (NYMEX), the futures contract for May delivery fell 58 cents per MMBtu on the week to a daily settlement of $6.978 yesterday (April 13), the first close below $7 for a near-month contract since March 28. A second week of net injections brought natural gas storage supplies to 1,293 Bcf as of Friday, April 8, which is 26.3 percent above the 5-year average inventory for the report week. The spot price for West Texas Intermediate (WTI) crude oil decreased $5.67 per barrel on the week to $50.21 per barrel, or $8.66 per MMBtu.
<![if !vml]>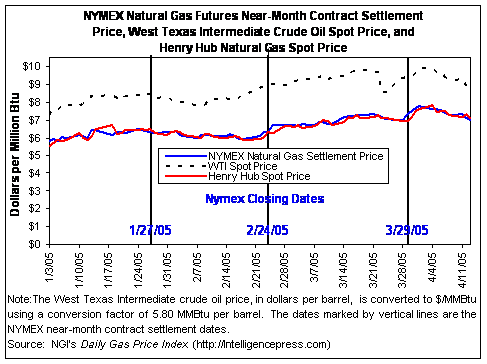 <![endif]>
Moderate temperatures, especially in key space-heating markets in the Midwest and Northeast, left prices lower than the previous week at market locations across the Lower 48 States. For the week, prices at production-area trading locations along the Gulf Coast generally dropped in three of the five trading sessions for a total net weekly decrease of between 30-43 cents per MMBtu. The Henry Hub spot price fell to $7.07 per MMBtu, which is 39 cents lower than last Wednesday and the lowest spot price at that trading location in over two weeks. Although a chill briefly entered the Northeast, prices in the region fell from last week's levels of more than $8 per MMBtu at several key market locations. The price at New York citygates off Transcontinental Gas Pipe Line dropped 41 cents per MMBtu on the week to $7.65. Prices in the Midcontinent production region on average fell 29 cents per MMBtu, dropping below the $7-mark at some locations, reflecting the impact of diminished space heating demand in the region. In contrast to the East, the weather in the Rockies was considerably colder than average during the week with near blizzard-like conditions in Colorado. Price declines on the week in the western half of the country were generally less than those in the East. The spot price at the Opal, Wyoming, trading location fell 13 cents per MMBtu to $6.46. An outage at the Transwestern Pipeline interconnection with Southern California Gas during the week appeared to have little impact on production prices for delivery on the pipeline. The price off Transwestern in West Texas dropped 21 cents per MMBtu on the week to $6.38.
<![if !vml]>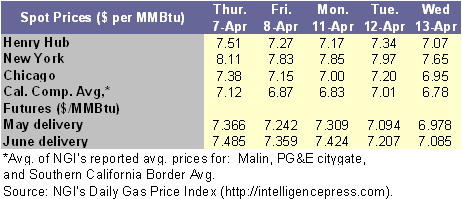 <![endif]>
At the NYMEX, the May 2005 contract lost 58 cents per MMBtu on the week, settling at $6.978 yesterday. As was the case with spot prices, the near-month contract price fell most days this week amid shoulder-season market conditions and falling prices for oil. At $6.978 per MMBtu, the May contract is priced 34.5 cents lower than the expiration price of the April 2005 contract. However, the price for the May-delivery contract remains $1.04 per MMBtu, or 17 percent, higher than the May 2004 contract's expiration price of $5.935 per MMBtu. While NYMEX contract prices for next winter (December 2005-February 2006) fell an average of 46 cents per MMBtu, each contract is still priced over $8.00 per MMBtu. The 12-month strip, or the average price for contracts over the next year, settled yesterday at about $7.56 per MMBtu, a decline of 51 cents on the week.
Recent Natural Gas Market Data
Estimated Average Wellhead Prices

Oct-04

Nov-04

Dec-04

Jan-05

Feb-05

Mar-05

Price ($ per Mcf)

5.45

6.07

6.25

5.52

5.59

5.98

Price ($ per MMBtu)

5.30

5.91

6.08

5.37

5.44

5.82

Note: Prices were converted from $ per Mcf to $ per MMBtu using an average heat content of 1,027 Btu per cubic foot as published in Table A4 of the Annual Energy Review 2002.

Source: Energy Information Administration, Office of Oil and Gas.
Estimated working gas in underground storage was 1,293 Bcf as of April 8, which is 26.3 percent above the 5-year average inventory level for the report week, according to EIA's Weekly Natural Gas Storage Report (See Storage Figure). The implied net change in inventories was an addition of 44 Bcf, which is the second net injection this spring. This week's implied net injection is significantly larger than the 5-year average injection of 1 Bcf and the injection of 16 Bcf for the same week last year. The seasonably mild temperatures throughout the country generated little weather-sensitive demand, allowing for the relatively large injection. For the week ended April 7, 2005, the weather for the country as a whole was about 30 percent warmer than normal and over 27 percent warmer than last year, as measured by the National Weather Service heating degree days (HDD). Temperatures in major consuming market areas in the Midwest, Northeast and Middle Atlantic were generally mild. The East North Central Census region, which includes Chicago, recorded 37 percent warmer-than-normal temperatures, while the temperature in the Mid-Atlantic Census region was about 28 percent warmer than normal for the week. (See HDD table)
<![if !vml]>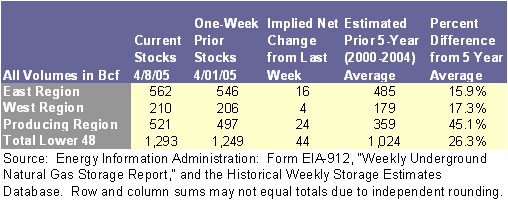 <![endif]>
Other Market Trends:
Natural Gas Rig Count: The number of rigs drilling for natural gas hit a new record of 1,157 on April 1, 2005, and remained the same for the week ending April 8, 2005, according to Baker-Hughes Incorporated. Prior to the upward trend in gas rigs drilling that started in late 2002, the previous record was set in the week ending July 13, 2001, when the number of rigs reached 1,068. The current number of rigs drilling for natural gas exceeds the previous record by 89, and it is 17 percent higher than the number of rigs drilling for natural gas last year at this time. Rigs drilling for natural gas have comprised more than 87 percent of the rigs drilling for both natural gas and oil for the past two weeks. Although the natural gas share of oil and gas drilling rigs has been at least 85 percent since the end of May 2003, this is the largest share of rigs drilling for natural gas in history.
Annual Report for Energy in Canada in 2004 Released: The National Energy Board (NEB) has released its 2004 Annual Report describing energy trends in Canada. According to the NEB, the tight balance between natural gas supply and demand in North America resulted in higher natural gas prices than in recent years, which in turn encouraged high levels of drilling in Canada. The report said that 15,674 gas wells were drilled last year, which set a new record for the second consecutive year. Gas well completions made up 72 percent of all wells completed. Despite the increased drilling, however, gas production in Canada last year was relatively flat, growing only 0.5 percent over 2003. A continuing trend of lower initial productivity exhibited by new wells meant that production was only slightly changed from 2003 levels. The slight increase in production and a moderate decrease in weather-sensitive gas demand in Canada resulted in greater gas exports from Canada, which were primarily used to meet increased gas consumption for U.S. industrial and electric power generation according to the NEB. The NEB also reported relatively low returns to drilling in terms of reserves added. Reserves replacement in Canada accounted for 46 percent of gas production in 2004, whereas cumulative additions of marketable gas reserves over the past 5 years replaced 83 percent of total gas production. Regionally, Alberta accounted for 79 percent of total Canadian gas production, while British Columbia totaled 14 percent; Saskatchewan, 4 percent; Nova Scotia, 2 percent; Northwest Territories and Yukon, 0.5 percent; and Ontario, less than 0.5 percent.
Summary:
Natural gas spot prices decreased 7-43 cents per MMBtu since Wednesday, April 6, as temperatures moderated and crude oil prices dropped by more than 10 percent. At the NYMEX, price decreases were more pronounced, with the price of the near-month contract dropping 58 cents per MMBtu to below $8. As of April 8, working gas in storage was 1,293 Bcf, which is 23.5 percent greater than last year and 26.3 more than the 5-year average. Yet prices in both the spot and futures markets remain well above last year's levels at this time.