Overview: Thursday, April 7 (next release 2:00 p.m. on April 14)
Despite the close of the traditional heating season with relatively high volumes of natural gas remaining in storage and milder temperatures across much of the Lower 48 States, spot prices increased at most market locations. For the week, (Wednesday-Wednesday, March 30-April 6), the Henry Hub spot price increased by 29 cents per MMBtu, or 4 percent, to $7.46. Similarly, the NYMEX futures contract price for May delivery at the Henry Hub increased by nearly 10 cents from last Wednesday's level, settling yesterday (April 6) at $7.558 per MMBtu. As of Friday, April 1, natural gas in storage was 1,249 Bcf, or 22.2 percent higher than the 5-year average of 1,022 Bcf. The spot price for West Texas Intermediate (WTI) crude oil increased $1.92 per barrel or about 4 percent since last Wednesday, to $55.88 per barrel or $9.63 per MMBtu.
<![if !vml]>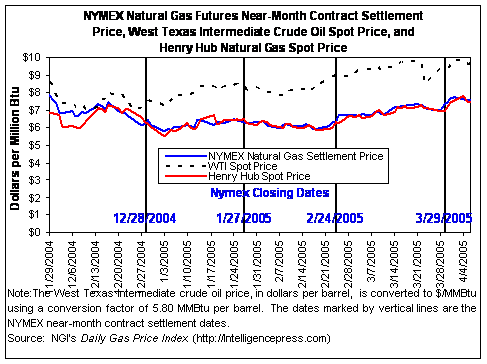 <![endif]>
After consistent price increases lasting through Monday, April 4, the Henry Hub spot market price decreased in Tuesday's trading by 36 cents, or 4.6 percent. After a slight increase in yesterday's trading, the Henry Hub price finished the week at $7.46 per MMBtu, reflecting a net increase of 29 cents on the week. Spot prices overall increased since last Wednesday with net increases ranging up to 53 cents per MMBtu. Price increases tended to be largest in the Northeast, where a peak change of 53 cents was recorded, and Louisiana, where price increases were as much as 42 cents. In the Midwest, the Chicago citygate price increased only marginally by 11 cents, or 1.53 percent, averaging yesterday at $7.31 per MMBtu, while the average price for all Midwest locations stood at $7.60 per MMBtu.
<![if !vml]>
<![endif]>
At the NYMEX, the price of the futures contract for May delivery at the Henry Hub increased about 10 cents or 1.3 percent since last Wednesday (March 30). Similar to the trend of spot market prices, the May futures contract price increased through Friday, April 1, but subsequent decreases on Tuesday and Wednesday were not sufficient to offset the increases earlier in the week. The futures contract for June delivery also increased by about 10 cents on the week, or 1.4 percent, settling yesterday at $7.668 per MMBtu. Settlement prices for contracts for delivery in months through the end of the next heating season all increased on the week in the range of 10 to 13 cents per MMBtu. The highest-priced gas for delivery during the next heating season as of yesterday was for January delivery at $8.761 per MMBtu.
Recent Natural Gas Market Data
Estimated Average Wellhead Prices

Oct-04

Nov-04

Dec-04

Jan-05

Feb-05

Mar-05

Price ($ per Mcf)

5.45

6.07

6.25

5.52

5.59

5.98

Price ($ per MMBtu)

5.30

5.91

6.08

5.37

5.44

5.82

Note: Prices were converted from $ per Mcf to $ per MMBtu using an average heat content of 1,027 Btu per cubic foot as published in Table A4 of the Annual Energy Review 2002.

Source: Energy Information Administration, Office of Oil and Gas.
Working gas inventories increased to 1,249 Bcf as of Friday, April 1, according to EIA's Weekly Natural Gas Storage Report (See Storage Figure). This implies a net injection of 10 Bcf, which is the first this year and contrasts with the 5-year average withdrawal of 11 Bcf for this week. Storage levels are 22.2 percent above the 5-year average as the traditional heating season ends (March 31). This storage level is especially high considering that the net monthly withdrawal for March, based on the weekly data, was approximately 306 Bcf, or 75 percent above the 5-year average March withdrawal of 175 Bcf (the 5-year average is based on EIA's monthly data). This also highlights the variation in heating season withdrawals since the monthly withdrawal for February, based on the weekly data, was 12 percent below the 5-year monthly average for February. This week's net injection, the first since early November, can be attributed mainly to increasing temperatures. While most of March saw colder-than-normal temperatures influencing space heating demand in major metropolitan cities apart from the West Coast, temperatures were predominantly warmer-than-normal across the United States for the week ending Thursday, March 31, as measured by the National Weather Service heating degree days (HDD). Almost all regions experienced temperatures ranging up to 30 percent warmer-than-normal except the Mountain and Pacific regions where temperatures were 11 percent colder-than-normal (See HDD table). As compared with last year, however, temperatures were considerably colder in all regions. For the entire Lower 48, temperatures were 8 percent warmer-than-normal, but 39 percent colder than this week last year.
<![if !vml]>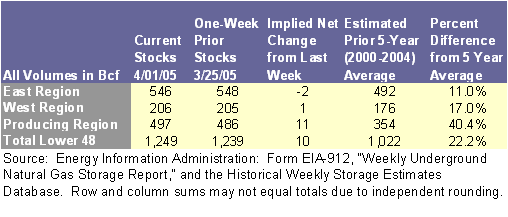 <![endif]>
Other Market Trends:
Recap of Natural Gas Prices in the Recent Heating Season: Natural gas prices during the heating season ended March 31, 2005, differed significantly from those of the past two heating seasons. The average spot price at the Henry Hub exceeded levels of the past two heating seasons by 15 to 16 percent. Factors contributing to the recent relatively high prices include flat or declining U.S. natural gas production, limited growth in net imports, high petroleum prices, increasing industrial demand driven by the economic recovery, and expanding stocks of gas-burning equipment in households and electric power generation. In addition to the higher prices in the recent heating season, spot prices peaked in the final month, as opposed to a more typical peak in the middle months. Although prices on average during the 2004-2005 heating season were more than 80 cents above those of the past two seasons, the March 2005 peak is below that of February 2003 when the Henry Hub spot price hit a one-day peak of $18.85 on February 25, 2003. Weather for the United States as a whole in March 2005 was almost 6 percent colder than normal and 29 percent colder than the same month last year as measured by heating-degree-days (HDD) published by the National Weather Service. Most importantly, the coldest temperatures were registered east of the Mississippi, where major natural gas-consuming markets and much of the natural gas storage capacity is located. Temperatures in each region in the East were 10 percent or more below normal. As a result of the colder-than-normal temperatures, the average Henry Hub spot price during March was 29 percent higher than in March 2004, and about 17 percent higher than in March 2003. Reflecting the tight natural gas market in March, gas storage withdrawals during the month were much higher than average (See Storage Section for more details). In March 2005, the spot price at the Henry Hub averaged $6.96 per MMBtu, which was $1.57, or about 29 percent, higher than last year's average of $5.39.
EIA Releases Performance Profiles of Major Energy Producers 2003: The Energy Information Administration (EIA) released on March 29, the latest financial and operating data that it collects annually from the major U.S. energy companies. Performance Profiles of Major Energy Producers 2003 reports on information provided to EIA on its Financial Reporting System (FRS) Form EIA-28. The report examines the companies' operations on a consolidated corporate level, by individual lines of business, and by various geographic regions. The 2003 report differs from previous reports as it includes two new lines of business: downstream natural gas operations and electric power. Prior to 2003, the lines of business consisted of petroleum, coal, other energy, and nonenergy. Natural gas operations were included in the petroleum line of business, and electric power was part of other energy. This new information available for FRS companies will help to highlight the contribution of natural gas to their operations. In 2003, FRS companies earned $57.4 billion, nearly triple the earnings of 2002, and net income rose 78 percent from 2002 owing primarily to higher prices for crude oil, natural gas, and petroleum products. The higher crude oil and natural gas wellhead prices made oil and gas production the most profitable line of business for the FRS companies, providing $44 billion in net income in 2003.
Summary:
Natural gas prices increased at most market locations by as much as 53 cents per MMBtu, amid the rising crude oil prices. Spot prices at the Henry Hub increased 29 cents during the week, trading at $7.46 per MMBtu yesterday. Despite the higher-than-average gas volume that remained in storage at the end of the heating season, which ended on Thursday, March 31, futures prices generally increased through the next 12 months. Working gas in storage increased to 1,249 Bcf, which is 22.2 percent above the 5-year average. The injection of 10 Bcf for the week ended April 1, is the first since early November.