Overview: Thursday, February 17 (next release 2:00 p.m. on February 24)
Moderate temperatures throughout most of the country this week contributed to widespread price decreases at trading locations in the Lower 48 States. However, most price declines were limited to less than 20 cents per MMBtu as higher crude oil prices appeared to support prices across the energy complex. For the week (Wednesday-Wednesday, February 9-16), the price for next-day delivery at the Henry Hub slipped 9 cents per MMBtu, or about 1 percent to $6.11. The NYMEX futures contract for March delivery at the Henry Hub yesterday (February 16) settled at $6.109 per MMBtu, which is 5.6 cents less than last Wednesday's price. Natural gas in storage decreased to 1,808 Bcf as of February 11, which is 20.9 percent above the 5-year average. The spot price for West Texas Intermediate (WTI) crude oil moved up $2.90 per barrel or about 6 percent since last Wednesday to $48.35 per barrel or $8.34 per MMBtu.
<![if !vml]>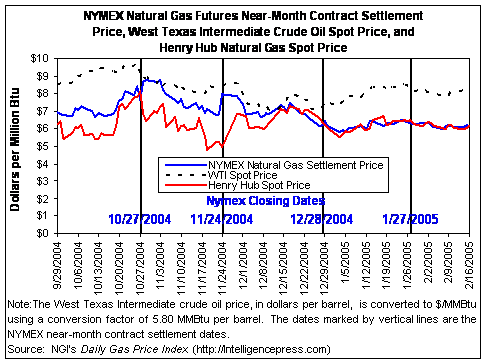 <![endif]>
Spot prices have fallen for the week with declines ranging from $0.01 to $0.39 per MMBtu, as unseasonably moderate temperatures dominated the country and storage supplies continued at well above average levels as the heating season progresses. Declines were generally less than 20 cents per MMBtu along the Gulf Coast. Since last Wednesday, February 9, the spot price at the Henry Hub has fallen about 1 percent to $6.11 per MMBtu. The largest price declines during the week principally occurred in the Northeast. At the New York citygate off Transcontinental Gas Pipe Line, the spot price decreased 39 cents per MMBtu to $6.76. As a result, the basis differential between the Northeast and Gulf-area producing region markets has continued to drop from relatively high levels in late January and early February closer to historical norms of about 50-60 cents per MMBtu. In the Rockies and California, mild temperatures resulted in price declines in a range of 2 to 11 cents per MMBtu since last Wednesday. The price for deliveries at the trading point in Opal, Wyoming, fell 6 cents to $5.54 per MMBtu.
<![if !vml]>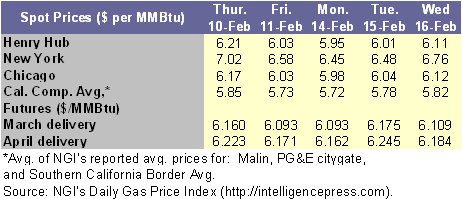 <![endif]>
At the NYMEX, prices for near-term futures contracts eased by about 6 cents per MMBtu or less on the week. The price for March delivery at the Henry Hub fell 5.6 cents per MMBtu. Yesterday's (February 16) closing price for the near-month contract of $6.109 per MMBtu was virtually identical with the price commanded in the spot market. The NYMEX April contract fell slightly less at 3.4 cents on the week, ending trading yesterday at $6.184. Despite the near-term price declines, contracts from July 2005 through next winter gained from about 1 to 5 cents on the week. As a result, the 12-month strip, or the average price for contracts over the next year (March 2005 to February 2006), gained 1 cent per MMBtu to end to the week at $6.594. Currently, the January 2006 contract price is the highest in the 12-month strip at $7.336 per MMBtu.
Recent Natural Gas Market Data
Estimated Average Wellhead Prices

Aug-04

Sept-04

Oct-04

Nov-04

Dec-04

Jan-05

Price ($ per Mcf)

5.36

4.86

5.45

6.07

6.25

5.52

Price ($ per MMBtu)

5.21

4.73

5.30

5.91

6.08

5.37

Note: Prices were converted from $ per Mcf to $ per MMBtu using an average heat content of 1,027 Btu per cubic foot as published in Table A4 of the Annual Energy Review 2002.

Source: Energy Information Administration, Office of Oil and Gas.
Working gas in storage was 1,808 Bcf as of Friday, February 11, according to EIA's Weekly Natural Gas Storage Report. This is 313 Bcf, or 20.9 percent, higher than the previous 5-year (2000-2004) average of 1,495 Bcf for the week (See Storage Figure) and 328 Bcf, or 22.2 percent, higher than stock levels at this time last year. The implied net withdrawal of 98 Bcf is 34 percent lower than the 5-year average withdrawal of 149 Bcf for the week, which was consistent with the warmer-than-normal temperatures recorded across the United States. According to the National Weather Service, temperatures for the week ending Thursday, February 10, as measured by gas-customer weighted heating degree days (HDDs) were warmer than normal in all nine Census Divisions.(See HDD table) HDDs in New England and Middle Atlantic Census Regions were 24 and 15 percent below normal and 16 and 22 percent less than for the same report week last year, respectively. Similarly, HDDs were more than 18 percent below normal for the entire Lower 48 States, and 22 percent below the level last year at this time.
Please note that with the current edition of the Natural Gas Weekly Update temperatures will be reported on a Thursday-Thursday cycle, which coincides better with the reported storage data that are based on stocks as of Friday at 9 a.m. The temperature data provided with this report will consist of the HDD table only. Readers who want to consult the color maps previously available here can find the average temperature map and the deviations of average temperatures from normal at the NOAA/NWS website.
<![if !vml]>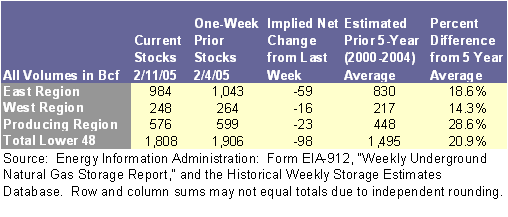 <![endif]>
Other Market Trends:
MMS Issues Final Notices of Eastern and Central Gulf Lease Sales: The Minerals Management Service (MMS) announced on February 11, 2005, the availability of the Final Notice of Lease Sales 194 and 197. Both offshore oil and gas lease sales are scheduled to take place on March 16, 2005. Central Gulf Lease Sale 194 includes 4,063 available blocks covering more than 21 million acres in the Central Gulf of Mexico Outer Continental Shelf (OCS) Planning Area offshore Louisiana, Mississippi, and Alabama. The blocks are located from 3 to about 210 miles offshore, and in water depths of 13 to more than 11,000 feet. MMS projects that production will range between 276 and 654 million barrels of oil and from 1.59 and 3.30 trillion cubic feet of natural gas as a result of the lease sale. Furthermore, the U.S. Coast Guard and the Maritime Administration have received six applications for the licensing of deepwater ports for proposed liquefied natural gas (LNG) facilities. Eastern Gulf Lease Sale 197 is the third lease sale in the Eastern Gulf of Mexico in the past 5 years, and it consists of 124 unleased blocks that cover about 714,240 acres south of Alabama. The available blocks are located from 100 to 196 miles offshore in water depths ranging between 5,200 to more than 11,200 feet, and are estimated to contain between 65 and 85 million barrels of oil and 265 and 340 billion cubic feet of natural gas.
EIA Publishes Overview of Natural Gas in 2003: The Energy Information Administration (EIA) published The Natural Gas Industry and Markets in 2003 on February 14. This special report is intended as a supplement to EIA's Natural Gas Annual 2003 and provides an overview of the supply and disposition of natural gas in 2003. According to the report, natural gas consumption declined from 23.0 trillion cubic feet (Tcf) in 2002 to 22.4 Tcf in 2003. While residential and commercial consumption increased for the year, the rise in these two sectors was not sufficient to offset the decline in natural gas consumption elsewhere. Consumption fell by almost 5 percent in the industrial sector, while natural gas use for electric power generation experienced a 9.5 percent decline in 2003. The overall decline in consumption was consistent with the increase in natural gas prices. The natural gas wellhead price reached a record level of $4.88 per thousand cubic feet (Mcf), increasing by 65 percent over the 2002 levels and exceeding the previous record level of $4.21 in 1983 by almost 16 percent measured in 2003 dollars. Residential price rose from $7.89 in 2002 to $9.25 in 2003, an increase of $1.63 or almost 21 percent. The combined level of domestic production and net imports decreased by 86 billion cubic feet (Bcf) in 2003. Despite higher drilling activity, natural gas dry production increased by only 0.6 percent in 2003. Pipeline imports from Canada declined, while liquefied natural gas (LNG) imports rose to a record high of 507 Bcf.
Summary:
Spot prices at most market locations in the Lower 48 States were relatively little changed in comparison with the previous week as moderate temperatures dominated most of the country. For the week, the price at the Henry Hub decreased 1 percent to $6.11 per MMBtu. Futures prices decreased generally about a dime for delivery months over the next year. Storage withdrawals were 98 Bcf, leaving stocks at 20.9 percent above the 5-year average.