Overview: Thursday, October 28 (next release 2:00 p.m. on November 4)
Natural gas spot prices spiked significantly higher for the second consecutive week, while futures prices for delivery months beyond November saw smaller, yet still substantial, increases. The November contract expired yesterday (Wednesday, October 27) at nearly the identical price of last Wednesday's settlement, up $0.003 on the week (Wednesday to Wednesday, October 21-28) to end trading at $7.626 per MMBtu. Taking over as the near-month contract, the NYMEX futures contract for December delivery settled yesterday at $8.775 per MMBtu, an increase of $0.235 per MMBtu, or almost 3 percent, since last Wednesday. The price for spot gas at the Henry Hub jumped $0.87 per MMBtu on the week, an increase of 12 percent, as spot gas traded yesterday at $8.12, topping $8 for the first time since early March 2003. Working gas inventories were 3,249 Bcf as of Friday, October 22, which is 6.9 percent greater than the 5-year average. The spot price for West Texas Intermediate crude oil reached a record-high $56.37 per barrel ($9.72 per MMBtu) on Tuesday (October 26), only to drop in yesterday's trading on news that last week's crude oil stocks build was about double the market's expectations. WTI ended trading yesterday at $52.52 per barrel ($9.06 per MMBtu), down $2.41 per barrel ($0.42 per MMBtu), or over 4 percent, from last Wednesday's level.
<![if !vml]>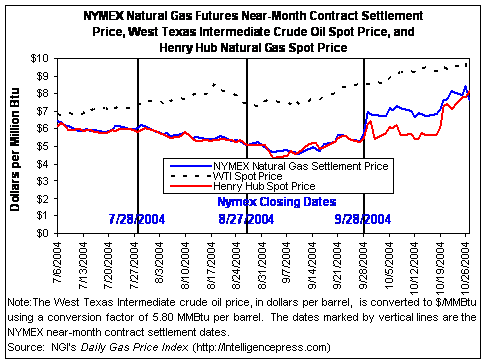 <![endif]>
In a week that featured seasonal temperatures in most high-gas consuming areas of the nation, spot prices spiked higher on Monday and Wednesday (October 25 and 27). There appears to be no dominant factor driving the price increases. Temperatures are typical for this time of year, shut-ins owing to Hurricane Ivan continue but are down to 1.3 Bcf per day, and there have been no major disruptions of supplies either in the production fields or along the distribution system. For the week, spot price increases were pervasive, ranging from around 60 cents to nearly $2.00 per MMBtu. By yesterday, spot prices exceeded $8 per MMBtu at nearly half of 87 trading locations throughout the country, including every Northeast market. In the Midwest, only the Chicago citygate price, at $7.98, was under $8 per MMBtu. Meanwhile, cooler temperatures in the Pacific Northwest and the Rocky Mountains during the week provided some additional support to prices in Western points. Price increases in these market areas were the largest percentage-wise, with increases in West Texas, California, and the Rockies ranging from 16 to more than 21 percent. Unseasonably hot temperatures primarily in southern Texas resulted in some significant space cooling demand and the highest weekly price increase—both absolute and percentage-wise—in the nation: the spot price for gas at TRANSCO's Station 30 in Southeast Texas increased $1.77 per MMBtu, or 28.1 percent, to $8.07.
<![if !vml]>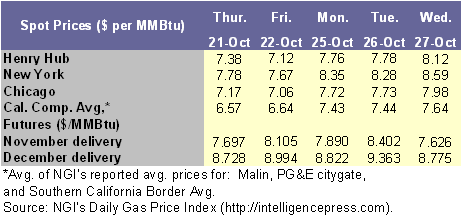 <![endif]>
The recent volatility in futures prices continued, as daily price changes for the near-month contract (for November delivery) settlement price ranged between declines of nearly 80 cents per MMBtu and increases of more than 50 cents. On balance, however, the price gains roughly offset the declines, so the expiring November contract had a net increase on the week of just $0.003 per MMBtu, ending trading yesterday at $7.626. Since becoming the near-month contract on September 29, the November contract gained over 10 percent in value. On the other hand, prices for contracts for delivery through the end of the upcoming heating season showed strong increases on the week ranging from December's $0.235 per MMBtu to February's $0.487, leaving it with the highest-priced gas of the winter as of yesterday at $9.47 per MMBtu. Natural gas futures price movements continue to mirror movements in crude futures prices. In a speech delivered on Friday (October 22), Federal Reserve Board Governor Ben S. Bernanke noted that prevailing crude oil futures prices indicate that the current expectation is for a long-run oil price of about $39 per barrel, contrasted with about $20 per barrel throughout most of the 1990s. As of yesterday, natural gas futures prices exceeded $7 per MMBtu through March 2006, and were over $6 through April 2007.
Recent Natural Gas Market Data
Estimated Average Wellhead Prices

Apr-04

May-04

Jun-04

Jul-04

Aug-04

Sept-04

Price ($ per Mcf)

5.20

5.63

5.85

5.60

5.36

4.86

Price ($ per MMBtu)

5.06

5.48

5.69

5.45

5.21

4.73

Note: Prices were converted from $ per Mcf to $ per MMBtu using an average heat content of 1,027 Btu per cubic foot as published in Table A4 of the Annual Energy Review 2002.

Source: Energy Information Administration, Office of Oil and Gas.
Natural gas in storage stood at 3,249 Bcf as of Friday, October 22, an increase of 26 Bcf over the level of the previous Friday, according to EIA's Weekly Natural Gas Storage Report. (See Storage Figure) This is only 5 Bcf lower than the highest weekly inventory measurement (on Friday, November 30, 2001) in the 11-year weekly database. (EIA's all-time high inventory level, according to its monthly survey of all storage operators, is 3,472 Bcf as of November 30, 1990.) As of October 22, stocks exceeded last year's levels by 128 Bcf and the previous 5-year (1999-2003) average by 210 Bcf. The implied net injection of 26 Bcf is about 30 percent less than the 5-year average for the week. During the report week, cooler-than-normal temperatures in the New England, Middle Atlantic, and Pacific Census divisions plus significantly higher-than-normal temperatures in the East and West South Central Census divisions contributed to some temperature-driven swing demand See Temperature Map) (See Deviations Map), diverting supplies that might otherwise have been injected into storage. Also, the continuation of some shut-in production from the Gulf of Mexico caused by Hurricane Ivan reduced supplies for the week by around 10.5 Bcf.
<![if !vml]>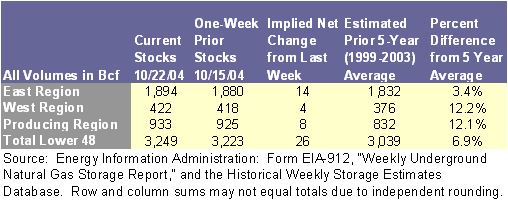 <![endif]>
Other Market Trends:
High Natural Gas Prices and High Storage Volumes: The high natural gas inventories in recent weeks have been achieved by relatively high injection volumes. This use of current gas supplies competes with the current consumption needs of residential, commercial, industrial, and electric generation customers. The higher overall demand for gas now and expectations about future demand have contributed to the higher natural gas prices. The high natural gas injections have been encouraged by the relative prices on the spot and futures markets. For example, based on Friday's (October 22) prices, an operator could acquire natural gas at $7.12 per MMBtu at the Henry Hub spot market, which could be sold for January delivery on the NYMEX at $9.435 per MMBtu. The differential of $2.32 per MMBtu would be more than sufficient to cover costs of storage. (Based on historical data, the differential between spot prices in the summer months and the contemporaneous NYMEX prices for delivery in the succeeding winter months typically does not exceed 70 cents, and often is less.) The natural gas now in storage is expected to provide some relief from potential price spikes during the winter. Working gas in storage as of October 22, 2004, was 3,249 billion cubic feet (Bcf). With 9 more days left in the traditional refill season, the stock at the end of this month is likely to be the largest storage volume since October 1991 when 3,369 Bcf was reported.
Energy Tax Credits Signed into Law: On Friday, October 22, President Bush signed a $136 billion corporate tax cut bill into law, providing tax incentives and credits for natural gas, electricity, renewable energy, and other fuels. Tax credits related to the Alaska gas pipeline project complement the legislation previously passed by Congress awarding $18 billion in Federal loan guarantees for the construction of a natural gas pipeline, which is to be built between the North Slope and the Lower 48 States. The bill includes natural gas related provisions such as the call for a 7-year depreciation for certain Alaska pipeline property placed into service after 2013, an extension of the oil recovery credit to Alaskan gas treatment plants, and a tax credit for marginal oil and gas wells when energy prices drop to low levels. Marginal oil wells and natural gas wells have an average daily production rate of no more than 15 barrels and 90 thousand cubic feet (Mcf) respectively. The bill allows a $3 per barrel tax credit for the first three barrels of daily production from an existing oil well, and a $0.50 per Mcf credit for the first 18 Mcf of gas production from a marginal gas well when prices drop below a certain level. There are more than 400,000 marginal oil wells and 250,000 marginal gas wells in the United States, which provide approximately 25 percent of the nation's oil and 10 percent of its natural gas.
Natural Gas Rig Counts Remain Near Record Levels: The natural gas rig count was 1,071 for the week ended October 22, according to Baker-Hughes Incorporated. The number of natural gas rigs running is 13 percent greater than last year at this time and about 20 percent greater than the 5-year average for the report week. The incremental change in gas rigs from the prior week was 1.3 percent. Rigs drilling gas prospects made up 86 percent of the United States total rigs running as of the week ended October 22. Natural gas rotary rigs reached an all-time high of 1,082 during the week ended September 3, 2004, surpassing the previous record of 1,068 recorded for the week ended July 13, 2001. Unlike in 2001, when gas rigs exceeded 1,000 for 3 months beginning in May, natural gas rigs surpassed 1,000 in May 2004 and have remained above that level for the 6 months since.
Summary:
Spot prices surged upward for a second consecutive week, topping $8 at many market locations. Futures prices for winter months and beyond continued their impressive week-to-week climb for a sixth straight week, as gas for delivery in the first 3 months of 2005 fetched $9 or higher. Working gas in storage continued to increase, and, at 3,249 Bcf as of October 22, reached its third highest level over nearly 11 years of weekly data.