Overview: Thursday, March 25, 2004 (next release on April 1)
Weather cooperated with the calendar this week, as the official start of spring on March 20 brought a warming trend and a possible end to seasonally chilly weather. The absence of wintertime temperatures and slightly lower oil prices resulted in prices easing 20 to 45 cents per MMBtu since Wednesday, March 17. On the week (Wednesday-Wednesday, March 17-24), the Henry Hub spot price dropped 26 cents per MMBtu to $5.35. The NYMEX futures contract for April delivery fell 29 cents on the week to close at $5.429 yesterday (March 24). Natural gas in storage as of Friday, March 19, decreased to 1,032 Bcf, which is 8.2 percent below the 5-year average inventory for the report week. The spot price for West Texas Intermediate (WTI) crude oil decreased $1.15 per barrel on the week to yesterday's closing price of $37.06 per barrel, or $6.39 per MMBtu.
<![if !vml]>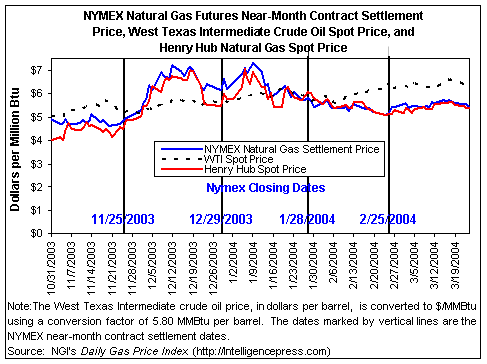 <![endif]>
The transition to spring-like conditions in key space-heating markets in the Midwest and Northeast left prices lower than last week at most Lower 48 market locations. For the week, prices in production area trading locations along the Gulf Coast generally dropped in four of the five trading sessions for a total decrease of nearly 20-30 cents per MMBtu, or about 5 percent, while declines in the Northeast were higher at 40 cents or more. The Henry Hub spot price fell to $5.35 per MMBtu, 26 cents lower than last week and the lowest spot price at that trading location in two weeks. Since January 6, 2004, when the Henry Hub spot reached this winter's high of $7.04 per MMBtu, the spot price has declined 24 percent. In the Northeast, a break from colder temperatures led to prices falling to below $6 per MMBtu. The price at New York citygates dropped 41 cents per MMBtu on the week to $5.77. After trading at over $10 per MMBtu for much of January, the New York citygate price has stabilized to trade in a range between $5.51 and $6.18 per MMBtu since mid-February. Prices in the Midcontinent production region fell 25-35 cents per MMBtu, dropping below the $5-mark at some locations as space heating demand diminished in markets served by the region such as Chicago. Weather in the western half of the nation was considerably warmer-than-average during the week. However, declines on the week were generally equal to those in the East. The spot price at the El Paso non-Bondad trading point in New Mexico fell 26 cents per MMBtu on the week to $4.66.
<![if !vml]>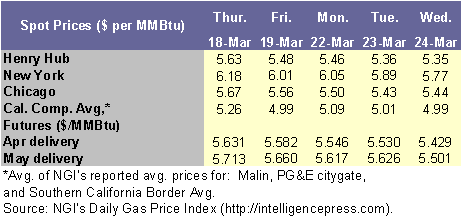 <![endif]>
At the NYMEX, the price of the futures contract for April delivery at the Henry Hub decreased about 29 cents per MMBtu since Wednesday, March 17, to a close of $5.429 per MMBtu on Wednesday, March 24. As was the case with spot prices, the near-month contract price fell steadily this week as the soft market conditions and adequate storage levels reduced upward price pressure. At $5.429 per MMBtu, the April contract, which expires Monday, March 29, is priced 28 cents higher than the expiration price of the April 2003 contract. In trading this week, the May contract declined nearly 30 cents, or 5 percent, to $5.501 per MMBtu. Further out, the prices from next month through October are all within a narrow range of just 7 cents. The 12-month strip, or the average price for contracts over the next year, closed yesterday at $5.736, a decline of 22 cents on the week.
Estimated Average Wellhead Prices

Sep-03

Oct-03

Nov-03

Dec-03

Jan-04

Feb-04

Price ($ per Mcf)

4.58

4.43

4.34

5.08

5.53

5.15

Price ($ per MMBtu)

4.45

4.31

4.22

4.94

5.38

5.01

Note: The price data in this table are a pre-release of the average wellhead price that will be published in forthcoming issues of the Natural Gas Monthly. Prices were converted from $ per Mcf to $ per MMBtu using an average heat content of 1,027 Btu per cubic foot as published in Table A4 of the Annual Energy Review 2002.

Source: Energy Information Administration, Office of Oil and Gas.
Working gas in underground storage decreased to 1,032 Bcf as of Friday, March 19, according to EIA's Weekly Natural Gas Storage Report. Inventories now stand 8.2 percent, or 92 Bcf, below the 5-year average of 1,124 Bcf (See Storage Figure). Inventories are still 372 Bcf, or 56 percent, higher than last year's level of 660 Bcf at this time. The implied net withdrawal for the week was 65 Bcf, which is the largest net withdrawal so far in March and considerably higher than the 5-year average implied net change (-41 Bcf). During the comparable report week last year, there was an implied net injection of 6 Bcf. During the week ending March 19, 2004, the weather for the country as a whole was approximately 11 percent warmer than normal, as measured by heating degree days (HDDs) published by the National Weather Service, but 22 percent colder than last year. In the important East North Central region, which includes Chicago and other Midwest population centers with significant space heating demand, temperatures were 3 percent colder than normal and 64 percent colder than last year. The Middle Atlantic experienced temperatures that were about 15 percent colder than normal and 37 percent colder than last year. (See Temperature Map) (See Deviations Map)
<![if !vml]>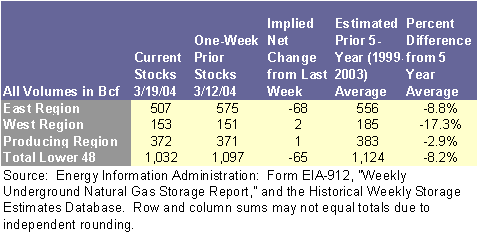 <![endif]>
Recent Natural Gas Market Data
Other Market Trends:
FERC Asserts Exclusive Jurisdiction over LNG Facilities: In an order issued Wednesday, March 24, the Federal Energy Regulatory Commission (FERC) concluded that the federal government, and more specifically the Commission itself, has exclusive regulatory authority over the siting and construction of liquefied natural gas (LNG) import terminals. FERC clarified its authority in an order responding to the California Public Utilities Commission's (CPUC) claim that California has jurisdiction over LNG facilities within its borders. The CPUC believes that Sound Energy Solutions (SES), an applicant to FERC for a proposed onshore LNG import facility at the Port of Long Beach, must submit an application to the CPUC for the proposed LNG terminal. FERC expressed its intention to continue to work closely with the CPUC, other California state and local agencies, federal agencies, and the public in reviewing the proposed Long Beach LNG project. The Commission noted that FERC staff and the Port of Long Beach are working on a joint environmental analysis of the project. In addition to evaluating the potential impact on the environment and cultural resources, the analysis will take into consideration tanker operations, marine facilities, safety, and terminal siting, construction, and operation.
EIA Reports Strong Financial Results for Major Energy Companies: Twenty-four of the nation's major energy companies had a combined increase in net income of nearly 100 percent in 2003, from $21.5 billion to $42.6 billion, according to information released by the Energy Information Administration (EIA) on March 18. (EIA defines major energy companies as "U.S.-based publicly-owned companies or U.S.-based subsidiaries of publicly-owned foreign companies that had at least 1 percent of either production or reserves of oil or gas in the United States, or 1 percent of either refining capacity or petroleum product sales in the United States.") Net income in the fourth quarter of 2003 for the group as a whole increased by 43 percent over the third quarter, to $10.1 billion. Group corporate-wide revenues grew by 17 percent in the fourth quarter of 2003 to $182.8 billion, and by 33 percent for the entire year, to $714.4 billion. The report (Financial News for Major Energy Companies), prepared from data compiled from the companies' press releases, attributes the significantly higher results primarily to a 28.3 percent rise in natural gas wellhead prices and a 9.4 percent increase in crude oil prices as measured by the refiner acquisition cost of imported crude oil for the year. Net income from the domestic production of oil and gas for the year increased by 62.3 percent to $19.4 billion, while net income from the "downstream" resale of natural gas and electrical power increased by 44.7 percent to $3.1 billion. These results were obtained despite declines in domestic production for the group as a whole during the year of nearly 1 percent for natural gas and of 2.4 percent for crude oil.
Summary:
Natural gas spot prices decreased at most market locations since Wednesday, March 17, as milder temperatures reigned in the Lower 48 States. Prices also fell at the NYMEX futures market from last week's level. However, prices in both the spot and futures markets remain above last year's level at this time. As of March 19, working gas in storage decreased to 1,032 Bcf, which is 8.2 percent below the 5-year average.