Overview: Thursday, March 11, 2004 (next release 2:00 p.m. on March 18)
Spot price changes were mixed while futures prices edged up by a penny or two over the past week (Wednesday to Wednesday, March 3-10). Warmer-than-normal temperatures over nearly the entire nation early in the week gave way to considerably cooler temperatures in parts of the South and to colder-than-normal temperatures in the Midwest, the Middle Atlantic, and New England beginning over the weekend. At the Henry Hub, the spot price declined a penny on the week, ending trading yesterday (Wednesday, March 10) at $5.33 per MMBtu. On the NYMEX, the futures contract for April delivery settled yesterday at $5.397 per MMBtu, just 2.2 cents higher than its settlement price one week ago. EIA reported that inventories were 1,143 Bcf as of Friday, March 5, which is 8.3 percent below the 5-year average. Crude oil prices have generally been rising over the past 3 to 4 weeks as uncertainty over OPEC's production levels and continuing civil unrest in Venezuela apply upward pressure on oil prices and, to some extent, on gas prices. Nonetheless, the WTI price declined over the past 3 days, and ended the week with a net gain of 41 cents per barrel (7 cents per MMBtu), at $36.21, or $6.24 per MMBtu.
<![if !vml]>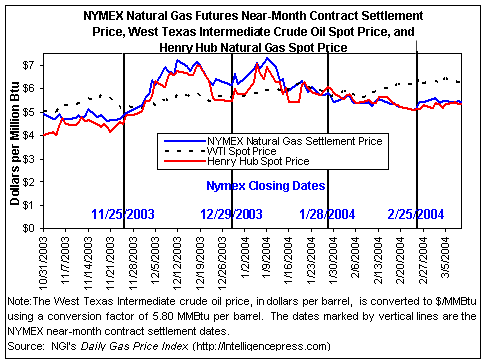 <![endif]>
Spot prices for the week were little changed from a week ago at most market locations. The major exceptions were in the Rocky Mountains and in California, where prices declined by around 25 to 30 cents on the week. A brief cold snap extending from the upper Midwest to the East Coast and along the Gulf of Mexico spurred price gains of up to a quarter at many locations on Friday and Monday, but these were offset for the most part by declines on Thursday (March 4) and Tuesday (March 9). Cumulative price changes in regional markets outside of the Rockies and California were generally up or down by no more than a dime, with Northeast market locations and locations in the producing areas (South and East Texas and Louisiana) that serve the Northeast showing mostly small gains, while all other locations generally had small declines. The New York citygates spot price gained 1 cent on the week, to $5.76 per MMBtu, while the Chicago citygate price dropped 2 cents, to $5.35. Unseasonably mild weather prevailed along the entire Pacific coast. High line-pack on Kern River and on PG&E's system resulted in an operational flow order (OFO) on the latter beginning yesterday. California prices fell by an average of $0.29 per MMBtu for the week, ending yesterday at an average of $4.94.
<![if !vml]>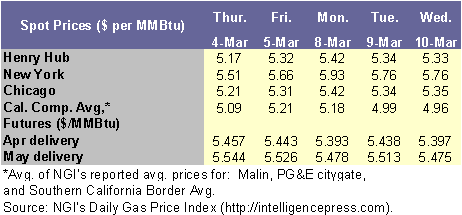 <![endif]>
On the NYMEX, futures contracts through the next heating season had gains of less than 3 cents per MMBtu, despite getting some support early in the week from rising crude oil and petroleum products futures prices. The April contract price increased by a cumulative $0.022 per MMBtu to settle yesterday at $5.397. The small gains came despite continuing National Weather Service near-term forecasts showing normal to above-normal temperatures in virtually every major gas-consuming region of the country through the 24th of March. As recent weather has become more moderate, the daily price variability in the futures market has declined somewhat. The largest change in the near-month contract settlement price in the past week was an increase of 8.2 cents on Thursday (March 4), compared with changes of over 10 cents in prior weeks.
Estimated Average Wellhead Prices

Sep-03

Oct-03

Nov-03

Dec-03

Jan-04

Feb-04

Price ($ per Mcf)

4.58

4.43

4.34

5.08

5.53

5.15

Price ($ per MMBtu)

4.45

4.31

4.22

4.94

5.38

5.01

Note: The price data in this table are a pre-release of the average wellhead price that will be published in forthcoming issues of the Natural Gas Monthly. Prices were converted from $ per Mcf to $ per MMBtu using an average heat content of 1,027 Btu per cubic foot as published in Table A4 of the Annual Energy Review 2002.

Source: Energy Information Administration, Office of Oil and Gas.
Recent Natural Gas Market Data
Working gas inventories were 1,143 Bcf as of Friday, March 5, according to EIA's Weekly Natural Gas Storage Report. This level is 8.3 percent below the previous 5-year (1999-2003) average for this week of the year.(See Storage Figure) The implied net withdrawal from working gas of 28 Bcf is the second smallest of the 11 observations for this week of the year (dating back to 1994) in EIA's weekly storage database. Much warmer-than-normal temperatures prevailed throughout the eastern half of the nation (See Temperature Map) (See Deviations Map) during the week covered by this storage report, resulting in significantly lower space-heating demand in the high gas-consuming regions of the Midwest, Northeast, and Middle Atlantic, thus reducing the need for storage withdrawals. According to the latest data from the National Weather Service, only the Mountain and Pacific Census Divisions had higher than normal gas-customer weighted heating degree days (HDD) for the week. HDDs in all other divisions ranged from over 25 to nearly 60 percent less than normal. For the United States as a whole, HDDs were 31.8 percent lower than normal. Another factor contributing to the relatively low net withdrawal was the positive price spread between futures and cash prices during the week of the report, providing many with a financial incentive to add gas to storage or to hold the gas already in storage. During the report week, the near-month contract settlement price averaged 20 cents per MMBtu more than the Henry Hub spot price, with the differential reaching as much as 38 cents on one trading day (Monday, March 1).
<![if !vml]>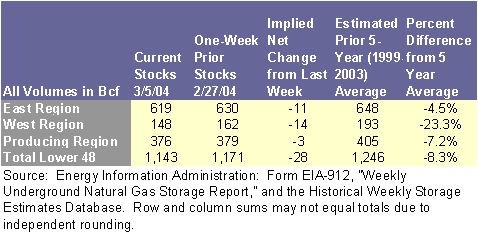 <![endif]>
Other Market Trends:
Exports of Liquefied Natural Gas (LNG) from Trinidad and Tobago Disrupted by Striking Workers. Trinidad and Tobago's LNG producer and exporter, Atlantic LNG, shut down all three of its liquefaction trains on Monday, March 8, after contracted tugboat operators joined a strike by construction workers seeking a wage increase. Atlantic LNG normally processes 65 percent of Trinidad and Tobago's total natural gas production to produce 1.7 billion cubic feet (Bcf) per day of LNG (gaseous equivalent), exporting LNG to the United States, Spain, Puerto Rico, and the Dominican Republic. In 2003, roughly two-thirds of LNG imports into the United States came from Trinidad and Tobago. This is roughly 2 percent of total U.S. gas consumption. LNG shipments resumed on Wednesday, March 10, as the tugboat operators returned to work. A spokesman for Atlantic LNG acknowledged that while a few LNG cargoes were delayed, the strike did not cause significant disruptions for the firm's clients as the three liquefaction trains were shut down for only two days. However, the construction workers remain on strike, citing risk factors in their jobs as justification for their wage increase demands.
Natural Gas Summary from the Short-Term Energy Outlook:
EIA projects that natural gas wellhead prices will remain relatively high through late spring, averaging $4.89 per MMBtu in March, $4.92 in April, and $4.84 in May (Short-Term Energy Outlook, March 2004). Spot prices averaged $5.90 per MMBtu in January but fell to $4.80 in February as temperatures moderated and heating demand lessened. Still, underground storage facilities reported above-average withdrawals for February, leaving storage inventories at the beginning of March about 11 percent lower than the 5-year average. However, as of March 5, working gas levels were about 55 percent higher than year-earlier levels. Overall in 2004, spot prices are expected to average $5.04 per MMBtu, declining almost 6 percent from levels in 2003, while wellhead prices will average about $4.90. In 2005, natural gas spot prices are again likely to average about $5.00 per MMBtu, under the assumption that domestic and imported supply can continue to grow by about 1 percent per year.
Natural gas production is estimated to have increased by 2.2 percent in 2003. Production is expected to continue to expand through 2005, as natural gas well completions, which totaled an estimated 20,000 in 2003, continue to grow to between 21,000 and 22,000 wells per year over the next 2 years. Natural gas demand is expected to increase by about 2.6 percent in 2004, owing to expected growth in the economy, along with somewhat lower projected annual average prices. In 2005, demand is also expected to increase as the economy continues to expand, although the growth rate slows to 0.4 percent because of expected reductions in weather-related demand in the first quarter of 2005 relative to the first quarter of 2004.
Short-Term Natural Gas Market Outlook, March 2004

History

Projections

Dec-03

Jan-04

Feb-04

Mar-04

Apr-04

May-04

PRICES ($/MMBtu)

Average Wellhead Price

4.95

5.38

5.01

4.89

4.92

4.84

Residential Price

8.93

9.21

9.69

9.76

10.08

10.77

Electric Utilities Price

5.17

6.28

6.27

5.77

6.08

5.81

SUPPLY (Trillion Cubic Feet)

Total Dry Gas Production

1.639

1.652

1.542

1.665

1.632

1.674

Net Imports

0.301

0.301

0.263

0.256

0.258

0.259

Imports

0.362

0.362

0.319

0.316

0.313

0.317

Exports

0.062

0.060

0.056

0.060

0.055

0.057

Suppl. Gaseous Fuels

0.007

0.007

0.005

0.005

0.004

0.005

Total New Supply

1.946

1.960

1.810

1.926

1.894

1.939

Working Gas in Storage

Opening

3.038

2.582

1.795

1.155

0.913

1.154

Closing

2.582

1.795

1.155

0.913

1.154

1.537

Net Storage Withdrawal

0.456

0.787

0.640

0.242

-0.241

-0.383

Total Supply

2.403

2.747

2.450

2.168

1.653

1.555

Balancing Item

-0.167

-0.091

0.025

0.075

0.172

-0.027

Total Primary Supply

2.235

2.655

2.475

2.243

1.825

1.528

DEMAND (Trillion Cubic Feet)

Lease & Plant Fuel

0.097

0.096

0.089

0.095

0.092

0.095

Pipeline Use

0.071

0.083

0.076

0.067

0.053

0.046

Delivered to Consumers

2.068

2.477

2.310

2.082

1.680

1.388

Residential

0.686

0.960

0.860

0.664

0.427

0.239

Commercial

0.393

0.502

0.473

0.396

0.281

0.185

Industrial

0.651

0.675

0.657

0.664

0.622

0.577

Electric Power

0.337

0.340

0.320

0.358

0.350

0.388

Total Demand

2.235

2.655

2.475

2.243

1.825

1.528
Source: Energy Information Administration, Short-Term Energy Outlook, March 2004.