Overview: Thursday, February 19, 2004 (next release on February 26)
Spot and futures prices moved in different directions over the past week (Wednesday to Wednesday, February 11-18), with spot prices at most market locations falling from a nickel to around 30 cents per MMBtu, while futures prices increased by a dime or less. At the Henry Hub, the spot price eased down 2 cents on the week, to $5.33 per MMBtu. On the NYMEX, the futures contract for March delivery increased $0.096 per MMBtu for the week, ending trading yesterday (February 18) at $5.356. EIA reported that natural gas inventories declined to 1,431 Bcf as of Friday, February 13, which is 6.2 percent lower than the previous 5-year (1999-2003) average. The spot price for West Texas Intermediate crude oil rose each day of the holiday-shortened week, and ended trading yesterday with an increase for the week of $1.49 per barrel ($0.24 per MMBtu), or a little over 4 percent, to $35.42 ($6.11 per MMBtu).
<![if !vml]>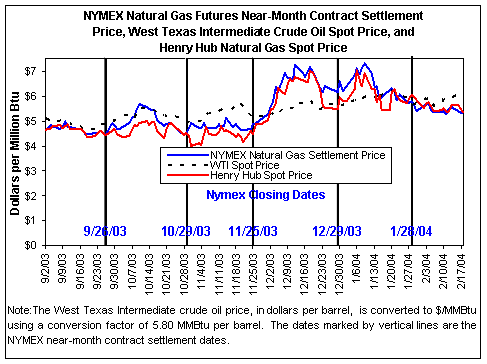 <![endif]>
Spot prices moved lower week-on-week for the third consecutive week, despite large increases on Friday (February 13) in response to weather forecasts calling for significant cold fronts in the Midwest and Northeast over the long holiday weekend, and with little warming until well into the current week. The largest price increases on Friday were seen at Northeast market locations: Transco Zone 6 for New York delivery rose $1.75 per MMBtu to $7.73, while Tennessee Zone 6 topped all other points with an increase of $2.09 to $8.03 per MMBtu. While temperatures did fall as predicted, they were not nearly as cold, nor as widespread or persistent as forecasted. With weather-related demand falling below expectations, combined with the significant drop in industrial demand over the long holiday weekend, prices encountered downward pressure when markets reopened on Tuesday (February 17), resulting in lower prices for the week at nearly every market location. Prices at all Northeast trading points fell back below $6 per MMBtu yesterday to levels not seen (except for last Thursday, February 12) since late December. This week, regional average prices in West Texas, the Midcontinent, and California fell below $5 for the first time this year, with week-ending averages of $4.70, $4.84, and $4.98 per MMBtu, respectively.
<![if !vml]>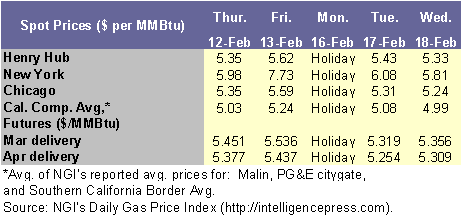 <![endif]>
On the NYMEX, the settlement price for the near-month contract (March delivery) halted a 3-week string of week-on-week price declines, moving up just under a dime to settle yesterday (Wednesday, February 18) at $5.356 per MMBtu. Futures prices accompanied spot prices in their sharp drop on Tuesday, as National Weather Service 6-to-10 day and 8-to-14 day temperature outlooks issued on Monday (February 16) predicted above-normal temperatures for nearly the entire nation except the southwestern corner through the beginning of March. However, these outlooks had changed significantly by Wednesday, showing large pockets of projected below-normal temperatures along much of the East Coast as well as throughout California across into western Texas beginning in the last week of February. Futures prices got a small boost yesterday of about 3 to 5 cents per MMBtu for contracts for delivery through the next heating season. Combined with last Thursday's and Friday's increases in the March contract's settlement price, Tuesday's decline was not enough to offset increases, leaving the near-month contract with a $0.096 per MMBtu gain for the week. The April contract's gain was slightly higher, at $0.102 to $5.309 per MMBtu. Week-on-week gains in contracts for delivery in out-months through February 2005 ranged from 1.6 to 7.2 cents per MMBtu.
Estimated Average Wellhead Prices

Aug-03

Sep-03

Oct-03

Nov-03

Dec-03

Jan-04

Price ($ per Mcf)

4.72

4.58

4.43

4.34

5.08

5.53

Price ($ per MMBtu)

4.60

4.46

4.32

4.23

4.95

5.39

Note: The price data in this table are a pre-release of the average wellhead price that will be published in forthcoming issues of the Natural Gas Monthly. Prices were converted from $ per Mcf to $ per MMBtu using an average heat content of 1,025 Btu per cubic foot as published in Table A2 of the Annual Energy Review 2001.

Source: Energy Information Administration, Office of Oil and Gas.
Working gas inventories stood at 1,431 Bcf as of Friday, February 13, according to the EIA's Weekly Natural Gas Storage Report. This is 95 Bcf, or 6.2 percent, lower than the previous 5-year (1999-2003) average of 1,526 Bcf for the week (See Storage Figure) and 263 Bcf, or 22.5 percent higher, than stock levels at this time last year. The implied net withdrawal of 172 Bcf is the third largest among the 11 observations for this week in EIA's weekly storage database. Colder-than-normal temperatures that dominated much of the nation during the week covered by this report figured heavily in this drawdown of inventories. According to the National Weather Service, temperatures as measured by gas-customer weighted heating degree days (HDD) were colder than normal in seven of the nine Lower 48 Census Divisions and for the United States as a whole. (See Temperature Map) (See Deviations Map) HDDs for the entire United States were 6.8 percent greater than normal.
<![if !vml]>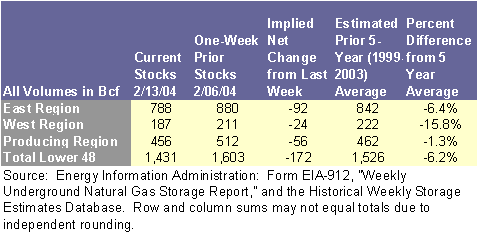 <![endif]>
Other Market Trends:
FERC Holds Conference on Natural Gas Interchangeability: On Wednesday, February 18, 2004, the Federal Energy Regulatory Commission (FERC) held a conference to begin a dialogue with industry participants on policy issues arising from natural gas interchangeability. As used by the gas industry, interchangeability refers to the extent to which a substitute gas can replace gas normally used by a customer without unduly interfering with the operation of the customer's natural gas equipment. Participating in the proceedings was a coalition of industry representatives, including associations and consumer representatives such as the American Gas Association, the American Petroleum Institute, the Interstate Natural Gas Association of America, the Gas Process Consumers Group, the International LNG Alliance, and the Natural Gas Supply Association. The coalition acknowledged that a significant increase in liquefied natural gas (LNG) imports likely would require FERC to adopt new gas quality policies and standards, as the thermal content of LNG imports can vary significantly, depending on the country of origin. The coalition advocated timely solutions to the issues of reliability and commercial considerations posed by gas quality differences. Furthermore, the coalition argued that any solution should achieve balance by retaining operational flexibility for infrastructure operators while not limiting diverse supply opportunities. FERC held the conference, in part acting on a recommendation included in the National Petroleum Council's recent report, Balancing Natural Gas Policy—Fueling the Demands of a Growing Economy. In addition, several recent cases before the Commission have underscored the growing importance of quality and interchangeability issues for the natural gas industry. The Commission expressed a need to gather more information to evaluate what role it should take to address the impacts of natural gas interchangeability on the nation's energy consumers and the companies regulated by the Commission.
Summary:
Spot prices decreased after slack holiday-weekend demand, while cumulative gains in futures prices overshadowed a large one-day drop, leaving futures prices slightly higher on the week. The implied net withdrawal from storage of 172 Bcf reduced working gas inventories to 6.2 percent below the 5-year average.