At the Henry Hub, the spot price declined 29 cents per MMBtu from the previous Wednesday (March 19), as spot gas traded yesterday (Wednesday, March 26) for $4.91. Both spot and futures prices trended lower for the week (Wednesday to Wednesday, March 19-26), as mild temperatures in most of the nation accompanied the first week of spring. On the NYMEX, the settlement price for the futures contract for April delivery fell a cumulative $0.181 per MMBtu from last Wednesday's level, to $5.097 per MMBtu at yesterday's close of trading. Natural gas stocks as of Friday, March 21 stood at 643 Bcf, which is 47.4 percent less than the previous 5-year (1998-2002) average. The war in Iraq has caused significant volatility in oil prices over the past week. In yesterday's trading, the spot price for West Texas Intermediate crude oil fell $4.71 to $28.71 per barrel, or $4.95 per MMBtu. This is $1.30 per barrel ($0.22 per MMBtu) less than last Wednesday's price.
<![if !vml]>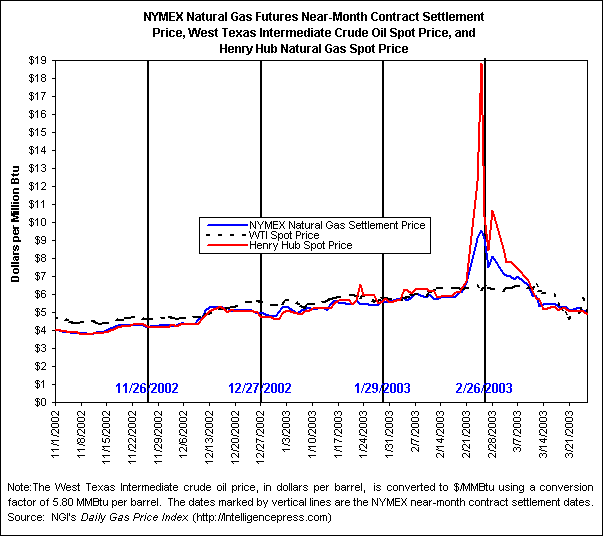 <![endif]>
<![if !supportEmptyParas]> <![endif]>
The spot price at the Henry Hub yesterday was $4.91 per MMBtu—the first time this price has been below $5 since January 7. Spot prices overall continued their decline from relative peaks attained at the end of February, as mild weather in most regions of the country last week offered some relief from the generally harsh conditions of the heating season. Even in the Rockies, where a late-winter blizzard dumped several feet of snow just days before the first day of spring, temperatures were on the rise by last Friday, with averages in the upper-30s to mid-40s since then. With daily average temperatures exceeding normal on every day of the past week, sometimes by double digits, in every region except the Southwest, weather-driven demand has dwindled significantly. Prices generally declined in 4 of the 5 trading days during the week. For the week, cumulative price declines ranged from about 25 to 40 cents at most market locations. The price at the Henry Hub fell a cumulative $0.29, or about 6 percent, since last Wednesday. Price declines tended to be largest at Northeast points, where, for example, the TRANSCO Zone 6 price for New York delivery fell 48 cents to $5.34 per MMBtu. In the Midwest, the Chicago citygate price fell 38 cents to $4.98 per MMBtu, while the average price for all Midwest locations stood at $5.25 per MMBtu as of yesterday. Regional average prices in all regions except the Northeast and Midwest ended trading yesterday below $5 per MMBtu (ranging from $4.05 in the Rockies to $4.90 in Alabama/Mississippi), for the first time since early January.
<![if !supportEmptyParas]> <![endif]>
On the NYMEX, futures prices for months through the end of the 2004-2005 heating season have trended downward for almost three weeks, while the contracts for delivery in April and May extended their declines to a fourth straight week. The near-month (April delivery) contract was down a cumulative $0.181 per MMBtu on the week to $5.097, while the May contract fell $0.116 to $5.147 per MMBtu. Settlement prices for contracts for delivery in months through the end of the next heating season all declined on the week in the range of $0.059 to $0.069 per MMBtu. The highest-priced gas for delivery during the next heating season as of yesterday was for January delivery at $5.374 per MMBtu. Since becoming the near-month contract on February 27, the April contract has fallen $2.388 per MMBtu, or almost 32 percent. The April contract ends trading today (March 27).
<![if !supportEmptyParas]> <![endif]>
Spot Prices ($ per MMBtu)

Thur.

Fri.

Mon.

Tues.

Wed.

20-Mar

21-Mar

24-Mar

25-Mar

26-Mar

Henry Hub

5.20

5.06

5.07

5.06

4.91

New York

5.83

5.51

5.50

5.40

5.34

Chicago

5.29

5.13

5.19

5.11

4.98

Cal. Comp. Avg,*

4.95

4.90

4.92

4.87

4.78

Futures ($/MMBtu)

Apr delivery

5.306

5.128

5.253

5.077

5.097

May delivery

5.271

5.148

5.278

5.117

5.147

*Avg. of NGI's reported avg. prices for: Malin, PG&E citygate,

and Southern California Border Avg.

Source: NGI's Daily Gas Price Index (http://intelligencepress.com).
<![if !supportEmptyParas]> <![endif]>
Working gas in storage was 643 Bcf as of March 21, according to EIA's Weekly Natural Gas Storage Report (See Storage Figure), which is 47 percent below the 5-year average. The implied net change in inventories was a net injection of 7 Bcf, compared with the 5-year average net change for this week—a net withdrawal of 59 Bcf. While the previous week's total storage inventory of 636 Bcf set a record low, this most recent week was record setting in its own right, being the earliest date in the year that total inventories have recorded a net injection over the 9-plus years of EIA weekly storage data. Temperatures for the week covered by this storage report were unusually mild, particularly in the high gas-consuming areas of the Midwest, Northeast, and Middle Atlantic. (See Temperature Map) (See Deviation Map) Gas demand for space heating fell significantly in these areas, allowing some supplies to be injected into storage and resulting in net injections of 10 and 2 Bcf, respectively, in the Consuming East and Producing regions. The net injections contrast sharply with the 5-year averages for these regions, which are net withdrawals of 47 and 11 Bcf, respectively. According to the latest data from the National Weather Service, gas-customer weighted heating degree days for the United States were 35 percent less than normal during the week.
<![if !supportEmptyParas]> <![endif]>
All Volumes in Bcf

Current Stocks 3/21/03

Estimated Prior 5-Year (1998-2002) Average

Percent Difference from 5 Year Average

Implied Net Change from Last Week

One-Week Prior Stocks 3/14/03

<![if !supportMisalignedRows]>
<![endif]>

East Region

277

633

-56.2%

10

267

<![if !supportMisalignedRows]>
<![endif]>

West Region

167

182

-8.2%

-5

172

<![if !supportMisalignedRows]>
<![endif]>

Producing Region

199

409

-51.3%

2

197

<![if !supportMisalignedRows]>
<![endif]>

Total Lower 48

643

1,223

-47.4%

7

636

<![if !supportMisalignedRows]>
<![endif]>

Source: Energy Information Administration: Form EIA-912, "Weekly Underground Natural Gas Storage Report," and the Historical Weekly Storage Estimates Database. Row and column sums may not equal totals due to independent rounding.

<![if !supportMisalignedRows]>
<![endif]> <![if !supportMisalignedRows]>
<![endif]> <![if !supportMisalignedRows]>
<![endif]>
<![if !supportEmptyParas]> <![endif]>
<![if !supportEmptyParas]> <![endif]>
Federal Energy Regulatory Commission Takes Broad Action on Western Energy Markets. After a 13-month investigation into behavior that may have caused dramatic price spikes in the California energy markets in 2000 and 2001, the staff of the Federal Energy Regulatory Commission (FERC) released a report on Wednesday, March 26, which concluded that an underlying supply-demand imbalance and flawed market design combined to make a fertile environment for market manipulation. The Commission reacted to the report on March 26 by taking its first steps towards enforcement action, issuing orders initiating proceedings to revoke market based rate authority for certain marketers of gas and electricity. The Commission also outlined a series of upcoming actions and reforms designed to ensure that similar problems will not happen in the future in U.S. markets.
<![if !supportEmptyParas]> <![endif]>
A central finding of the FERC staff report is that "markets for natural gas and electricity in California are inextricably linked, and that dysfunctions in each fed off one another during the crisis." FERC staff identified principal causes contributing to the inflated natural gas price level in California during the period from August 2000 through January 2001. First, FERC staff concluded that the market at Topock, Arizona, was illiquid, allowing a single company, Reliant Energy, to engage in a trading strategy that substantially increased prices in California. Second, FERC staff concluded that traders attempted to manipulate the published price indices through false reporting. Concluding that reported spot gas prices were not the outcome of a well-functioning competitive market, FERC staff recommended that they should not be used in the California Refund Proceeding. The FERC staff report and documentation of Commission actions can be obtained on the FERC web site.
<![if !supportEmptyParas]> <![endif]>
Natural Gas Rig Counts: The number of rigs drilling for natural gas climbed by 22 to 776 for the week ending March 21, according to Baker-Hughes Incorporated. This is the highest rig count since the week ended November 30, 2001. The number of natural gas rigs is over 28 percent greater than last year at this time, and 24 percent above the 5-year average for the report week. However, the number of rigs is over 14 percent below the level reported two years ago for the same report week. The rig count has climbed nearly 10 percent in 2003, contrasting with last year's decline of nearly 19 percent for the same 12-week period. The share of rigs drilling for natural gas was more than 82 percent for the report week, remaining consistently above 80 percent since May 2001. This is the longest period of time in the 15 years that Baker-Hughes has separately reported gas and oil drilling rigs that rigs drilling for natural gas have comprised more than 80 percent of total rigs drilling. The emphasis on gas prospects reflects a relative advantage in the economics of natural gas prospects compared with domestic crude oil prospects.
<![if !supportEmptyParas]> <![endif]>
Summary:
Spot and futures prices continued to decline as much of the nation experienced spring-like temperatures throughout the week. With 10 days left in the traditional heating season, the industry recorded net storage injections two weeks sooner than in any year since 1995. Natural gas stocks as of March 21 stood at 643 Bcf, about 47 percent below the 5-year average.
<![if !supportEmptyParas]> <![endif]>
<![if !supportEmptyParas]> <![endif]>
Natural Gas Summary from the Short-Term Energy Outlook
<![if !supportEmptyParas]> <![endif]>
<![if !supportEmptyParas]> <![endif]>
<![if !supportEmptyParas]> <![endif]>