Spot prices at many major markets declined significantly from last Wednesday's (February 26) levels as temperatures moderated somewhat over the weekend and again on Tuesday and Wednesday (March 5-6). The spot price at the Henry Hub declined $2.55 per MMBtu from last Wednesday's level, despite peaking for the week at $10.65 on Friday, to end trading yesterday (Wednesday, March 6) at $7.81. The NYMEX futures contract for April delivery began trading as the near-month contract on Thursday, February 27, and promptly surged to its all-time high to date of $8.101 per MMBtu on Friday, before settling yesterday at $7.021. Natural gas stocks fell to 838 Bcf as of February 28, which is nearly 42 percent below the 5-year average. As of yesterday, the WTI spot price had dropped $1.10 per barrel (or $0.19 per MMBtu) from its price-spike level of $37.96 per barrel last Wednesday, to $36.86 per barrel, or $6.36 per MMBtu.
<![if !supportEmptyParas]> <![endif]>
<![if !vml]>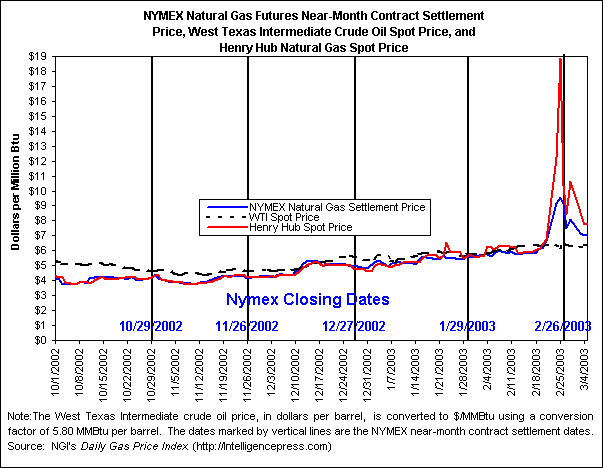 <![endif]>
<![if !supportEmptyParas]> <![endif]>
<![if !supportEmptyParas]> <![endif]>
Despite a significant surge in prices on Friday and minor gains in mixed trading yesterday, spot prices at most market locations ended the week (Wednesday to Wednesday, February 26-March 5) lower, as moderating temperatures over the weekend dampened demand, and markets' concerns about supply issues seemed to diminish. The easing of demand also contributed to the lifting of operational flow orders and relaxing of other transportation restrictions on some pipelines early in the week, further reducing pressure on prices in downstream markets. Nonetheless, week on week price declines tended to be smallest in the high-gas consuming Midwest and Northeast regions. The Chicago citygate price fell $1.61 per MMBtu, to $9.01, while the New York citygate price declined $1.31 per MMBtu, to $12.04. Price spikes yesterday at the New York citygate and other Northeast market locations kept price declines from being much larger. The Rockies and California markets were major exceptions to the downward price trend. Continuing cold winter weather in the Rockies kept prices strong there. The first episode of persistently cold weather along the West Coast and the routing of Canadian and West Texas gas to high-demand Midwest and Northeast markets contributed to firm prices in California. Overall, volatility in spot market trading this week seems to be declining. Daily price fluctuations are well below the prior week, and the multiple-dollar daily price ranges experienced at most market locations have contracted to mostly sub-$1 price ranges beginning Monday.
<![if !supportEmptyParas]> <![endif]>
On the futures market, in its second day of trading as the near-month contract, the futures contract for April delivery surged on Friday, apparently on the strength of short-term weather forecasts calling for continued below-normal temperatures for the northern half of the country through the middle of the month. The April contract gained nearly 62 cents per MMBtu, settling at $8.101 on Friday. However, the price of the near-month contract has steadily declined thus far this week, with Monday's trading bringing a major sell-off of the April contract, resulting in a one-day drop of $0.939 per MMBtu. For the week, the April contract declined by nearly 37 cents, to yesterday's settlement price of $7.021 per MMBtu. Since becoming the near-month contract last Thursday, the April contract has fallen $0.464 per MMBtu.
<![if !supportEmptyParas]> <![endif]>
Spot Prices ($ per MMBtu)

Thur.

Fri.

Mon.

Tues.

Wed.

27-Feb

28-Feb

3-Mar

4-Mar

5-Mar

Henry Hub

8.45

10.65

8.56

7.76

7.81

New York

10.49

15.78

11.53

9.58

12.04

Chicago

8.40

15.24

9.32

9.51

9.01

Cal. Comp. Avg,*

7.25

8.98

8.44

8.47

8.43

Futures ($/MMBtu)

Apr delivery

7.485

8.101

7.162

7.041

7.021

May delivery

5.965

6.071

5.952

5.991

5.971

*Avg. of NGI's reported avg. prices for: Malin, PG&E citygate,

and Southern California Border Avg.

Source: NGI's Daily Gas Price Index (http://intelligencepress.com).
<![if !supportEmptyParas]> <![endif]>
<![if !supportEmptyParas]> <![endif]>
Working gas in storage was 838 Bcf as of February 28, according to EIA's Weekly Natural Gas Storage Report, which is almost 42 percent below the prior 5-year average. (See Storage Figure). Implied net withdrawals were 176 Bcf, which is more than twice the 5-year average withdrawal for the week. This marks the fourth time this heating season, and the second time in the month of February, that implied net withdrawals have been more than double the 5-year average. According to the latest National Weather Service data, average temperatures for the week ended March 1 were below normal over the entire nation except for the state of Florida and southern Georgia and Alabama (See Temperature Map) (See Deviation Map). Gas customer-weighted heating degree days (HDD) for the week exceeded normal by 10 percent or more in seven of the nine Census divisions. The West North Central and West South Central divisions, comprising the middle portion of the country, recorded 33 percent and 69 percent higher-than-normal HDD. In the East region, the implied net withdrawal of 96 Bcf brought inventory levels there to 403 Bcf, which is nearly 50 percent below the 5-year average. In 1996—the year in which Consuming East inventory levels reached their all-time low of 285 Bcf on April 12—inventories in the East did not get to a comparably low level (404 Bcf) until March 15
<![if !supportEmptyParas]> <![endif]>
All Volumes in Bcf

Current Stocks 2/28/03

Estimated Prior 5-Year (1998-2002) Average

Percent Difference from 5 Year Average

Implied Net Change from Last Week

One-Week Prior Stocks 2/21/03

<![if !supportMisalignedRows]>
<![endif]>

East Region

403

797

-49.9%

-96

499

<![if !supportMisalignedRows]>
<![endif]>

West Region

198

196

1.0%

-26

224

<![if !supportMisalignedRows]>
<![endif]>

Producing Region

237

446

-4.6%

-54

291

<![if !supportMisalignedRows]>
<![endif]>

Total Lower 48

838

1,440

41.8%

-176

1,014

<![if !supportMisalignedRows]>
<![endif]>

Source: Energy Information Administration: Form EIA-912, "Weekly Underground Natural Gas Storage Report," and the Historical Weekly Storage Estimates Database. Row and column sums may not equal totals due to independent rounding.

<![if !supportMisalignedRows]>
<![endif]> <![if !supportMisalignedRows]>
<![endif]> <![if !supportMisalignedRows]>
<![endif]>
<![if !supportEmptyParas]> <![endif]>
<![if !supportEmptyParas]><![endif]>Other Market Trends:
EIA Updates Web Site on Retail Gas Competition: EIA has updated its web site on the status of natural gas industry restructuring in each state as of December 2002, focusing on the residential customer class (Natural Gas Restructuring). Enrollment in existing "customer choice" programs generally increased in 2002 as the number of eligible customers grew substantially and the number of competitive suppliers increased in several states. Most of the enrollment increases can be attributed to the expansion of existing programs into new geographic areas or new enrollment caps as part of an approved phase-in to system-wide choice programs. In 2002, Florida was the only state to start unbundling for the first time, approving two small pilot programs for residential transportation service, while several states with existing programs implemented more stringent credit requirements for participating marketers and fine-tuned their programs. As of January 1, 2003, 21 states and D.C. have some form of choice program for residential gas customers. Overall nearly 7 percent (4.1 million) of U.S. residential gas customers (about 60.2 million) are buying gas from marketers, with the largest numbers in Georgia (1.4 million), Ohio (1 million), Michigan (332,000), and New York (319,000).
<![if !supportEmptyParas]> <![endif]>
Summary:
Spot prices retreated from the record-high levels of the previous week, as concerns about supply adequacy for the rest of the heating season seemed to ease, aided somewhat by a minor warming trend in some parts of the country. Futures prices likewise moved lower, particularly for deliveries in out-months through July. Storage withdrawals for the previous week were over twice the 5-year average, bringing working gas levels below 1,000 Bcf for the first time since May 31, 2002.
<![if !supportEmptyParas]> <![endif]>
<![if !supportEmptyParas]> <![endif]>
Natural Gas Summary from the Short-Term Energy Outlook
<![if !supportEmptyParas]> <![endif]>