A trend of generally declining natural gas spot prices across the country since mid-December came to an abrupt halt yesterday (Thursday, January 2) owing to new forecasts of an Arctic front expected to arrive soon in the Lower 48. During the first day of trading in the New Year, the Henry Hub spot price moved up 34 cents per MMBtu to $4.94, but was still 6 cents lower in comparison with the average last Thursday. For the week (Thursday-Thursday), the price of the NYMEX futures contract for February increased just over $0.26 per MMBtu to $5.251. Natural gas in storage decreased to 2,417 Bcf, which trails the 5-year average by 3.8 percent, for the week ending December 27. Crude oil prices have provided little reprieve from the cautious energy outlook for the rest of the winter, as they continue to hover around 2-year highs owing to political strife in Venezuela and the Iraqi situation, both of which contribute to supply concerns for U.S. markets. Although the spot price for West Texas Intermediate (WTI) crude oil declined $0.64 per barrel on the week, the spot price gained $0.76 yesterday to an average of $31.97, or $5.51 per MMBtu.
<![if !supportEmptyParas]> <![endif]>
<![if !vml]>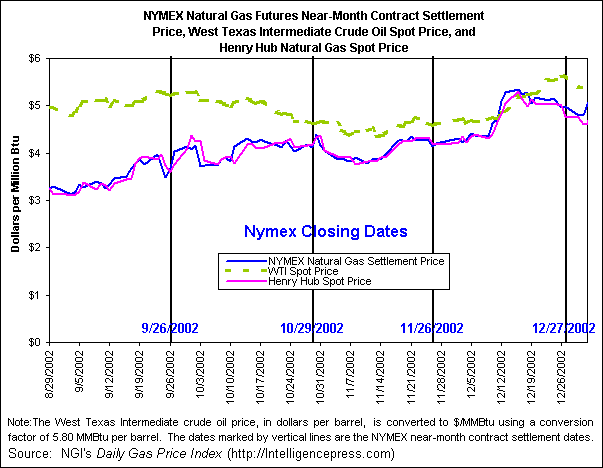 <![endif]>
<![if !supportEmptyParas]> <![endif]>
A sharp upturn in spot prices at most trading locations yesterday (Thursday, January 2) reversed a downward trend in prices since mid-December. However, price increases of 20 to 40 cents per MMBtu along the Gulf Coast and other production areas only partially offset declines over seven straight trading sessions since December 19. With the temperatures near 60 degrees in Chicago and other major gas-consuming markets earlier this week, the average price at the Henry Hub reached a low of $4.60 per MMBtu, or about 13 percent off its recent high of $5.14 two weeks earlier. The Henry Hub spot price then recovered 34 cents per MMBtu yesterday, while other production-area points in the Midcontinent and West Texas registered slightly lower increases of 20 to 30 cents. After the National Weather Service and private forecasters called for more cold weather in the Eastern United States for this weekend and particularly cold weather for late next week, price increases in the Northeast were steeper. The average spot price at the New York citygate gained $0.66 per MMBtu to $6.10, while flow restrictions at Algonquin Gas Transmission's Cromwell Compressor Station in Massachusetts also likely contributed to price increases of nearly a $1 per MMBtu or more at other trading points in the Northeast. In comparison to the East, Rockies and California prices were relatively unchanged owing to more moderate weather in the West. The average price at the PG&E citygate in northern California gained $0.10 to $4.53 per MMBtu yesterday, but has dropped $0.39 since last Thursday.
<![if !supportEmptyParas]> <![endif]>
At the NYMEX, the futures contract for February delivery took over as the near-month contract on Monday (December 30) after the January contract expired at $4.988 per MMBtu last Friday. At just under $5 per MMBtu, the January contract's settlement was about $0.78 higher than its open as the near-month contract at $4.21 on November 27. The February contract lost $0.23 per MMBtu during trading early this week before moving up about $0.46 yesterday to a two-week high of $5.251, also likely owing to the new forecasts of colder weather. Since last Thursday (December 26), the 12-month strip, which is the average of futures prices for the coming year, has risen $0.22 per MMBtu to $4.826.
<![if !supportEmptyParas]> <![endif]>
Spot Prices ($ per MMBtu)

Fri.

Mon.

Tues.

Wed.

Thur.

27-Dec

30-Dec

31-Dec

1-Jan

2-Jan

Henry Hub

4.78

4.75

4.60

Holiday

4.94

New York

5.39

5.28

5.44

Holiday

6.10

Chicago

4.71

4.61

4.55

Holiday

4.81

Cal. Comp. Avg,*

4.58

4.50

4.29

Holiday

4.37

Futures ($/MMBtu)

Jan delivery

4.988

expired

expired

expired

expired

Feb delivery

5.022

4.800

4.789

holiday

5.251

Mar delivery

4.892

4.710

4.692

holiday

5.131

*Avg. of NGI's reported avg. prices for: Malin, PG&E citygate,

and Southern California Border Avg.

Source: NGI's Daily Gas Price Index (http://intelligencepress.com).
<![if !supportEmptyParas]> <![endif]>
Storage:
Working gas in storage was 2,417 Bcf or 3.8 percent below the 5-year average for the week ending December 27, according to EIA's Weekly Natural Gas Storage Report (See Storage Figure). The implied net withdrawal was 123 Bcf, which is 22 percent lower than the 5-year average withdrawal of 157 Bcf, and 3 Bcf lower than the comparable week last year. Across the country, the weather finally offered a brief respite from this season's early cold as temperatures were about 8 percent warmer than normal as measured by heating degree days (HDDs) adjusted for the population with space heating from natural gas, according to the Natural Weather Service (See Temperature Map) (See Deviation Map). In the heavily populated New England and Middle Atlantic regions, HDDs were 14 and 10 percent, respectively, lower than normal. Because the change in working gas fell short of the average over the past 5 years, the difference in inventory levels narrowed to 95 Bcf. Storage inventories in the West fell by 26 Bcf, which is the largest withdrawal of the season for the region, as colder-than-normal temperatures prevailed in much of the region.
<![if !supportEmptyParas]> <![endif]>
All Volumes in Bcf

Current Stocks 12/27/02

Estimated Prior 5-Year (1997-2001) Average

Percent Difference from 5 Year Average

Implied Net Change from Last Week

One-Week Prior Stocks 12/20/02

<![if !supportMisalignedRows]>
<![endif]>

East Region

1,400

1,528

-8.4%

-68

1,468

<![if !supportMisalignedRows]>
<![endif]>

West Region

353

307

15.0%

-26

379

<![if !supportMisalignedRows]>
<![endif]>

Producing Region

664

677

-1.9%

-29

693

<![if !supportMisalignedRows]>
<![endif]>

Total Lower 48

2,417

2,512

-3.8%

-123

2,540

<![if !supportMisalignedRows]>
<![endif]>

Source: Energy Information Administration: Form EIA-912, "Weekly Underground Natural Gas Storage Report," and the Historical Weekly Storage Estimates Database. Row and column sums may not equal totals due to independent rounding.

<![if !supportMisalignedRows]>
<![endif]> <![if !supportMisalignedRows]>
<![endif]> <![if !supportMisalignedRows]>
<![endif]>
<![if !supportEmptyParas]> <![endif]>
<![if !supportEmptyParas]><![endif]>Other Market Trends:
Pipeline Safety Standards Strengthened Under New Law: On Tuesday, December 17, President Bush signed into law the "Pipeline Safety Improvement Act of 2002," which toughens inspection and other safety standards and enacts additional related provisions for interstate natural gas and hazardous liquids pipelines. One part of the legislation involves more stringent pipeline inspection requirements, notably the requirement that pipelines with the highest risk factors must be inspected within 5 years of the law's enactment. This is estimated to affect at least one-half of existing natural gas pipelines. Remaining pipelines must be inspected within the next 5 years. All pipelines must then be re-inspected at least every 7 years. Other key measures of the new law include increased penalties for pipeline operators who violate regulations, "whistle-blower" protection for employees who report hazardous situations to outside authorities, and expanded involvement of States in pipeline oversight.
<![if !supportEmptyParas]> <![endif]>
Summary:
Warmer-than-normal temperatures in many major gas-consuming areas of the nation during the holiday season led to lower spot prices through the end of the year. However, spot and futures prices recovered most of late December's decline on Thursday (January 2), owing to expectations of colder weather in the next couple of weeks. Net implied withdrawals from storage dropped from much higher withdrawal levels in early December to 123 Bcf for the week ending December 27. At 2,417 Bcf, inventory levels remain about 3.8 percent below the 5-year average.
<![if !supportEmptyParas]> <![endif]>