Spot and futures prices fluctuated over the past week (Wednesday, October 23 to Wednesday, October 30), with cash prices moving up from 6 to 35 cents per MMBtu at most market locations in response to rising demand from colder-than-normal temperatures, while futures prices for contracts for delivery through the impending heating season drifted lower. At the Henry Hub, the average spot price rose 9 cents from the previous Wednesday (October 23) to $4.33 per MMBtu in yesterday's (October 30) trading. The expired near-month contract for November delivery ended trading on Tuesday, October 29 at $4.126 per MMBtu, recording a net gain of $0.085 since beginning as the prompt month contract on September 27. The new near-month contract, for December delivery, began with a gain of just under 13 cents, to settle at $4.389 per MMBtu. Natural gas in storage as of Friday, October 25 increased to 3,172 Bcf, which exceeds the 5-year average by 6.3 percent. In contrast to natural gas spot prices, crude oil prices continued to soften. After dropping over $1 per barrel the previous week, the average spot price for West Texas Intermediate (WTI) crude oil fell another $1.36 per barrel to end trading on Wednesday, October 30 at $26.85, or $4.63 per MMBtu.
<![if !supportEmptyParas]> <![endif]>
<![if !vml]>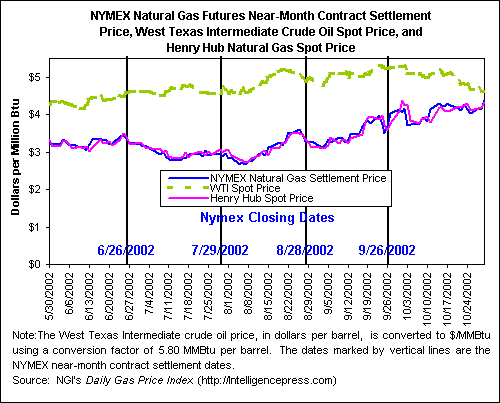 <![endif]>
<![if !supportEmptyParas]> <![endif]>
<![if !supportEmptyParas]> <![endif]>
After significant declines on Friday (October 25), which saw spot prices fall 10 to 30 cents at most major market locations, cash prices trended upward through yesterday (October 30). Colder-than-normal temperatures throughout much of the Mid-continent, Midwest and Rockies, as well as the Northeast and southward into the Mid-Atlantic states, strengthened demand over the past 3 days, pushing prices upward. Daily high temperatures at major-market cities such as Chicago and New York were in the 40s and low 50s, with daily average temperatures ranging from 2 to 10 degrees below normal. Week-to-week price increases in the Midwest and Mid-continent averaged 19 cents per MMBtu, while Northeast market locations showed increases ranging from 24 to 44 cents per MMBtu. However, the largest price increases for the week were seen in the Rockies, where winter-like conditions and strengthening demand from both Mid-continent and Western markets sent prices skyward. Many Rockies locations recorded increases of over $1 per MMBtu, with prices at some locations exceeding $4 per MMBtu-levels not seen in this region since early May 2001.
<![if !supportEmptyParas]> <![endif]>
On the futures market, the November contract ended trading on Tuesday, October 29 with a loss of a nickel, to close out at $4.126 per MMBtu. During its reign as the near-month contract, the November contract's daily settlement price ranged between $3.724 and $4.303 per MMBtu. For the week, the futures contracts for delivery in months from December 2002 through April 2003 all showed slight declines of around 5 cents or less. The new near-month contract, for December delivery, scored strong gains of over a dime per session in two of three trading sessions since Friday, October 25, but for the week was down $0.051 per MMBtu, settling yesterday at $4.389.
<![if !supportEmptyParas]> <![endif]>
Spot Prices ($ per MMBtu)

Thur.

Fri.

Mon.

Tues.

Wed.

24-Oct

25-Oct

28-Oct

29-Oct

30-Oct

Henry Hub

4.31

4.11

4.17

4.19

4.33

New York

4.85

4.57

4.80

4.95

5.16

Chicago

4.46

4.26

4.34

4.39

4.48

Cal. Comp. Avg,*

4.14

3.97

4.06

4.14

4.25

Futures ($/MMBtu)

Nov delivery

4.133

4.028

4.176

4.126

expired

Dec delivery

4.300

4.188

4.329

4.261

4.389

Jan delivery

4.385

4.278

4.409

4.346

4.457

*Avg. of NGI's reported avg. prices for: Malin, PG&E citygate,

and Southern California Border Avg.

Source: NGI's Daily Gas Price Index (http://intelligencepress.com).
<![if !supportEmptyParas]> <![endif]>
Storage:
Working gas storage levels reached 3,172 Bcf for the week ended Friday, October 25, according to EIA's Weekly Natural Gas Storage Report. Current inventories exceed the 5-year (1997-2001) average by 6.3 percent, down over a percentage point at the national level from last week.(See Storage Figure) For the first time this refill season, stocks in a region fell behind last year's levels, as East region stocks stood at an estimated 1,867 Bcf, 3 Bcf lower than last year at this time. Implied net injections for the report week were 11 Bcf, which is significantly lower than both the 5-year average and last year's injection for this week. Early near-winter conditions boosted heating demand, likely contributing to lower-than-average net injections. Generally colder-than-normal temperatures lingered from the previous week throughout the report week. Total U.S. gas-weighted heating degree-days were 27 percent higher than normal, compared with the previous week's 36 percent greater than normal. Cold weather spread into New England and further into the Middle Atlantic states and to much of the Pacific coast as well, while bringing high temperatures of below freezing for several days to an area encompassing the Northern Plains states down into northern Oklahoma. (See Temperature Map) (See Deviation Map) The 11 Bcf implied net injection is nearly 73 percent below the 5-year average of 40 Bcf.
<![if !supportEmptyParas]> <![endif]>
All Volumes in Bcf

Current Stocks 10/25/02

Estimated Prior 5-Year (1997-2001) Average

Percent Difference from 5 Year Average

Implied Net Change from Last Week

One-Week Prior Stocks 10/18/02

<![if !supportMisalignedRows]>
<![endif]>

East Region

1,867

1,829

2.1%

8

1,859

<![if !supportMisalignedRows]>
<![endif]>

West Region

416

360

15.6%

1

415

<![if !supportMisalignedRows]>
<![endif]>

Producing Region

889

793

12.1%

2

887

<![if !supportMisalignedRows]>
<![endif]>

Total Lower 48

3,172

2,983

6.3%

11

3,161

<![if !supportMisalignedRows]>
<![endif]>

Source: Energy Information Administration: Form EIA-912, "Weekly Underground Natural Gas Storage Report," and the Historical Weekly Storage Estimates Database. Row and column sums may not equal totals due to independent rounding.

<![if !supportMisalignedRows]>
<![endif]> <![if !supportMisalignedRows]>
<![endif]> <![if !supportMisalignedRows]>
<![endif]>
<![if !supportEmptyParas]> <![endif]>
<![if !supportEmptyParas]><![endif]>Other Market Trends:
The Federal Energy Regulatory Commission (FERC) Presents Assessment of the Midwestern Energy Infrastructure: FERC's Office of Market Oversight & Investigations presented its assessment of the Midwestern energy infrastructure on Wednesday, October 30. In the report titled, Midwestern Energy Infrastructure Assessment, FERC staff found that adequate pipeline and storage capacity exists to meet market needs in the 15-state Midwestern region, which encompasses the West and East North Central U.S. Census regions, and Oklahoma, Kentucky, and West Virginia. Of the 5.8 Tcf of natural gas consumed in the region during 2000, 2.8 Tcf was produced indigenously, 1.3 Tcf was imported from Canada, and the remainder was shipped principally from states in the Southeast and West. According to FERC staff, total pipeline capacity in the region is roughly 33.8 Bcf per day. Since 2001, five major projects have been certificated, adding 1,914 MMcf per day. One of these projects, Trailblazer, is already in operation, while the others are in various stages of construction. Another three major projects, adding 940 MMcf per day of projected capacity, are pending before the Commission. In addition, six major projects "are on the horizon," which could add up to 5,609 MMcf per day of transportation capacity and 480 MMcf per day of storage deliverability. These additions in pipeline capacity should help meet the increasing demand from the electric generating sector, which is the fastest growing sector in the region. Gas-fired electric generation capacity accounts for 45,000 megawatts (MW) or nearly 18 percent of the electric generation in the region. Another 39,240 MW of new gas-fired generation capacity is planned through the year 2004, nearly 91 percent of new capacity additions for the period.
<![if !supportEmptyParas]> <![endif]>
Summary:
Persistent colder-than-normal temperatures in many high-gas-consuming areas of the nation pushed spot prices higher, while futures prices for delivery in the upcoming heating season were down slightly. Net implied injections into storage were modest, but inventory levels remain above the 5-year average.
<![if !supportEmptyParas]> <![endif]>
Natural Gas Summary from the Short-Term Energy Outlook
<![if !supportEmptyParas]> <![endif]>