Natural gas spot prices registered gains of a dime or less at most major trading locations this week (Wednesday-Wednesday) as weather-driven demand combined with increasing oil prices to reverse a declining trend in prices. The upward price movement followed 6 weeks of declining prices until a low last Thursday, June 12, when prices at some trading locations along the Gulf Coast dipped just below $3.00 per MMBtu. Futures prices rose late last week after reaching similar lows. The NYMEX futures contract for July delivery settled Wednesday, June 19, at $3.314 per MMBtu, an increase of 26 cents for the week. EIA's estimate of total working gas inventories for the week ended June 14 was 2,096 Bcf with implied net injections of 81 Bcf. The spot price for West Texas Intermediate (WTI) crude oil recovered this week to trade at close to $26 per barrel on Monday, June 17. On Wednesday, the WTI crude oil price closed at $25.57 per barrel, or $4.41 per MMBtu.
<![if !supportEmptyParas]> <![endif]>
<![if !vml]>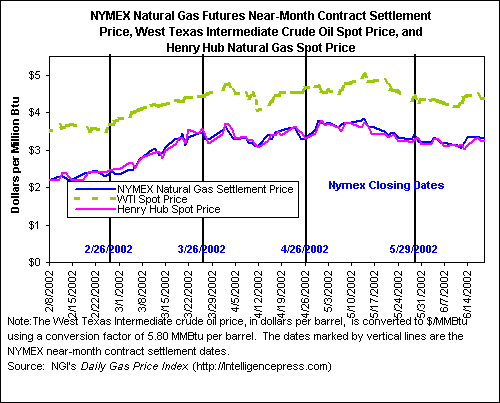 <![endif]>
<![if !supportEmptyParas]> <![endif]>
Prices:
Natural gas spot prices at most trading locations came off 6-week lows late last week to recover between 20 and 30 cents at the start of the week. But with limited weather-driven demand in key market areas, the price rise has since subsided for most of the country. As with many trading locations, the average spot price at the Henry Hub was unchanged during Wednesday's trading session. At an average $3.23 per MMBtu, Henry Hub spot prices have increased by 9 cents or about 3 percent since last Wednesday. Prices at citygates in New York and Chicago registered 2 percent gains on the week to finish trading yesterday at $3.53 per MMBtu and $3.20, respectively. Price movements were stronger in the Rockies during the week owing to pipeline maintenance in the San Juan Basin that cut supply routes from the region. Before a recovery during trading yesterday, declines of over 30 cents had resulted in prices close to $1.00 per MMBtu at trading locations on Questar Pipeline and Colorado Interstate Gas. The average spot price on Wednesday climbed 20 cents to $1.35 per MMBtu on CIG and 17 cents to $1.33 on Questar. The Northwest also saw steep declines during the week as prices dropped 29 cents in two days at Sumas, Washington to an average of $1.90 per MMBtu Wednesday.
<![if !supportEmptyParas]> <![endif]>
On the NYMEX, the settlement price for the near-month (July delivery) contract has drifted lower since climbing to this week's high point of $3.377 per MMBtu on Monday. At Wednesday's close, the near-month contract settled at $3.314 per MMBtu, an increase of 26 cents or 8 percent on the week. Although rising crude oil prices and unexpected weather have pushed the contract upward from its lows last week, the recovery slowed this week and the contract has settled each day in the range of $3.30-40 per MMBtu. The futures contract for August delivery also gained 26 cents on the week to close yesterday at $3.387 per MMBtu. Futures prices for deliveries next January and February climbed over the $4.00 per MMBtu level last Friday for the first time since May. At yesterday's close, the futures contract for January 2003 delivery settled at $4.055 per MMBtu, while the futures contract for February delivery had dipped back below the $4 mark to $3.995.
<![if !supportEmptyParas]> <![endif]>
Spot Prices ($ per MMBtu)

Thur.

Fri.

Mon.

Tues.

Wed.

13-Jun

14-Jun

17-Jun

18-Jun

19-Jun

Henry Hub

3.03

3.12

3.34

3.23

3.23

New York

3.29

3.36

3.64

3.52

3.53

Chicago

3.00

3.10

3.33

3.19

3.20

Cal. Comp. Avg,*

2.65

2.61

2.81

2.69

2.76

Futures ($/MMBtu)

July delivery

3.211

3.342

3.377

3.312

3.314

Aug delivery

3.280

3.408

3.447

3.385

3.387

*Avg. of NGI's reported avg. prices for: Malin, PG&E citygate,

and Southern California Border Avg.

Source: NGI's Daily Gas Price Index (http://intelligencepress.com).
<![if !supportEmptyParas]> <![endif]>
Storage:
Working gas in storage was 2,096 Bcf for the week ended Friday, June 14, 2002, according to EIA's Weekly Natural Gas Storage Report. For the entire Lower 48, inventories are now an estimated 20.9 percent more than the 5-year average of 1,733 Bcf (See Storage Figure). Net injections of natural gas into storage implied by the weekly stock estimates were 81 Bcf, which was nearly identical to the 5-year average of 82 Bcf for the week, but 22 Bcf below last year's mark of 103 Bcf. As measured by cooling degree days (CDDs), temperatures were about 9 percent warmer than normal for the week in the Lower 48. (see maps: (See Temperature Map) (See Deviation Map) While hot temperatures likely increased demand in the power generation sector in the South, temperatures in the Northeast and other key market areas of the country were cooler than normal.
<![if !supportEmptyParas]> <![endif]>
All Volumes in Bcf

Current Stocks 6/14/2002

Estimated Prior 5-Year (1997-2001) Average

Percent Difference from 5 Year Average

Net Change from Last Week

One-Week Prior Stocks 6/07/2002

<![if !supportMisalignedRows]>
<![endif]>

East Region

1,058

952

11%

58

1003R

<![if !supportMisalignedRows]>
<![endif]>

West Region

303

246

23%

8

293R

<![if !supportMisalignedRows]>
<![endif]>

Producing Region

735

535

37%

15

719R

<![if !supportMisalignedRows]>
<![endif]>

Total Lower 48

2,096

1,733

21%

81

2015R

<![if !supportMisalignedRows]>
<![endif]>

Source: Energy Information Administration: Form EIA-912, "Weekly Underground Natural Gas Storage Report," and the Historical Weekly Storage Estimates Database. R=Revised

<![if !supportMisalignedRows]>
<![endif]> <![if !supportMisalignedRows]>
<![endif]> <![if !supportMisalignedRows]>
<![endif]>
<![if !supportEmptyParas]> <![endif]>
Measures of working gas, base gas, and total gas in storage for March 2002 based on the EIA monthly survey of all gas storage operators were released on June 19, 2002, along with revisions for the months of November 2001 through February 2002 in the Natural Gas Monthly.
The March monthly data provided the first opportunity since the beginning of the EIA weekly natural gas storage survey to compare the reports of monthly and weekly surveys for weekly sample members for a comparable report period (the end of March for the monthly survey and the weekly surveys for the Fridays preceding and following the end of March). As a result of the cross-survey data comparison, a number of questions were directed to the respective respondent contacts. Many of these questions have been resolved, resulting in new or revised submissions of data for either the monthly or weekly surveys. Although most respondents have been prompt, a few questions remain. Reasons for revisions in monthly and weekly data include resolution of:
<![if !supportLists]>· <![endif]>Companies' reporting responsibilities for their field operations
<![if !supportLists]>· <![endif]>Questions about how joint operations of a field should be reported
<![if !supportLists]>· <![endif]>Questions about whether gas should be identified as base or working gas.
<![if !supportEmptyParas]> <![endif]>
Revisions to Derived Weekly Estimates. The recent revisions to EIA monthly data for November 2001 through February 2002 required reestimation of the derived estimates for the weeks in that period to conform to the methodology for the derived estimates. The derived estimates (which are calculated to provide comparison to prior years) are weekly stock estimates calibrated to the EIA monthly surveys. (A description of the methodology is available at http://tonto.eia.doe.gov/oog/info/ngs/history.html.) Changes to the derived estimates will occur whenever the EIA monthly volumes for periods prior to March 2002 are revised. Eventually, weekly estimates based on the EIA weekly survey (Form EIA-912) will be available for all prior period comparisons.
<![if !supportEmptyParas]> <![endif]>
The largest revision to any derived weekly stock estimate for the weeks during November 2001-February 2002 is an increase of 50 Bcf, or 1.6 percent, for the November 30, 2001, estimate. This adjustment is composed of increases of 31 Bcf in the Consuming East Region and 19 Bcf in the Producing Region. These changes represent 1.6 percent and 2.1 percent of inventories in the respective regions. Revisions to total stocks and those stocks in the Consuming East Region and the Producing Region in any other week are 1.6 percent or less. However, revisions to the data for the Consuming West Region have a higher relative impact, partly owing to the smaller working gas volumes for that region.
Revisions to Weekly Data from the EIA-912 Survey. On June 20, 2002, the weekly working gas stock estimates from the EIA-912 survey were revised for all weeks from March 15, 2002, through June 7, 2002. These changes represent an increase of 30 Bcf on average for all weeks from March 15 to June 7. As a result of the revisions, inventories in all three regions are higher. The average change for U.S. total inventories is less than 2 percent. The largest average revision occurred in the East Region, where the stocks increased by 3.2 percent. Revisions occurred in inventory levels for all weeks and consequently had little effect on the net change estimates, which reflect the movement in inventory estimates for two consecutive weeks. The revisions to weekly estimates were the result of revised data reports and the use of updated ratios for expansion of the sample reports. The use of ratios based on monthly surveys is explained in the Methodology paper.
<![if !supportEmptyParas]> <![endif]>
Other Market Trends:
MMS Releases Report on Production Projections Through 2006: Projections in the Minerals and Management Service (MMS) report, Gulf of Mexico Outer Continental Shelf Daily Oil and Gas Production Rate Projections From 2002 Through 2006 (June 2002), show expected daily gas production rates in 2006 between 10.97 and 16.39 Bcf per day compared with an estimated 13.81 Bcf per day in 2001. Deepwater oil and gas production rates were at an all-time high in 2001. By yearend 2006, production from deepwater fields (greater than or equal to 1,000 feet) will account for 26 percent of the daily gas production in the low case scenario and 20 percent of the daily gas production in the high case scenario. Daily gas production rates include both associated and non-associated gas production.
<![if !supportEmptyParas]> <![endif]>
Canadian Drilling Activity Increases More Than 50 Percent: According to the latest report from the Canadian Association of Oilwell Drilling Contractors (CAODC), 222 rigs were active in Western Canada as of June 11, 2002, which is an increase of 78 from the May 21 total of 144. The report covers the five Western Canadian provinces (Alberta, British Columbia, Manitoba, North West Territories, and Saskatchewan) and indicates that almost 75 percent or 165 active rigs are located in Alberta. The CAODC estimates that 65 percent of the active rigs are primarily drilling for natural gas at this time. In spite of this recent increase in drilling activity, the current total is considerably below the 331 reported for the same period last year and 25 percent less than the previous 5-year average of 297.
<![if !supportEmptyParas]> <![endif]>
Summary:
Spot and futures prices gained a dime or less this week after reaching 6-week lows late last week. In trading on Wednesday, June 19, the average spot price at the Henry Hub was $3.23 per MMBtu, or 9 cents less than the previous Wednesday. The EIA estimate of Lower 48 storage inventories was 2,096 Bcf for the week ended June 14, 2002. Implied net injections for the week were 81 Bcf.
<![if !supportEmptyParas]> <![endif]>