Natural gas spot and futures prices trended down for the week (Wednesday to Wednesday, May 15-22). The cold front that moved into major gas-consuming areas of the Midwest and Northeast for the weekend and lingered into the first part of this week had minimal impact on prices. At the Henry Hub, the average spot price fell 24 cents for the week to $3.38 per MMBtu. On the NYMEX, the settlement price of the near-month contract (June delivery) declined for 5 straight trading sessions before recording a small increase of $0.064 per MMBtu in May 22 trading, to settle at $3.459. The spot price for West Texas Intermediate (WTI) crude oil, which had held at or above $28 per barrel since last Thursday, fell nearly $1 on Tuesday, May 21, following the American Petroleum Institute's announcement of an unexpected build in crude oil stocks of 5.5 million barrels for the week ended Friday, May 17. For the week (May 15-22), the WTI price was down $0.99, at $27.01 per barrel, or $4.66 per MMBtu.
<![if !supportEmptyParas]> <![endif]>
<![if !vml]>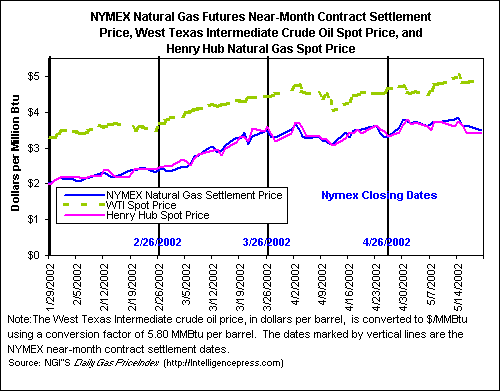 <![endif]>
<![if !supportEmptyParas]> <![endif]>
<![if !supportEmptyParas]> <![endif]>
Prices:
Spot prices continued to trend down for a third straight week as temperatures grew milder after the weekend and crude oil prices lost the upward momentum that carried them over the $29 mark last week. Price decreases were mostly on the order of 15 to 20 cents per MMBtu for the week, except for the Rockies, where price declines averaged $0.48 per MMBtu, resulting in a regional average price on Wednesday, May 22 of $1.95. The most dramatic price decline occurred on the Florida Gas Transmission (FGT) system. Six days ago, the FGT citygate price was well over $7 per MMBtu; yesterday, it stood at $3.80. Falling temperatures and easing pipeline constraints contributed significantly to the large price drop. On Thursday, FGT was able to cancel the Overage Alert day notice that had been in effect for two and one-half weeks, prompting a one-day price drop of $1.78 per MMBtu. Price declines in the Midwest were around 20 cents per MMBtu; the Chicago citygate price fell $0.21 to $3.42 per MMBtu. Northeast cash-price declines were generally a few pennies less, with New York citygate prices falling 17 cents to $3.75 per MMBtu. Declines at northern California points were around 40 cents per MMBtu, while the Southern California Border average price declined by 14 cents to $3.12 per MMBtu.
<![if !supportEmptyParas]> <![endif]>
On the NYMEX, futures prices fell for 5 days in a row. The contract for June delivery had declined a cumulative 46 cents per MMBtu over that 5-day period, before edging up slightly yesterday to settle at $3.459 per MMBtu. Currently, the highest-priced gas for delivery in the coming heating season is for January delivery, at $4.229 per MMBtu.
<![if !supportEmptyParas]> <![endif]>
Spot Prices ($ per MMBtu)

Thur.

Fri.

Mon.

Tues.

Wed.

16-May

17-May

20-May

21-May

22-May

Henry Hub

3.44

3.42

3.44

3.33

3.38

New York

3.73

3.76

3.80

3.69

3.75

Chicago

3.49

3.50

3.53

3.39

3.42

Cal. Comp. Avg,*

3.00

2.88

3.07

2.93

2.91

Futures ($/MMBtu)

June delivery

3.609

3.598

3.490

3.395

3.459

July delivery

3.689

3.681

3.570

3.473

3.537

*Avg. of NGI's reported avg. prices for: Malin, PG&E citygate,

and Southern California Border Avg.

Source: NGI's Daily Gas Price Index (http://intelligencepress.com).
<![if !supportEmptyParas]> <![endif]>
Storage:
Net injections into storage were 68 Bcf during the week ended May 17, according to EIA's Weekly Natural Gas Storage Report, bringing total inventories to 1,725 Bcf (See Storage Figure). This marks the third consecutive week that total net injections have been less than the prior 5-year (1997-2001) average of stock change for the week (see Historical Weekly Storage Estimates database). The total of 68 Bcf is about 11 percent below the 5-year average of 77 Bcf. The week covered by the storage report experienced unusually cool weather in the Midwest, the Northeast, and much of the Midcontinent, and hotter than normal temperatures in parts of the Southeast and Southwest. This combination spurred some swing demand for gas that might otherwise have been destined for storage. Temperatures generally were up to 9 degrees cooler than normal in much of the eastern two-thirds of the country, and up to 5 degrees warmer than normal in most of Florida and the Southwest (See Temperature Map) (See Deviation Map). Although the surplus of stocks with respect to the 5-year average has decreased, inventories remain over 300 Bcf greater than the 5-year average. Over the past 5 years, the earliest date that a comparable level was reached, according to EIA estimates, was May 21, 1999.
<![if !supportEmptyParas]> <![endif]>
All Volumes in Bcf

Current Stocks 5/17/2002

Estimated Prior 5-Year (1997-2001) Average

Percent Difference from 5 Year Average

Net Change from Last Week

One-Week Prior Stocks 5/10/2002

<![if !supportMisalignedRows]>
<![endif]>

East Region

813

737

10%

34

779

<![if !supportMisalignedRows]>
<![endif]>

West Region

259

205

27%

6

253

<![if !supportMisalignedRows]>
<![endif]>

Producing Region

653

462

41%

28

625

<![if !supportMisalignedRows]>
<![endif]>

Total Lower 48

1,725

1,403

23%

68

1,657

<![if !supportMisalignedRows]>
<![endif]>

Source: Energy Information Administration: Form EIA-912, "Weekly Underground Natural Gas Storage Report," and the Historical Weekly Storage Estimates Database.

<![if !supportMisalignedRows]>
<![endif]> <![if !supportMisalignedRows]>
<![endif]> <![if !supportMisalignedRows]>
<![endif]>
<![if !supportEmptyParas]> <![endif]>
Other Market Trends:
Merchants' Exchange to Launch Energy Futures Trading: The Chicago-based Merchants' Exchange announced that it will launch its new on-line cash-settled energy futures exchange this week. Trading in Henry Hub natural gas futures and West Texas Intermediate (WTI) crude oil futures will commence for the first time at 10:00 am on Friday, May 24. The specifications of the Henry Hub natural gas futures contract will be similar to those of the natural gas contract that is traded on the New York Mercantile Exchange (NYMEX). Trading will be conducted in each month within the next 36 months following the current calendar month, and the exchange's board of managers will set trading hours. The contract will be traded in lots of 10,000 MMBtu with no limits set on daily prices. The exchange is subject to oversight by the Commodity Futures Trading Commission (CFTC). CFTC also approved four other futures contracts for the Merchants' Exchange that will likely begin trading in the near future; these include Brent crude, New York Harbor unleaded gasoline, New York Harbor heating oil, and European gas oil.
<![if !supportEmptyParas]> <![endif]>
Natural Gas Rig Counts: The number of rigs exploring for natural gas increased by 27 to 696 for the week ended Friday, May 17, according to Baker-Hughes Incorporated. Natural gas rigs are nearly 30 percent below last year at this time when they numbered 992. However, since the week ended April 5, 2002, when natural gas rigs numbered 591, the number of rigs has increased for six straight weeks, climbing almost 3 percent per week on average. The rig count now is almost 18 percent above the level recorded on April 5 and is at its highest level since early February 2002. According to the EIA Short-Term Energy Outlook (released May 6), aggregate lease revenues from domestic oil and gas production are expected to move up this year and settle at about $300 million per month in 2003, which would be an increase of approximately 50 percent over the rates seen at the end of 2001. Inasmuch as these revenues are a strong determinant of industry cash flow, which in turn is a powerful driver of drilling activity levels, an upward trend in gas drilling levels is anticipated for this year and into 2003.
<![if !supportEmptyParas]> <![endif]>
Summary:
Spot and futures prices continued a downward trend as temperatures began to turn milder and crude oil prices declined. The EIA estimate of net storage injections, although less than the 5-year average, was well within the market's prevailing expectations.
Natural Gas Summary from the Short-Term Energy Outlook
<![if !supportEmptyParas]> <![endif]>
<![if !supportEmptyParas]> <![endif]>
<![if !supportEmptyParas]> <![endif]>