EIA Staff and News

News of interest to future employees and EIA alumni
Can you "dig IT"? U.S. Electric System Operating Data Tool edges out competitors
November 2, 2017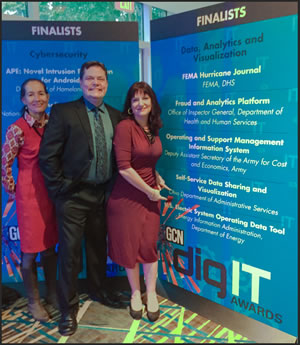 Office of Communications (OC) staff members, Steve Luminati, Melinda Hobbs, and Gina Pearson, represented EIA at the recent Government Computer News (GCN) dig IT award gala and were stunned and elated to hear the U.S. Electric System Operating Data Tool announced as the winner in the category of Data Analytics and Visualization—edging out finalists from the U.S. Army, the Federal Emergency Management Administration (FEMA), the U.S. Department of Health and Human Services (HHS), and the state of Ohio. The gala was held at the Hilton hotel in Tysons Corner, Virginia. The three OC employees were called up to the stage to accept the award for EIA and pose for photos—a real Oscar moment.
"This award is especially meaningful for EIA, as it spans data analytics and visualization from across federal, state, and local government," said Gina Pearson, Assistant Administrator of the Office of Communications. "The agency's work is truly groundbreaking, and now that's not just us talking!"

Now in its 29th year, GCN's dig IT Awards celebrate discovery and innovation in government IT—the cutting-edge technology and creative implementations that are supporting critical missions in the public sector. Award winners were selected from 25 finalists across 5 award categories—Cybersecurity; Cloud and Infrastructure; Data Analytics and Visualization; Mobile; and Robotics, Automation, and Unmanned Systems—by an expert panel of judges. This year was the first time EIA was nominated for the award.

The other four nominees in the Data Analytics and Visualization category were
FEMA Hurricane Journal, FEMA
Fraud and Analytics Platform, Office of Inspector General, HHS
Operating and Support Management Information System, Deputy Assistant Secretary of the Army for Cost and Economics, U.S. Army
Self-Service Data Sharing and Visualization, Ohio Department of Administrative Services
Acting Administrator/Deputy Administrator John Conti wrote in response to the news, "Congratulations to all of those involved in this project/product."
--Staff, Office of Communications
---
DOE celebrates its 40th anniversary and recognizes charter employees
October 13, 2017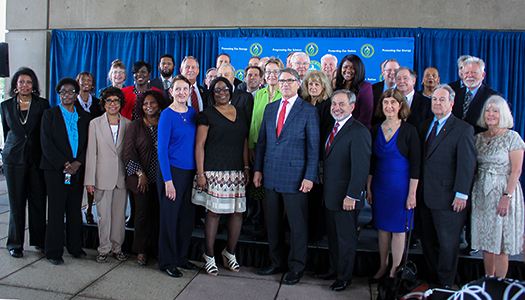 The U.S. Department of Energy (DOE) celebrated its 40th anniversary at a ceremony on October 11 at the Forrestal building. At the ceremony, Secretary Perry and Deputy Secretary Brouillette recognized a small group of charter employees who have been with DOE since the beginning in 1977. A few of our EIA colleagues found themselves in this illustrious group.

EIA's charter DOE employees include Colleen Blessing and Peggy Wells from the Office of Communications, Sharon Belcher from the Office of Energy Statistics, and Stefanie Palumbo from the Office of Energy Analysis.

Congratulations to Colleen, Peggy, Sharon, and Stefanie for reaching this important service milestone with both DOE and EIA. Much of what our organizations have been able to accomplish can be attributed to the professionalism, dedication, and loyalty of employees like you.

Bravo!
--Staff, Office of Communications
---
EIA releases International Energy Outlook 2017
September 27, 2017
On Thursday September 14, Ian Mead, Assistant Administrator of the Office of Energy Analysis, presented updated long-term projections of world energy supply and demand in the release of the International Energy Outlook 2017 at the Center for Strategic and International Studies (CSIS).

Ian covered projections for energy consumption in all sectors, supply for all fuels, and related emissions across 16 global regions with a focus on the 2040 time horizon.

Highlighted results included
World energy consumption increases from 575 quadrillion Btu in 2015 to 736 quadrillion Btu in 2040, a 28% increase.
More than 60% of the increase in energy consumption by 2040 comes from non-OECD Asia, which includes China and India.
Even though demand in the residential and transportation sectors grows more rapidly, the industrial sector still accounts for more than 50% of delivered energy consumption in 2040.
Transportation energy use rises by nearly 30% between 2015 and 2040 with almost all of the growth occurring in non-OECD regions.
Renewable energy is the world's fastest-growing energy source, increasing an average 2.3% per year between 2015 and 2040.
Fossil fuels remain dominant, supplying 77% of the world's energy consumption in 2040.
Natural gas is the fastest-growing fossil fuel, with global consumption increasing an average 1.4% per year between 2015 and 2040.
Coal use remains flat over the projection period as declines in China are largely offset by increases in India and other parts of Asia.
World energy-related carbon dioxide emissions are projected to grow an average 0.6% per year between 2015 and 2040, far below the 1.3% per year growth from 1990 to 2015.
You can read the full
International Energy Outlook 2017
.
--Elizabeth Sendich, Office of Energy Analysis
---
EIA's YouTube channel welcomes its 1,000th subscriber
September 12, 2017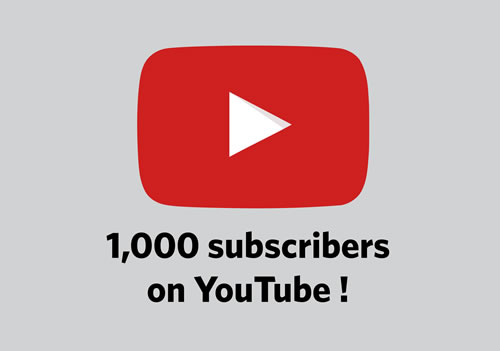 More than 1,000 people are now subscribed to EIA's YouTube channel.

EIA's YouTube channel has nearly 50 videos accessible to the public, and the videos on the channel have more than 100,000 views. The Office of Communications (OC) adds several new videos each year.

OC expanded its video program and refined the direction in 2017. This year, EIA created promotional videos, supported webinars, and produced several product tutorials.

OC has several video projects in the works, to include videos highlighting the 2017 EIA Energy Conference.

Check out EIA's YouTube channel today! Some of the topics you'll find include
--Dale Sweetnam, Office of Communications
---
EIA hosts video conference with Brazil
September 1, 2017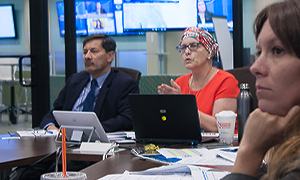 On Thursday, August 24, Mindi Farber-DeAnda of the Office of Energy Analysis, Office of Petroleum, Natural Gas, and Biofuels Analysis, hosted a video conference with Brazil's Empresa de Pesquisa Energetica (an agency whose formation was inspired by EIA) to initiate a dialogue between these analytical agencies of the world's two largest biofuels producers—the United States and Brazil.

Each agency presented an overview of its statistical and analytical tools, highlighting the methodology and assumptions related to biofuel forecasts and outlooks. Zia Haq of the U.S. Department of Energy's Bioenergy Technologies Office and Ernie Carter of the U.S. Department of Agriculture's Foreign Agricultural Service also presented information during the video conference. EIA's Steve Hanson, Sean Hill, and Natalie Kempkey also attended.
--Steven Hanson, Office of Petroleum, Natural Gas, and Biofuels Analysis
---
EIA hosts webinar about propane in the Midwest
August 2, 2017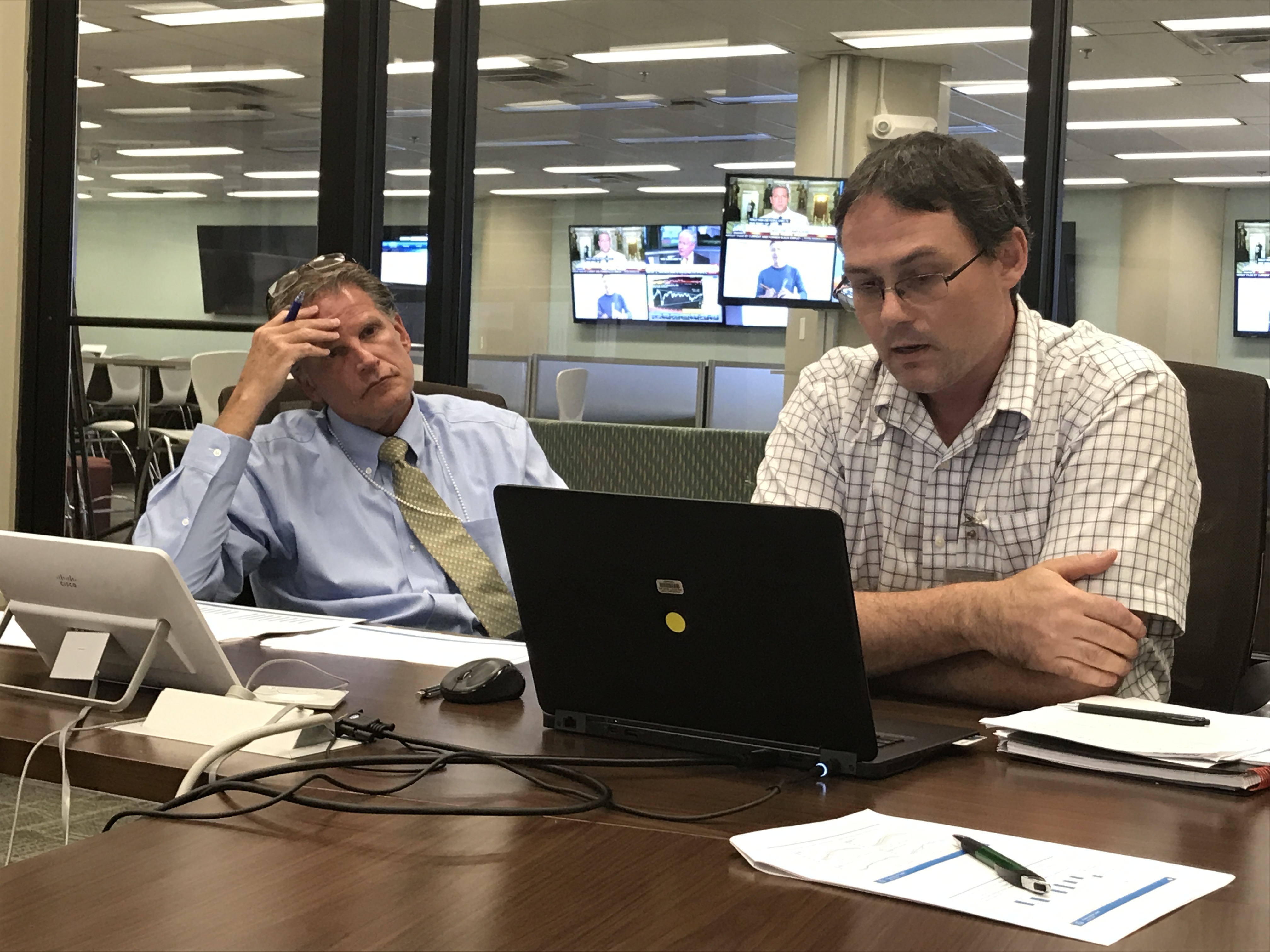 EIA hosted a webinar on July 26 to update state and federal officials and representatives about propane supplies in the Midwest. Eighty-two people participated in the webinar.
The webinar was in response to information requested by several U.S. lawmakers on the status of the Midwest propane market. Propane consumption in the region rises in the fall to meet demand for drying harvested crops and remains high through the winter for space heating in residential and commercial buildings and in agriculture for animal confinement heating.
Homeowners and farmers in the Midwest faced tight propane supplies and high propane prices several years ago, and they have become vigilant about building propane inventories during the summer months since then.
During the webinar, EIA Acting Administrator Howard Gruenspecht, agency analysts Robert Merriam and Warren Wilczewski, and senior advisor Shirley Neff, explained that although Midwest propane inventories are currently at the low end of the five-year range, inventories are increasing, and if stock builds continue at the recent rate, stocks will be at or above the five-year average by the beginning of October.
EIA officials also pointed out that U.S. propane production increased 73% over the past seven years.
You can view the slides presented during the propane webinar to learn more.

--Tom Doggett, Office of Communications
---
EIA enjoys another successful conference
July 7, 2017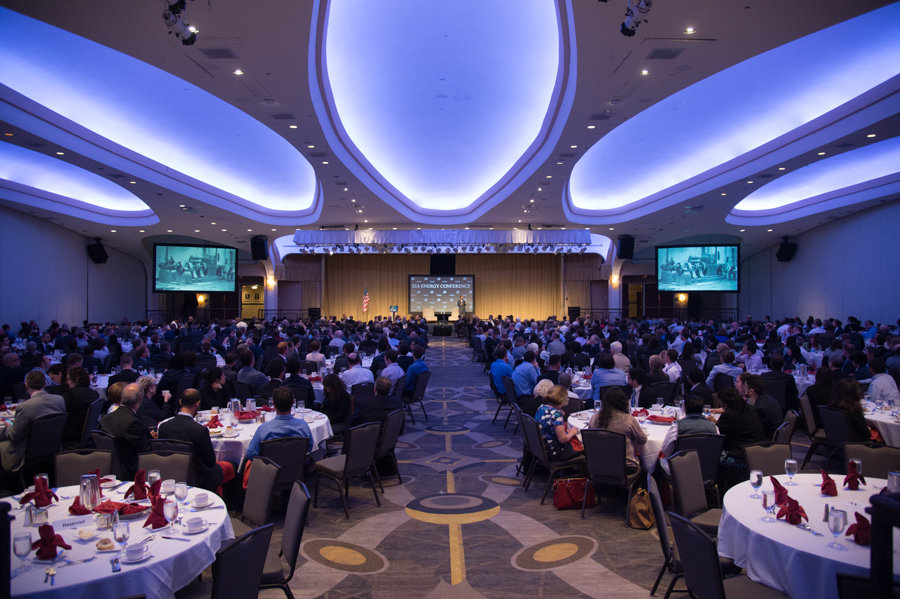 People from all over the world traveled to participate in the 2017 EIA Energy Conference, and after two days of presentations and discussions, the conference successfully wrapped up on June 27.

Like past EIA energy conferences, the 2017 conference welcomed more than 900 leaders from industry, government, and academia who made their way to Washington, DC, to discuss both domestic and international energy issues facing markets and policymakers.

Conference attendees had the opportunity to attend 12 topical sessions, which covered many exciting energy issues. In addition to participating in the individual sessions, conference attendees also heard from engaging plenary speakers such as
Secretary Rick Perry, U.S. Department of Energy
Rep. Greg Walden, U.S. House Energy and Commerce Committee
Commissioner Colette Honorable, Federal Energy Regulatory Commission
Scott Sheffield, Executive Chairman of the Board, Pioneer Natural Resources
Alex Laskey, President and Co-founder, Opower
Dr. Sun Xiansheng, Secretary General, International Energy Forum
The presentations from 12 breakout sessions are available online.

EIA used its Twitter account during the conference to highlight and promote the quality discussions. Live Tweets from EIA's Twitter account helped bring the conference to more than 300,000 people over the two-day period.

--Dale Sweetnam, Office of Communications
---
EIA flips the script with new AEO flipbook
March 29, 2017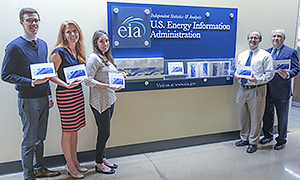 In early March, the printers delivered copies of a revamped EIA flagship publication, the Annual Energy Outlook 2017 flipbook. This spiral-bound, 135-page document is the result of a significant redesign of EIA's Annual Energy Outlook (AEO) publication. The flipbook is graph-rich, has crisp writing, and reflects the findings and the thoughtfulness of EIA's long-term energy projections in a user-friendly format.

In producing the flipbook, the publication timeline was dramatically compressed—in previous AEO cycles, from model freeze to publication took three to four months. The flipbook nearly halved that time. Data tables and supporting documentation are now published online only.

Beyond saving resources—both time and money—and maintaining the value of the AEO publication, the flipbook is an example of the exceptional work that is produced when EIA plays as a team. Allison Coyle and her Office of Communication colleagues worked with the Office of Energy Analysis (OEA) to produce an innovative template to showcase the AEO's findings. OEA's Michelle Bowman, Owen Comstock, Ari Kahan, and Perry Lindstrom applied and were selected to become the team that worked on developing the process and content of the new publication.

Moreover, this project team was supported by the larger OEA and EIA community. With the rest of the group echoing her sentiments, Michelle said, "We were incredibly impressed by the level of willingness of all offices to not only accept, but contribute, to a new format and do whatever was needed to get it out the door on an expedited schedule. It was really remarkable!"

The flipbook received rave reviews from across EIA, and it will serve as the centerpiece of future Annual Energy Outlook and International Energy Outlook publications.

--Angelina LaRose, Office of Energy Analysis
---
Adam Sieminski receives Boy Scout award
January 18, 2017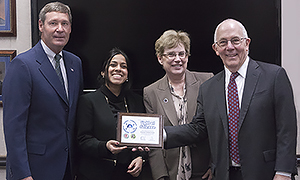 The Boy Scouts of America's National Capital Area Council (NCAC) honored former EIA Administrator Adam Sieminski on January 11 for his support of EIA's annual Scout Day and for providing STEM (Science, Technology, Engineering, and Mathematics) educational opportunities for youth.

NCAC Scout Executive and CEO, Les Baron, along with several other NCAC officials, presented the award to Adam during a special ceremony at the Forrestal building in front of the EIA employees and contractors who have volunteered at EIA Scout Day over the years as merit badge counselors and support staff.

Baron noted that more than 600 boy scouts and girl scouts have learned about energy and nuclear science at EIA's five Scout Day events. The annual gathering is a top STEM learning event for scouts in the Washington, DC area.

Thanks to Adam's strong support and the help of many volunteers from EIA, the National Nuclear Security Administration, and other U.S. Department of Energy offices, EIA's Scout Day has become more popular each year. The class seats usually fill up within minutes after online registration opens. After the award ceremony, Adam inquired about the date for the 2017 EIA Scout Day because he hopes to volunteer for the event.
--Tom Doggett, Office of Communications
---
Archive of EIA staff and news >