EIA Staff and News

News of interest to future employees and EIA alumni
International Energy Outlook 2018 released at Center for Strategic and International Studies
August 16, 2018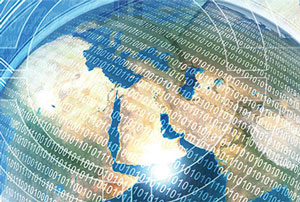 On July 24, EIA Administrator Linda Capuano presented updated long-term projections of world energy supply and demand during the release of International Energy Outlook 2018 (IEO2018) at the Center for Strategic and International Studies (CSIS).
IEO2018 focuses on how different macroeconomic conditions and growth patterns might affect international energy markets in three key regions of the world: China, India, and Africa. For this light IEO, staff from the Office of Energy Analysis updated the Reference case from IEO2017 with new macroeconomic information and varied macroeconomic assumptions across China, India, and Africa to create several side cases. Specifically, IEO2018 examines the effects faster economic growth in China, India, or Africa would have on global energy consumption. In the case of China and India, IEO2018 also explores the effects of economic structure on achieving high growth.
This IEO was also an opportunity for EIA to test new product formats with three separate webpages for each region that were simpler than traditional, academic-style EIA reports. Each regional set of results was also represented in an infographic.

Highlighted results include
If China experiences higher GDP growth and its economy remains investment- and export-led, Chinese energy consumption is projected to increase 25% compared with the IEO2018 Reference case by 2040. However, if higher GDP growth is coupled with a faster transition to a consumption-led economy, Chinese energy consumption is projected to increase just 20% compared with the Reference case.
In India, three routes to accelerated economic growth, compared with the Reference case, are examined. The largest projected increase in Indian energy consumption arises from the case where economic growth relies heavily on expanding exports.
Even under accelerated growth conditions, Indian energy consumption will continue to lag behind that of China and the United States.
Higher economic growth in Africa results in a 30% increase in energy consumption per capita compared with the Reference case by 2040. Under these high growth conditions, Africa's manufacturing sector expands and industrial energy consumption increases.You can see all the IEO2018 products on EIA.gov.
You can see all the IEO2018 products on EIA.gov.

--Elizabeth Sendich and Melissa Olson, Office of Energy Analysis
---
EIA staff participate in interagency mentoring program
June 19, 2018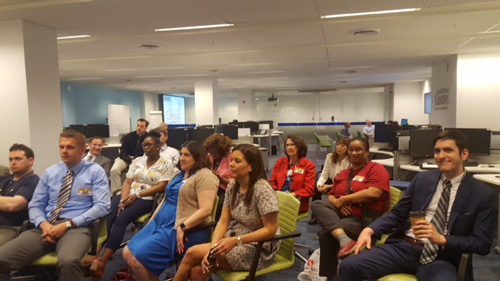 The Interagency Council on Statistical Policy (ICSP) launched the 2018 iteration of its interagency mentoring program. Participants in this career development program include mentors and mentees from ICSP member agencies. The goals of the program are to
Further professional growth and development of the participants
Enhance connections among statistical agencies
This program is open to analytical staff (e.g., survey and mathematical statisticians, economists, demographers, etc.) located in the DC Metro Area.
As a part of this program, the mentors and mentees attend field trips together. In May, participants visited the Center for Applied Technology (CAT Lab) at the U.S. Census Bureau. The mentees, alongside their mentors, gained information about challenges with the U.S. Census, reviewed problem-solving tactics, and examined the structure of one of the U.S. Census clouds and prototypes.
--Staff, Office of Communications
---
EIA looks back on another successful conference
June 11, 2018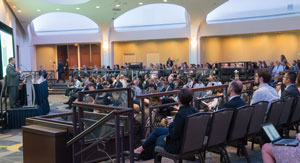 The 2018 EIA Energy Conference welcomed more than 700 leaders from industry, government, and academia who made their way to Washington, DC, to discuss both domestic and international energy issues facing markets and policymakers.
Conference attendees had the opportunity to attend nine topical sessions, which covered many exciting energy issues. EIA also introduced five EIA-specific breakout sessions at the end of day two that provided an opportunity for EIA employees to discuss various programs, outlooks, and capabilities. In addition to participating in the individual sessions, conference attendees also heard from engaging plenary speakers such as
Mark W. Menezes, Under Secretary of Energy, U.S. Department of Energy
Kevin J. McIntyre, Chairman, Federal Energy Regulatory Commission
Greg L. Armstrong, Chairman and CEO, Plains All American Pipeline
John Kemp, Senior Market Analyst, Commodities and Energy, Reuters News
The presentations from nine breakout sessions are available online.
--Dale Sweetnam, Office of Communications
---
EIA goes live on Facebook
May 17, 2018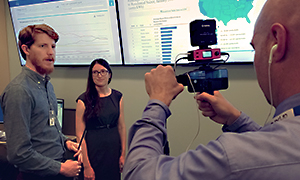 The U.S. Department of Energy (DOE) featured EIA and several EIA tools during its latest Facebook Live video on May 15.
During the 30-minute video hosted on DOE's Facebook page, Steve Harvey from the Office of the Administrator, Steve Luminati from the Office of Communications, and Lisa Cabral from the Office of Energy Statistics highlighted several EIA tools while also providing some general background information about the agency and the EIA.gov website.
The video featured brief walkthroughs of the Energy Disruptions page, the U.S. Energy Mapping System, the State Energy Portal, the Electricity Data Browser, and the Electric System Operating Data Tool. Steve Harvey also got in a brief plug for the 2018 EIA Energy Conference.
The live event was recorded, and the video collected more than 1,000 views and dozens of comments within 24 hours.
You can view the video on both the DOE and the EIA Facebook pages.
--Dale Sweetnam, Office of Communications
---
Archive of EIA staff and news >