U.S. Energy Information Administration - EIA - Independent Statistics and Analysis
‹ U.S. States
Texas
State Profile and Energy Estimates
Choose a U.S. State or Territory
Profile Overview
Quick Facts
Texas was the leading crude oil-producing state in the nation in 2015 and exceeded production levels even from the federal offshore areas.
As of January 2016, the 29 petroleum refineries in Texas had a capacity of over 5.4 million barrels of crude oil per day and accounted for 30% of total U.S. refining capacity.
Texas accounted for over 27% of U.S. marketed natural gas production in 2015, making it the leading natural gas producer among the states.
Texas leads the nation in wind-powered generation capacity with more than 18,500 megawatts; in 2014 and 2015, Texas wind turbines produced more electricity than the state's two nuclear plants.
Texas is the nation's largest producer of lignite coal. About 40% of the coal burned for electricity generation in Texas is lignite.
The average annual electricity cost per Texas household is $1,801, among the highest in the nation; the cost is similar to other warm weather states like Florida, according to EIA's Residential Energy Consumption Survey.
Last Updated: January 19, 2017
More Data & Analysis in Texas
by Source
Texas, U.S. Rankings
Today In Energy
Major U.S. tight oil-producing states expected to drive production gains through 2018
Jan 31, 2017
Thanksgiving holiday causes unique electricity usage patterns across the country
Dec 05, 2016
Texas at a Glance

Texas
Energy Highlights ›
---
Household
Energy Use
Fact Sheet ›
U.S. Energy Mapping System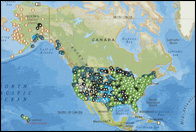 Reference
Other Resources
Play a short video to learn how to use this tool.