U.S. Energy Information Administration - EIA - Independent Statistics and Analysis
‹ U.S. States
Missouri
State Profile and Energy Estimates
Choose a U.S. State or Territory
Profile Overview
Quick Facts
The Rockies Express Pipeline (REX) is a 42-inch, 1,679-mile natural gas pipeline stretching from Colorado to Ohio. The REX West portion of the system passes near Kansas City, Missouri, before terminating in northeast Missouri where it interconnects with the REX East pipeline.
Missouri was the first state west of the Mississippi River to produce coal commercially.
Coal fueled 83% of Missouri's net electricity generation in 2014 and 78% in 2015.
Missouri has one nuclear power plant, Callaway Nuclear Generating Station, which contributed 12.5% of the state's net electricity generation in 2015.
Renewable energy resources, including conventional and pumped hydroelectric power, accounted for 3.7% of Missouri's net electricity generation in 2015; most of that generation came from conventional hydroelectric power and wind.
Nine out of 10 Missouri households use a central air-conditioning system, a characteristic more like homes in the South than those in the Midwest, according to EIA's Residential Energy Consumption Survey.
Last Updated: March 17, 2016
More Data & Analysis in Missouri
by Source
Missouri, U.S. Rankings
Today In Energy
Missouri at a Glance
Household
Energy Use
Fact Sheet ›
U.S. Energy Mapping System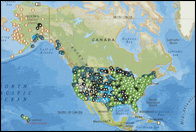 Reference
Other Resources
Play a short video to learn how to use this tool.