U.S. Energy Information Administration - EIA - Independent Statistics and Analysis
‹ U.S. States
Nevada
State Profile and Energy Estimates
Choose a U.S. State or Territory
Profile Overview
Quick Facts
Almost 90% of the energy Nevada consumes comes from outside the state.
The 425-mile UNEV pipeline, opened in 2012, lets petroleum products from Salt Lake City area refineries flow to Las Vegas; previously, Las Vegas obtained petroleum products from California pipelines.
Nevada generated 63% of its electricity from natural gas in 2014.
Nevada ranked second in the nation in utility-scale net electricity generation from geothermal energy and third in utility-scale net generation from solar energy in 2014; 11.1% of Nevada's net electricity generation in 2014 came from those two sources.
Nevada's Energy Portfolio Standard requires that 25% of electricity sales come from renewable energy resources by 2025; in 2014, 18.6% of net electricity generation came from geothermal, solar, wind, and hydroelectric power sources.
Last Updated: November 19, 2015
More Data & Analysis in Nevada
by Source
Nevada, U.S. Rankings
Today In Energy
Nevada at a Glance
Household
Energy Use
Fact Sheet ›
U.S. Energy Mapping System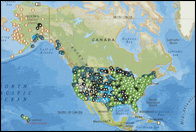 Reference
Other Resources
Play a short video to learn how to use this tool.