U.S. Energy Information Administration - EIA - Independent Statistics and Analysis
Electricity
‹ See all Electricity Reports
Electricity Monthly Update
With Data for June 2016 | Release Date: Aug. 24, 2016 | Next Release Date: Sep. 26, 2016

Previous Issues
Highlights: June 2016
Key Indicators
June 2016
% Change from June 2015
Total Net Generation
(Thousand MWh)
369,225
1.7%
Residential Retail Price
(cents/kWh)
12.73
-1.5%
Retail Sales
(Thousand MWh)
325,562
0.7%
Cooling Degree-Days
269
5.1%
Natural Gas Price, Henry Hub
($/MMBtu)
2.64
-7.3%
Natural Gas Consumption
(Mcf)
1,011,265
9.1%
Coal Consumption
(Thousand Tons)
63,384
-8.4%
Coal Stocks
(Thousand Tons)
185,408
11.0%
Nuclear Generation
(Thousand MWh)
67,175
-2.0%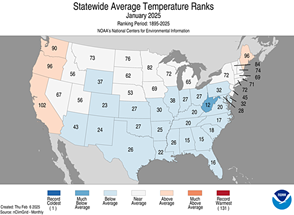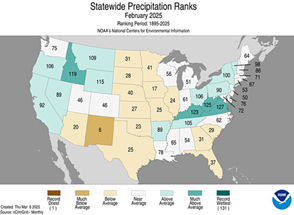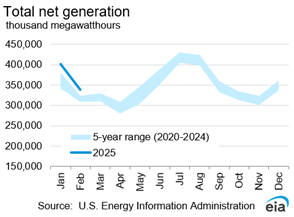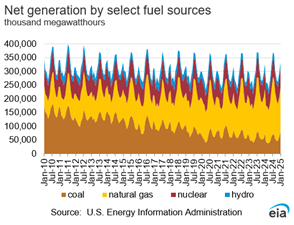 Rural electric customers are the most vulnerable to power outages
Source: U.S. Energy Information Administration, Annual Electric Power Industry Report (Form EIA-861) 2015 early release
---
Power outages are more frequent and last longer for the customers of utilities servicing rural areas than for customers of municipal utilities. U.S. electric customers experienced an annual average of 1.3 outages in 2015. Customers of rural electric cooperative utilities on average experienced 2.1 outages. Customers of municipal utilities experienced an average of only one outage.
U.S. electric customer power outages lasted an average of 197 minutes in 2015. The average outage duration for customers of rural electric cooperative utilities was 287 minutes. Customers of municipal utilities experienced a significantly shorter average outage duration at 123 minutes.
These distribution outage statistics are not surprising because the service territories of rural cooperatives are much more spread out than those for municipals, and the investment in distribution wires is much larger per customer. The values for frequency and duration of outages for investor-owned utilities are between those for cooperatives and municipals because investor-owned utilities often have significantly larger service territories that include both rural areas and cities.
Utilities may designate if these outages occurred as a result of a major events such as snow storms, hurricanes, floods, or heatwaves. Utilities can also designate any period of outages that differ greatly from the five-year history of a given utility as a major event. Not all utilities are consistent in what they consider to be major events. For instance, a snow storm may be considered a major event by a utility in Virginia but not by a utility in Maine.
The chart above shows outage statistics designated with and without a major event. Major outage events (light blue) may skew the outage statistics because they are infrequent and random. Looking at the outage statistics without the major events (dark blue) provides a better sense of how well utilities are maintaining their distribution systems.
The relationship of outage measures among the three ownership types is similar to the discussion above when looking at the outage statistics without major events included. Because major events are rare, they do not increase the frequency value much. However, when they do occur, the severity of the event can prevent power from being restored for a much longer period of time.
In 2015, utilities in these three ownership groups that reported their outage information to EIA collectively made up only 28% of all utilities but accounted for about 72% of electricity sales in 2015.
Source: U.S. Energy Information Administration, Annual Electric Power Industry Report (Form EIA-861) 2015 early release
---
Many of the standards for reporting these metrics were initially developed by the Institute of Electrical and Electronics Engineers (IEEE), a professional trade association for electric and information technologies and related fields. Most of the utilities reporting outage data use the IEEE standards, but some utilities have developed other approaches.
For those following the IEEE standard, in addition to options for including Major Event Days, outage frequency and duration values are reported to EIA for any interruption lasting longer than five minutes. Of those who reported reliability metrics, those entities that used IEEE standards represent 82% of electricity sales. The analyses above combined those who used IEEE standards and other methods.
Principal Contributors:
David Darling
(David.Darling@eia.gov)
Sara Hoff
(Sara.Hoff@eia.gov)