U.S. Energy Information Administration - EIA - Independent Statistics and Analysis
Electricity
‹ See all Electricity Reports
Electricity Monthly Update
With Data for February 2016 | Release Date: April 28, 2016 | Next Release Date: May 25, 2016

Previous Issues
Highlights: February 2016
Key Indicators
February 2016
% Change from February 2015
Total Net Generation
(Thousand MWh)
314,079
-6.4%
Residential Retail Price
(cents/kWh)
12.15
-1.1%
Retail Sales
(Thousand MWh)
294,194
-3.4%
Heating Degree-Days
659
-28.0%
Natural Gas Price, Henry Hub
($/MMBtu)
2.00
-31.3%
Natural Gas Consumption
(Mcf)
722,190
6.6%
Coal Consumption
(Thousand Tons)
50,649
-24.5%
Coal Stocks
(Thousand Tons)
188,975
26.2%
Nuclear Generation
(Thousand MWh)
65,638
3.4%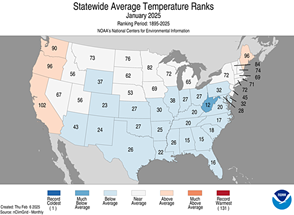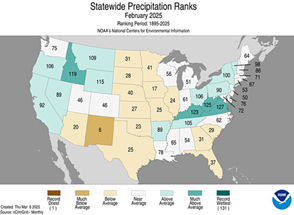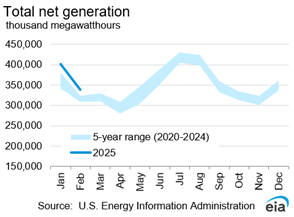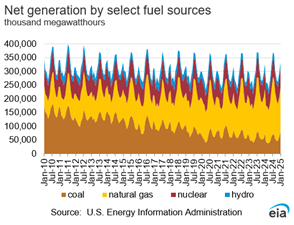 Non-powered dams represent a significant source of additional hydroelectric capacity
EIA expects 1,083 megawatts (MW) of hydroelectric capacity installed between 2015 and 2019 in the United States. Of that hydroelectric capacity, 422 MW of the capacity additions belong to dams that did not previously have electric generating units, commonly referred to as non-powered dams (NPDs). The image below shows the Cannelton Hydroelectric Project on the Ohio River in Kentucky, which is adding 88 MW of generating capacity to an NPD this year.
Source: Google Maps
---
Although the capacity gain from such hydro installations is modest on a national scale, relative to the gains of other renewable energy sources (such as solar and wind), these recent NPD developments illustrate how another potentially significant renewable resource can provide significant state-level gains. As a result of NPD capacity additions, Kentucky and West Virginia will increase their hydroelectric capacities by roughly 32% and 15% respectively this year. Kentucky will increase its overall renewable capacity by 30% by the end of 2016.
Although electric generating units have been installed at NPDs throughout the country, one water source accounts for much of this activity. Of all the new and planned NPD capacity additions, 74% of them occur along the Ohio River.
Source: U.S. Energy Information Administration, Form EIA-860 Annual Electric Generator Report
---
The U.S. Department of Energy (DOE) estimated that as of 2012, NPDs had the potential to add 12 gigawatts (GW) of additional generating capacity. Since then, four NPD projects to increase generating capacity on the Ohio River are underway: Cannelton Hydroelectric Project, Meldahl Hydroelectric Project, Smithland Hydroelectric Project, and Willow Island Hydroelectric Project. Once these projects are complete, the total hydroelectric capacity along the Ohio River will increase 130% from 313 MW to 554 MW.
In addition to the four Ohio River projects scheduled for completion at the end of 2016, the locks and dams along the Ohio River provide the largest river resource for additional NPD development. In addition to the four projects scheduled for completion this year, the U.S. DOE identified seven additional Ohio River projects with the potential to collectively generate over 13 million megawatthours (MWh) each year, far more than the 1.5 million MWh generation produced by Ohio River hydro facilities in 2014.
Principal Contributor:
Alexander Mey
(Alexander.Mey@eia.gov)