U.S. Energy Information Administration - EIA - Independent Statistics and Analysis
Electricity
‹ See all Electricity Reports
Electricity Monthly Update
With Data for January 2015 | Release Date: March 27, 2015 | Next Release Date: April 27, 2015

Previous Issues
Highlights: January 2015
Heating Degree Days decreased 7.7% compared to last January, as the country experienced much warmer temperatures compared to last year.
Coal stockpiles increased 2% from the previous month. This deviates from the normal pattern usually observed during the winter months and is largely due to lower natural gas prices and the above average temperatures experienced in January 2015 throughout the country.
Southern Company set twelve-month maximum and reached 94% of all-time peak demand on January 8, 2015.
Key Indicators
January 2015
% Change from January 2014
Total Net Generation
(Thousand MWh)
360,863
-4.4%
Residential Retail Price
(cents/kWh)
12.10
3.9%
Retail Sales
(Thousand MWh)
325,682
-3.7%
Heating Degree-Days
895
-7.7%
Natural Gas Price, Henry Hub
($/MMBtu)
3.09
-35.95%
Natural Gas Consumption
(Mcf)
744,386
7.3%
Coal Consumption
(Thousand Tons)
71,518
-14.5%
Coal Stocks
(Thousand Tons)
155,115
16.1%
Nuclear Generation
(Thousand MWh)
74,270
1.7%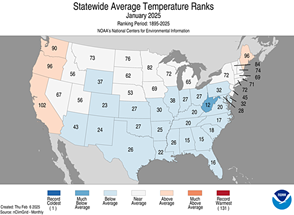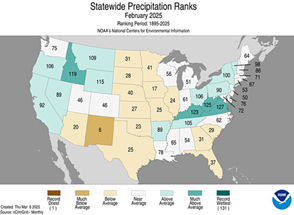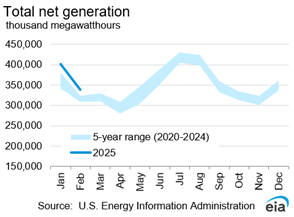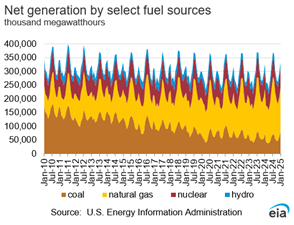 Average bills for residential customers rise in 2013
Source: U.S. Energy Information Administration, Annual Electric Power Industry Report (Form EIA-861)


---
For the first time since 2010, the average monthly electric bill for residential customers in the United States increased from the prior year. The movement from $107.28 in 2012 to $110.20 in 2013 represented a 2.7% increase in average bills. Between 2003 and 2010 average bills increased steadily before falling in 2011 and 2012. The 2.7% rise in average electric bills in 2013 was driven by a 2.1% increase in the average residential price of electricity and a 0.7% increase in average monthly electricity use per customer.
Average monthly bills are calculated as reported revenues divided by the number of customers. The declines in average monthly bills in 2011 and 2012 were driven by reductions in average consumption per customer despite increases in average electricity prices. The difference in 2013 stems from the fact that average consumption per customer rose at the same time that electricity prices increased resulting in higher average electricity bills.
The impacts of weather on average consumption per customer appear on balance to be somewhat muted. While heating degree days (HDD) increased by 9.9% in 2013 relative to 2012, cooling degree days (CDD) declined by 9.5% in 2013 compared to 2012. It is possible that the HDD increase added more to consumption than the CDD fall took away from it. Modest increases in personal income per capita (1.3%) may have also helped increase consumption. On the supply side, increases in the average cost of fossil fuel to power plants (9.2%), including a 26.6% increase in natural gas prices, added to the increase in average electricity prices.
Source: U.S. Energy Information Administration, Annual Electric Power Industry Report (Form EIA-861)


---
Source: U.S. Energy Information Administration, Annual Electric Power Industry Report (Form EIA-861)


---
The largest percentage increases in average bills are clustered in the upper Midwest states, as well as in certain pockets in the Northeast, Gulf States, and Rocky mountain states. The state that experienced the largest increase in the average monthly bill in 2013 was Louisiana, increasing from $104.99 to $119.98, an increase of 14.3%. Louisiana also had the highest increase in the average residential price of electricity in the United States, increasing 12.6% from 8.37 cents per kilowatthour to 9.43 cents per kilowatthour. Louisiana's residential average monthly bill ranks among the highest in the nation, where three-fifths of all households use electricity for home heating. Per capita retail sales of electricity in Louisiana are also among the highest in the nation. The primary fuel used for electricity generation in Louisiana is natural gas.
On the other hand, Illinois had the largest decrease in the residential average bill in the United States going from $87.20 in 2012 to $80.19 in 2013, an 8% decrease. This reduction was driven by decreases in both average consumption and average electricity prices. The average price of electricity in Illinois fell from 11.38 cents per kilowatthour in 2012 to 10.63 cents per kilowatthour in 2013, a 6.6% reduction. This reduction in average residential rates could be driven in part by the increased availability of alternative retail electricity suppliers. According to the Illinois Commerce Commission, through 2013, almost 3 million residential consumers had chosen to use an alternative electric supplier, compared with about 1.8 million in January 2013.
Top Ten Highest and Lowest Average Residential Electricity Bills
Excluding Hawaii, which normally has the highest bills because its electricity rates are more than three times the national average, seven of the top ten states with the highest average residential bills are southern states (Alabama, South Carolina, Texas, Mississippi, Virginia, Georgia, and Tennessee). This result is mainly because that region has relatively high demand levels in part because of significant cooling demand. These southern states have higher bills despite the fact that their rates are below the national average. The other three states in the top ten are Maryland, Connecticut, and Delaware.
Top ten highest average residential electricity bills
State
Number of customers
Average monthly consumption (kWh)
Average price (cents/kWh)
Average monthly bill ($)
Hawaii
422,386
514.71
36.98
190.36
Maryland
2,218,948
1030.83
13.25
136.63
Alabama
2,158,898
1211.21
11.26
136.36
South Carolina
2,135,432
1124.38
11.99
134.86
Texas
9,954,303
1174.30
11.35
133.33
Connecticut
1,454,963
752.34
17.55
132.07
Mississippi
1,260,892
1220.20
10.78
131.49
Virginia
3,273,502
1156.16
10.84
125.36
Georgia
4,101,351
1087.94
11.46
124.67
Tennessee
2,738,547
1244.76
9.98
124.25
Source: U.S. Energy Information Administration, Annual Electric Power Industry Report (Form EIA-861)
The ten states with the lowest bills include nine states (New Mexico, Maine, Illinois, Utah, Colorado, Montana, California, District of Columbia, and Wyoming) where consumption per customer is lower than the national average. Washington has lower bills as a result of their abundant hydro resources.
Top ten lowest average residential electricity bills
State
Number of customers
Average monthly consumption (kWh)
Average price (cents/kWh)
Average monthly bill ($)
New Mexico
865,195
655.34
11.68
76.56
Maine
704,775
551.28
14.35
79.13
Illinois
5,120,607
754.67
10.63
80.19
Utah
981,194
798.50
10.37
82.79
Colorado
2,169,365
711.76
11.93
84.91
Montana
477,266
860.19
10.33
88.85
California
13,359,503
557.15
16.19
90.19
District of Columbia
235,322
720.15
12.57
90.51
Washington
2,880,008
1041.19
8.70
90.55
Wyoming
263,614
894.46
10.16
90.85
Source: U.S. Energy Information Administration, Annual Electric Power Industry Report (Form EIA-861)
Principal Contributor:
Jorge Luna-Camara
(Jorge.Luna-Camara@eia.gov)