U.S. Energy Information Administration - EIA - Independent Statistics and Analysis
Electricity
‹ See all Electricity Reports
Electricity Monthly Update
With Data for November 2015 | Release Date: Jan. 26, 2015 | Next Release Date: Feb. 26, 2016

Previous Issues
Highlights: November 2015
Net electricity generation decreased 5.2% compared to November 2014 as the country experienced a very warm November 2015, leading to a decreased demand for electricity generation used for residential heating.
Electricity system daily peak demand remained well on the low end of the annual range for almost every region as above-average temperatures caused November to resemble more of a mild shoulder month than the beginning of winter.
Electricity retail sales volumes declined by a significant amount in nearly every state in the eastern half of the country where abnormally mild weather lowered heating demand.
Key Indicators
November 2015
% Change from November 2014
Total Net Generation
(Thousand MWh)
300,935
-5.2%
Residential Retail Price
(cents/kWh)
12.73
2.0%
Retail Sales
(Thousand MWh)
273,287
-4.2%
Heating Degree-Days
442
-27.7%
Natural Gas Price, Henry Hub
($/MMBtu)
2.15
-49.2%
Natural Gas Consumption
(Mcf)
765,530
20.9%
Coal Consumption
(Thousand Tons)
49,200
-23.9%
Coal Stocks
(Thousand Tons)
188,538
32.2%
Nuclear Generation
(Thousand MWh)
60,264
-7.5%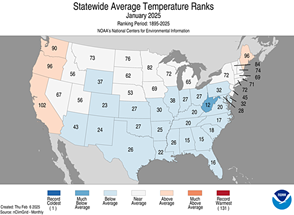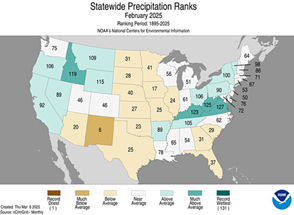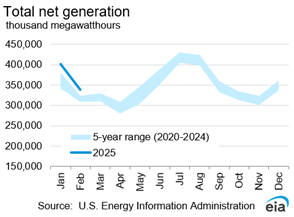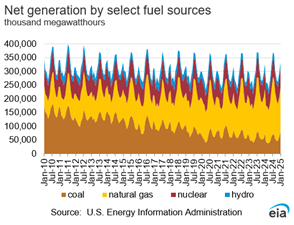 Installed wind generator tower heights and output are growing
Source: Form EIA-860, The Annual Electric Generator Report

---
The average height of a typical wind turbine has increased almost 70 feet since 2001. In general, wind speeds are greater and more consistent at greater heights as a result of reduced effects of surface:air friction and ground-level interferences.
The wind industry is taking advantage of those better wind conditions by using taller towers. The average hub height has increased from 196 feet in 2001 to 265 feet in 2014. During this time, average turbine capacity factors have grown from 29% in 2001 to 34% in 2014.
Source: Form EIA-860, The Annual Electric Generator Report

---
Improved average output per capacity depends on factors in addition to tower height, including improvements in siting practices and generator design. One important design attribute is unit size. Taller towers are able to accommodate the longer blade lengths of larger wind turbines. The average wind turbine capacity has doubled over the past 13 years, moving from approximately 1 megawatt (MW) in 2001 to 2 MW in 2014.
Principal Contributor:
Glenn McGrath
(Glenn.McGrath@eia.gov)