U.S. Energy Information Administration - EIA - Independent Statistics and Analysis
Electricity
‹ See all Electricity Reports
Electricity Monthly Update
With Data for July 2014 | Release Date: Sep. 25, 2014 | Next Release Date: Oct. 24, 2014

Previous Issues
Highlights: July 2014
Key Indicators
July 2014
% Change from July 2013
Total Net Generation
(Thousand MWh)
384,839
-2.3%
Residential Retail Price
(cents/kWh)
13.05
3.5%
Retail Sales
(Thousand MWh)
347,151
-2.4%
Cooling Degree-Days
308
-12.3%
Natural Gas Price, Henry Hub
($/MMBtu)
4.14
11.0%
Natural Gas Consumption
(Mcf)
870,103
-7.3%
Coal Consumption
(Thousand Tons)
81,631
-1.9%
Coal Stocks
(Thousand Tons)
125,389
-21.4%
Nuclear Generation
(Thousand MWh)
71,940
2.0%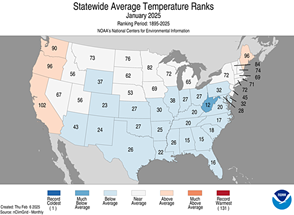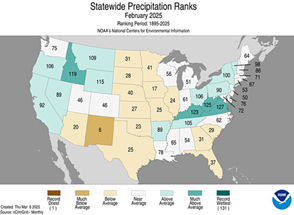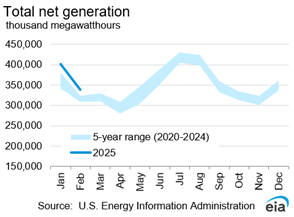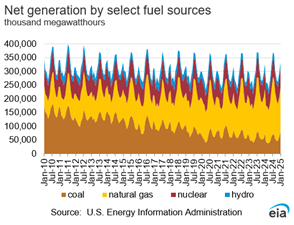 Participation growth in Illinois residential retail choice programs has leveled off since March 2013
Source: Form EIA-826 "Monthly Electric Utility Sales and Revenue Report with State Distributions"


---
Starting in late 2011, residential customers in Commonwealth Edison (ComEd) and Ameren Illinois began an increasingly rapid migration from their regulated utilities to competitive retail suppliers for their electric supply. Residential retail choice participation rates increased from 2% in August 2011 to 62% in March 2013. This upward trend, however, leveled off beginning in March 2013. The upward growth of retail choice slowed and eventually peaked in February 2014, with participation rates at 69% and residential retail customers at 3.2 million. Since February 2014, both participation rates and retail choice customers have fallen to 66% and 3.0 million, respectively, in June 2014.
By February 2013, the number of switched customers exceeded the number of non-switched customers in these two service territories belonging to Illinois' two largest utilities. By August 2013, the number of switched customers was almost twice that of the non-switched customers.
Section 1-92 of the Illinois Power Agency Act allows for (under certain conditions) municipal aggregation of electric load, meaning that municipalities can contract for electric supply of its residents and eligible small businesses. Under these programs, regulated utilities still operate and maintain the infrastructure to deliver the electricity and coordinate billing: these costs constitute the "distribution charge" on a customer's bill. The third-party suppliers arrange for the supply of electricity, and it is this "commodity" or "energy" part of the bill where customers can potentially gain savings.
Retail electricity prices are particularly dependent on the level of natural gas prices. The decreasing natural gas prices from late 2011 to late 2012 helped competitive retail suppliers offer savings to customers compared to their regulated utility rates. During this time, Commonwealth Edison had older power purchase agreements (PPAs) that were above the market prices and not set to expire until May 2013.
Starting in June 2013, and with the expiration of older PPAs, the new "Price To Compare" for Commonwealth Edison fell from 8.5 cents/kilowatthour to 5.5 cents/kilowatthour, making it difficult for the alternate suppliers to provide meaningful savings to customers. Lower rates were also seen in the Ameren Illinois service territory.
Source: Illinois Commerce Commission, Plug In Illinois Historical Prices to Compare.
Note: Prices shown are residential non-space heating prices and include the electric supply charge and transmission services charge. Adjustment refers to each utility's monthly purchased electricity adjustment (PEA). The Ameren Illinois price shown is for Rate Zone I.


---
A complication in the analysis is that ComEd has a purchased electricity adjustment, or PEA, (see Historical Prices to Compare) that has ranged from a 0.5 cent credit to a 0.5 cent charge, further making it difficult to determine if an alternate supplier's price is creating savings for the customer. In addition, Ameren Illinois has a PEA that historically is a credit and normally under 2.0 cents/kilowatthour. ComEd's price to compare (which has been low after May 2013) has recently moved up. The Ameren Illinois price to compare has remained lower and not increased recently like the ComEd price.
One possible reason residential customers may have started to return to their regulated utilities is that FirstEnergy, a large alternate supplier to electric residential customers in Illinois, had proposed a customer surcharge for the unexpected and unusual costs associated with this winter's polar vortex. Based on clauses in the contracts, residential customers in some municipal aggregation groups can be charged for these types of expenses, bringing into question how much savings these types of programs are providing to customers and how much financial risk the customers may have unknowingly been exposed to.
After FirstEnergy's first proposal and the ensuing public reaction, they modified the surcharge to apply only to small commercial customers and decided to waive the requirement for residential customers.
Principal Contributor:
Carolyn Moses
(Carolyn.Moses@eia.gov)