U.S. Energy Information Administration - EIA - Independent Statistics and Analysis
Electricity
‹ See all Electricity Reports
Electricity Monthly Update
With Data for January 2014 | Release Date: Mar. 21, 2014 | Next Release Date: Apr. 21, 2014
Previous Issues
Highlights: January 2014
The New York City natural gas price ($28.02/MMBtu) exceeded the price of New York Harbor Residual Oil ($20.49/MMBtu) in January 2014.
Electricity generation from oil increased significantly in the Northeast at the expense of natural gas due to the extremely cold weather experienced in the region during the month.
New York State (NYISO), the Mid-Atlantic (PJM), Southern Company in the Southeast, and the Mid-West (MISO) all recorded new all-time winter peak demands in January 2014.
Key Indicators
January 2014
% Change from January 2013
Total Net Generation
(Thousand MWh)
377,019
8.2%
Residential Retail Price
(cents/kWh)
11.65
1.6%
Retail Sales
(Thousand MWh)
339,006
6.8%
Heating Degree-Days
970
17.3%
Natural Gas Price, Henry Hub
($/MMBtu)
4.78
38.6%
Natural Gas Consumption
(Mcf)
689,214
4.3%
Coal Consumption
(Thousand Tons)
83,710
11.6%
Coal Stocks
(Thousand Tons)
132,324
-26.0%
Nuclear Generation
(Thousand MWh)
73,064
2.3%
Nuclear Outages
(MW)
3,498
-60.5%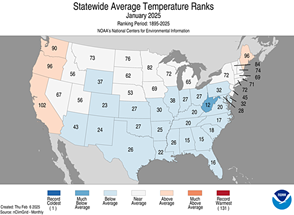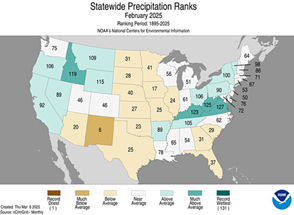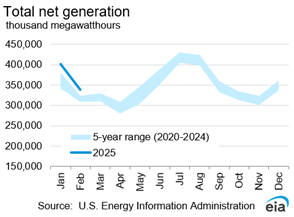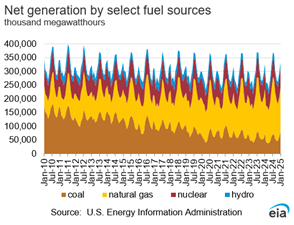 Major Shifts in Regional Electric System Operations
On December 19, 2013, the Entergy electric system and 14 other balancing authorities (BA) near the gulf coast were absorbed into the system of the MidContinent Independent System Operator (MISO). On March 1, 2014 the Southwest Power Pool (SPP) assumed the balancing function for 17 of its member systems. This is the biggest shakeup in regional operating electric systems in recent years.
Source: U.S. Energy Information Administration

Note: Thirteen balancing authorities (ovals) that merged into MISO are not shown for clarity.


Source: U.S. Energy Information Administration

The number of entities in the U.S. that perform the balancing function has declined significantly. Twenty years ago these control areas, now called balancing authorities (BA), numbered roughly 150. In the late 1990s, a number of BAs were absorbed into the newly created California Independent System Operator and Electric Reliability Council of Texas systems. The PJM Interconnection has absorbed a number of BAs over the past decade. On January 6, 2009, MISO assumed the balancing function for about 30 of its member systems. There are currently 68 BAs operating in the lower 48 states.
EIA has adjusted how it presents its regional resource use data due to Entergy and other embedded or adjacent BAs joining MISO. Previously, most of these BAs were included in the Southeast region (see the yellow region on the first map). Now these BAs are included in the Central region (see green region on the second map). For the regional generation and fuel use charts on the Electricity Monthly Update Resource Use page, EIA uses the current alignment of BAs for the current month and the same month last year.
The reduction of many BAs to one in SPP does not change how EIA presents regional resource data since SPP was and remains in the Central region.
Principal Contributor: Bill Booth
(William.Booth@eia.gov)