U.S. Energy Information Administration - EIA - Independent Statistics and Analysis
Electricity
‹ See all Electricity Reports
Electricity Monthly Update
With Data for December 2014 | Release Date: March 4, 2015 | Next Release Date: March 26, 2015

Previous Issues
Highlights: December 2014
Heating Degree Days decreased 14.7% compared to last December, as the country experienced much warmer temperatures compared to last year.
Warmer than normal temperatures lead to lower retail sales volumes in 44 states and the District of Columbia.
Coal stockpiles increased 7% from the previous month. This deviates from the normal pattern usually observed from November to December, and is largely due to the above average temperatures experienced in December 2014 throughout the country.
Key Indicators
December 2014
% Change from December 2013
Total Net Generation
(Thousand MWh)
337,059
-4.5%
Residential Retail Price
(cents/kWh)
12.15
3.7%
Retail Sales
(Thousand MWh)
306,215
-3.2%
Heating Degree-Days
708
-14.7%
Natural Gas Price, Henry Hub
($/MMBtu)
3.45
-21.3%
Natural Gas Consumption
(Mcf)
666,868
-5.4%
Coal Consumption
(Thousand Tons)
67,730
-12.4%
Coal Stocks
(Thousand Tons)
151,362
2.4%
Nuclear Generation
(Thousand MWh)
73,363
2.9%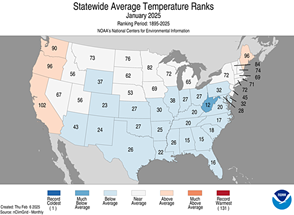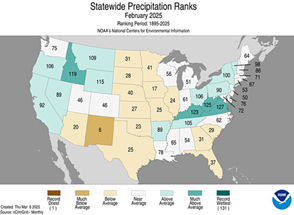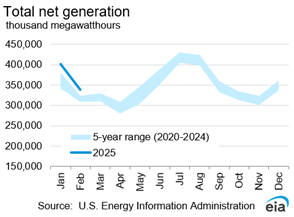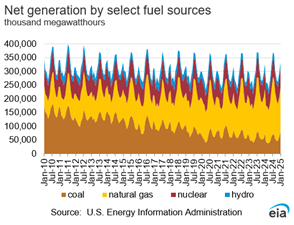 New England Residential Electricity Rates Rise in 2013 and 2014
Source: U.S. Energy Information Administration, February 2015 Electric Power Monthly


---
Average monthly residential electricity prices in New England rose in calendar years 2013 and 2014. The monthly residential electricity price in New England increased from an average of 15.4 cents per kilowatt-hour in January 2013 to 18.3 cents per kilowatt-hour in December 2013, a 19 percent increase, and 17.2 cents per kilowatthour in January 2014 to 18.8 cents per kilowatt-hour in December 2014, a 9.7 %increase.
New England residential customers have historically paid higher prices for electricity compared to the rest of the country. Since 2003, New England has had the highest residential rates in the United States compared to other U.S. regions and the nation as a whole. The only exception is in the state of Hawaii, which because of its remoteness and dependence on oil imports has the highest rates in the nation.
The price increases in 2013 and 2014 are partly because of the cold winter weather and partly because of constraints in delivering natural gas to New England power plants. Since the early 2000's, New England has become more dependent on natural gas as a generation fuel (increasing from 29 % in 2001 to 45 % in 2013 to 43 % through November 2014). Natural gas pipeline capacity into the region is limited, particularly during cold weather when the demand for natural gas as a heating fuel must be met first. As a result, cold weather in combination with high demand can cause wholesale natural gas prices to rise. Because natural gas often serves as the marginal fuel for incremental electricity generation in the region, increases in wholesale natural gas prices can lead to increases in wholesale electricity prices, which ultimately result in higher retail electricity rates.
As illustrated below, this situation has occurred the last two winters in New England. As a result of cold weather and the increased demand for natural gas as a generation fuel, daily natural gas spot prices spiked during the winter months of 2013-14 and 2014-15. The rise in spot natural gas prices led to increases in day-ahead wholesale electricity prices.
Source: SNL Energy


---
Source: SNL Energy


---
This upward movement in wholesale prices has resulted in New England utilities seeking rate relief from their state Public Utilities Commissions. For example, National Grid recently filed for a rate adjustment with the Massachusetts Department of Public Utilities (DPU). The adjustment would be in effect for the winter months. Under the adjustment, a typical residential customer using 500 kilowatt-hours per month could expect to see an increase of 37 %or about $33, on monthly bills this winter (from November to April) versus the same period last winter.
Principal Contributor:
Peter Wong
(Peter.Wong@eia.gov)