U.S. Energy Information Administration - EIA - Independent Statistics and Analysis
‹ Countries
Netherlands
Country Analysis Note
Although not a significant producer of liquid fuels, the Netherlands plays an important role as a European liquid fuels transportation and processing hub. The Netherlands is among the largest importers and exporters of crude oil and petroleum products in the world. A number of large producers transport crude oil to Dutch ports, most notably Rotterdam, a considerable proportion of which is then re-exported either as crude or as refined product.
The Netherlands is a major refining and storage center, both in Netherlands but also in its constituent territories in the former Netherland Antilles. There is more than 45 million barrels of storage capacity and more than 335,000 barrel per day (bbl/d) of refining capacity in the constituent territories. Rotterdam harbor is the third-largest marine bunker harbor, after Singapore and Shanghai. Additionally, oil storage is extensive at the Vlissingen and Amsterdam ports. In total, there is approximately 190 million barrels of storage capacity in Netherlands, with the majority of it (about 80 million barrels) located in Rotterdam.
The Netherlands is the second-largest producer and exporter of natural gas in Europe, second only to Norway. It produced approximately 2.9 trillion cubic feet (Tcf) in 2011. Most of its natural gas fields are located offshore in the North Sea, although a number of them are located onshore, including Groningen, one of the ten largest natural gas fields in the world. Natural gas produced in the Netherlands is shipped via an extensive domestic and export pipeline system, which connects the country with United Kingdom, Germany, and Belgium. In addition to pipeline natural gas, the Netherlands now serves as a transport hub for liquefied natural gas (LNG). The Gas Access to Europe (GATE) LNG terminal became operational in September 2011, with imported volumes purchased by Austrian, Danish, and German distribution and utility companies.
Petroleum accounts for about 50 percent of Dutch energy consumption. The Netherlands consumed approximately 1.0 million bbl/d of oil in 2011, but domestically produced only about 60,000 bbl/d. The remainder was imported primarily from Russia, Nigeria, the United Kingdom, Saudi Arabia, and Norway. Natural gas accounts for approximately 37 percent of total energy consumption, most of which is consumed by the electric power, residential, and commercial sectors. Coal, which the Netherlands mostly imports from Colombia and South Africa, is mainly used for electric power generation.
The Netherlands generated approximately 107 billion kilowatthours (BkWh) of electricity in 2011, mostly from conventional thermal power plants. More than 13 percent of the Netherlands' electricity is generated from renewable sources, mainly biomass and waste (8 percent of the total) and wind (almost 5 percent of the total). The Dutch power system is connected to Norway and the United Kingdom via high voltage lines that run along the North Sea bed.
Analysis Last Updated: March 2013
---
Overview data for Netherlands
+ EXPAND ALL
Petroleum (Thousand Barrels per Day)

2011

2012

History

Netherlands

Europe

OECD

World

Rank

Netherlands
Total Oil Production
58.57
4,269
21,620
87,329
59
71.72
Crude Oil Production
22.25
3,424
14,908
74,136
63
32.35
Consumption
1,009.82
15,083
46,501
87,605
19
998.10
Net Export/Imports(-)
-951.25
-10,814
-24,882
--
11
-926.38
Refinery Capacity
1,209
16,787
45,873
88,097
20
1,197
Proved Reserves

(Billion Barrels)

0.31
12
224
1,474
52
0.29
Natural Gas (Billion Cubic Feet)

2010

2011

History

Netherlands

Europe

World

Rank

Netherlands
Production
3,131
10,836
111,954
8
2,851
Consumption
1,937
20,378
113,321
15
1,691
Net Export/Imports(-)
1,193
-9,308
--
86
1,160
Proved Reserves


(Trillion Cubic Feet)

50
166
6,637
23
49
Coal (Million Short Tons)

2010

2011

History

Netherlands

Europe

World

Rank

Netherlands
Production
0.000
737
7,954
68
0.000
Consumption
13.248
966
7,770
35
13.062
Net Export/Imports(-)
-16.197
-218
--
14
-20.914
Electricity (Billion Kilowatthours)

2009

2010

History

Netherlands

Europe

World

Rank

Netherlands
Net Generation
107.35
3,454
19,071
31
111.71
Net Consumption
107.84
3,219
17,360
28
110.04
Installed Capacity (GWe)
25.92
940
4,843
28
26.62
Total Primary Energy (Quadrillion Btu)

2010

2011

History

Netherlands

Europe

World

Rank

Netherlands
Production
3.023
45
509
33
2.791
Consumption
4.266
84
511
24
4.079
Energy Intensity


(Btu per 2005 U.S. Dollars)

6,970
5,486
7,452
65
6,551
Carbon Dioxide Emissions (Million Metric Tons of CO₂)

2010

2011

History

Netherlands

Europe

World

Rank

Netherlands
Total from Consumption of Fossil Fuels
254.87
4,375
31,502
25
253.00
-- = Not applicable; NA = Not available; F = Forecast value
Sources: EIA. For more detailed data, see International Energy Statistics.
Data last updated: February 12, 2013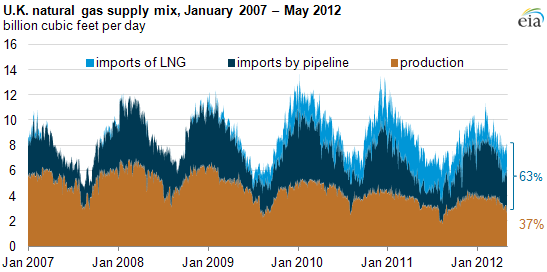 The United Kingdom's natural gas supply mix is changing
June 20, 2012
Related International Information
Sign Up for Email Updates