U.S. Energy Information Administration - EIA - Independent Statistics and Analysis
Market Trends: Nuclear
Nuclear electricity generation varies with license renewals, uprates, and operating costs
Projections of nuclear capacity and generation are influenced by assumptions about the potential for capacity uprates, new licensing requirements, future operating costs, and outside influences such as natural gas prices and incentives for other generating technologies. In the Reference case, nuclear capacity and generation remain relatively flat, with early retirements offset by new additions (Figure MT-35).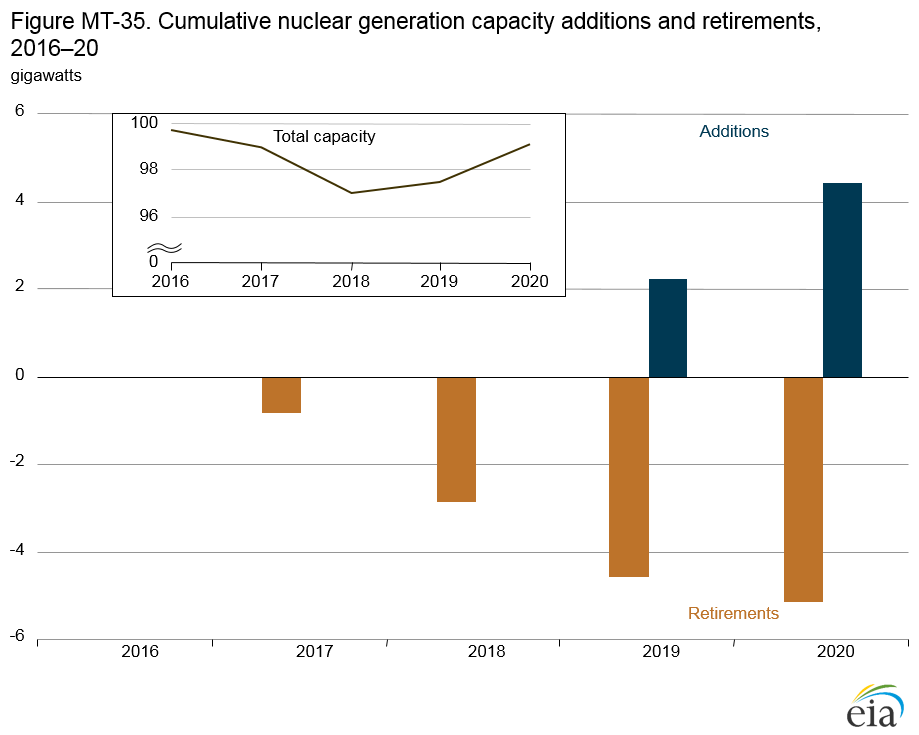 figure data
As discussed in AEO2014 Issues in focus, the Accelerated Nuclear Retirement case assumes no new nuclear builds beyond those currently under construction; that all existing units are retired by 60 years of age; and that nonfuel operating costs at existing nuclear plants increase by 3% annually, similar to recent rates. In this case, 42 gigawatts (GW) of nuclear capacity is retired, mostly from 2030 to 2040. The Low Nuclear case combines those assumptions with the High Oil and Gas Resource case and the No Sunset case. Lower natural gas prices make existing and new natural gas units more economical, and together with tax credits for newly added renewable capacity, they lower electricity market prices. With rising operating costs for nuclear plants and lower electricity prices, 77 GW of nuclear capacity is retired before 60 years of life. The retired nuclear capacity is replaced primarily by natural gas capacity, leading to a 6% increase in CO2 emissions in the electric
power sector in 2040.
The High Nuclear case assumes more uprates of existing units, adding 6.0 GW of capacity, and the addition of 12.6 GW of planned capacity through 2027. As a result, total nuclear generation in 2040 is 17% higher than in the Reference case, reducing the need for additional natural gas-fired generation.
Reference Case Tables
Table 1. Total Energy Supply, Disposition, and Price Summary
Table 2. Energy Consumption by Sector and Source - United States
Table 3. Energy Prices by Sector and Source - United States
Table 4. Residential Sector Key Indicators and Consumption
Table 5. Commercial Sector Key Indicators and Consumption
Table 6. Industrial Sector Key Indicators and Consumption
Table 7. Transportation Sector Key Indicators and Delivered Energy Consumption
Table 8. Electricity Supply, Disposition, Prices, and Emissions
Table 9. Electricity Generating Capacity
Table 10. Electricity Trade
Table 11. Petroleum and Other Liquids Supply and Disposition
Table 12. Petroleum and Other Liquids Prices
Table 13. Natural Gas Supply, Disposition, and Prices
Table 14. Oil and Gas Supply
Table 15. Coal Supply, Disposition, and Prices
Table 16. Renewable Energy Generating Capacity and Generation
Table 17. Renewable Energy Consumption by Sector and Source
Table 18. Energy-Related Carbon Dioxide Emissions by Sector and Source - United States
Table 19. Energy-Related Carbon Dioxide Emissions by End Use
Table 20. Macroeconomic Indicators
Table 21. International Petroleum and Other Liquids Supply, Disposition, and Prices