Released: June 30, 2011 at 2:00 P.M.
Next Release: Thursday, July 7, 2011
Overview (For the Week Ending Wednesday, June 29, 2011)
Nearly all pricing points were down slightly for the week on light weather load despite an end-week rally anticipating warmer weather for the approaching July 4th holiday weekend. The Henry Hub price decreased 2 cents per million Btu (MMBtu) over the week (0.5 percent) to close at $4.40 per MMBtu on June 29.



Working natural gas in storage rose last week to 2,432 billion cubic feet (Bcf) as of Friday, June 24, according to the U.S. Energy Information Administration's (EIA) Weekly Natural Gas Storage Report (WNGSR). The implied increase for the week was 78 Bcf, leaving storage volumes positioned 243 Bcf under year-ago levels.



At the New York Mercantile Exchange (NYMEX), the August 2011 natural gas contract price also lost ground over the week, closing at $4.315 per MMBtu on Wednesday.



The natural gas rotary rig count, as reported June 24 by Baker Hughes Incorporated, rose by 3 to 873 active units, reflecting the resiliency in gas-directed drilling activity. Not to be outdone, oil-directed rigs were up 19 to 1,003, increasing the disparity between the two drilling objectives.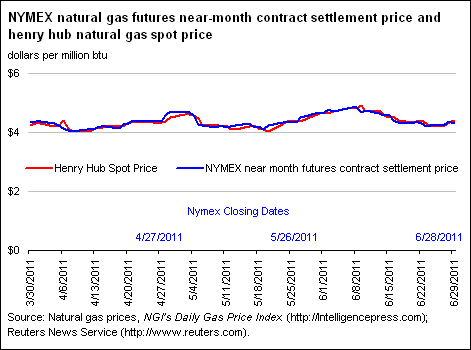 More Summary Data
Prices
At the NYMEX, the price of the August 2011 contract decreased 3.5 cents (0.8 percent) over the week from $4.350 per MMBtu last Wednesday to $4.315 per MMBtu yesterday. However, the contract rose 10.4 cents over a 3 day period likely on several developing but scattered localized heat waves and speculation over formation of the season's first named tropical storm (Arlene) which served more as a reminder of things to come later rather than as a catalyst boosting prompt prices. However, these factors possibly contributed to a small increase in the price of the 3 Month Strip over the week.

The Henry Hub price reflected the week's price malaise by decreasing 0.5 percent from $4.42 per MMBtu during the week to close at $4.40 per MMBtu yesterday. As the accompanying table shows, the Henry Hub price exhibited a 21 cent price reversal over the past 3 days this week but could not overcome a weekly loss.

End-market natural gas prices followed the lead of their wholesale counterparts and generally stagnated over the week. For example, the New York citygate decreased by $0.07 per MMBtu to close at $4.77 per MMBtu. Likewise, the Chicago citygate decreased a more modest $0.05 per MMBtu and ended the week at $4.47 per MMBtu.

Despite the generally light prevailing weather load, consumption managed a small seasonal increase. According to estimates from BENTEK Energy Services, LLC, domestic gas consumption increased this week by 2.3 percent over last week. The residential/commercial sector led the increase on a percentage basis, although from a small base. Spurring the uptrend, the industrial sector rose a healthy 7.5 percent. However, the power sector recorded a 4.1 percent decrease, which occurred mostly in the lull before expanding cooling loads returned this week.

Against the lackadaisical pricing backdrop, supply was mixed and down slightly. According to BENTEK Energy estimates, the week's average total nominal gas supply posted a 0.5 percent decrease from last week's level. Domestic weekly gas production averaged over 64.4 Bcf per day, down 0.7 percent from the previous week. Production held above 64 Bcf per day on all but one day of the week. Domestic production now stands 6.4 percent above this time last year. The week's production drop was offset somewhat by an 8.8 percent increase in Canadian imports, which averaged 5.8 Bcf per day. Canadian imports remain 20.3 percent below year-ago volumes. Supply also abated substantially for liquefied natural gas (LNG) where imports slid to just under 0.6 Bcf per day during the week, and remain 59.7 percent below year-ago levels.

More Price Data
Storage
Working natural gas in storage rose to 2,432 Bcf as of Friday, June 24, according to EIA's WNGSR (see Storage Figure). The net build of 78 Bcf was slightly higher than the 5-year average build for the week of 77 Bcf and last year's build of 63 Bcf. Stocks are now 243 Bcf below last year's level and 63 Bcf below the 5-year average.

The East and West Regions experienced above average builds for the second straight week. While storage levels in both regions remain well below the 5-year average levels, the East and West builds were 2 and 3 Bcf above average, respectively. Meanwhile, the Producing Region, which has seen mostly larger than average builds in 2011, grew 4 Bcf less than average. Stocks in the region remain 105 Bcf above the 5-year average.

Temperatures in the lower 48 States during the week ending June 23 were warmer than normal but cooler than last year. The National Weather Service's degree-day data show that the temperature in the lower 48 States last week averaged 73.7 degrees, 1.7 degrees warmer than normal, and 3.6 degrees warmer than last week (see Temperature Maps and Data). For the first time in seven weeks, the Pacific Region has been warmer than normal. Only the Mountain and West North Central Regions experienced cooler than normal weather. The highest temperatures were in the West South Central Region which averaged 84.6 degrees.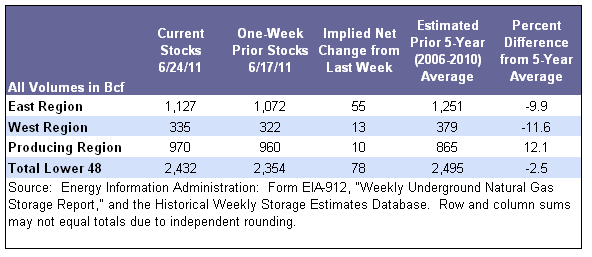 More Storage Data
Other Market Trends
EIA's Form-914 Data Indicate Increased Domestic Production. Data from EIA's monthly production survey, released June 29, 2011, indicate that gross withdrawals of natural gas rose to 77.84 Bcf per day in April 2011. This is an increase of 3.3 percent from the previous month and 5.7 percent from the same month last year. The monthly increases were led by Texas and Louisiana, each increasing 0.16 Bcf per day from March. Oklahoma, Wyoming, and the Other States category (which includes states not separated out in the data report) all increased, offsetting month over month production losses in the Federal Offshore Gulf of Mexico, New Mexico, and Alaska. The Other States category, which includes states in the Marcellus Shale, grew from March levels by 0.38 Bcf per day or 2.1 percent to 18.49 Bcf per day in April.

EPA Selects Sites for Fracking Study. The U.S. Environmental Protection Agency (EPA) has selected seven case study sites for a national study on hydraulic fracturing, according to information released June 23. The focus of the study is to better understand the impact that hydraulic fracturing, used in the development of natural gas from shale formations, has on drinking water. At two sites (located in Washington County, Pennsylvania, in the Marcellus Shale; and DeSoto Parish, Louisiana, in the Haynesville Shale) the EPA will monitor aspects of fracking through the lifecycle of a well. Five other sites where fracking has occurred were chosen for retrospective case studies. The EPA chose sites in the Bakken Shale in North Dakota, the Barnett Shale in Texas, two separate sites in the Marcellus Shale in Pennsylvania, and a site in the Raton Basin in Colorado.
See Weekly Natural Gas Storage Report for additional Natural Gas Storage Data.
See Natural Gas Analysis for additional Natural Gas Reports and Articles.
See Short-Term Energy Outlook for additional Natural Gas Prices, Supply, and Demand.