Overview:  Thursday, January 25, 2007 (next release 2:00 p.m. on February 1, 2007)
Natural gas spot prices across the country surged this week (Wednesday-Wednesday, January 17-24) as a blast of Arctic cold covered the Lower 48 States, reaching as far south as Texas. Prices in some gas-consuming markets in the Northeast were the highest in the country at more than $10 per MMBtu by the end of the week. But price effects from the increased heating demand registered in production areas as well. On the week (Wednesday to Wednesday), the spot price at the Henry Hub increased by $0.89 per MMBtu to an average of $7.46 yesterday (Wednesday, January 24). At the New York Mercantile Exchange (NYMEX), the price of the futures contract for February delivery ended trading on Wednesday at $7.421 per MMBtu, which was $1.187 higher than last Wednesday's price. As of January 19, natural gas in storage was 2,757 Bcf, or 20.7 percent above the 5-year average for this week. Crude oil prices climbed $1.94 per barrel since last Wednesday to an average of $54.24, or $9.35 per MMBtu.
<![if !vml]>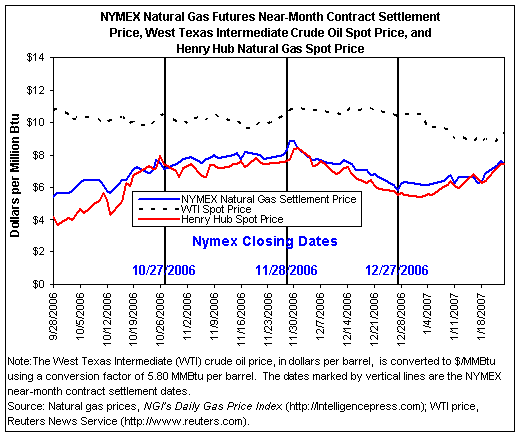 <![endif]>
Strong space-heating demand increased the price of spot gas across the country, as winter has finally set in after the unusually warm weather thus far this season. The Henry Hub price rose in four straight trading sessions for a net gain of $0.89 per MMBtu, or 13.5 percent, for the report week. Although it is still unclear how long the winter-like temperatures will remain (some forecasters see above-normal temperatures returning in mid-February), the recent advent of freezing temperatures has stirred the spot markets. As often occurs at this time of year, buyers and traders this week moved to cover positions in localized markets experiencing extreme weather, leading to erratic pricing patterns across the country. For example, gas buyers resorting to the spot market for incremental supply in the New York area faced sharp price increases in the past several days. The price at Transcontinental Gas Pipe Line Zone 6 in New York increased more than $12 per MMBtu on the week to $20.07. Meanwhile, in New England, the spot price for delivery off the Algonquin Gas Transmission pipeline system rose by $6.35 per MMBtu on the week to $13.97 yesterday. Although there are numerous reasons for the price spikes in the Northeast, a primary consideration likely is congestion along pipelines into and within the region. In recent days customers with only less expensive "interruptible" capacity on Northeast pipelines have been confronted with less available capacity as pipeline usage has increased. Price fluctuations this week were less severe in the Midwest, where the high for the week at the Chicago citygate was $7.29 per MMBtu yesterday (Wednesday, January 24), and the net change since the prior Wednesday was $0.69. In contrast to the large price spikes in the East, trading in the Rockies and California resulted in only slight price changes (including declines for the week). The spot price at Opal, Wyoming, declined $0.22 per MMBtu on the week to $6.57. The price at the Southern California border increased $0.36 per MMBtu, or 5.3 percent, to $7.09.
<![if !vml]>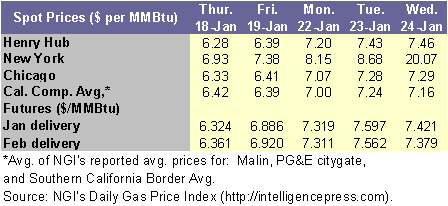 <![endif]>
At the NYMEX, the price of the futures contract for February delivery at the Henry Hub settled at $7.421 per MMBtu yesterday (Wednesday, January 24), increasing $1.187 or about 19 percent since the previous Wednesday. As was the case in the spot markets, futures prices increased in four out of five trading sessions this week. However, while declines characterized the first day of trading in the spot markets this week, the one session with price declines at the NYMEX occurred yesterday along with newly-released forecasts for warmer weather returning to the Lower 48 States in mid to late February. But mid-February is still a few weeks away and the slight retreat in price yesterday─about 18 cents per MMBtu─may have been simply a mild break from the vigorous buying in recent trading sessions. The average increase for the near-month contract during the four trading sessions prior to yesterday was $0.34 per MMBtu. The price for the March 2006 futures contract experienced similar increases this week, ending trading yesterday at $7.379 per MMBtu, or 18.3 percent higher on the week. The 12-month futures strip (February 2007 through January 2008) increased $0.735 per MMBtu (or 10.4 percent) to $7.768. The futures contracts for much of the season to date have traded at premiums relative to the Henry Hub spot price. This has provided suppliers economic incentives to buy gas on the spot market rather than pull from storage. However, spot prices in recent days have surpassed futures prices slightly:  the average Henry Hub price yesterday was about 4 cents higher than the closing price of the February futures contract. This relative pricing favors pulling gas from storage rather than paying for gas on the spot market.  Despite higher prices since last Wednesday, January 17, futures contracts are trading at significant discounts relative to last year's hurricane-induced elevated price levels. At yesterday's closing price, the February 2007 contract was priced at a $1.26 per MMBtu discount to the settlement of the February 2006 contract at $8.682 on January 24, 2006, despite following an extremely warm period during January of that year.
Recent Natural Gas Market Data
Estimated Average Wellhead Prices

July-06

Aug-06

Sep-06

Oct-06

Nov-06

Dec-06

5.82

6.51

5.51

5.03

6.43

6.65

Price ($ per MMBtu)

5.67

6.34

5.37

4.90

6.26

6.48

Note: Prices were converted from $ per Mcf to $ per MMBtu using an average heat content of 1,027 Btu per cubic foot as published in Table A4 of the Annual Energy Review 2002.

Source:  Energy Information Administration, Office of Oil and Gas.
Working gas in underground storage was 2,757 Bcf or 20.7 percent above the 5-year average for the week ending January 19, according to EIA's Weekly Natural Gas Storage Report (See Storage Figure). The implied net withdrawal during the report week was 179 Bcf, which is 19 Bcf more than the 5-year average withdrawal of 160 Bcf for the week.  This net withdrawal is the largest weekly net withdrawal this heating season and the largest since December 9, 2005.  It ends a string of lower-than-average withdrawals (based on data from the past 5 years) since the beginning of December 2006. Net withdrawals of this magnitude are not uncommon, occurring about 10 percent of the time during the heating season.  The volume of natural gas in storage is still currently 10 percent higher than last year at this time. In contrast to the relatively large volume of gas in storage in the East and Producing regions, the overall storage level in the West is just 11 Bcf, or 3.6 percent, higher than the 5-year average. The trend of extreme weather conditions in many parts of the West this winter continued during the report week, resulting in the highest net withdrawal in the region recorded in EIA's weekly database, which contains data from the last 13 years. Temperatures for the United States as a whole, as measured by heating degree-days (HDDs), were about 3.9 percent warmer than normal for the week ending January 18, according to the National Weather Service (See Temperature Maps). In particular, warmer-than-normal temperatures continued in key consuming markets, such as the Middle Atlantic where HDDs were 23 percent below normal.
<![if !vml]>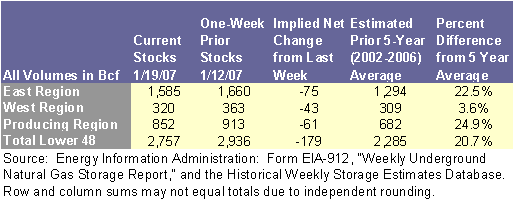 <![endif]>
Other Market Trends:
Natural Gas Rig Count:  The number of rigs drilling for natural gas in the United States increased to a new record high of 1,466 as of Friday, January 19, 2007, according to Baker-Hughes Incorporated.  This record is 16 rigs, or about 1 percent, higher than the previous record of 1,450, which occurred during the week ending September 22, 2006, and again during the week ending October 27, 2006. The current natural gas rig count is 22 rigs higher than last week, and 244 rigs, or almost 20 percent, higher than the number during this week last year.  Of the 1,466 natural gas rigs, 80 are located in the Gulf of Mexico, which equals last week's Gulf total.  The number of natural gas rigs in the Gulf of Mexico has more than doubled compared with this time last year when several rigs were damaged by major hurricanes.  However, natural gas rigs in the Gulf of Mexico are still 8 rigs less than the number drilling during this week in 2004, and well below the record number of 134 that occurred during July and August of 2000.  Of the 1,745 total rigs currently drilling in the United States, 84 percent are natural gas rigs and 15.8 percent are drilling for oil. 
GAO Reports on DOE Research and Development Funding:  In response to a Congressional request, the Government Accountability Office (GAO) released a report on January 19, 2007, which examined the Department of Energy's (DOE) research and development funding trends and strategies for developing advanced energy technology.  GAO found that DOE's budget authority for renewable, fossil, and nuclear energy research and development dropped by more than 85 percent from 1978 to 2005.  According to the report, energy research and development budget authority peaked in the late 1970s in response to the oil embargo and then fell sharply over the next decade as crude oil prices declined.  Since fiscal year 2000, however, Federal support for energy research and development has grown.  In fiscal year 2006, Congress provided $982 million in budget authority for energy research and development, including $324 million for renewable energy, $434 million for fossil energy, and about $224 million for nuclear energy.  More than 80 percent of the funding for fossil energy research and development has focused on coal programs, particularly to reduce harmful emissions and increase efficiency of coal-fired power plants.  Funding for oil and natural gas research and development in recent years has been mostly accomplished through cost-shared partnerships with industry and has focused mainly on improving exploration technologies, extending the life of current reservoirs, and developing advanced drilling technologies.  In fiscal year 2005, more than 60 percent of DOE's oil and natural gas research and development funding focused on technology to produce natural gas from methane hydrates, which are found in permafrost regions and in water depths greater than 1,600 feet.  In addition to appropriated funding, oil and natural gas research and development receives funding under a program established by the Energy Policy Act of 2005.  The program partly uses income from Federal oil and natural gas leases to focus on ultra-deepwater and unconventional natural gas and oil exploration.
Natural Gas Transportation Update:
El Paso Natural Gas Company

announced Thursday, January 18, that conditions had improved sufficiently to allow it to end the strained operating condition that was declared the previous Tuesday. The pipeline also reported that linepack had stabilized and maximum withdrawals from the Washington Ranch storage facility were no longer required to support pipeline system operations.

Gulf South Pipeline Company

began unscheduled maintenance Thursday, January 18, on the Marksville, Louisiana, compressor station's unit 1. The pipeline expects the work to continue for about 2 weeks, which could reduce capacity through the station by as much as 150,000 decatherms (Dth) per day.

Because of weather conditions, Southern California Gas Company postponed relocation of a section of Line 225 between main line valves 9a and 10 originally scheduled for January 23. The pipeline did not establish a new date for the maintenance, which is expected to cause both the loss of 1 Bcf per day of withdrawal capacity at the Honor Ranch storage facility and a loss of 530 MMcf per day of Wheeler Ridge border receipt capacity.

Owing to an unplanned engine outage, ANR Pipeline Company began repairs on Tuesday, January 23, at its Joliet, Illinois, compressor station. The repairs are expected to last through January 31, and reduce capacity at the NGPL-Joliet interconnect to 20,000 Dth per day. Based on current nominations, the pipeline anticipates that the reduction in interconnect capacity will result in curtailment of firm secondary and interruptible transportation service.