Overview:  Thursday, May 13 (next release 2:00 p.m. on May 20)
Natural gas prices in both the cash and futures markets continued to move up for a third straight week.  For the week (Wednesday to Wednesday, May 5-12), the Henry Hub spot price matched its 30-cent increase of the prior week, trading yesterday (May 12) at $6.39 per MMBtu.  On the NYMEX, the futures contract for June 2004 delivery increased by just under 10 cents on the week, settling yesterday at its record-high level of $6.405 per MMBtu.  EIA reported that inventories were 1,303 Bcf as of Friday, May 7, which is 1.6 percent below the 5-year (1999-2003) average.  The spot price for West Texas Intermediate crude oil also rose for a third straight week, moving up $0.61 per barrel ($0.11 per MMBtu) from last Wednesday's (May 5) price to yesterday's average of $40.30 per barrel ($6.95 per MMBtu).
<![if !vml]>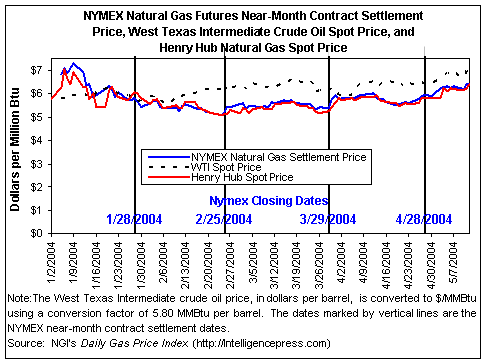 <![endif]>
Spot prices had significant gains at virtually every market location, as lingering cool temperatures in the upper Midwest and Northeast coupled with generally rising temperatures in the Midcontinent and parts of the Middle and South Atlantic states provided temperature-driven demand.  Upward pressure came also from rising crude oil and petroleum product prices.   Since April 21, the Henry Hub spot price has increased $0.87 per MMBtu, or about 16 percent.  The one exception to rising prices was seen at El Paso-non-Bondad in the Rockies, where maintenance by Transwestern Pipeline along its San Juan Lateral beginning Monday caused a weekly decrease of 21 cents, to $5.38 per MMBtu.  Gains were strongest in the Northeast, where prices increased by an average of 37 cents on the week.  The spot prices at Tetco M-3 and for Algonquin citygates in yesterday's trading were the highest prices in the nation at $7.01 and $7.02 per MMBtu, respectively.  Elsewhere, Florida Gas Transmission (FGT) yesterday issued an Overage Alert Day notice as rising temperatures prompted increasing demand for air conditioning.  For the week, the FGT citygate price rose $0.35 per MMBtu to $6.68.  Price increases tended to be smallest in the Rockies and in California, averaging 22 and 21 cents for the week, respectively, as the generally warmer-than-normal temperatures experienced there equate to comfortable weather at this time of year.  Gas consumption for power demand in California was further offset by the return to operation of the Palo Verde 1 nuclear plant in Arizona, mitigating the higher demand pressure on prices.  Likewise, Texas prices might have increased more than the 26- to 39-cent gains, except that both the South Texas 2 and Comanche Peak 1 nuclear plants came back on line during the week.  The West Texas market—with an average price of $5.96 per MMBtu—joined the Rockies ($5.52) as the only regional markets where prices averaged below $6 as of the end of trading yesterday.
<![if !vml]>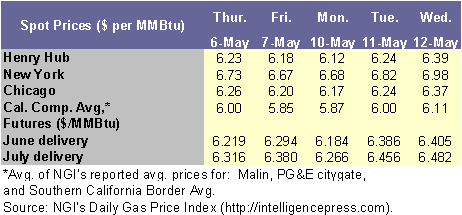 <![endif]>
On the NYMEX, after recording weekly gains of over 30 cents in the prior 2 weeks, the settlement price for the near-month (June delivery) futures contract increased by $0.095 per MMBtu on the week, settling yesterday at $6.405 per MMBtu.  This is the highest settlement price for this contract since it began trading some 71 months ago.  Natural gas futures prices have been heavily influenced of late by rising crude oil and products futures prices, which have been steadily increasing on concerns over Iraq and the Middle East, as well as skepticism over whether OPEC can actually quickly attain significant production growth.  The June crude oil contract rose above $40 on Tuesday (May 11), and settled yesterday at the second-highest level for any prompt-month crude oil contract of $40.77 per barrel (the record is $41.15, set October 10, 1990 as the nation prepared for the Persian Gulf War).  Further, many current weather forecasts are citing the potential for a hotter-than-normal summer in parts of the country, which would drive demand up for space-cooling needs.  In the two weeks since becoming the near-month contract on April 29, the June contract has increased $0.481 per MMBtu, or 8 percent.     
Overview of Natural Gas Data for 2003
Recent Natural Gas Market Data
Estimated Average Wellhead Prices

Nov-03

Dec-03

Jan-04

Feb-04

Mar-04

Apr-04

Price ($ per Mcf)

4.34

5.08

5.53

5.15

4.97

5.20

Price ($ per MMBtu)

4.22

4.94

5.38

5.01

4.83

5.06

Note:  The price data in this table are a pre-release of the average wellhead price that will be published in forthcoming issues of the Natural Gas Monthly.  Prices were converted from $ per Mcf to $ per MMBtu using an average heat content of 1,027 Btu per cubic foot as published in Table A4 of the Annual Energy Review 2002.

Source:  Energy Information Administration, Office of Oil and Gas. 
Working gas in underground storage stood at 1,303 Bcf as of Friday, May 7, according to the EIA's Weekly Natural Gas Storage Report issued today (Thursday, May 13).  This is 21 Bcf, or 1.6 percent, less than the previous 5-year (1999-2003) average. (See Storage Figure)  The implied net injection was 76 Bcf, which exceeds the 5-year average for this week by 7 Bcf, or 10.1 percent.  While implied net injections in the East region were slightly below the average, net injections in the West and Producing regions exceeded their respective average additions for the week by 5 Bcf in both regions.  The latest heating- and cooling-degree day statistics published by the National Weather Service for the period roughly coinciding with the week covered by this storage report show that weather-related gas demand was fairly slack, allowing for significant injections into storage. (See Temperature Map) (See Deviations Map)  Only one of nine Census Divisions (Mountain) had greater-than-normal heating degree days (HDD).  HDDs in all other regions ranged from about 21 to nearly 88 percent below normal, and 35.4 percent less than normal for the nation as a whole.  As to cooling degree days (CDD), some divisions showed large percentage differences from normal, but the actual CDD levels are relatively low compared with summer levels and therefore do not represent significant cooling demand.
<![if !vml]>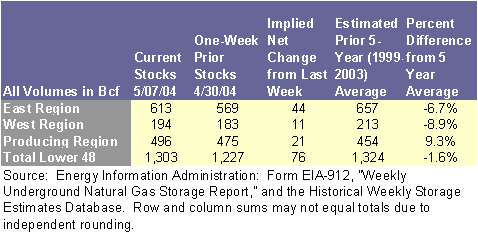 <![endif]>
Other Market Trends:
EIA Solicits Public Comments on Proposed Revision to Survey Form EIA-910.  On Monday, May 10, 2004, EIA issued a Federal Register notice soliciting public comments on a proposed change to the scope of survey Form EIA-910, "Monthly Natural Gas Marketer Survey." Currently, gas marketers with residential or commercial customers in Georgia, Maryland, New York, Ohio, and Pennsylvania report their number of customers, volumes of natural gas sold, and revenues. The revision would require marketers in Florida, Illinois, Michigan, New Jersey, Massachusetts, Virginia, West Virginia, and the District of Columbia to report the same information. Current published prices in the commercial sector for the proposed new States and the District of Columbia represent only 23 to 63 percent of commercial volumes consumed in those areas. The addition of the new States and the District of Columbia to the EIA-910 survey frame will bring the percent of volumes represented by published prices in the commercial sector to 100 percent in those areas. Comments on the proposed revision must be filed by July 9, 2004.
Natural Gas Summary from the Short-Term Energy Outlook:
The Energy Information Administration (EIA) projects that natural gas prices will remain relatively high for the rest of 2004. Wellhead prices are expected to average $5.41 per MMBtu through the end of the storage refill season (October 31) and $5.59 in November and December. Spot prices (composites for producing-area hubs) averaged about $5.30 per MMBtu in the first quarter of this year but are currently near $6.00. Barring cooler-than-normal weather this summer, the likelihood appears small that spot prices will fall significantly below $5.65 per MMBtu for the rest of 2004. Overall in 2004, spot prices will likely average $5.62 per MMBtu and wellhead prices will average $5.33. In 2005, spot prices are expected to increase to $5.90 per MMBtu. As in other recent projections, this outcome depends on modest growth in domestic production and total available supply (including imports and storage inventories) in both 2004 and 2005. Underground storage facilities reported net injections of 199 Bcf for April, well above the previous 5-year average of 139 Bcf. At the end of April, storage stocks were only about 2 percent below the 5-year average level and 37 percent higher than last year at this time based on monthly survey data.
Natural gas production is estimated to have increased by approximately 0.5 percent in 2003. Growth of about 1 percent in 2004 is expected as new natural gas well completions, which totaled an estimated 20,000 in 2003, continue to grow to nearly 24,000 wells per year over the next 2 years. Natural gas demand is expected to increase by about 1.3 percent in 2004, owing to economic growth, high oil prices, and high spot prices for coal in eastern producing areas. Demand growth in 2005 is expected to be minimal (0.3 percent) as some of the current pressure on natural gas in the electric power sector eases and relative coal and fuel oil spot prices decline somewhat.
Short-Term Natural Gas Market Outlook, May 2004

History

Projections

Feb-04

Mar-04

Apr-04

May-04

Jun-04

Jul-04

PRICES ($/MMBtu)

  Average Wellhead Price

5.01

4.84

5.06

5.39

5.45

5.38

  Residential Price

9.43

9.07

9.52

10.50

11.65

12.21

  Electric Utilities Price

6.48

5.64

5.98

6.34

6.26

6.11

SUPPLY (Trillion Cubic Feet)

  Total Dry Gas Production

1.526

1.640

1.592

1.625

1.569

1.617

  Net Imports

0.255

0.233

0.236

0.259

0.247

0.262

    Imports

0.316

0.315

0.313

0.317

0.305

0.324

    Exports

0.062

0.065

0.058

0.058

0.058

0.061

  Suppl. Gaseous Fuels

0.005

0.005

0.004

0.004

0.004

0.005

  Total New Supply

1.786

1.877

1.832

1.888

1.820

1.884

  Working Gas in Storage

    Opening

1.751

1.163

1.028

1.227

1.612

2.002

    Closing

1.163

1.028

1.227

1.612

2.002

2.312

  Net Storage Withdrawal

0.588

0.135

-0.199

-0.385

-0.390

-0.310

  Total Supply

2.374

2.012

1.633

1.503

1.430

1.574

  Balancing Item

0.096

0.111

0.109

0.020

-0.005

0.025

  Total Primary Supply

2.470

2.123

1.742

1.523

1.425

1.599

DEMAND (Trillion Cubic Feet)

  Lease & Plant Fuel

0.090

0.096

0.091

0.094

0.091

0.094

  Pipeline Use

0.070

0.062

0.051

0.046

0.042

0.046

  Delivered to Consumers

2.310

1.966

1.600

1.384

1.292

1.459

    Residential

0.878

0.609

0.398

0.236

0.154

0.126

    Commercial

0.459

0.355

0.245

0.179

0.145

0.141

    Industrial

0.653

0.667

0.610

0.547

0.517

0.561

    Electric Power

0.320

0.335

0.347

0.422

0.476

0.631

  Total Demand

2.470

2.123

1.742

1.523

1.425

1.599
Source:  Energy Information Administration, Short-Term Energy Outlook, May 2004.