November 16, 2016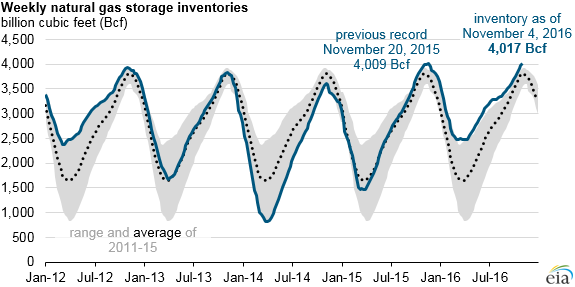 ---
Working natural gas in storage reached a record high of 4,017 billion cubic feet (Bcf) as of November 4, according to EIA's latest Weekly Natural Gas Storage Report. Inventories have been relatively high throughout the year, surpassing previous five-year highs in 48 of the past 52 weeks. Declining natural gas production and strong demand from the power sector were offset by a warmer-than-usual winter, which left natural gas inventories in April (the beginning of the 2016 injection season) above the previous five-year maximum.
The injection season for natural gas storage typically runs from April through October, although net natural gas injections sometimes continue for several weeks during November. In fact, the previous record for natural gas storage was set at 4,009 Bcf for the week ending November 20, 2015. This year, natural gas inventories have been relatively high in almost every natural gas storage region in EIA's survey.
In the past month, the Midwest and Mountain regions exceeded and remained above the previous five-year maximum inventory levels. In the two weeks between October 21 and November 4, the South Central region added 59 Bcf to its inventories, but it still remains slightly below its one-year maximum of 1,352 Bcf. Additionally, the East region remains 14 Bcf below its five-year maximum capacity of 960 Bcf. With the other regions being near or at full capacity, any injections in the coming weeks will likely occur in the South Central and East regions.
In the Pacific region, which includes Southern California, storage levels at the end of the injection season were below the previous five-year average for that time of year. Despite a modest net increase in natural gas working stocks in the Pacific region, continuing storage limitations at the Aliso Canyon storage facility resulted in a decline in normal inventory levels at the end of October. Aliso Canyon's 86 Bcf storage capacity accounts for about 20% of the overall storage capacity in the Pacific region. Overall, natural gas storage in the Pacific region is about 11% lower than the previous five-year average of 368 Bcf, and the current storage limitations mean that the region has reached its effective storage capacity.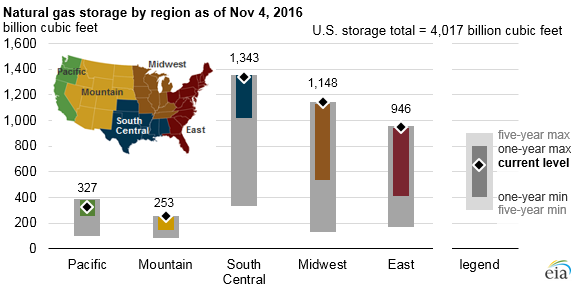 ---
Domestic dry natural gas production during the first eight months of 2016 was about 1.3 Bcf/d lower than last year's average of 74 Bcf/d for the same time period. Meanwhile, natural gas consumption has remained relatively flat in 2016, with increases in natural gas demand in the power sector offset by decreases in the residential and commercial sectors.
Based on the National Oceanic and Atmospheric Administration's (NOAA) winter forecast, EIA expects U.S. average household natural gas consumption to increase 8% this winter, with the largest increases in the Northeast and Midwest census regions. Under this scenario, EIA expects inventories to end the winter at slightly below 1,900 Bcf. However, temperatures so far this winter have consistently been at or above weekly average normal levels, and NOAA's latest three-month temperature outlook forecasts that December–February temperatures will be higher than normal. In a scenario with temperatures 10% warmer than forecast, U.S. average household natural gas consumption would be 1% lower this winter compared to last winter, with inventories at winter's end near 2,300 Bcf.
Principal contributors: David Manowitz, Jason Upchurch