Prices
Crude Oil Prices. The spot price of Brent crude oil averaged $67/b in December 2019, up $4/b from the average in November and $10/b higher than in December 2018. Price increases in December partly reflect market expectations that global economic conditions in 2020 will be better than previously anticipated, and the announced first phase of a trade deal between the United States and China to be signed in January. Also putting upward pressure on prices, on December 6, 2019, OPEC and partner countries agreed to deepen production cuts through March 2020. More recently, on January 3, events in Iraq increased uncertainty around potential disruptions to oil production and shipping in the Middle East, adding volatility and an additional risk premium to global oil prices in the short term.
EIA estimates that global liquid fuels inventories fell by less than 0.1 million b/d in 2019, an indication that markets were relatively balanced. EIA expects global oil markets will experience builds in 2020, with forecast inventories rising at a rate of 0.3 million b/d. The combination of continuing crude oil production restraint on the part of OPEC and accelerating global demand growth is expected to be more than offset by growth in non-OPEC production, largely in the United States, Norway, Brazil, and Canada. However, in 2021, EIA expects oil markets will experience inventory draws, as non-OPEC production growth slows, led by decelerating growth in the United States. EIA assumes that OPEC will continue to try to adjust production levels to target relative balance in global oil markets. Based on a forecast of slowing oil supply growth and mostly stable oil demand growth, EIA expects global oil inventories will fall by almost 0.2 million b/d in 2021.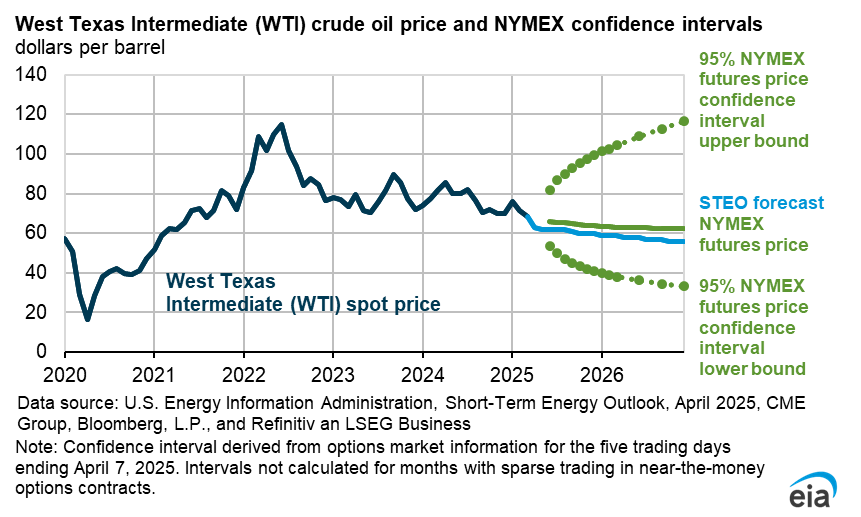 Given the expectation of inventory builds in 2020 and draws in 2021, EIA forecasts Brent prices will average $65/b in 2020 and $68/b in 2021. In the first half of 2020, EIA expects global oil prices to be affected by both the downward price pressures of relatively weak oil market balances and by the upward price pressures of geopolitical risk. This forecast assumes that Brent crude oil prices will decline in early 2020, falling from a January average of $67/b to an average of $62/b in May 2020, as risk premiums slowly fade. EIA does not forecast supply disruptions, and any physical supply disruptions would likely cause prices to be higher than this forecast. Beginning in mid-2020 and into 2021, EIA expects that tightening market fundamentals will be the main driver of upward price pressures, with forecast Brent prices increasing to $69/b at the end of 2021 and averaging $68/b for the year.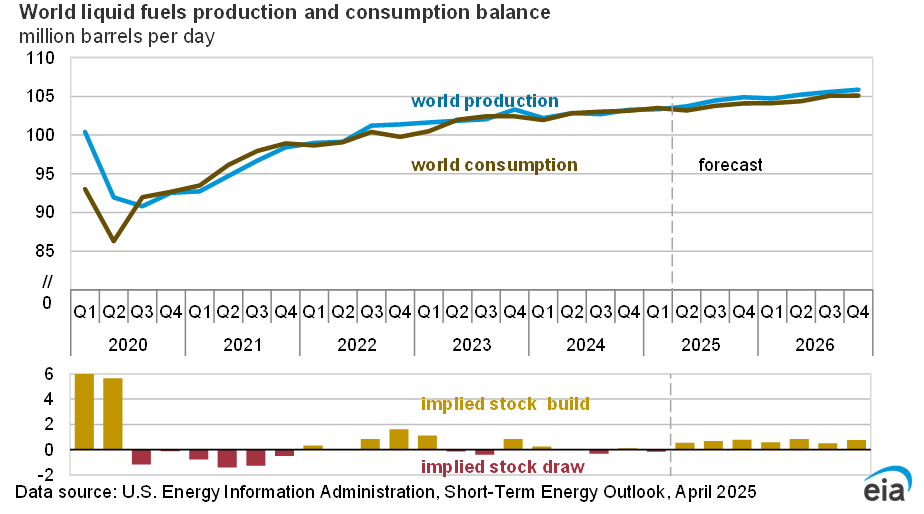 Global economic developments and geopolitical events in the coming months could push oil prices higher or lower than the current STEO price forecast. Uncertainty remains regarding the duration of, and adherence to, the current OPEC production cuts. Geopolitical-related disruption risks are always present in the oil market, and—as the attacks on Saudi Arabia's oil infrastructure in September 2019 demonstrate—can bring significant volumes of both current production and spare capacity off the market suddenly. Developments regarding the rate of economic growth and its effect on global oil demand growth further contribute to price uncertainty. Also, although EIA expects that crude oil price impacts from IMO regulations that started in 2020 will be limited, how the global refining and shipping industries will respond and how the actual outcomes of these decisions will affect crude oil prices remain unknown. Finally, the U.S. tight oil sector continues to be dynamic, and quickly evolving trends in this sector could affect both current crude oil prices and expectations for future prices.
EIA forecasts average West Texas Intermediate (WTI) crude oil prices average about $5.50/b lower than Brent prices in both 2020 and 2021. This price discount is based on the assumption of continued sufficient pipeline capacity from production areas in West Texas and from Cushing, Oklahoma, to refineries and export terminals along the U.S. Gulf Coast. Given recent growth in U.S. crude oil production, volumes in excess of Gulf Coast refinery demand are exported, and WTI prices are set by competition with Brent into the marginal export markets in Asia. EIA's forecast of a $5.50/b price spread between WTI and Brent reflects the additional costs incurred in bringing volumes from Cushing to Asia compared with the costs of shipping from the North Sea to Asia. The current values of futures and options contracts suggest significant uncertainty in the oil price outlook. WTI futures contracts for April 2020 delivery that were traded during the five-day period ending January 9 averaged $61/b, and implied volatility averaged 28%. These levels established the lower and upper limits of the 95% confidence interval for the market's expectations of monthly average WTI prices in April 2020 at $48/b and $78/b, respectively. The 95% confidence interval for market expectations widens over time; the lower and upper limits for prices in December 2020 are $36/b and $91/b, respectively.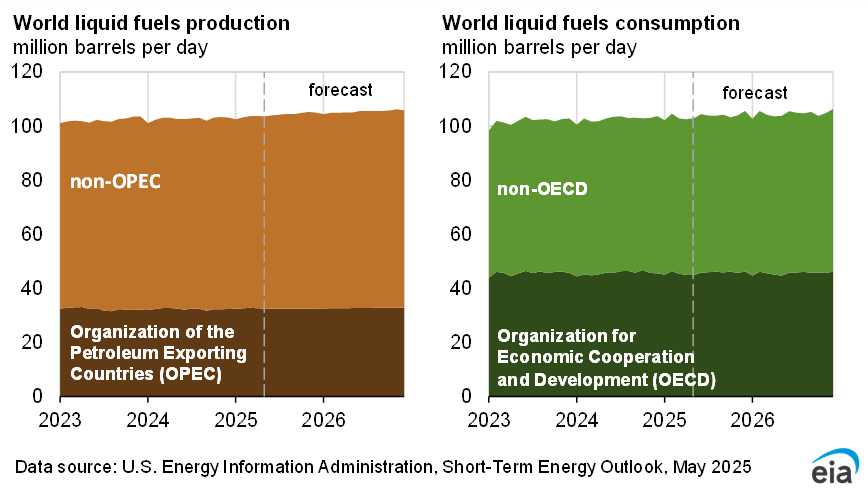 U.S. Petroleum Product Prices. EIA expects the retail price of regular gasoline in the United States will average $2.54 per gallon (gal) during the first quarter of 2020, 18 cents/gal higher than at the same time last year, primarily reflecting stronger expected refinery margins despite similar forecast crude oil prices. EIA expects the U.S. monthly regular retail gasoline price will increase from an average of $2.57/gal in January to $2.76/gal in June and July (a 2020 peak) before falling to $2.53/gal in December 2020. The U.S. regular gasoline retail price, which averaged $2.60/gal in 2019, is forecast to average $2.63/gal in both 2020 and 2021.


Regional annual average forecast prices for 2020 range from a low of $2.36/gal in the Gulf Coast region—Petroleum Administration for Defense District (PADD) 3—to a high of $3.24/gal in the West Coast region (PADD 5).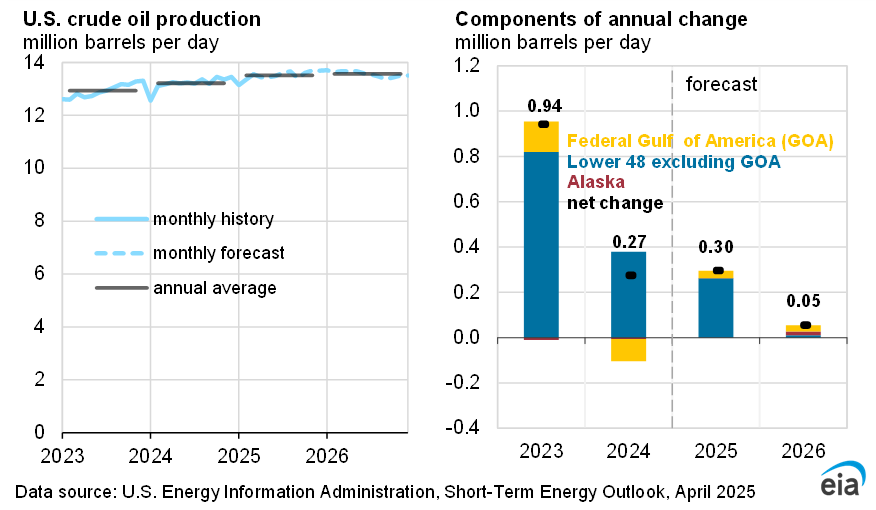 Refinery wholesale gasoline margins in the United States (the difference between the wholesale price of gasoline and the price of Brent crude oil) averaged 15 cents/gal in December 2019. This level was similar to the average in December 2018, but it was 10 cents/gal lower than the five-year (2014–18) average for December. Refinery wholesale gasoline margins averaged 32 cents/gal in 2019, which was 4 cents/gal higher than the 2018 level but 5 cents/gal lower than the five-year average. EIA expects the refinery wholesale gasoline margin will average 33 cents/gal in 2020 and 27 cents/gal in 2021.
The diesel fuel retail price averaged $3.06/gal in 2019, which was 13 cents/gal lower than the average in 2018. EIA forecasts the diesel price will average $3.11/gal in 2020 and $3.12/gal in 2021. The rising prices from 2019 to 2020 primarily reflect the assumption that diesel refinery margins increase because of IMO 2020 regulations, which became effective on January 1. EIA expects that low-sulfur IMO regulations will drive global demand for U.S. ultra-low sulfur diesel volumes and contribute to gradually increasing diesel refinery margins. Diesel refinery margins based on Brent crude oil, which averaged 43 cents/gal in 2019, are expected to average 50 cents/gal in 2020 and 49 cents/gal in 2021.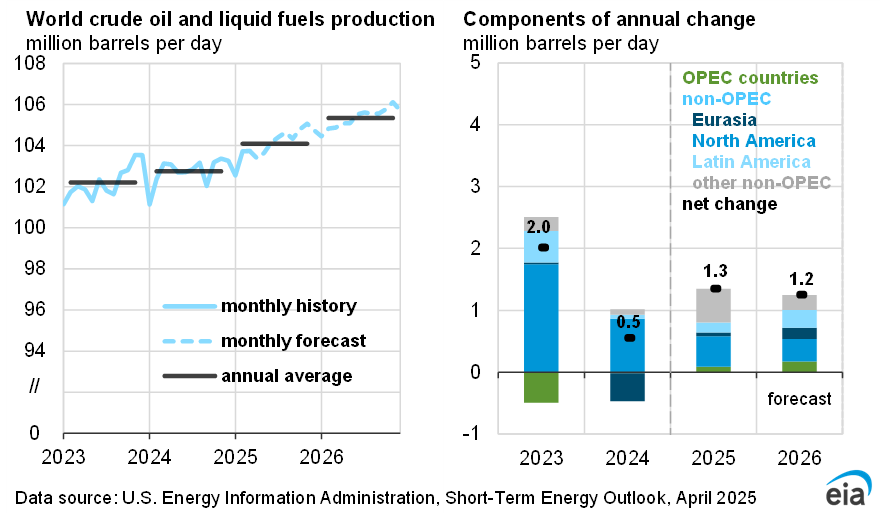 Natural Gas Prices. Henry Hub spot prices averaged $2.57 per million British thermal units (MMBtu) in 2019, down 59 cents/MMBtu from 2018 levels. EIA forecasts that Henry Hub natural gas spot prices will average $2.33/MMBtu in 2020 and $2.54/MMBtu in 2021. EIA expects some upward price pressures to emerge in 2021 because of falling natural gas production that stems from the low prices forecast in 2020. However, falling demand for natural gas should limit upward price movements.
Coal Prices. EIA estimates the delivered coal price to U.S. electricity generators averaged $2.05 per million British thermal units (MMBtu) in 2019, which was down slightly from the 2018 price. EIA forecasts that coal prices will increase to $2.10/MMBtu in both 2020 and 2021.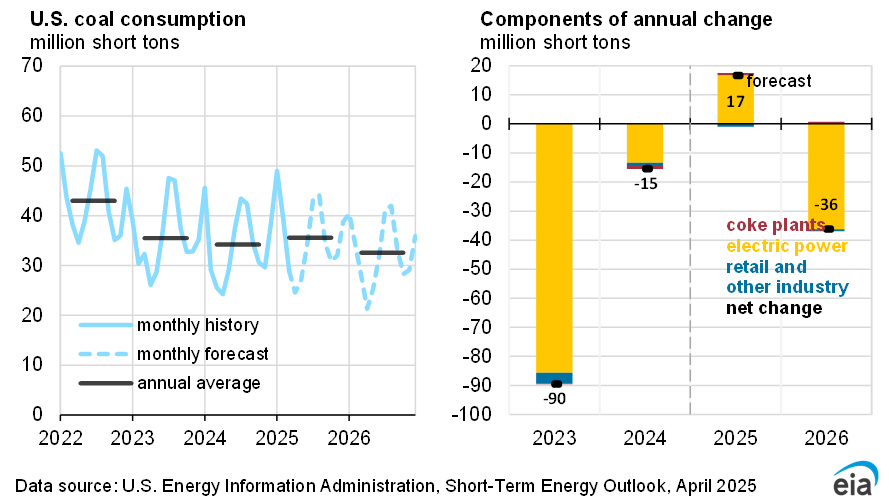 Electricity Prices. EIA expects wholesale electricity prices in many areas of the country in 2020 will be lower than last year, reflecting the lower cost for natural gas as a fuel for power generation. EIA forecasts that wholesale prices in the Southwest will rise 5% this year as a result of the recent retirement of some coal-fired generating units. In 2021, EIA expects wholesale power prices will increase in most areas as a result of an expected 9% increase in the cost of natural gas.


EIA forecasts the U.S. retail electricity price for the residential sector will average 13 cents/kWh in 2020, which is 1.2% higher than the average retail price in 2019. Forecast residential prices increase by an additional 1.2% in 2021.