Prices
Crude oil prices.Oil prices rose during much of 2021, with Brent crude oil spot prices averaging $71/b for the year compared with $42/b in 2020. Rising prices reflected growth in global oil demand that outpaced near-term growth in oil production, resulting in falling global oil inventories. During 2021, Brent prices reached their highest monthly average of $84/b during October. Brent prices fell to an average of $74/b in December, which largely reflected concerns about how the Omicron variant and potential mitigation efforts may affect near-term oil demand. In addition, increases in crude oil supply from OPEC+ members have likely also contributed to lower oil prices. However, crude oil prices ended December at $77/b as concerns that Omicron would lead to significant declines in oil consumption eased and as some crude oil production went offline in Libya.

We expect Brent crude oil spot prices will average $75/b in 2022. Forecast prices remain near current levels in 1Q22, averaging $79/b for the quarter. Oil markets are generally balanced in 1Q22 in our forecast. After 1Q22, we expect inventory builds through the end of 2022, averaging 0.7 million b/d from 2Q22 through 4Q22. We expect some downward oil price pressures during this period, with Brent crude oil prices falling to an average of $71/b by 4Q22. Although inventories build in our forecast, inventory levels are currently lower than in 2019, which may dampen some of the downward price pressures associated with rising inventories. Forecast inventory builds accelerate in 2023, and we expect that Brent crude oil prices will average $68/b for the year.

Global economic developments and numerous uncertainties surrounding the pandemic in the coming months could push oil prices higher or lower than our current price forecast. Our current price path reflects global oil consumption that increases by 4% from 2021 in 2022 and by an additional 2% in 2023. However, this forecast depends on how any potential new COVID-19 variants develop and how oil consumption behavior changes as the pandemic evolves. Global supply chain disruptions have also likely exacerbated inflationary price effects across all sectors in recent months. How central banks respond to inflation may affect economic growth and oil demand during the forecast period. The duration of, and compliance with, the latest OPEC+ production targets also remains uncertain. Our forecast includes the assumption that OPEC+ will limit production increase to less than the current target of 0.4 million b/d per month. However, this assumption leaves more spare OPEC crude oil production capacity than seen during much of the 2010–19 period. If OPEC countries choose to produce from this capacity rather than hold it as spare, prices would likely be lower than our forecast. In addition, the degree to which the U.S. shale industry responds to the recent relatively high oil prices will affect the oil price path in the coming quarters.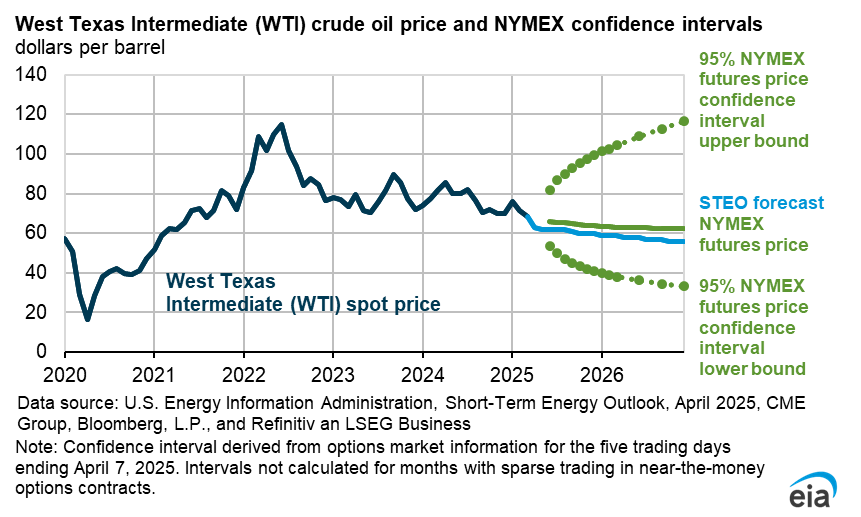 We forecast West Texas Intermediate (WTI) crude oil prices will average about $3/b less than Brent prices in the first half of 2022 before widening to a discount of $4/b less than Brent prices through 2023. This price discount is based on our assumption that the recent discount of WTI to Brent, which averaged less than $3/b in 2021, reflected low global demand for oil exports and relatively low levels of U.S. crude oil production. As global refinery demand for crude oil and U.S. crude oil supply increases, we expect the WTI discount to return to $4/b by 2H22. This discount reflects the relative cost of exporting crude oil from the distribution hub in Cushing, Oklahoma, to Asia, compared with the cost of exporting Brent crude oil from the North Sea to Asia.

Product prices. Reduced demand for liquid fuels in the United States during 2020 led to low prices for gasoline and diesel fuel during the same period. In 2021, increases in economic activity and personal mobility contributed to increasing prices for crude oil, gasoline, and diesel fuel compared with 2020. U.S. retail prices for regular-grade gasoline averaged $3.02/gal during 2021, and retail diesel prices averaged $3.29/gal, up 84 cents/gal and 73 cents/gal, respectively, from their 2020 averages.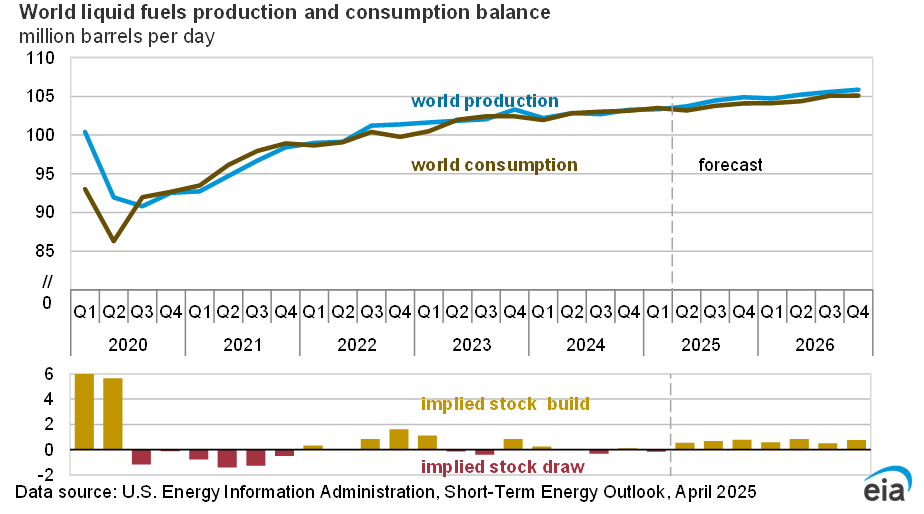 Higher retail prices for gasoline and diesel in the United States reflect an increase in demand for petroleum fuels as well as increasing crude oil prices. After decreasing significantly in 2020, refinery margins (the difference between the wholesale price of gasoline and the price of Brent crude oil) reached their highest levels since 2014 for both gasoline and diesel in 2021. Refinery margins increased significantly beyond their recent five-year averages, driven primarily by rising fuel demand amid still restrained refinery production. Significant increases in renewable identification number (RIN) prices, which are embedded in wholesale product prices, also raised refinery margins.
Supply disruptions also contributed to increased refinery margins for those facilities that continued operations during several instances in 2021. In February, a severe cold weather system in Texas resulted in a reduction in refinery operations along the U.S. Gulf Coast. In May, a cyberattack on the Colonial Pipeline put upward pressure on retail fuel prices because of related logistical constraints. In August, hurricanes along the U.S. Gulf Coast (particularly in Louisiana) caused flooding and temporary refinery shutdowns, which also contributed to lower refinery production at that time.
Wholesale U.S. refinery gasoline margins started 2021 at a monthly average of 27 cents/gal in January, before increasing to 62 cents/gal in August. We estimate margins averaged 49 cents/gal in December, resulting in an average of 48 cents/gal for 2021, up from 31 cents/gal in 2020 and 32 cents/gal in 2019. As forecast refinery runs continue to increase and inventories grow, we estimate gasoline refinery margins will decrease over the forecast period, averaging 42 cents/gal in 2022 and 38 cents/gal in 2023.

Ongoing uncertainty and volatility related to the COVID-19 pandemic, the Omicron variant, and potential future variants all present additional downside risks for refinery margins and wholesale product prices. However, potential short-term disruptions related to inclement weather, like those that took place in February and August 2021, present upside risks for product prices throughout the forecast. We expect U.S. regular retail gasoline prices will average $3.20/gal in 1Q22, 64 cents/gal higher than at the same time last year, but down 13 cents/gal compared with 4Q21. We expect the U.S. regular retail gasoline price will average $3.28/gal in January 2022 before decreasing through the year as crude oil prices and refinery margins fall, eventually averaging $2.77/gal in December 2022. We forecast the U.S. regular gasoline retail price, which averaged $3.02/gal in 2021, will average $3.06/gal in 2022 and $2.81/gal in 2023.

Regional annual average forecast prices for 2022 range from a low of $2.71/gal in the Gulf Coast region (PADD 3) to a high of $3.86/gal in the West Coast region (PADD 5). Reduced refinery capacity on the West Coast compared with 2019 pre-pandemic levels is likely to contribute to higher refinery margins, wholesale prices, and resale margins in that region in the future.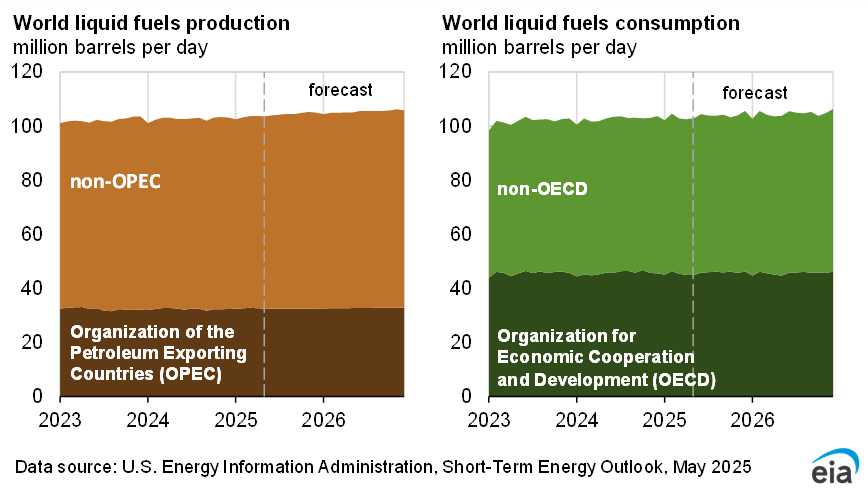 The retail price of diesel fuel in the United States averaged $3.29/gal in 2021, which was 73 cents/gal higher than in 2020. We forecast the diesel price will average $3.33/gal in 2022 and $3.27/gal in 2023. We expect that global economic activity returning to pre-pandemic levels will help drive diesel refinery margins higher than their multiyear lows in 2020 during the forecast period. Diesel refinery margins averaged 42 cents/gal in 2021, which was 4 cent/gal higher than the 2016–20 average and 12 cents/gal higher than levels seen in 2020. We forecast that diesel refinery margins will average 47 cents/gal in 2022 and 45 cents/gal in 2023.
Natural gas prices. Henry Hub spot prices averaged $3.91/MMBtu in 2021. Natural gas prices were volatile throughout 2021. Early in 2021, volatility resulted from near record-high spot prices during the extreme winter weather in February. During the rest of the year, Henry Hub prices rose from $2.62/MMBtu in March to $5.51/MMBtu in October, before falling back to $3.76/MMBtu in December, amid a warmer-than-normal start to the heating season across most of the country.
We forecast the Henry Hub spot price will average $3.79/MMBtu in 2022. In 1Q22, we forecast the average Henry Hub spot price of natural gas will be $3.82/MMBtu. We expect prices will stay near current levels as natural gas inventory levels remain near the five-year average levels. Prices average $3.78/MMBtu for the remaining three quarters of 2022. We expect the Henry Hub spot price of natural gas to average $3.63/MMBtu in 2023.
Although we expect natural prices to decline in 2022 and 2023 compared with 2021, prices in the forecast stay relatively high compared with recent years. This dynamic is partly the result of reductions in coal-fired electricity-generating capacity and ongoing constraints in the coal market, which make increases in coal generation (and associated decreases in natural gas generation) less sensitive to rising natural gas prices than they have been in recent years. In addition, natural gas price volatility could result from weather-related increases or decreases in demand and uncertainties about the way in which rising levels of natural gas exports could affect the U.S. market.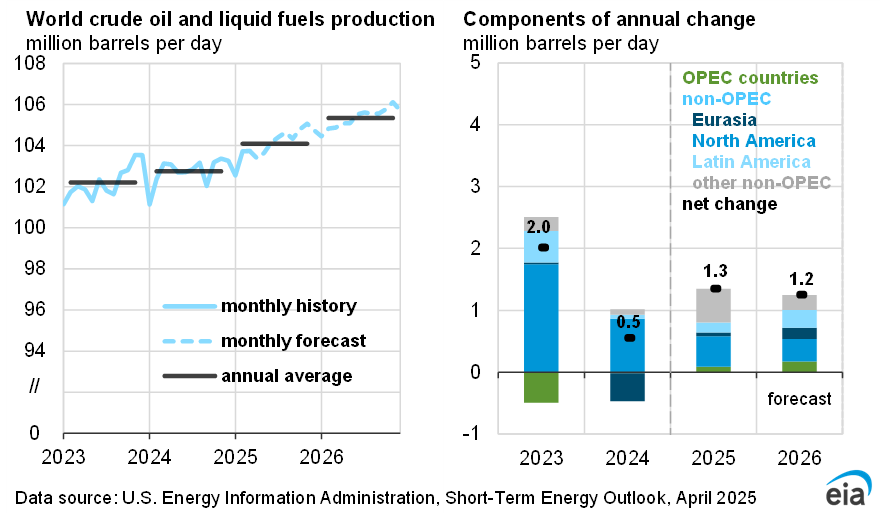 Coal prices. The delivered coal price to U.S. electricity generators averaged an estimated $1.98/MMBtu in 2021. Coal prices increased throughout the year as a result of coal market constraints, averaging $1.92/MMBtu in 1H21 and $2.03/MMBtu in 2H21. We forecast that coal prices will fall to $1.94/MMBtu in 2022 and to $1.81/MMBtu in 2023.
Electricity prices. Wholesale electricity prices throughout the country trended higher in 2021, reflecting the increasing cost of natural gas for power generation. Last year, average annual wholesale prices ranged from $38 per megawatthour (MWh) in Florida to $190/MWh in Texas, though the Texas average would be $43/MWh excluding February when severely cold temperatures caused hourly prices to surge in excess of $6,000/MWh. We expect 2022 average wholesale electricity prices at trading hubs in the eastern part of the country will generally be higher than in 2021, with the exception of PJM, where we expect prices will be mostly unchanged. In the central and western areas, we expect wholesale prices will be lower at most hubs in 2021, with the exception of California where we expect slightly higher prices.
We forecast the U.S. retail electricity price for the residential sector will average 14.2 cents/kWh in 2022, which is 3.8% higher than the average retail price in 2021. Forecast residential prices remain relatively constant in 2023.