Prices
Crude Oil Prices. Brent crude oil prices traded within a wide range during 2020. After averaging $64/b in January 2020, Brent prices fell to an average of $18/b in April, the lowest monthly average price in real terms since February 1999. The low prices were the result of significant declines in oil consumption that caused a sharp rise in global oil inventories. However, Brent prices increased through much of the rest of 2020 because rising oil demand and reduced production caused global oil inventories to fall. Brent prices rose to a monthly average of $50/b in December in part because of expectations of future economic recovery based on continued news about the viability of multiple COVID-19 vaccines. Brent prices in early January reached their highest levels in 10 months after Saudi Arabia announced a one-month unilateral cut to its crude oil production for February that is in addition to its OPEC+ commitments.
EIA expects Brent crude oil prices to average $53/b in both 2021 and 2022. Saudi Arabia's unilateral cut means global oil market balances will be tighter in early 2021 than EIA had previously expected. EIA expects global oil inventories will fall by 2.3 million b/d in the first quarter of 2021, which EIA expects will contribute to Brent prices averaging $56/b.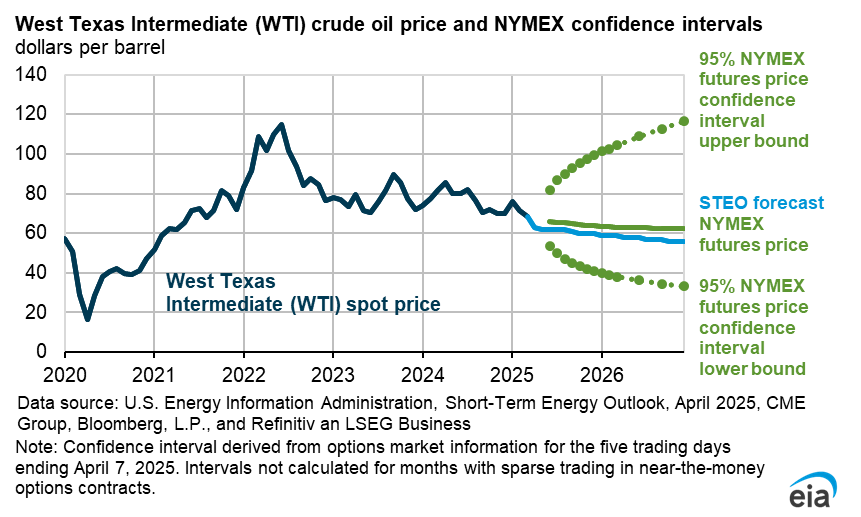 Despite rising forecast oil prices in early 2021, EIA still expects upward price pressures to be limited through the forecast period because of high global oil inventory levels and surplus crude oil production capacity. EIA expects moderate downward oil price pressures to emerge beginning the second quarter of 2021, when global oil production is forecast to rise and cause inventories to draw at a slower pace. Brent spot prices are forecast to average $51/b during the second half of 2021. Upward price pressures reemerge in the forecast during 2022 as a result of global oil inventory draws accelerating compared with the second half of 2021.
Global economic developments and numerous uncertainties surrounding the ongoing COVID-19 pandemic in the coming months could push oil prices higher or lower than EIA's current price forecast. This price path reflects global oil consumption increasing by 6% from 2020 levels to reach an average of 97.8 million b/d in 2021 and by an additional 3% in 2022. But this forecast is dependent on the rate at which populations are vaccinated and the way in which oil consumption behavior changes once populations are widely vaccinated. The duration of, and adherence to, the latest targeted OPEC+ production cuts also remains uncertain. Lastly, the degree to which the U.S. shale industry responds to the recent relative strength in oil prices compared with their recent lows in April will affect the oil price path in the coming quarters.
EIA forecasts West Texas Intermediate (WTI) crude oil prices will average about $3/b less than Brent prices in 2021 and $4/b less than Brent prices in 2022. This price discount is based on EIA's assumption that the current reduced discount of WTI to Brent of $2/b on average in the second half of 2020 reflects significant declines in U.S. crude oil production and reduced available volumes of U.S. crude oil for export to distant markets relative to other global benchmarks. As the global market adjusts to reduced demand and production levels, EIA expects the spread to return to $4/b by the second half of 2022 based on the relative cost of exporting U.S. crude oil from the Cushing distribution hub to Asia, compared with the cost of exporting Brent crude oil from the North Sea to Asia.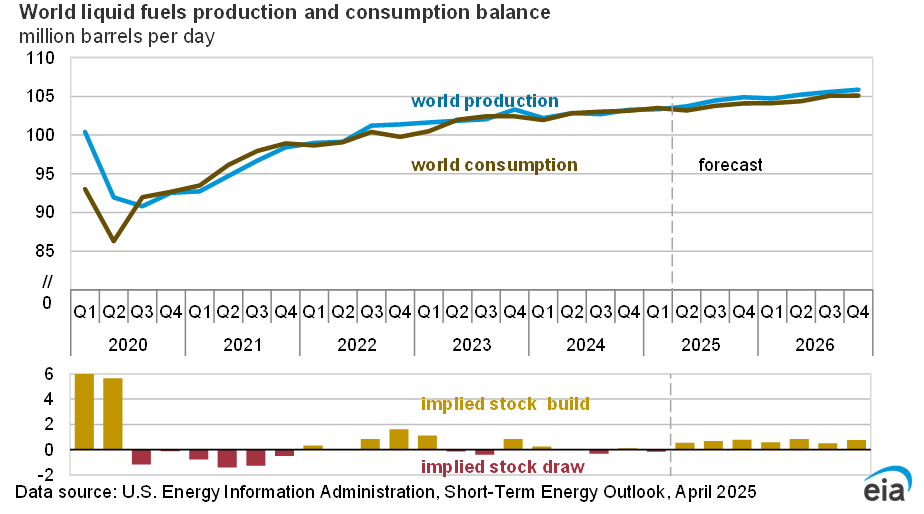 U.S. Petroleum Product Prices. Changes in travel patterns because of COVID-19- resulted in significant reductions in crude oil prices and demand for liquid fuels in the United States during 2020, which significantly reduced prices for gasoline and diesel fuel during the same period. U.S. retail prices for regular-grade gasoline averaged $2.18 per gallon (gal) during 2020, and retail diesel prices averaged $2.55/gal, down about 42 cents/gal and 50 cents/gal from their respective 2019 averages.
The U.S. gasoline and diesel price declines largely reflect a drop in crude oil prices. Refinery margins, which fell significantly as gasoline and diesel demand fell quickly in March and April, returned to levels within their normal seasonal ranges in the fourth quarter of 2020. During the same quarter, refiners reduced runs and inventory levels for gasoline and diesel fuel largely returned within their previous five-year ranges. EIA expects that any changes in petroleum product prices will largely follow movements in crude oil prices over the STEO forecast period as overall inventory levels remain above the five-year average and upward price pressures related to demand remain limited.
The U.S. refinery wholesale gasoline margin (the difference between the wholesale price of gasoline and the price of Brent crude oil) averaged 21 cents/gal in April 2020, increased to an average of 35 cents/gal in the third quarter of 2020, and fell back to 28 cents/gal in the fourth quarter. Third and fourth quarter margins both fell within normal recent five-year seasonal ranges. EIA expects the U.S. refinery wholesale gasoline margin will average 36 cents/gal in 2021 and 35 cents/gal in 2021, compared with a five-year (2016–20) average of 35 cents/gal.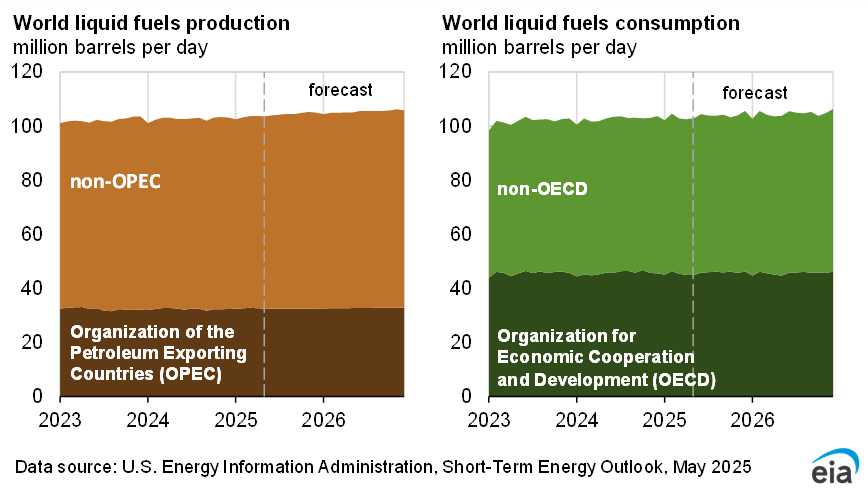 EIA expects the retail price of regular gasoline in the United States will average $2.33/gal during the first quarter of 2021, 9 cents/gal lower than at the same time last year. EIA expects the U.S. monthly regular retail gasoline price will increase from an average of $2.28/gal in January 2021 to an annual peak of $2.53/gal in May before falling to $2.29/gal in December 2021. The U.S. regular gasoline retail price, which averaged $2.18/gal in 2020, is forecast to average $2.40/gal in 2021 and $2.42/gal in 2022. Regional annual average forecast prices for 2021 range from a low of $2.10/gal in the Gulf Coast region—Petroleum Administration for Defense District (PADD) 3—to a high of $3.10/gal in the West Coast region (PADD 5).
The retail price of diesel fuel in the United States averaged $2.55/gal in 2020, which was 50 cents/gal lower than in 2019. EIA forecasts that the diesel price will average $2.71/gal in 2021 and $2.74/gal in 2022. EIA expects that global economic activity returning to pre-pandemic levels will help drive diesel refinery margins higher than their multiyear lows in 2020 during the forecast period. Diesel refinery margins based on Brent crude oil averaged 30 cents/gal in 2020, which was 11 cents/gal lower than the 2015–19 average and the lowest annual average since 2009. EIA expects diesel refinery margins will average 39 cents/gal in 2021 and 42 cents/gal in 2022.
Natural Gas Prices. Henry Hub spot prices averaged $2.03/MMBtu in 2020. Natural gas prices fell through much of 2020 because of sharp declines in LNG exports and industrial-sector natural gas consumption outpaced declines in production and contributed to inventories building at a faster rate than the five-year average.
Although Henry Hub spot prices rose late in 2020 to average $2.59/MMBtu in December, a warm early winter moderated price increases. EIA expects the average spot price of natural gas to increase to $3.01/MMBtu in the first quarter of 2021. The price forecast is based on expectations of slightly cooler-than-normal weather in the first quarter. However, the fourth quarter of 2020 was warmer than average. If warmer-than-average weather persists in the second half of winter, it could contribute to downward pressure on natural gas spot prices in the January–March period. In 2021, EIA expects general upward price pressures amid relatively low natural gas production, meaning higher prices will be needed in order to increase production and balance the supply and demand of natural gas. EIA forecasts the spot prices to average $3.01/MMBtu in 2021, up 98 cents/MMBtu from 2020, and increase further to an average of $3.27/MMBtu in 2022.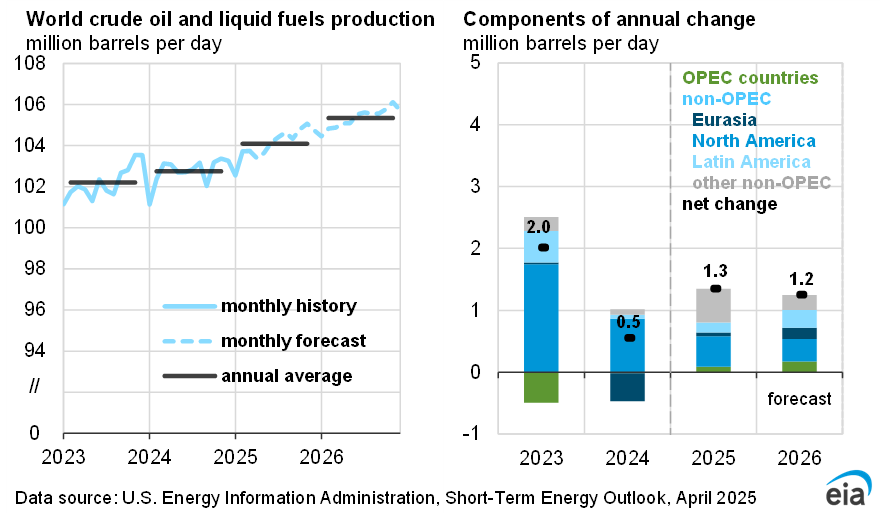 Coal Prices. EIA estimates the delivered coal price to U.S. electricity generators averaged $1.94 per million British thermal units (MMBtu) in 2020, which was 8 cents/MMBtu lower than the 2019 price. EIA forecasts that coal prices will increase to $2.06/MMBtu in 2021 and $2.07 in 2022.
Electricity Prices. EIA expects wholesale electricity prices in many areas of the country in 2020 will be higher than last year, reflecting the increased cost of natural gas for power generation. EIA forecasts that annual average wholesale prices in New England will rise 43% this year primarily as a result of expected colder winter weather that contributes to rising natural gas prices. However, in California, forecast wholesale electricity prices in 2021 average 8.1% lower than last year, primarily reflecting fewer spikes in prices related to hot summer weather as happened in 2020.
EIA forecasts the U.S. retail electricity price for the residential sector will average 13.3 cents/kWh in 2021, which is 1.2% higher than the average retail price in 2020. Forecast residential prices increase by an additional 1.2% in 2022.