Prices
Crude Oil Prices. Brent crude oil spot prices averaged $18 per barrel (b) in April, down $13/b from March as global oil demand continued to fall and global oil inventories rose strongly. In particular, crude oil prices fell as concerns regarding the capacity of global oil storage to handle expected inventory builds increased. EIA expects that the rate of inventory builds peaked in April, and as oil demand begins to return and oil supply decreases, upward price pressures will begin to emerge. With global oil demand expected to exceed supply beginning in the second half of 2020 and continuing through the forecast period, prices could rise steadily beginning in the second half of this year. Although EIA forecasts significant inventory draws beginning in July, high existing inventory levels, high OPEC spare production capacity, and uncertainty about the trajectory of oil demand will likely limit, but not completely contain, upward crude oil price movements.
EIA expects Brent crude oil prices will rise to an average of $32/b during the second half of 2020 and $48/b on average in 2021, reaching $54/b by the end of the year. However, this price path reflects an expected of global oil consumption to 97.4 million b/d during the second half of 2020, along with relatively high compliance to announced OPEC+ production cuts, both of which are uncertain. Also, the degree to which the U.S. shale industry responds to the current low prices will affect the oil price path in the coming quarters.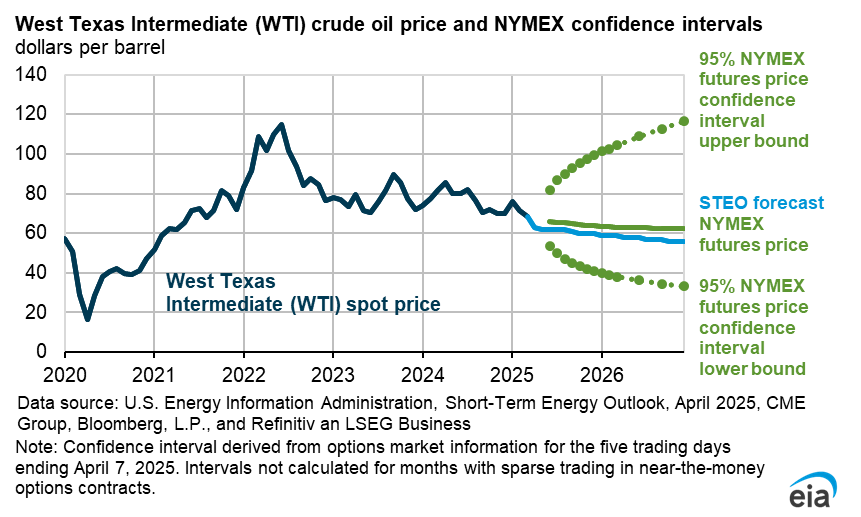 Product Prices. EIA expects that restrictions related to COVID-19 will drive sharp reductions in crude oil prices and U.S. liquid fuels demand during the second quarter of 2020, which will significantly reduce prices for gasoline and diesel fuel during the same period. EIA forecasts that U.S. average retail prices for regular-grade gasoline will average $1.91 per gallon (gal) and diesel retail prices will average $2.22/gal in the second quarter of 2020.
The gasoline and diesel price declines largely reflect a drop in crude oil prices. Refinery margins, after falling significantly as gasoline and diesel demand fell quickly in March and April, have increased recently as refiners have reduced runs. EIA expects petroleum product prices will rise as crude oil prices rise in the coming quarters. However, EIA generally expects U.S. average gasoline prices to remain lower than $2/gal until March 2021.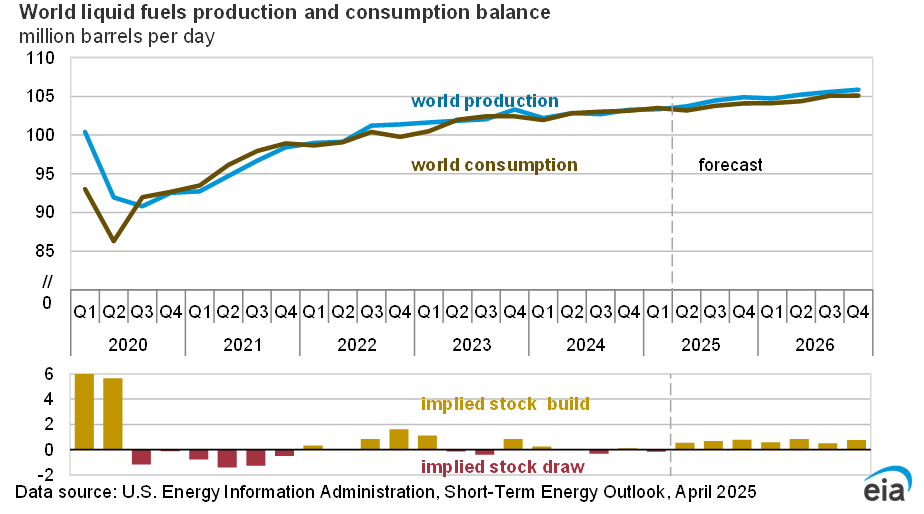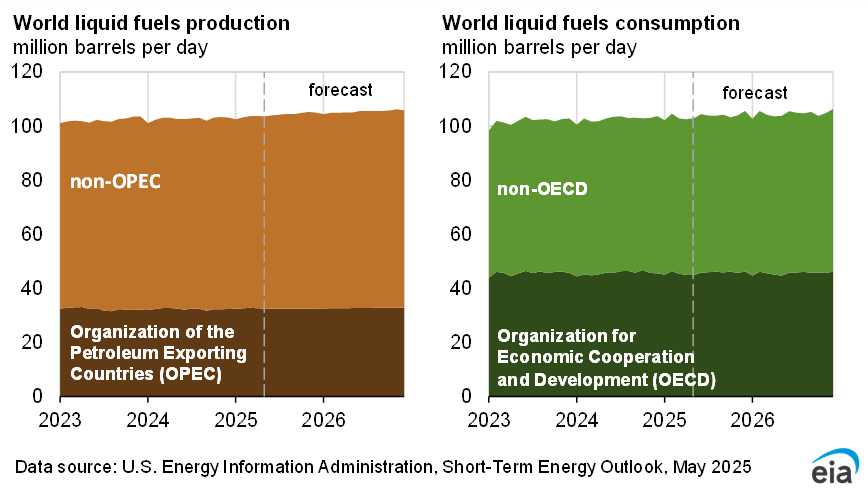 Natural Gas Prices. The May STEO assumes that the Henry Hub spot price will remain low compared with historical levels in the near term as reduced business activity and higher-than-average storage levels entering the summer injection season contribute to keeping prices low. In the third quarter of 2020, slowing natural gas production, combined with increasing industrial demand and higher winter demand for space heating, encourage increases in the natural gas price. EIA expects the Henry Hub spot prices will rise from an average of $2.14/MMBtu in 2020 to an average of $2.89/MMBtu in 2021.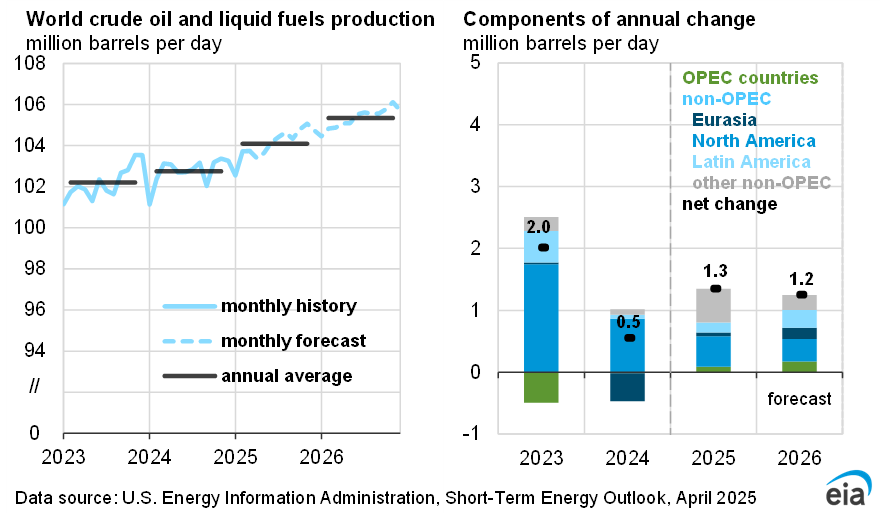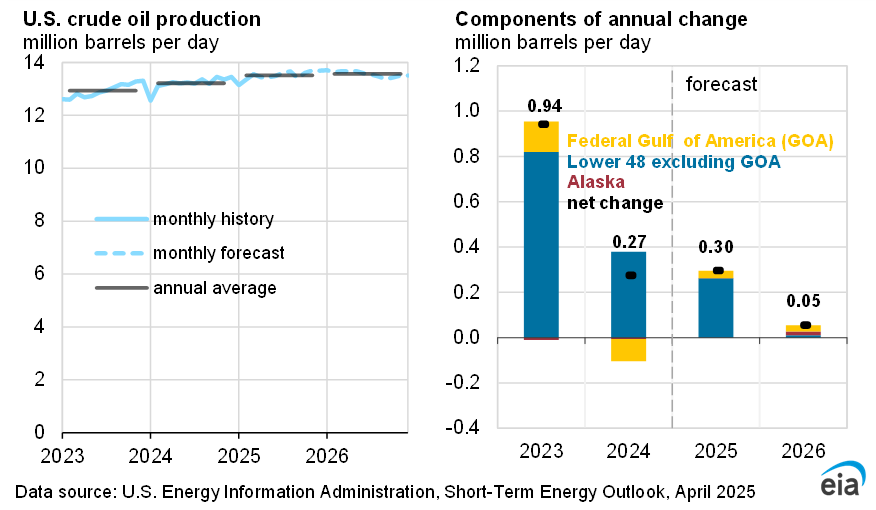 Coal Prices. EIA estimates the delivered coal price to U.S. electricity generators averaged $2.02 per million British thermal units (MMBtu) in 2019, which was 4 cents/MMBtu lower than in 2018. EIA forecasts that coal prices will decrease in 2020 to $1.99/MMBtu and increase in 2021 to $2.04/MMBtu.
Electricity Prices. The forecast reduction in overall electricity demand resulting from the economic slowdown, along with lower expected natural gas fuel costs for power generation, drives EIA's expectation that wholesale electricity prices will be lower in 2020 throughout the country. The lower costs of electricity supply will likely not affect retail electricity prices in the near term but may be reflected in lower retail prices in the future as utilities make adjustments to their electric rates during the coming months.