Natural gas
Natural gas storage
At the end of October, which marks the end of the U.S. natural gas storage injection season (March–October), we expect that U.S. working natural gas in underground storage reached 3,835 billion cubic feet (Bcf), 6% more than the five-year (2018–2022) average.
Driven by strong natural gas production and expected warmer-than-average winter weather, we forecast U.S. natural gas inventories will end the winter heating season in March with 21% more natural gas than the five-year average, with just under 2,000 Bcf in storage. We expect U.S. dry natural gas production to average almost 105 billion cubic feet per day (Bcf/d) during the second half of 2023, up nearly 2 Bcf/d from the first half of the year. We forecast U.S. dry natural gas production will continue to average around 105 Bcf/d during the winter heating season. Our expectation of warmer-than-average winter weather, with 4% fewer heating degree days (HDDs) this winter compared with the prior 10-year (2013–2022) average, reduces consumption for space heating in the commercial and residential sectors by 2% compared with the five-year average. Although we expect this winter on average to be warmer than normal, we expect January and February to be colder than last year's warmer-than-average January and February.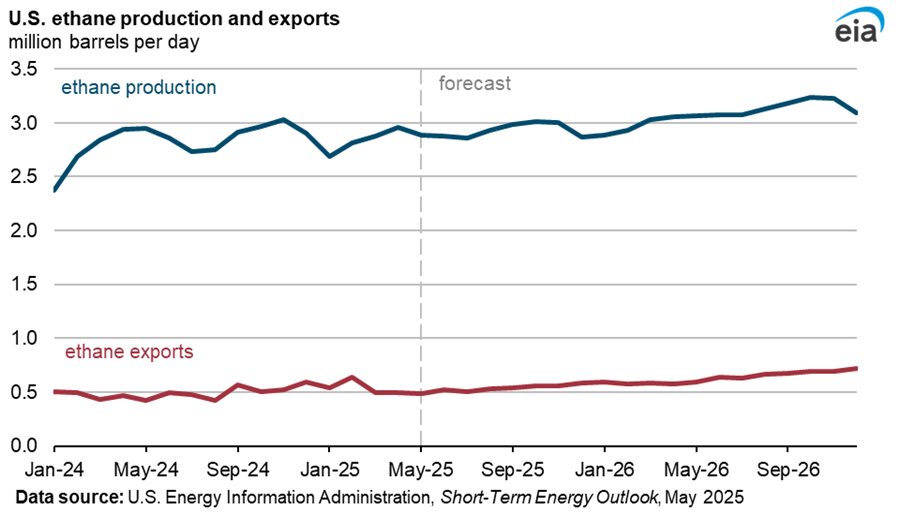 Natural gas storage inventories in the East, Midwest, and South Central are all more than 87% full entering the winter according to our forecast. In the Mountain region, which has much less storage capacity than the other regions, we estimate storage is 98% full, the highest level on record at the end of October. Pacific region storage stocks were well below the five-year average all of last winter, supporting record-high natural gas prices in the region in December 2022, but Pacific inventories have increased steadily this summer and are almost 80% full entering this winter heating season.
Natural gas prices
The U.S. benchmark Henry Hub spot price in our forecast averages around $3.40 per million British thermal units (MMBtu) over the course of the winter, peaking in January at over $3.60/MMBtu. Natural gas prices typically rise during the winter as demand for space heating increases and consumption of natural gas peaks for the year. We forecast prices this winter to be lower than last winter because of increased production and relatively full natural gas storage inventories entering the winter heating season. At the start of the winter last year, prices were over $5.00/MMBtu, and storage inventories were 3% below the five-year average.
Lower wholesale natural gas prices contribute to lower prices for residential consumers this winter compared with last year. Changes in residential natural gas prices lag changes in wholesale natural gas prices because of the nature of some utility regulation. Fixed costs incurred by utility companies are spread over time, usually resulting in lower residential prices in the winter than in the summer on a per-unit basis when all charges are combined. We forecast the residential price of natural gas will average just over $12 per thousand cubic feet this winter, down almost 20% from last year, reducing winter heating expenditures for consumers that heat their homes with natural gas.