Coal
Coal Supply. EIA estimates that U.S. coal production declined by 65 million short tons (MMst) (9%) to 690 MMst in 2019. In 2020, EIA expects total U.S. coal production will decline by a further 14% to 597 MMst because of anticipated declines in both exports and domestic consumption in the electric power sector. EIA expects the largest declines in coal production in 2020 will occur in the Western production region. The coal market has undergone significant restructuring in the past year.
EIA expects coal production will fall by an additional 3% in 2021 to 581 MMst. The slowing declines in production for 2021 are based on EIA's expectation of modest increases in demand for U.S. exports offset by continuing, albeit slowing, demand declines in the U.S. electric power sector.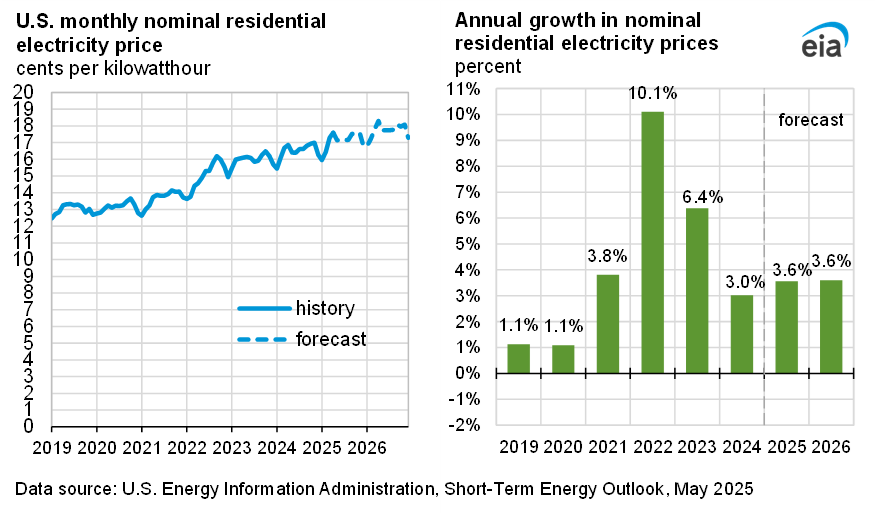 Coal Consumption. EIA estimates that coal consumption for all sectors totaled 596 MMst in 2019. EIA expects total coal consumption will fall by 65 MMst (11%) in 2020 and by 18 MMst (3%) in 2021. The declines in total consumption of coal closely track those in electric power consumption, which accounted for 91% of all coal consumption in 2019. The decrease in power sector coal consumption in 2020 reflects expected coal plant retirements and increasing shares of electricity generation from low priced natural gas and new renewables generating capacity. However, because EIA expects slight rises in natural gas prices in 2021, coal will become slightly more price competitive.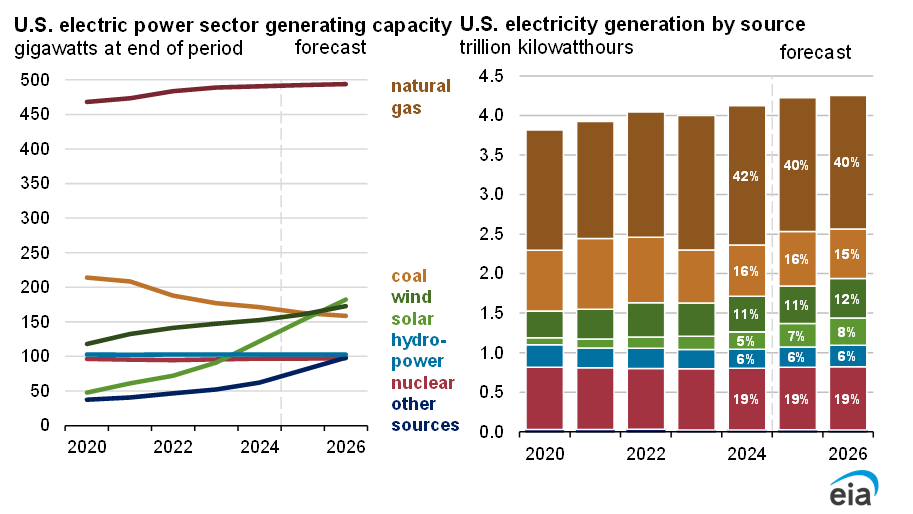 Coal Trade. In 2019, coal exports decreased 20% from 2018 to 92 MMst. Less favorable market conditions, such as competitive steam coal cargoes from Eastern Europe and high freight costs, contributed to the decline, which was offset somewhat by residual contracts that will expire in 2020. EIA estimates that U.S. coal exports will decrease by 11% in 2020 to 83 MMst and then stabilize near that level in 2021.
Despite EIA's forecast decline in total U.S. coal exports, shipments to top destinations such as India, Japan, and South Korea, are expected to remain stable. Exports to these three countries accounted for 34% (27 MMst) of the coal exported in 2019 through October. Europe received about 36% of U.S. exports during that period. Although U.S. exports to Europe are mostly metallurgical coal and used predominantly for steel production, U.S. steam coal is still used in Germany, Portugal, and the United Kingdom.
U.S. coal exports to North Africa, particularly Egypt and Morocco, rose 5% compared with the same period in 2018, accounting for 9% of total exports. Comparatively, coal exports to North and South America accounted for 8% and 9% of total coal, respectively.
Coal Prices. EIA estimates the delivered coal price to U.S. electricity generators averaged $2.05 per million British thermal units (MMBtu) in 2019, which was down slightly from the 2018 price. EIA forecasts that coal prices will increase to $2.10/MMBtu in both 2020 and 2021.