Coal
Coal Production. We forecast U.S. coal production will increase by 78 million short tons (MMst) (15%) in 2021 to total 617 MMst for the year. The expected increase in production reflects greater electric power sector demand for coal. Higher natural gas prices make coal more economically competitive relative to natural gas for electricity generation dispatch. In the forecast, coal production increases by 13 MMst (9%) in the Appalachia region, 14 MMst (16%) in the Interior region, and 51 MMst (17%) in the Western region.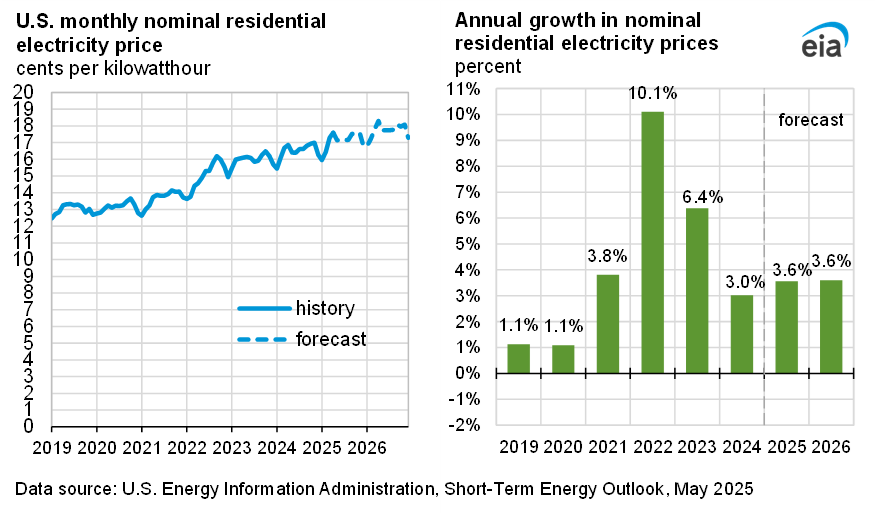 Coal production in the forecast falls by 7 MMst (1%) in 2022 to 610 MMst. The decline is in response to falling natural gas prices in our forecast, which tends to reduce coal use for power generation. Western region production is expected to decline by 6% in 2022, offsetting gains in the Interior (7%) and Appalachia (5%) regions.
Overall production capacity decreased in 2020, and the lost capacity is unlikely to come back online. We expect an increased draw on electric power sector coal inventories in 2021 (25 MMst) and 2022 (23 MMst).
Coal Consumption. We expect a 92 MMst (19%) increase in U.S. coal consumption in 2021. Rising consumption is largely driven by an increase in demand from the electric power sector, which is expected to consume 522 MMst of coal in 2021, 20% more than 2020. We forecast total U.S. coal consumption to decrease 32 MMst (6%), in 2022 to 537 MMst.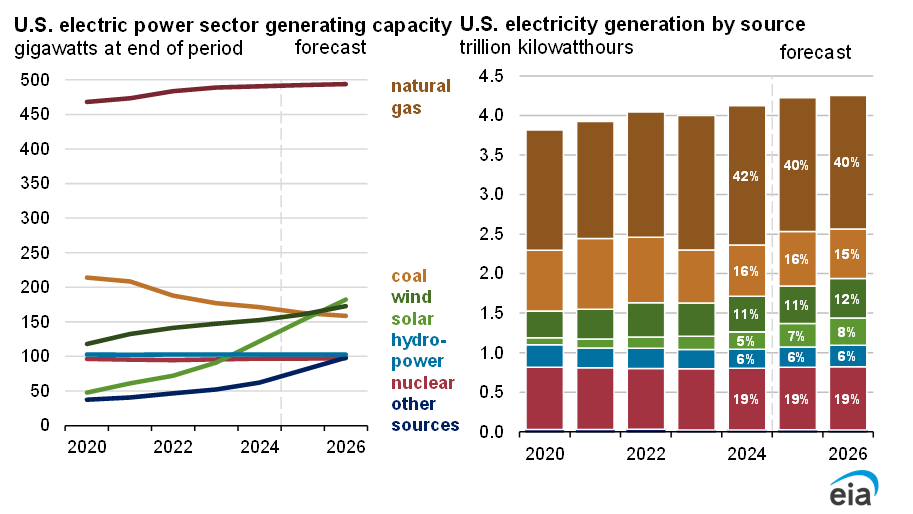 Coal Trade. Annual U.S. coal exports dropped 26% between 2019 and 2020, from 94 MMst to 69 MMst. Metallurgical coal exports were 42 MMst in 2020, 20% lower than the previous year, and steam coal exports were 27 MMst, 34% lower than in 2019.
Four of the top 10 U.S. coal export destinations—Brazil, Turkey, the Dominican Republic, and China—increased their imports of U.S. coal in 2020. Exports to the Dominican Republic increased by 1.3 MMst, more than double its 2019 imports of U.S. coal. In particular, an ongoing trade dispute between Australia and China has opened up opportunities for swing suppliers, such as the United States, to gain market share and increase overall exports especially for steam coal.
In our forecast, we assume the seaborne steam coal market in 2021 will be more robust with higher demand for U.S. coal. Forecast U.S. steam coal exports reach 37 MMst in 2021, which is a 37% increase from 2020. Rising U.S. exports in the forecast reflect smaller export volumes from other global suppliers and seaborne coal prices that are supportive of U.S. exports. We expect total U.S. coal exports to increase by 15 MMst (21%) in 2021 as a result of economic growth for major coal importers that are emerging from a lower demand market because of the pandemic in 2020. Steel production, which was limited by pandemic shutdowns, is expected to return to average levels during the remainder of 2021 and bring U.S. metallurgical coal exports to 47 MMst. We expect coal exports to increase by 15 MMst (18%) in 2022 as overall seaborne supply comes back into line with 2019 levels. We expect that U.S. coal exports will total 99 MMst in 2022.
Coal Prices. The delivered coal price to U.S. electricity generators averaged $1.92/MMBtu in 2020, which was 10 cents/MMBtu lower than the 2019 price. We forecast that coal prices will decrease to $1.88/MMBtu in 2021 and $1.85/MMBtu in 2022.