Coal
Coal Supply. EIA estimates U.S. coal production fell by 168 million short tons (MMst) (24%) in 2020 to total 537 MMst for the year. The decline in production was primarily caused by less power sector demand for coal amid low natural gas prices. Coal production declined by an estimated 40 MMst (30%) in the Interior region, 79 MMst (21%) in the Western region, and 50 MMst (26%) in the Appalachian region. EIA expects U.S. coal production to rise as natural gas prices increase in 2021, increasing demand for coal in the electric power sector. EIA expects coal production in 2021 to be 603 MMst, a 12% increase from 2020 levels.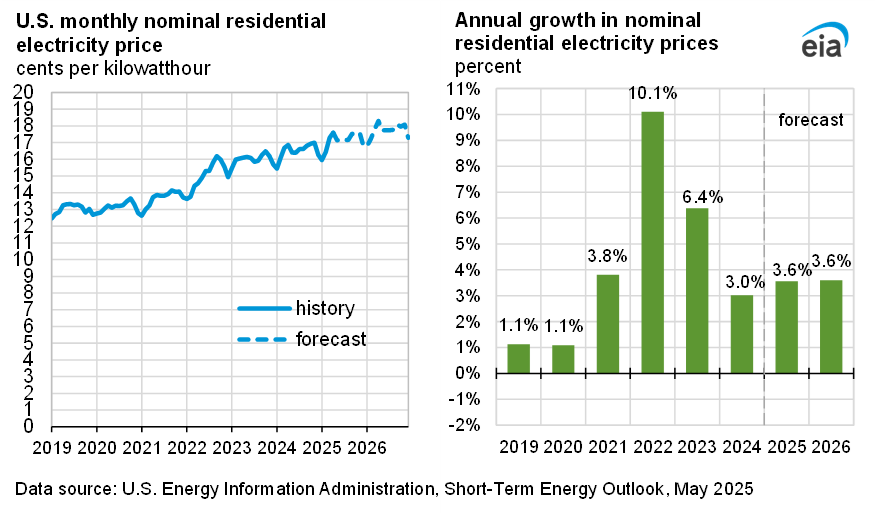 EIA expects increases in coal production to moderate in 2022, rising by 25 MMst (4%), as forecast coal consumption growth slows.
Coal Consumption. EIA estimates that coal consumption for all sectors totaled 476 MMst in 2020, a 110 MMst (19%) decline from the previous year. U.S. coal consumption in the electric power sector for 2020 declined by 104 MMst (19%), driving the decrease in overall coal consumption. Coal consumption at coke plants decreased from 18 MMst in 2019 to an estimated 15 MMst in 2020. EIA expects a 61 MMst rise in coal consumption from all sectors in 2021, largely driven by an increase in demand from the electric power sector, which is expected to consume 494 MMst of coal in 2021. In 2022, EIA forecasts total U.S. coal consumption to increase by 44 MMst to 581 MMst.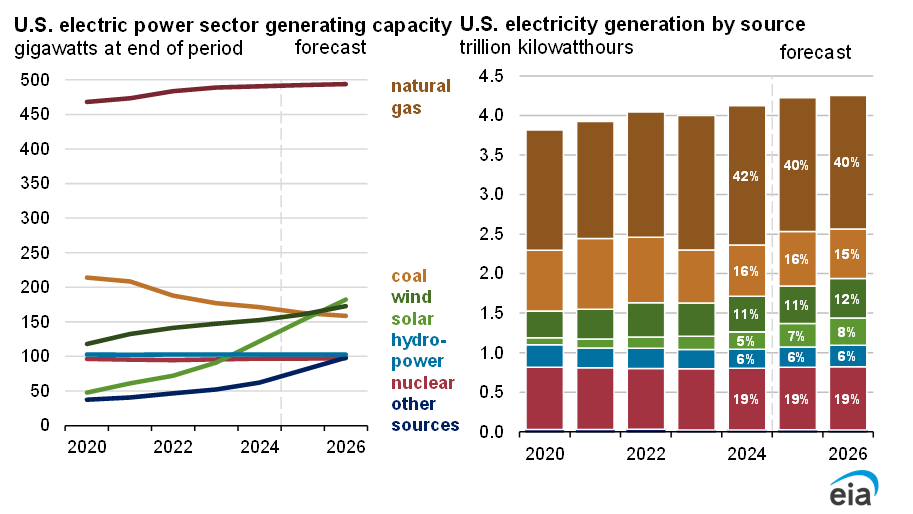 Coal Trade. Because of reduced demand from major international consumers, EIA estimates total U.S. coal exports declined by 26 MMst (28%) in 2020 to 66 MMst. This total is the second-lowest annual amount exported over the past 10 years. EIA estimates metallurgical coal exports were 42 MMst in 2020, 24% lower than the previous year, and steam coal exports were 24 MMst, a decrease of 35% from 2019 levels.
U.S. exports of both metallurgical and steam coal to India, a major consumer of U.S. coal, were down by 15% in 2020 through October compared with the same period in 2019. Japan, another major destination for U.S. coal exports, reduced imports of U.S. coal by 50% through October 2020. Exports to Europe have also decreased.
EIA expects total U.S. coal exports to increase by 15 MMst (23%) in 2021, as a result of economic growth in major coal importers that are emerging from lower demand because of the pandemic in 2020. EIA expects coal exports to increase by 10 MMst (12%) in 2022 as market conditions continue to normalize following the pandemic. However, EIA expects that coal exports will total 92 MMst in 2022, slightly less than 2019 levels.
Coal Prices. EIA estimates the delivered coal price to U.S. electricity generators averaged $1.94 per million British thermal units (MMBtu) in 2020, which was 8 cents/MMBtu lower than the 2019 price. EIA forecasts that coal prices will increase to $2.06/MMBtu in 2021 and $2.07 in 2022.