Petroleum Products
Gasoline prices: The front-month futures price of RBOB (the petroleum component of gasoline used in many parts of the country) settled at $2.33 per gallon (gal) on October 7, up 22 cents/gal from September 1 (Figure 5). The RBOB–Brent crack spread (the difference between the price of RBOB and the price of Brent crude oil) decreased by 2 cents/gal to settle at 38 cents/gal during the same period. The average RBOB–Brent crack spread in September was 38 cents/gal, an increase of 20 cents/gal compared with September 2020.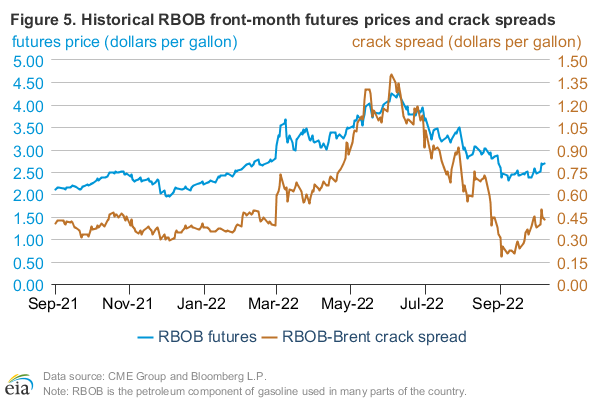 After the RBOB–Brent crack spread averaged 55 cents/gal in August, it fell in September because of rising crude oil prices and lower gasoline prices. Lower gasoline prices compared with August reflect expected lower seasonal demand for gasoline as well as the price decrease for winter grade gasoline, which is relatively less expensive for refiners to produce because of less stringent Reid Vapor Pressure (RVP) requirements. The shift from summer to winter grade gasoline primarily takes place in September, putting downward pressure on the futures contract price in September onward. Temporary weather-related refinery outages along the U.S. Gulf Coast contributed to reduced production and draws on gasoline inventories earlier in September and limited some of the downward pressure on crack spreads. Compared with August 2021, U.S. demand for gasoline in September was an estimated 0.4 million barrels per day (b/d) lower. We estimate U.S. gasoline consumption averaged 9.1 million b/d in September, which is 0.5 million b/d (6%) higher than in September 2020 but also 0.1 million b/d (1%) lower than September 2019 level. We expect gasoline consumption to remain just below 2019 levels through the end of 2022. Combined with high net imports and lower demand, inventories increased during the second half of September; however, lost production from earlier in the month resulted in gasoline stocks ending September at 225.1 million barrels, the lowest end-of-September inventory level since 2017. Overall lower inventories may also have contributed to increasing gasoline crack spreads from October 4 through October 7.
Ultra-low sulfur diesel prices: The front-month futures price for ultra-low sulfur diesel (ULSD) for delivery in New York Harbor settled at $2.46/gal on October 7, up 33 cents/gal from September 1 (Figure 6). The ULSD-Brent crack spread (the difference between the price of ULSD and the price of Brent crude oil) increased 8 cents/gal during the same period and settled at 51 cents/gal on October 7. The ULSD–Brent crack spread averaged 41 cents/gal in September.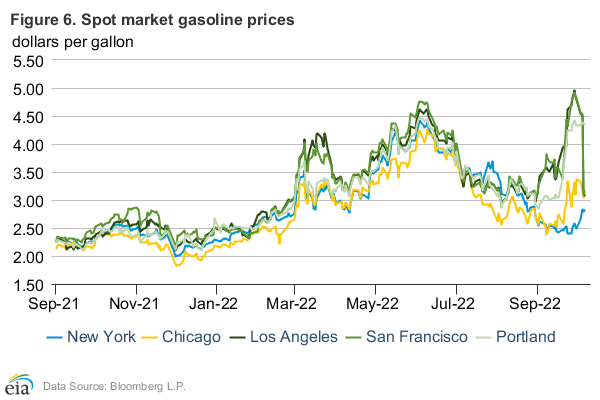 High distillate demand and low distillate production resulted in the highest ULSD-Brent crack spreads seen this year, continuing a trend of rising ULSD crack spreads in recent months. We estimate that distillate consumption was 4 million b/d in September—the highest September level since 2018. Hurricane-related disruptions, including refinery shutdowns and brief closures of Colonial Pipeline Line 2, contributed to reduced production and higher inventory withdrawals. Also, increases in the American Trucking Associations' Truck Tonnage Index and the Cass Freight Index suggest trucking demand remains high as supply chains continue to navigate a backlog of shipping orders. Rapidly rising shipping activity will likely contribute to high distillate demand. While we forecast gasoline demand to remain below 2019 levels throughout 2022, we forecast distillate demand to increase next year to its highest level since 2018.
Rising crack spreads also likely reflect relatively low distillate fuel inventories. Distillate inventories typically increase in the summer to prepare for growth in demand in the fall and winter, when diesel-powered agricultural equipment is used to harvest crops and the winter heating season begins. This year, distillate inventories did not build as much as usual due to high distillate demand and relatively low production. Second- and third-quarter distillate production was 5.5% and 5.1% below the five-year (2016–20) average, respectively. Our estimate of 4.5 million b/d for production this September is 6.9% below the five-year average. As a result, U.S. distillate stocks are below average for this time of year. In the Northeast, where 4.14 million households will use heating oil as their primary source of heat this winter, distillate inventories declined to 27.4 million barrels (30% below the five-year average), according to the latest Weekly Petroleum Status Report (Figure 7). Our Winter Fuels Outlook forecasts a 43% increase in heating oil expenditure over last year and the highest price per gallon for heating oil since the 2012–13 winter.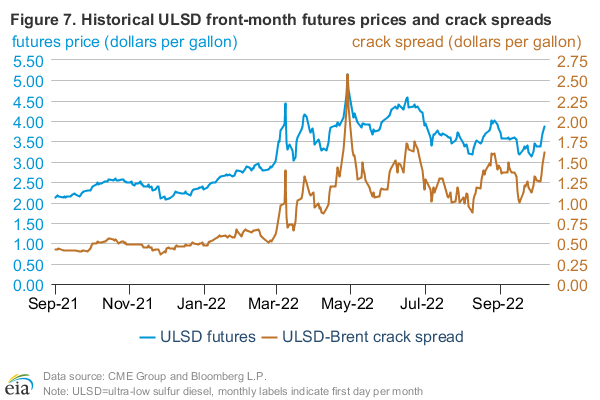 U.S. Gulf Coast crack spreads: The Mars crude oil 5:3:2 crack spread at the U.S. Gulf Coast is an indicator of profitability of gasoline and diesel-producing refinery operations for high-conversion refineries along the U.S. Gulf Coast that are able to process denser, more sour crude oil grades, such as Mars. On August 31, the five-day moving average crack spread reached 56 cents/gal, its highest point in 2021 (Figure 8). The high overall crack spread primarily reflects increased gasoline cracks, which also reached an annual high in August. Gasoline crack spreads in the first half of September were elevated because of temporary hurricane outages, which supported the 5:3:2 crack through the middle of the month, continuing the trend from August, as well as increasing distillate crack spreads as the outages resulted in distillate inventory withdrawals. As supply constraints were resolved and refineries came back online, gasoline cracks decreased while distillate cracks continued to increase.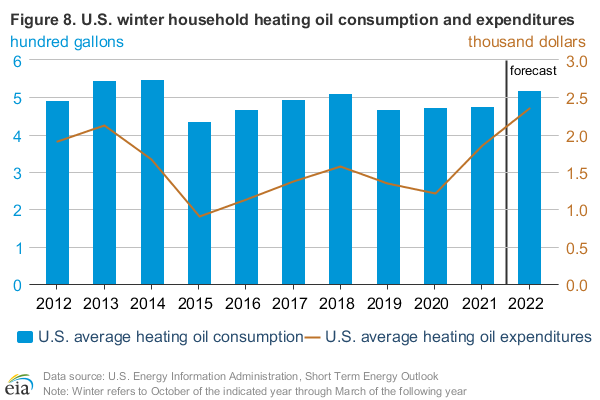 Higher crude oil costs, pressure on gasoline prices from the shift to winter grade, decreasing prices for renewable identification numbers (RINs), and seasonally lower demand has contributed to decreases in gasoline crack spreads in the latter half of September, while lower inventories and increasing seasonal demand continued to contribute to increasing diesel cracks. In addition to elevated crude oil prices globally, production outages in the Gulf Coast limited heavy sour crude oil production in August, and Mars grade in particular has faced extended production outages. As gasoline cracks decreased and distillate cracks increased, the distillate crack spread overtook the gasoline crack spread on September 23 and has remained higher so far into October. The relatively larger reduction in gasoline cracks compared with increasing distillate cracks contributed to decreases in the Mars 5:3:2 crack, which fell from 49 cents/gal on September 15 to 45 cents/gal on September 30. Since October 1, the gasoline and diesel crack five-day average crack spreads have both been increasing, contributing to increases in the Mars 5:3:2 crack as well.