Petroleum Products
Gasoline prices: The front-month futures price of reformulated blendstock for oxygenate blending (RBOB, the petroleum component of gasoline used in many parts of the country) settled at $1.64 per gallon (gal) on November 7, up 6 cents/gal since October 1 (Figure 5). The RBOB–Brent crack spread (the difference between the price of RBOB and the price of Brent crude oil) decreased by 2 cents/gal to settle at 15 cents/gal during the same period.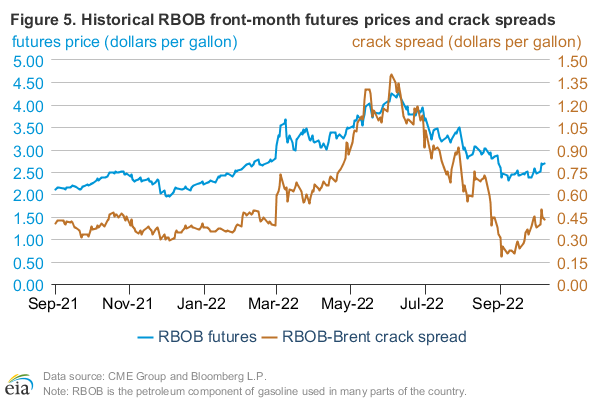 The monthly average RBOB–Brent crack spread of 20 cents/gal for October was the first time crack spreads averaged more than the rolling five-year monthly average since January 2018. One factor likely supporting gasoline crack spreads is high U.S. gasoline consumption, which EIA estimates was almost 9.4 million barrels per day (b/d) in October. If confirmed in monthly data, this level would be an all-time high for the month of October. This estimate follows EIA's most recent Petroleum Supply Monthly, which showed August consumption levels were the highest for any month on record. Higher consumption likely contributed to larger than average inventory withdrawals in motor gasoline stocks. U.S. total motor gasoline stocks declined by 12.1 million barrels in October, more than the five-year (2014–18) average October decline of 6.7 million barrels. U.S. gasoline stocks ended October 1% lower than the five-year average, supporting gasoline crack spreads during the season that generally has the lowest crack spreads of the year.
California gasoline: Although California wholesale and retail prices are typically higher than the rest of the United States, several refinery problems, in addition to a generally tight market, recently contributed to rising gasoline prices in the state. Both the Los Angeles CARBOB (California Reformulated Blendstock for Oxygenate Blending) and San Francisco CARBOB reached premiums of more than $1.50/gal to the NYMEX RBOB futures contract in October (Figure 6). These were the highest monthly average price spreads to NYMEX RBOB since 2015 in Los Angeles and since 2006 in San Francisco, the year the RBOB contract began trading.
California is generally isolated from other refinery centers in the United States, and its unique gasoline specifications further limit what types of gasoline it can import from other countries. Refinery gross inputs in the West Coast—Petroleum Administration for Defense District (PADD 5)—declined to the lowest level in nearly three years for the week ending September 27, 2019, reflecting several planned and unplanned refinery outages in the region and contributing to low gasoline supply in California. Although price premiums briefly returned to less than 50 cents/gal in late October, continued issues affecting startups at some refineries contributed to rising prices in early November, and price premiums settled at 73 cents/gal in Los Angeles and 60 cents/gal in San Francisco as of November 7.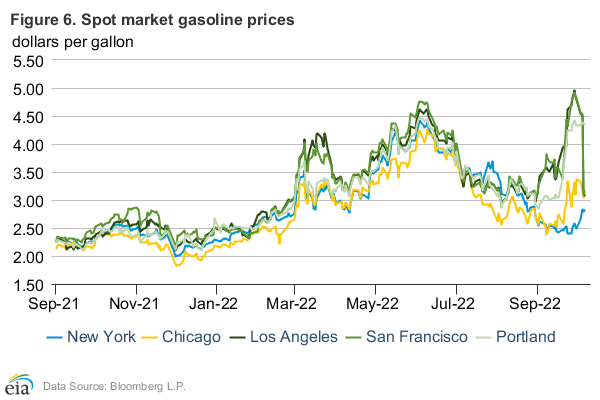 The wholesale price increases have caused rising West Coast retail gasoline prices. The average price of regular-grade retail gasoline in the West Coast, including California, in October was $3.64/gal. Given the limited recent refinery restarts and wholesale price declines, EIA forecasts retail prices in the region will average $3.44/gal in November and $3.12/gal in December. However, the retail price forecast depends on sustained increases in refinery runs in the region, a notable uncertainty given the recent restart issues.
Ultra-low sulfur diesel prices: The ultra-low sulfur diesel (ULSD) front-month futures price increased 2 cents/gal from October 1 to settle at $1.92/gal on November 7. The ULSD–Brent crack spread (the difference between the price of ULSD and the price of Brent crude oil) decreased 6 cents/gal to settle at 44 cents/gal during the same period (Figure 7).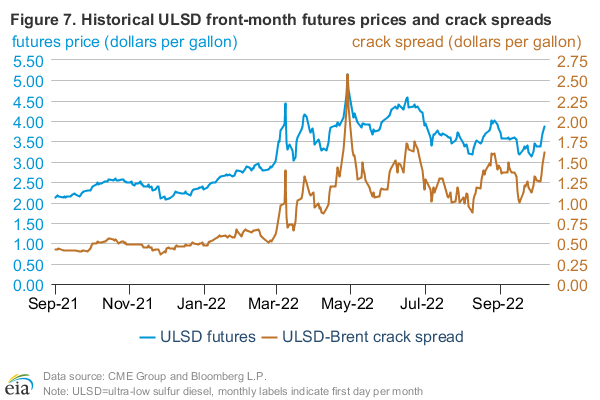 EIA estimates that distillate fuel oil inventories ended October 9.9 million barrels lower than September levels, the largest single month draw since October 2018. Higher demand and lower production likely contributed to the draw. Distillate fuel oil consumption increased by 0.4 million b/d (9.4%) between September and October and was 2.5% higher than the five-year (2014–18) monthly average. Seasonal factors also contributed to the draw. October distillate production declined because of fall refinery maintenance, and consumption increased because of the peak of the harvest season as well as the start of the winter heating season. EIA expects distillate production and consumption to increase in 2020. EIA expects production to increase by 8.1% from 5.2 million b/d in 2019 to 5.6 million b/d in 2020, and consumption to increase by 1.2% from 4.10 million b/d to 4.15 million b/d during the same period.
International residual crack spreads: Prices for high-sulfur residual fuel oil—a petroleum product primarily used in maritime shipping—fell sharply in October. In Singapore—the world's largest market for maritime fuel—the monthly average price of the 3.5% sulfur fuel oil contract fell 24.5% from $62.36 per barrel (b) in September to $47.07/b in October. During the same period, prices for Dubai crude oil—the benchmark crude oil for the Singapore market—fell 2.5%, from $61.71/b to $60.19/b. As a result, the October crack spread fell to -$13.12/b. Although the crack spread is typically negative, it had been generally increasing since about 2014 and was occasionally positive (Figure 8).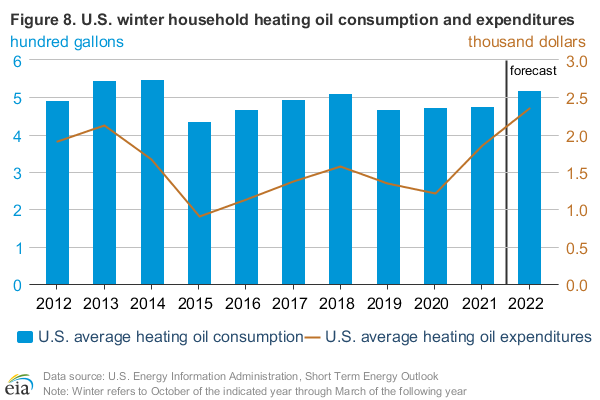 The recent decline in high-sulfur residual prices is likely related to the upcoming change in International Maritime Organization (IMO) specifications on sulfur levels in bunkering fuel (IMO 2020). EIA forecasts that use of high-sulfur residual fuel oil for bunkering fuel will decline as demand shifts to lower sulfur alternatives, resulting in continued downward pressure on the price of high-sulfur residual fuel oil. Slowing demand for the bunkering fuel and recent price fluctuations associated with the September attacks on Saudi Aramco could also help to explain the recent volatility in the price for high-sulfur residual fuel oil, and by extension, the crack spread. The crack spread has fluctuated between an annual high of $17.52/b on September 17 and a low of -$16.47/b less than a month later.