Petroleum Products
Gasoline prices: The front-month futures price of RBOB (the petroleum component of gasoline used in many parts of the country) settled at $3.66 per gallon (gal) on May 5, up 51 cents/gal from April 1 (Figure 5). The RBOB–Brent crack spread (the difference between the price of RBOB and the price of Brent crude oil) settled at $1.02/gal on May 5, up 35 cents/gal during the same period. The RBOB–Brent crack spread increased by 11 cents/gal (13%) on April 27, the third-highest daily percentage increase in 2022 (March 1 marked the highest increase when the RBOB futures contract rolled to a new month reflecting more expensive summer grade gasoline).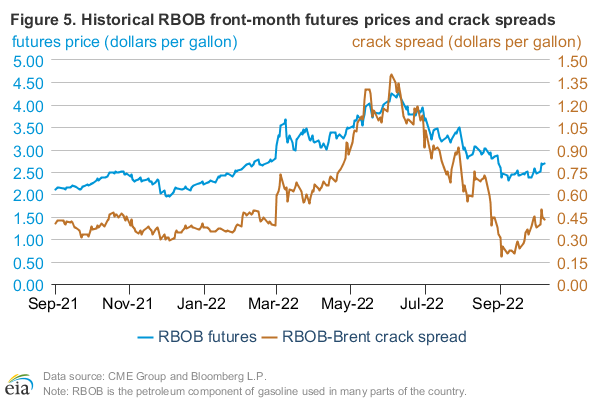 April's increasing RBOB–Brent crack spread was likely due to decreasing gasoline inventories. We estimate that U.S. gasoline inventories decreased from March to April by 8.2 million barrels (3.5%). One reason for this inventory decrease was increased driving. We estimate that gasoline consumption increased to 8.7 million barrels per day (b/d) in April, a 0.1 million b/d (1%) increase from March. Gasoline inventories have been particularly low on the East Coast where, according to our Weekly Petroleum Status Report (WPSR), inventories on April 22 were at their lowest levels since November 2014. The RBOB futures contract is for delivery in New York Harbor (NYH), and particularly low inventories in that region could be contributing to higher RBOB-Brent crack spreads. Gasoline inventories in the Northeast (PADD 1A and 1B) were 28 million barrels on April 22, according to WPSR data, the lowest level for April since 2011. Low inventories and high RBOB prices likely supported imports from international markets in late April. Gasoline imports to the East Coast in the week ending April 29 were 812,000 b/d, the highest since the week ending October 1, 2021, according to WPSR data.
Ultra-low sulfur diesel prices: The front-month futures price for ultra-low sulfur diesel (ULSD) for delivery in New York Harbor settled at $4.04/gal on May 5, a 62 cents/gal increase from April 1 (Figure 6). The ULSD-Brent crack spread (the difference between the price of ULSD and the price of Brent crude oil) increased by 46 cents/gal during the same period and settled at $1.40/gal on May 5. The ULSD-Brent average crack spread in April was the highest recorded in real terms in data going back to July 1988. The ULSD front-month futures average price in April was the highest in real terms since February 2013.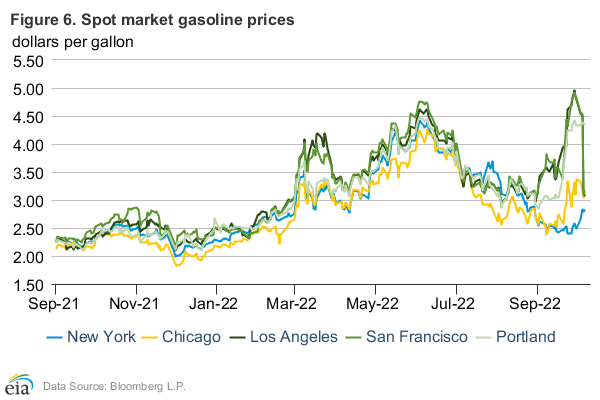 High global demand and low inventories continued to support higher distillate prices and crack spreads in April. Distillate exports from Russia have declined as a result of sanctions. This drop in global supply combined with refinery closures over the past few years has produced a tight U.S. distillate market. U.S. distillate stocks declined by 9.4 million barrels (8%) from March, falling to 24% below the five-year average. Increased trucking activity and increased distillate demand for oil and natural gas drilling could be contributing to higher domestic diesel demand and supporting ULSD prices. In addition, distillate exports are contributing to lower stock levels. Our estimate for April net distillate exports of 1.3 million b/d, if confirmed in monthly data, would be the highest amount of net distillate exports since September 2019.
Front-month ULSD prices increased significantly in the last week of April and may have been the result of reduced liquidity in the expiring May ULSD futures contract. Liquidity in financial markets refers to the ease of buyers and sellers to make trades at stable, transparent prices. During periods of low liquidity, market participants may need to bid at price levels higher or lower than during periods of ample liquidity to transact in the market. From April 25 to April 28, the May ULSD futures contract increased $1.04/gal (26%), and the June ULSD futures contract increased 35 cents/gal (10%), suggesting low liquidity ahead of expiration may have added price volatility. This volatility was also evident when comparing the May ULSD futures price with Brent crude oil. ULSD futures prices usually follow movements in the underlying price of crude oil because it makes up the largest part of the overall cost to produce diesel fuel. However, between April 25 and April 28 when ULSD futures prices increased by 26%, Brent crude oil futures prices increased by just 5%.
International distillate crack spreads: Global spot distillate crack spreads at the major global trading hubs in Amsterdam, Rotterdam, and Antwerp (ARA); Singapore; and NYH increased substantially in April. The ARA ULSD-Brent crack spread averaged $1.07/gal, the Singapore-Dubai crack spread averaged 83 cents/gal, and the NYH ULSD-Brent crack spread averaged $1.55/gal (Figure 7). On average, inventories in all three trading hubs have been more than 30% below the five-year average since the beginning of the year. However, crack spreads increased more at the Singapore and NYH trading hubs as new dynamics interacted with the already tight global distillate market. In Singapore, lower refinery runs in China as a result of mobility restrictions in response to increased COVID-19 cases as well as lower export quotas constrained regional petroleum trade, leading the crack spread to nearly double from 43 cents/gal in March. In NYH, increasing distillate exports in the U.S. Gulf Coast, fewer imports from Europe, and lower refining capacity in PADD 1 pushed the crack spread to reach its highest level on record. Meanwhile, concerns about replacing Russia's distillate exports to Europe continued to drive ARA crack spreads higher, rising by 25 cents/gal over March.