Petroleum Products
Gasoline prices: The front-month futures price of reformulated blendstock for oxygenate blending (RBOB, the petroleum component of gasoline used in many parts of the country) settled at $1.15 per gallon (gal) on June 4, up 38 cents/gal from May 1, 2020 (Figure 5). The RBOB–Brent crack spread (the difference between the price of RBOB and the price of Brent crude oil) increased by 6 cents/gal to settle at 20 cents/gal during the same period. In May, crack spreads ranged from a minimum of 14 cents/gal, a record-low crack spread for that month since 2006 (when RBOB contracts began selling), to a maximum of 23 cents/gal.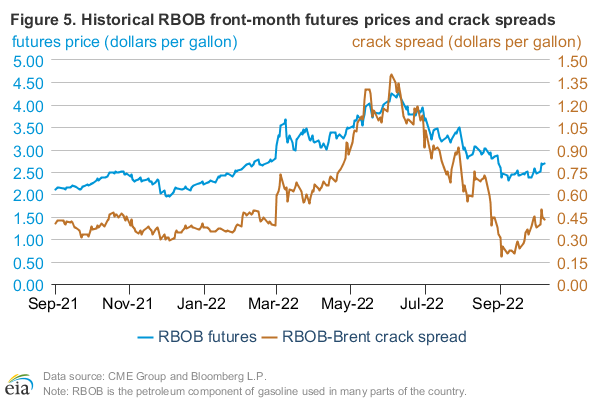 May marked the first time the crack spread was positive for each trading day of a month since February, the last complete month before the March 13 proclamation of a national state of emergency in the United States. Increasing gasoline demand and relaxed lockdowns related to COVID-19 mitigation efforts provided some strength to the crack spread. EIA estimates that the consumption of finished motor gasoline increased to 7.3 million b/d in May from 5.7 million b/d in April. Personal travel numbers matched the trend of motor gasoline consumption. According to INRIX, compared with the last pre-lockdown week ending February 29, weekly personal travel was down 16% on May 29—compared with 47% on April 3. This increase in consumption, along with reduced refinery runs, contributed to gasoline inventories decreasing from record high levels in mid-April to an estimated 256 million barrels at the end of May. Increased net imports of gasoline partly offset the effect of rising consumption on gasoline inventories. EIA estimates a 0.7 million b/d increase in month-over-month net imports to 0.3 million b/d.
Ultra-low sulfur diesel prices: The ultra-low sulfur diesel (ULSD) front-month futures price for delivery in New York Harbor settled at $1.07/gal on June 4, 2020, up 28 cents/gal from May 1, 2020 (Figure 6). The ULSD–Brent crack spread (the difference between the price of ULSD and the price of Brent crude oil) decreased by 4 cents/gal to settle at 12 cents/gal during the same period. The average ULSD–Brent crack spread for May at 14 cents/gal was less than the five-year (2015–19) average of 34 cents/gal.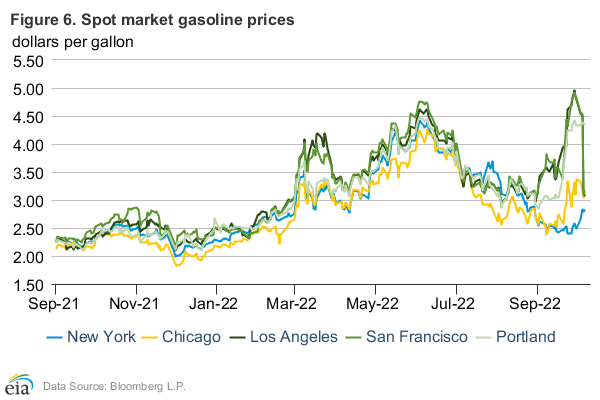 EIA estimates May 2020 distillate consumption was 3.4 million b/d, down 0.7 million b/d (17%) from May 2019, but up 0.3 million b/d (11%) from April 2020. This increase can partially be explained by the increase in long-haul trucking as economic activity begins to recover. According to INRIX, which compared traffic data for the week ending May 22 with that of the week ending February 29, trucking was down 5% from pre-lockdown levels. Meanwhile, if confirmed by EIA's Petroleum Supply Monthly, distillate imports for the four weeks ending May 29 increased to their highest May levels since 2007, and exports decreased to their lowest May levels since 2011. Overall, net exports of distillate in May were 0.8 million b/d, down 0.6 million b/d from April. This decrease likely contributed to the increase in inventories, with distillate inventories rising to 174 million barrels at the end of May, 44 million barrels more than in May 2019 and the highest May-ending level since 1980.
RBOB–ULSD product spread: RBOB front-month futures averaged 4 cents/gal more than ULSD front-month futures in May 2020 after averaging 20 cents/gal less in April (Figure 7). Although a positive spread has historically occurred during the summer months, the monthly average RBOB–ULSD front-month futures spread has not been positive since March 2018.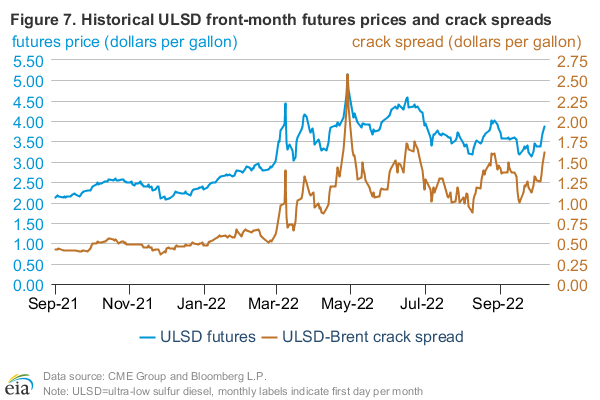 The reversion to the five-year average, after two consecutive months of being lower than it had been in the past five years, indicates a shift in the relative strength of gasoline markets compared with diesel markets. Although diesel demand decreased less than gasoline demand during the initial stages of COVID-19-related restrictions, gasoline demand has recently begun to increase more than diesel. This shift back toward gasoline demand is also reflected by refinery yields.
April refinery yields were unusual because the initial drop in distillate consumption relative to gasoline consumption was small, which supported distillate refining margins that encouraged refineries to increase distillate production. May refinery gasoline yields reverted back to levels similar to historical yields as the recent shift toward gasoline demand has supported increased gasoline production. EIA estimates that the May refinery gasoline yield increased to 46% compared with 40% in April, while the refinery distillate yield decreased to 36%, compared with 39% a month ago. Retail prices have reflected the same trend as front-month futures prices. Regular gasoline retail prices have increased every week in May, but regular diesel retail prices decreased every week until May 25.