Natural Gas
Prices: The front-month natural gas futures contract for delivery at the Henry Hub settled at $3.81 per million British thermal units (MMBtu) on January 6, 2022, which is down 45 cents/MMBtu from December 1, 2021 (Figure 4). The average price for front-month natural gas futures contracts in December was $3.86/MMBtu, the highest December average since 2018.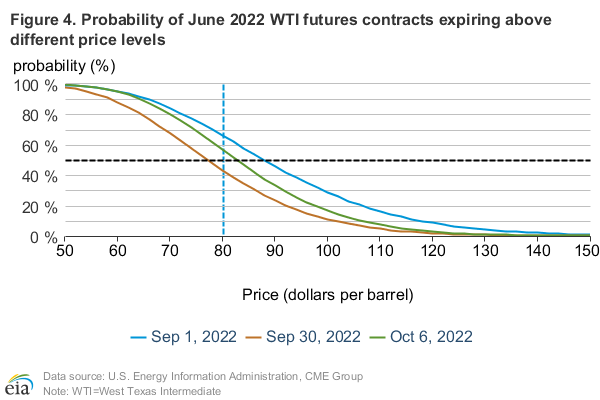 The front-month futures price in December decreased from price levels seen from September through November. Warmer-than-normal temperatures across most of the country during December contributed to this price decrease. December had 612 heating degree days (HDDs), 122 fewer HDDs than the 10-year average. Much of the warm weather has been in the Northeast and the Midwest, areas of the country that rely on natural gas for space heating in the residential and commercial sectors. The warm temperatures have resulted in decreased demand in the residential and commercial sectors of these regions.
As a result of warmer-than-normal temperatures in December, the United States has had lower-than-average natural gas stock draws, allowing storage inventories to rise above the five-year average for the second half of December. We estimate natural gas inventories fell by 338 Bcf in December, which is 200 Bcf less than the five-year (2016–20) average. The lower-than-average draw brought inventory levels to 3,221 Bcf, which is 108 Bcf (3%) higher than the five-year (2016–2020) average at the end of December.