Natural Gas
Prices: The front-month natural gas futures contract for delivery at the Henry Hub settled at $2.33 per million British thermal units (MMBtu) on October 3, down 3 cents/MMBtu from September 3 (Figure 9). Natural gas futures prices increased through the first half of September, reaching the highest level in five months on September 16. In September 2019, total natural gas consumption as well as natural gas consumption for power generation established new monthly records, which provided some support for futures prices. U.S. cooling degree days were 27% higher than normal in September, contributing to the increased natural gas consumption for power generation.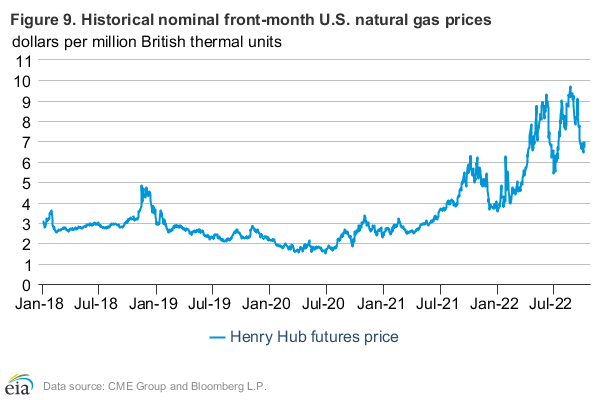 Despite the increase in consumption, natural gas injections into storage remained higher than normal throughout September, helping to bring prices down in the second half of the month. EIA forecasts natural gas injections will continue in October and that inventories will reach almost 3.8 trillion cubic feet at the end of the month, which would be 17% higher than year-ago levels.
Rising U.S. natural gas production, which EIA estimates established another record in September, contributed to the greater-than-normal injections. Production growth, however, has been slowing in the United States. The year-on-year increase of 7.0 billion cubic feet per day (Bcf/d) in September is down from the year-on-year increase of 10.8 Bcf/d in January 2019. EIA expects U.S. natural gas production to slow further in the coming quarters as the lagged effect of falling prices through much of 2019 reduces natural gas-directed drilling. EIA forecasts dry natural gas production to be relatively flat from December 2019 through December 2020.
Money managers open interest: Between August 13 and September 17, 2019, the number of futures short positions that money managers reported holding for NYMEX natural gas contracts declined by 44% (Figure 10). A short position by money managers indicates expectations of lower prices and a long position indicates the opposite. Money managers collectively held the largest short position on August 13 since March 8, 2016. Money managers increased their short positions through the summer concurrently with declining natural gas prices, which reached their lowest level in more than three years on August 5, 2019. Prices then began increasing and rose to their highest level in five months by the middle of September. The higher prices encouraged many money managers to purchase offsetting contracts to get out of their short positions, which may have contributed to some of the increase in futures prices during this time. The money manager category of the Commitments of Traders report, published weekly by the Commodity Futures Trading Commission, includes fund managers that conduct organized futures trading on behalf of clients and that are not involved in physical commodity trading as their business activity.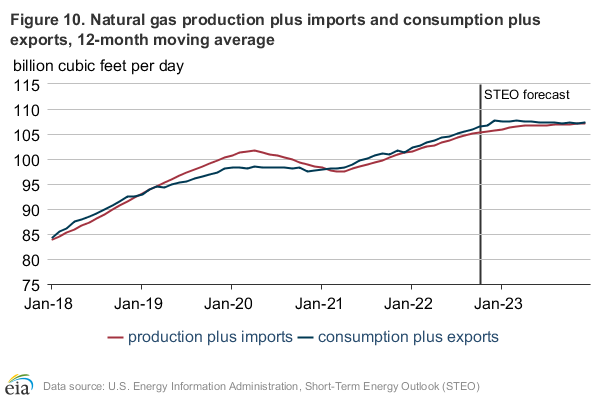 Market-derived probability: On September 3, 2019, EIA's market-derived probability of the January 2020 natural gas futures contract expiring at more than $3/MMBtu was 24% (Figure 11). The probability—which EIA calculates using futures and options data—increased to 28% on October 3, 2019, largely because both the futures contract price and implied volatility increased between the two dates. Throughout September, the natural gas futures contracts through March 2020 remained lower than $3/MMBtu. The last time that the natural gas front-month futures price did not exceed $3/MMBtu between October and March was the winter of 2015–16.