Natural Gas
Prices: The front-month natural gas futures contract for delivery at the Henry Hub settled at $2.49 per million British thermal units (MMBtu) on September 3, up 39 cents/MMBtu from August 3 (Figure 10). The closing price on August 28 of $2.66/MMBtu was the highest price since November 22, 2019. The front-month futures price traded in a range of 89 cents/MMBtu in August, the widest trading range for August since 2010.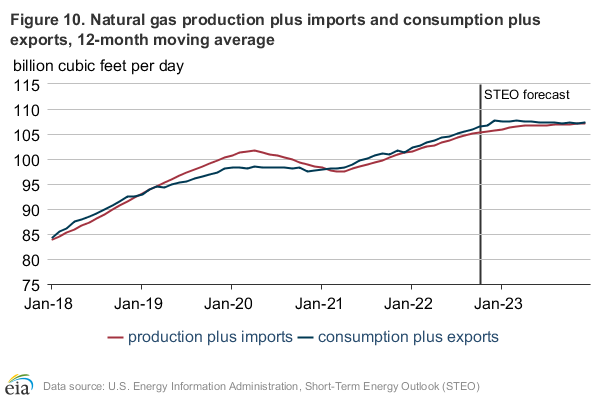 Higher-than-normal temperatures continued to contribute to increased consumption of natural gas for power generation. EIA estimates that natural gas consumption from the electric power sector totaled 41.0 billion cubic feet per day (Bcf/d) in August 2020, the second-highest on record for the month of August. Low natural gas prices in recent months have contributed to increased consumption for power generation, but they have also contributed to decreasing natural gas production, which declined to 88.4 Bcf/d in August, 4.9 Bcf/d lower than August 2019. EIA forecasts that production will decline by about the same amount in 2021 as consumption declines, but that liquefied natural gas (LNG) exports will increase, which will tend to lower inventories compared with 2020 and provide upward pressure on Henry Hub prices. Rising international natural gas prices are further indications of increasing international demand for natural gas and LNG. The LNG Japan/Korea Marker and Title Transfer Facility price in the Netherlands both increased in August to the highest levels since January 2020.
Natural gas spot prices and inventory changes: The monthly average Henry Hub natural gas spot price rose to $2.30/MMBtu in August 2020, 53 cents/MMBtu higher than July and the first year-on-year increase in the monthly average price since March 2019. Natural gas inventories have shown year-on-year increases since April 2019 (Figure 11). However, EIA forecasts that natural gas production will decline until March 2021, averaging 3.3 Bcf/d lower in 2021 than in 2020, and that natural gas inventories will begin showing year-on-year decreases in December 2020. The decline in inventories is expected to contribute to higher prices. EIA forecasts that Henry Hub spot prices will remain higher than $3.00/MMBtu throughout 2021, averaging $3.19/MMBtu, which would be $1.02/MMBtu higher than in 2020.