Natural Gas
Prices: The front-month natural gas futures contract for delivery at the Henry Hub settled at $4.64 per million British thermal units (MMBtu) on September 2, 2021, which was up 71 cents/MMBtu from August 2, 2021 (Figure 8). The average price for front-month natural gas futures contracts in August was $4.03/MMBtu. August was warmer than normal, with 355 cooling degree days (CDD), 8.6% more than the 2011–2020 average. The United States this summer (June–August) had 3.9% more CDDs than the 2011–20 average. The hot weather this summer combined with record exports of liquefied natural gas (LNG) has contributed to month-on-month increases in the Henry Hub futures price since March 2021, leading to the highest August average since 2010. Further upward price pressures came from the arrival of Hurricane Ida, which resulted in more than 90% of offshore natural gas production in the Federal Offshore Gulf of Mexico being shut in during late August.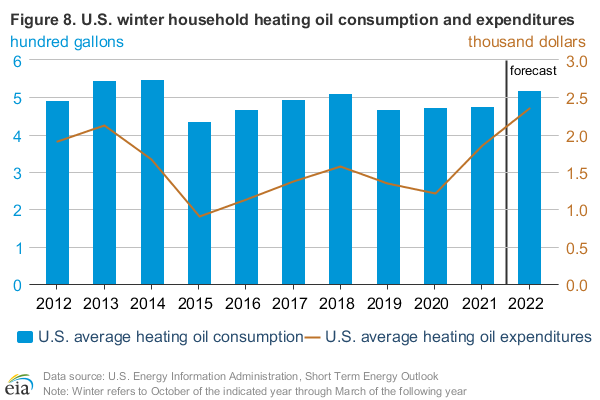 The Henry Hub front-month futures price increased by 47 cents/MMBtu from $3.90/MMBtu on August 25 to $4.37/MMBtu on August 27, as Hurricane Ida approached the U.S. Gulf Coast, leading producers to evacuate personnel from offshore platforms and to shut in production. On August 27, the U.S. Bureau of Safety and Environmental Enforcement (BSEE) began posting daily Gulf of Mexico hurricane impact updates, indicating that from August 27 to August 31, 9.3 billion cubic feet (Bcf), or 1.9 Bcf/d, of natural gas production was shut in. As of September 2, 91.3% of GOM natural gas production remained shut in. Since the arrival of Hurricane Ida, natural gas prices have remained elevated, and they ended August at $4.38/MMBtu.
Futures price spreads: The natural gas 1st–13th trading month price spread averaged 74 cents/MMBtu in July, the most backwardation (where near-term contract prices are higher than longer-dated ones) since December 2018 (Figure 9). In August, the natural gas 1st–13th month price spread averaged 70 cents/MMBtu. Typically, the 1st–13th price spread will increase when natural gas inventories decrease and will decrease when natural gas inventories increase. The August natural gas inventory level was 578 Bcf below last year's August level, its largest year-on-year deficit since November 2018, and 222 Bcf below the 2016–2020 average.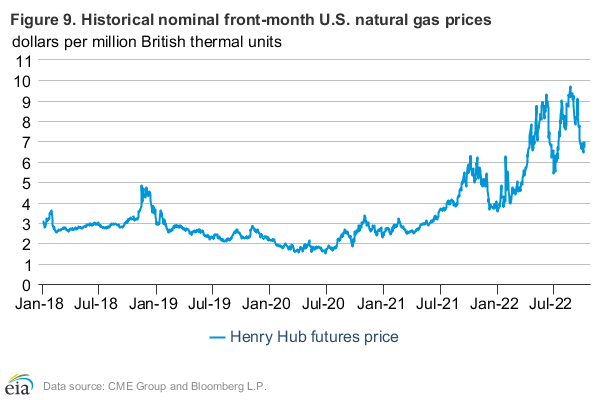 Above-average withdrawals of U.S. natural gas from storage during the 2020–2021 winter heating season and below-average injections into storage this summer contributed to our forecast of below-average inventories of natural gas. Relatively flat dry natural gas production and high natural gas exports also contributed to the forecast low inventories. U.S. dry natural gas production and U.S. exports of natural gas (by pipeline and as LNG) were relatively flat from July to August. We expect storage to begin the winter heating season (November 1) at 3,570 Bcf, 182 Bcf below the 2016–2020 average and 359 Bcf below the 2020 level, when natural gas inventories were at near-record highs.
Production: U.S. dry natural gas production has been almost flat this year after its brief decline in February because of severely cold weather in Texas, and we expect production to remain relatively flat for the rest of 2021 (Figure 10). Although production has been increasing, the increase has been relatively small. We expect U.S. dry natural gas production in 2021 to average 92.2 Bcf/d, a 0.8 Bcf/d increase from 2020, compared with an annual average increase of 3.3 Bcf/d from 2011 through 2020. In our forecast, production increases accelerate in 2022, driven by the increase in Henry Hub prices this year. In 2022, we expect production to average 95.4 Bcf/d, an increase of 3.2 Bcf/d from 2021. The increase in production from 2021 to 2022 will put some downward pressure on the Henry Hub price, which we expect to average $3.47/MMBtu next year, a decrease of 16 cents/MMBtu from the average forecast price for 2021.