Natural Gas
Prices: The front-month natural gas futures contract for delivery at Henry Hub settled at $2.59 per million British thermal units (MMBtu) on May 2, a decrease of 12 cents/MMBtu from April 1 (Figure 10). April 2019 was the second-warmest April in the past 23 years. EIA estimates that relatively warm temperatures, combined with ongoing increases in natural gas production, contributed to the largest injection of natural gas into U.S. working storage in April based on historical data going back to 1976.
The larger-than-normal April injections brought U.S. storage levels closer to the five-year (2014–18) average. EIA estimates that working natural gas inventories in the United States at the end of April were 314 billion cubic feet (Bcf) (17%) lower than the five-year average, compared with 486 Bcf (29%) lower at the end of March. If this estimate is confirmed in monthly data, April 2019 would be the first month since November 2016 to show a year-on-year increase in natural gas working inventories. Above-average inventory builds contributed to downward natural gas price movements throughout April. EIA forecasts that higher natural gas production during the injection season will continue to reduce the storage deficit relative to the five-year average and contribute to Henry Hub spot prices remaining lower than $2.70/MMBtu on average in the second and third quarters of this year.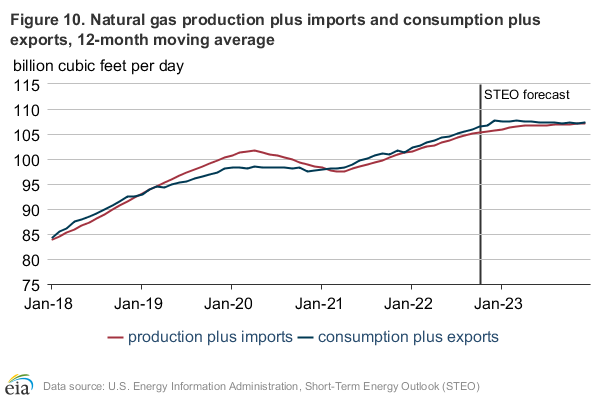 Market-derived probability: At the beginning of April, the market-derived probability of the August 2019 Henry Hub futures contract expiring at more than $3/MMBtu was 32% (Figure 11). The probability—calculated using futures and options data—of the contract expiring at more than $3/MMBtu decreased significantly throughout the month, reaching 15% on May 2. The lower probability was driven by the declining futures price amid relatively low implied volatility, which indicates lower expectations by market participants that prices will change significantly in the near future. Implied volatility has remained lower than the five-year range for three consecutive months. Lower natural gas consumption contributed to higher rates of injection into storage, which has helped to reduce supply concerns and put downward pressure on prices.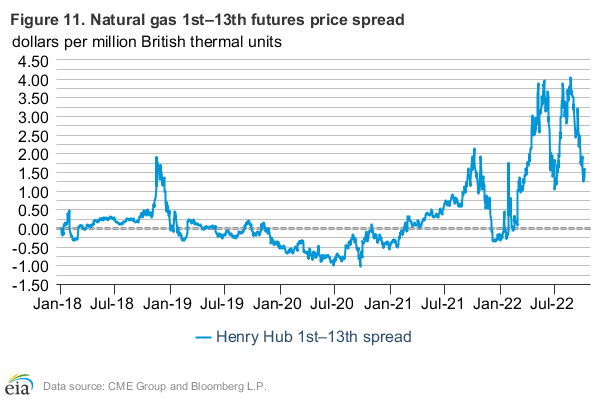 Annual 2018 financials: A review of annual financial reports for 25 U.S. natural gas producers shows that cash flow from operations in 2018 for this group exceeded expenditures for exploration and development for the first time in the past six years (Figure 12). However, because these companies were not selected as a statistically representative sample, their results cannot be considered representative of the U.S. natural gas production industry as a whole. The group consists of producers that report their financial results publicly, that EIA has followed for some time, and that have natural gas production that is at least 60% of their total output and at least 75% of their production is in the United States. EIA published a similar analysis for a different set of companies that are primarily oil producers in a recent This Week in Petroleum.
Cash flow from operations for these 25 natural gas-focused companies rose for the past two years with increases in both natural gas prices and production. Exploration and development expenditures for this set of companies also rose in 2018 but by less than the increase in cash flow from operations. The larger increase in cash flow from operations reduced the net amount of funds that this group of producers needed from other funding sources, such as equity or debt. Even though spending on exploration and development was less than cash flow from operations, this group of producers added more than twice the amount of proved natural gas reserves than the natural gas they produced in 2018, which increased their resource base for future production. This analysis supports EIA's forecast of rising U.S. dry natural gas production, which is forecast to increase by 6.9 Bcf/d in 2019 and by 1.9 Bcf/d in 2020.