U.S. Energy Information Administration - EIA - Independent Statistics and Analysis
Natural Gas
Prices and inventories: The front-month natural gas contract for delivery at Henry Hub decreased by 14 cents per million British thermal units (MMBtu) from January 3 and settled at $3.19/MMBtu on February 2 (Figure 8). The monthly average natural gas spot price in January decreased by 29 cents/MMBtu from the December average.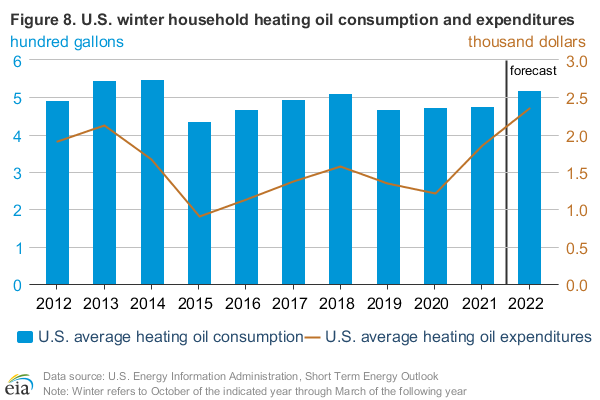 Prices traded in a more narrow range in January compared with December because of milder weather across the Lower 48 states, which put downward pressure on prices, while tightening supply-demand fundamentals kept upward pressure on prices. U.S. population-weighted heating degree days (HDD) were 16% below normal, the warmest January since 2006. At the same time, reduced natural gas production and increased export volumes relative to last year contributed to lower inventory levels. Lower 48 inventories fell below the five-year average in the week ending December 23, 2016 for the first time since May 2015 and remained below the five-year average until January 27, 2017.
Market fundamentals: The 12-month moving average of natural gas consumption plus exports surpassed that of production plus imports in December 2016 for the first time since September 2014 (Figure 9). EIA projects this trend to continue through June 2018, keeping upward pressure on natural gas prices. Lower natural gas prices in the summer of 2016 contributed to both a slowdown in production and increased consumption of natural gas in the power generation sector. In addition, new export capabilities led to expanded natural gas exports.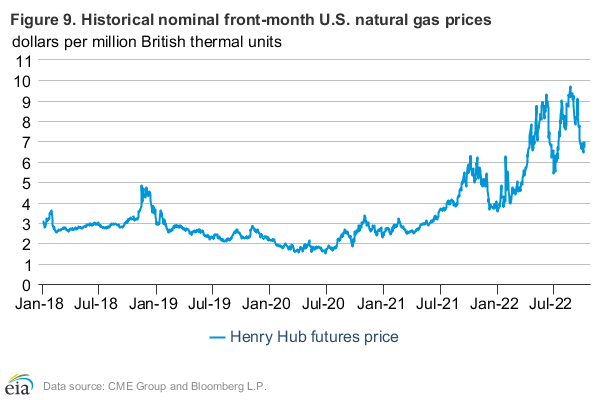 Producer/merchant open interest: A tightening market and higher natural gas prices have contributed to greater interest by producers in increasing natural gas production. Short positions held by producers and merchants rose to 317,565 contracts on January 10, 2017, the highest level since at least June 2006 (Figure 10). A short position, or the selling of a futures contract, allows the holder to lock in a future price for a commodity today, which producers can use as a way to hedge or mitigate price risk. Increased short positions may indicate that current futures prices are seen as sufficient to generate positive returns from drilling projects. According to Baker Hughes, the U.S. natural gas rig count rose to 145 for the week ending February 3, 79% above the record low point in August 2016.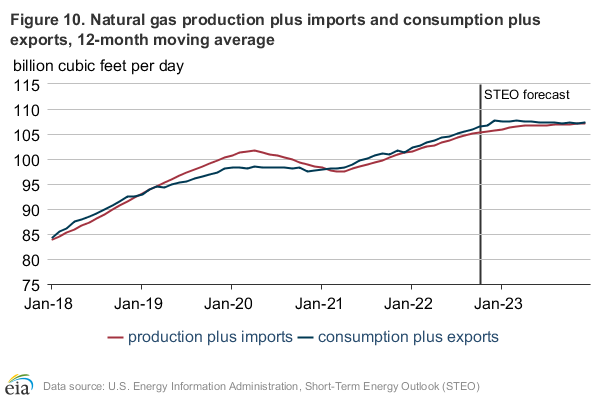 U.S. Natural Gas Summary
2015
2016
2017

projected

2018

projected

Prices

(dollars per thousand cubic feet)

Henry Hub Spot
2.72
2.60
3.54
3.81
Residential Sector
10.36
10.19
11.21
11.37
Commercial Sector
7.90
7.32
8.39
8.59
Industrial Sector
3.91
3.54
4.68
5.00
Supply

(billion cubic feet per day)

Marketed Production
78.78
77.38
79.07
83.68
Dry Gas Production
74.14
72.34
73.69
77.77
Pipeline Imports
7.20
7.89
7.92
8.10
LNG Imports
0.25
0.24
0.21
0.21
Consumption

(billion cubic feet per day)

Residential Sector
12.63
11.90
12.31
12.48
Commercial Sector
8.76
8.54
8.80
8.96
Industrial Sector
20.64
20.99
21.16
21.66
Electric Power Sector
26.34
27.43
26.08
26.87
Total Consumption
74.65
75.08
74.68
76.72
Primary Assumptions

(percent change from previous year)

Heating Degree Days
-10.2
-5.2
3.3
2.6
Cooling Degree Days
14.6
4.7
-8.0
-0.4
Commercial Employment
2.5
2.3
1.6
1.4
Natural-gas-weighted Industrial Production
1.3
0.4
1.1
3.8