Crude Oil
Markets for oil, as well as other commodities and equities, have experienced significant volatility and price declines since the final week in February amid concerns over the economic effects of the 2019 novel coronavirus disease (COVID-19). In addition, oil markets, in particular, have responded more recently to the outcome of the OPEC and partners meeting on March 6 with decreased oil prices that affected financial markets.
Brent and West Texas Intermediate (WTI) crude oil prices settled at $34.36 per barrel (b) and $31.13/b on March 9, respectively, declines of $20.09/b and $18.98/b from February 3, 2020 (Figure 1). On March 9, Brent and WTI front-month futures prices declined by 24% and 25%, respectively, the second largest one-day decline in each of their respective futures price histories.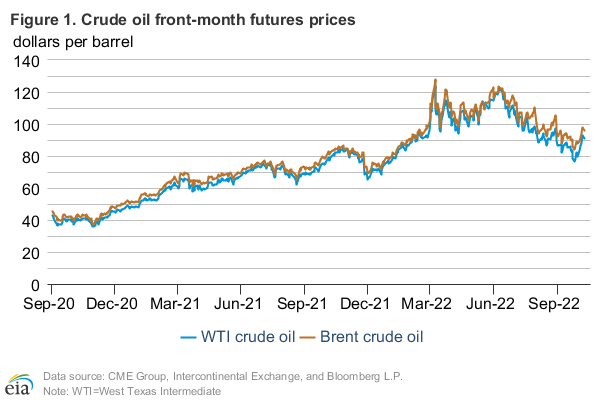 EIA acknowledges significant uncertainty amid a highly volatile market environment. Several recent developments have contributed to significant revisions in EIA's outlook for global oil demand and supply:
Slowing forecasts for global economic growth, primarily as a result of COVID-19, have led to significant downward revisions in EIA's global oil demand forecast. Reports of new cases of the virus in countries outside of China have led to restrictions on international and domestic travel as well as reduced activity among global manufacturers.
As a result of the March 6 OPEC and partners meeting, EIA no longer assumes production management from OPEC members or partner countries that were previously voluntarily reducing production. Previously, EIA assumed OPEC would limit production in 2020 and 2021 to target relatively balanced global oil markets.
Lower forecast crude oil prices lead to lower U.S. crude oil production, as a result of a price-induced reduction in drilling and completion activity.
Demand: Both lower assumed global economic growth and reduced global travel contribute to EIA's forecast of 0.4 million barrels per day (b/d) for global oil demand growth in 2020, a reduction from the January STEO forecast of 1.3 million b/d (EIA's January STEO did not include COVID-19-related demand effects). Most of the reduction is in China, where EIA lowered expected growth for 2020 to 0.1 million b/d, down from a forecast of 0.5 million b/d in the January STEO. EIA also made significant downward revisions to the demand forecasts for Japan, South Korea, and Italy.
The reduced demand forecast has three main drivers: lower assumptions of economic growth, less expected air travel, and other reductions in demand not captured by these two categories. Based on forecasts from Oxford Economics, EIA reduced its assumption for 2020 global oil-weighted growth in gross domestic product (GDP) to 2.1% from the assumption of 2.4% in the January STEO. Updated information on flight cancellations also led EIA to revise its assumptions for the direct loss of jet fuel consumption from reduced air travel in the first and second quarters of 2020. Finally, EIA assumes additional lost oil demand not captured by GDP and air travel. Notable among these factors are more lost demand in China's petrochemical sector and more lost demand from road travel in China. However, these estimates are based on preliminary data, along with assumptions about the severity and duration of effects on oil demand, in the absence of actual data.
This forecast assumes the demand effects from COVID-19 will diminish by the third quarter of 2020, with demand growth resuming its previous trend through the remainder of the forecast.
OPEC supply: The outcome of the March 6 OPEC meeting has caused EIA to revise its OPEC crude oil production forecast. After the March 6 meeting, OPEC and partner countries did not agree to further production cuts beyond those currently expiring March 31, 2020. In contrast to the February STEO, EIA no longer expects active production management to target balanced global oil markets among OPEC members or partner countries. These countries had been limiting production under the Declaration of Cooperation, initially agreed to in December 2016.
EIA expects OPEC crude oil production will average 29.1 million b/d in the second and third quarters 2020, up from 28.7 million b/d in the first quarter of 2020. However, production levels targeted by OPEC amid low oil demand are uncertain, and realized levels will have a significant effect on crude oil prices. Unplanned supply outages in Libya add additional uncertainty to the OPEC forecast. Crude oil production in Libya has declined by 1.0 million b/d since December 2019, and EIA estimates February production in Libya averaged 150,000 b/d.
Prices and inventories: EIA forecasts Brent crude oil prices will average $43/b in 2020, down from a forecast of $65/b in the January STEO, and then increase to an average of $55/b in 2021. EIA forecasts the decline in liquid fuels demand combined with an increase in OPEC production during the next two quarters will contribute to significant increases in global liquid fuels nventories. EIA forecasts global oil inventory builds in the first half of 2020 to average 1.7 million b/d before moving to a balanced market in the fourth quarter.
With demand growth accelerating and U.S. crude oil production declining in 2021, EIA forecasts inventory withdrawals to average 0.4 million b/d for the year. EIA expects these consistent inventory withdrawals will put upward pressure on crude oil prices and bring Brent crude oil prices to $60 by the end of next year. However, the recovery of global oil demand in late 2020 and 2021, the response of U.S. crude oil production to low prices, and the production decisions of OPEC amid these factors are all highly uncertain.
U.S. crude oil production: EIA forecasts U.S. crude oil production will average 13.0 million b/d in 2020 and fall to 12.7 million b/d in 2021. These estimates are 0.3 million b/d and 1.1 million b/d lower than in the January STEO. If realized, a production decline next year would be the first year-on-year decline in production since 2016.
Lower crude oil output in the forecast results from lower crude oil prices leading to a reduction in drilling and completion activity. For 2020, EIA's WTI crude oil price forecast averages $38/b for the year, a decline of $19/b from 2019 levels, and $21/b lower than forecast in the January STEO. EIA models show about a six-month lag between changes in crude oil price and changes in wellhead production. Given that lag, EIA expects recent declines in price to lower production beginning in the third quarter of 2020.
For 2021, EIA expects WTI prices will rise to an average of $50/b, which EIA expects will contribute to U.S. crude oil production rising again by the fourth quarter of 2020.
EIA estimates that onshore crude oil production in the Lower 48 states will average 10.6 million b/d in 2020, an increase of 0.7 million b/d from 2019 levels, and then fall by 0.4 million b/d to average 10.2 million b/d in 2021. In 2020, production growth comes largely from the Permian region. In 2021, the production declines are mostly attributed to the Bakken and Eagle Ford regions, with the Permian region expected to see flat growth.