Crude Oil
Prices: The front-month futures price for Brent crude oil settled at $70.75 per barrel (b) on May 2, 2019, an increase of $1.74/b from April 1. The front-month futures price for West Texas Intermediate (WTI) crude oil for delivery at Cushing, Oklahoma, increased by 22 cents/b during the same period, settling at $61.81/b on May 2 (Figure 1).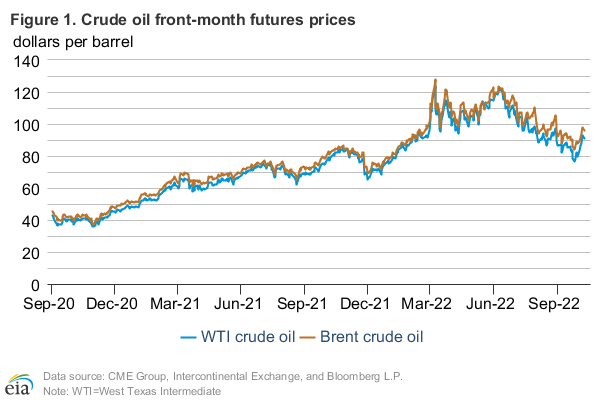 Crude oil prices increased for the fourth consecutive month in April, approaching six-month highs near the end of the month. Price increases have generally reflected a decline in global oil inventories during the first four months of the year, more recently occurring amid a backdrop of heightened market perceptions of oil supply risk. On April 22, 2019, the United States notified the eight countries that were initially granted sanction waivers allowing them to continue to import Iranian crude oil and condensate that the waivers will not be extended past their May 2 expiration. Front-month Brent crude oil prices increased by $2/b on April 22, but as of the time of writing, prices had declined to levels from before the announcement.
Although EIA forecasts Iranian crude oil production and exports to decline, crude oil supply from other countries—including some from the Organization of the Petroleum Exporting Countries (OPEC)—are expected to mostly offset the lost Iranian barrels in the coming months. EIA expects increases in crude oil production in Saudi Arabia, the United Arab Emirates, Kuwait, and Russia to largely backfill the lower Iranian production, though these countries will likely wait until their June meeting to make any decisions regarding production increases. In addition, EIA expects recent crude oil price increases, and expected higher oil prices through the forecast period, to contribute to an increase in drilling activity in the United States. The expected increase in drilling activity led EIA to revise the U.S. crude oil production forecast to 13.4 million barrels per day (b/d) in 2020, 0.3 million b/d higher than in the April STEO. These crude oil supply responses, however, will take several months to materialize completely, whereas the disruption from Iran is likely to occur within weeks.
Given the expected delayed response of global crude oil production to current oil market fundamentals, EIA now expects average net global oil inventory withdrawals of about 0.4 million b/d during the second and third quarters of 2019. As a result of near-term market tightness, EIA expects second and third quarter Brent prices to average $73/b, which is $5/b higher than previously forecast. EIA forecasts prices to decline to an average of $67/b in 2020 as the market moves to slight inventory builds.
The higher forecast prices in this STEO also reflects increased geopolitical risk. Unrest within Venezuela contributes to a highly uncertain situation that could immediately disrupt the remaining oil production there. Even if the ongoing unrest does not cause additional disruptions, EIA forecasts that Venezuela's production will continue to see significant declines through 2020. Similarly, although recent fighting in Libya had not affected any crude oil production or export infrastructure as of the time of writing, the civil unrest has increased the disruption risk significantly.
With the timing of any backfill of lost crude oil production and the risk of oil supply disruptions remaining uncertain, the shape of the crude oil futures curve reflects recent calls on available inventory to meet global oil demand. The Brent and WTI 1st–13th spread increased by $1.97/b and 78 cents/b since April 1, respectively, settling at $4.88/b and $2.46/b on May 2, respectively (Figure 2). EIA estimates that liquid fuels inventories for countries in the Organization for Economic Cooperation and Development (OECD), on a days-of-supply basis, ended April slightly below their five-year (2014–18) average level. The price increases in the futures market have been primarily concentrated in the near-month contracts, indicating current market prices are accounting for potential effects for near-term crude oil supply disruptions and inventory withdrawals without as large a price increase on longer-dated crude oil contracts.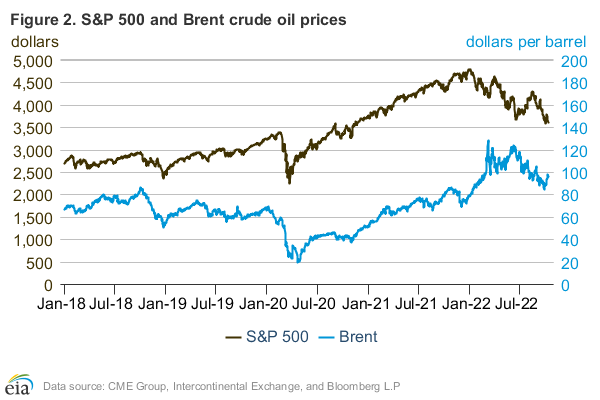 Volatility: Implied volatility for both WTI crude oil and the S&P 500 Index reached the lowest levels since late 2018 in April (Figure 3). Both crude oil and equity prices have exhibited high price correlation since 2018, indicating the two assets may be responding to similar fundamental economic information, such as economic growth. U.S. GDP increased 3.2% in the first quarter of 2019, which was higher than market expectations. In addition, both the U.S. Federal Reserve and the European Central Bank made announcements that they will remain generally accommodative and less restrictive in their monetary policy decisions. Stable macroeconomic growth can reduce uncertainty in expectations for crude oil demand and contribute to lower price volatility. These same factors are also likely contributing to lower volatility in the S&P 500 index. Crude oil implied volatility increased by six percentage points from April 18 through May 2, when concerns about crude oil supply availability emerged after Iranian import waivers were not extended.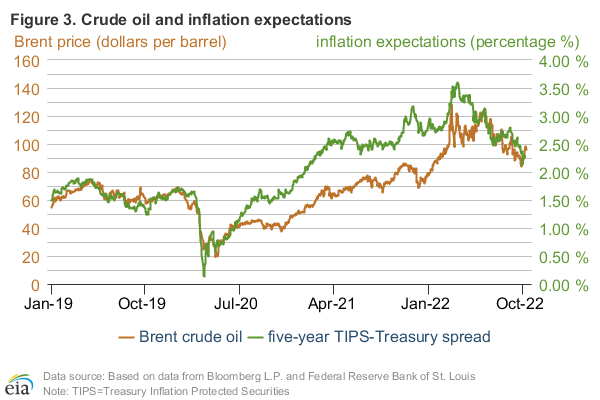 Crude oil price spreads: Light, sweet crude oil prices in the Midland hub, the area where crude oil produced from the Permian region is traded, developed a rare and significant discount to light, sour crude oil prices in the region in April. The five-day moving average of the differential between WTI Midland and West Texas Sour (WTS) crude oil prices neared a four-year low of -$1.54/b on April 4, 2019. The spread increased $1.65/b since then to settle at 11 cents/b on May 2 (Figure 4). Trade press reports from Reuters indicate that new WTI Midland production has been lighter than the WTI Cushing specifications, which may have been reflected in the discount. The price spread reached 42 cents/b in the last week of April, near the 2018 average premium of 47 cents/b, likely because producers and marketers began offering a separate stream of higher API gravity crude oil, called West Texas Light, for delivery. This segregation appears to have successfully amended the specification problems with WTI Midland spot deliveries.