Crude Oil
Prices: The front-month futures price for Brent crude oil settled at $94.12 per barrel (b) on August 4, a decrease of $17.51/b from the July 1 price of $111.63/b. The front-month futures price for West Texas Intermediate (WTI) crude oil for delivery at Cushing, Oklahoma, decreased by $19.89/b during the same period, settling at $88.54/b on August 4 (Figure 1).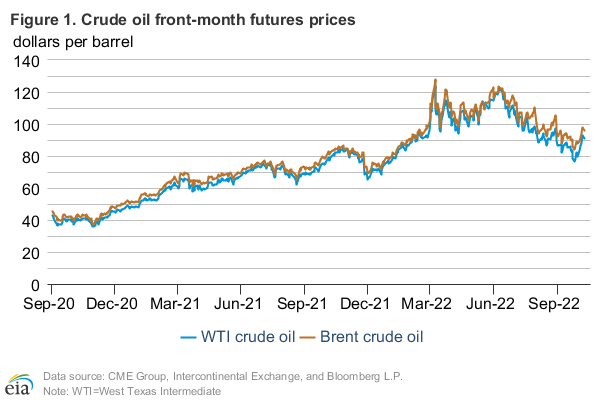 Crude oil prices generally decreased in July, and the price of WTI decreased by more than Brent. The price spread between Brent and WTI increased to a high of $13.26/b on July 29, the highest price spread since January 14, 2014 (Figure 2). This wide Brent-WTI spread, which reflects supply and demand dynamics in Northwest Europe, has come down in the first few trading days of August but remains high.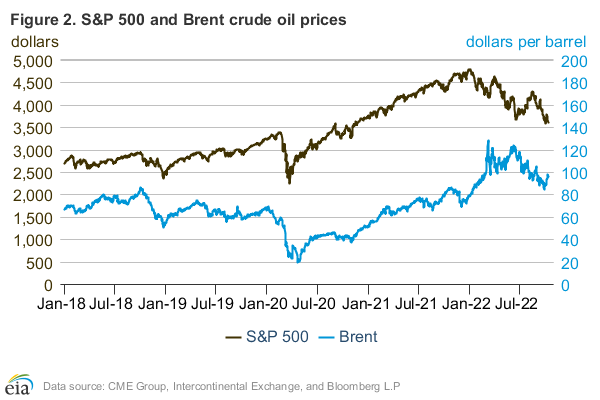 Russia's full-scale invasion of Ukraine has resulted in shifting trade patterns, leaving Europe to find substitutes for Russia's oil. This change has driven up the price of Brent contracts to a level high enough to reduce Asia's imports of Brent crude oil and to retain more oil in Europe. The Brent-WTI spread has also increased enough to attract more imports of crude oil from the United States into Europe. From March through July, the Brent-WTI spread averaged $6.05/b, an almost $2.50/b increase from the first two months of the year. We forecast the Brent-WTI spread will average $6/b in 2023, up $2/b from the July STEO. This high spread will keep exports from Europe to Asia subdued and encourage higher imports from the United States, both of which will likely be necessary as the EU reduces crude oil imports from Russia by 90% by the end of the year.
Although supply disruptions have kept crude oil prices around $100/b, crude oil prices have come down slightly in July as concerns of slower economic growth or a recession become more prevalent. These concerns are reflected in the University of Michigan's survey of consumer sentiment, which recorded its lowest reading on record in June, with data going back to November 1952 (Figure 3). Likewise, consumer sentiment in the Euro Area has decreased, reaching record lows in July.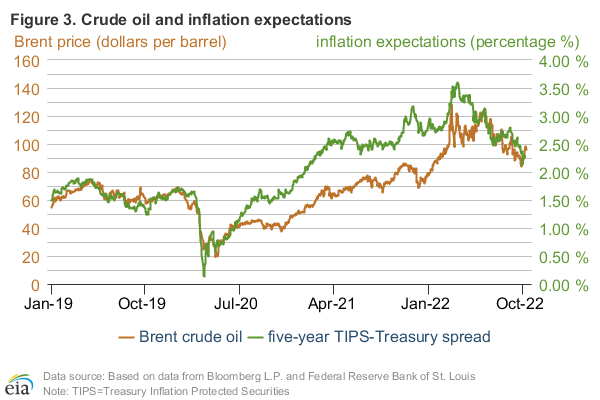 Consumer sentiment has been decreasing as inflation continues to be strong, borrowing costs increase with higher interest rates, and economic growth shows signs of slowing. Data points reflecting these trends include:
The Bureau of Labor Statistics' Consumer Price Index in June showed year-over-year inflation of 9.1%, its fastest rate since 1981.
Inflationary concerns have led to the Federal Reserve increasing interest rates, which increases borrowing costs and could also be affecting consumer sentiment.
As prices have risen, U.S. manufacturing, as measured by the manufacturing Purchasing Manager Index (PMI), decreased in July to its lowest levels since July 2020.
The Bureau of Economic Analysis's gross domestic product report released in July showed U.S. real gross domestic product contracting by an estimated 0.9% in 2Q22, making it the second consecutive quarter of economic contraction.
Consumer sentiment has often declined in response to high crude oil prices. This trend likely reflects the effects of higher crude oil prices on consumer budgets. Higher crude oil prices lead directly to increased costs for fuel that consumers purchase for transportation. Additionally, rising crude oil prices can create inflationary pressures throughout the economy by raising input costs of goods. Because inflation has been affecting consumers' budgets for an extended time now, it is likely that some consumers have begun to make lifestyle adjustments that are reducing petroleum product consumption in the third quarter, which we have reflected as reductions in our forecast.
Price of Brent crude oil in U.S. dollars and euros: As U.S. interest rates rise and concerns of a recession increase, demand for U.S. dollars has increased, strengthening its value relative to other currencies. For countries using a currency other than the U.S. dollar, a strengthening dollar could make the imported cost of a barrel of crude oil more expensive. For example, recently the dollar has been trading close to the euro for the first time since 2002. Whereas the inflation-adjusted price of a barrel of crude oil in U.S. dollars is not as high as the levels seen from 2011–2014 or in 2008, the real price of a barrel of crude oil in euros has surpassed those highs (Figure 4). The relatively higher prices have further contributed to slowing growth in petroleum and other liquids consumption in the second half of 2022 (2H22).