Crude Oil
Prices: The front-month futures price for Brent crude oil settled at $84.58 per barrel (b) on October 4, an increase of $6.41/b from September 4. The front-month futures price for West Texas Intermediate (WTI) crude oil for delivery at Cushing, Oklahoma, increased by $4.46/b during the same period, settling at $74.33/b on October 4 (Figure 1).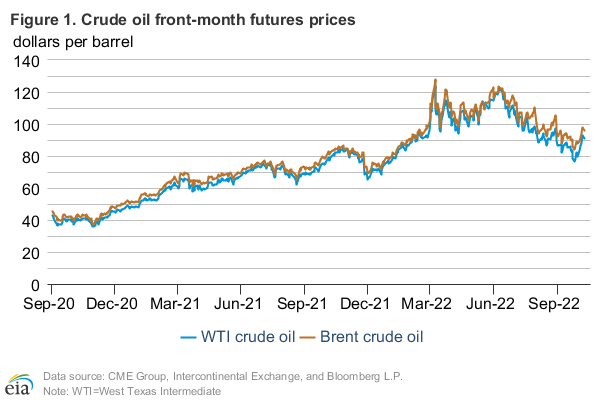 Both Brent and WTI crude oil prices reached four-year highs on October 3. Crude oil prices rose in anticipation of potentially steep declines in Iranian crude oil production and exports as a result of the reinstitution of U.S. sanctions on November 4. Trade press reports that major oil-importing countries including Japan, South Korea, China, and India, are planning or are considering sharp reductions in crude oil imports from Iran. As a result, the amount of Iranian crude oil supply available in the global market may be much lower than market participants initially expected in May, when the United States announced it would exit from the Joint Comprehensive Plan of Action. EIA estimates that Iranian crude oil production fell by more than 0.4 million barrels per day (b/d) since May to an average of 3.4 million b/d in September.
In June, members of the Organization of the Petroleum Exporting Countries (OPEC), along with Russia, agreed to increase oil production levels to the original crude oil production target set in November 2016. In the third quarter of 2018, OPEC members (other than Iran and Venezuela) increased crude oil production by more than the amount that crude oil production in Iran and Venezuela declined. However, recent price increases indicate that oil market participants have concerns about the ability of Saudi Arabia, other OPEC members, and Russia to continue to offset expected further production declines in Iran and in Venezuela. Increases in OPEC crude oil production to offset declines in Iran and Venezuela have resulted in declining OPEC spare crude oil production capacity. STEO estimates that OPEC spare capacity fell below 1.4 million b/d in September, the lowest level since December 2016 when global oil inventory levels were much higher.
With increased uncertainty about the amount that Iranian crude oil production could decline, and how much of the decline can be offset by other suppliers, STEO now forecasts the Brent crude oil spot price will average $81/b in the fourth quarter of 2018, up from a forecast of $76/b in the September STEO. Despite continuing production declines in Iran and Venezuela, EIA forecasts global oil supply and demand to be nearly balanced in 2019 contributing to downward oil price pressures. By the second half of 2019, when transportation constraints in the Permian region of the United States are expected to be alleviated, U.S. crude oil production, and potentially crude oil exports, are expected to increase, which could help keep prices in the mid-$70/b range.
Although both the Brent and WTI front-month futures price rose during the past several weeks, Brent prices increased more than WTI prices. As a result, the Brent futures curve became more backwardated (when near-term contract prices exceed those of longer-dated ones) than the WTI futures curve for the first time since June (Figure 2). From September 4 to October 4, the Brent 1st–13th month futures contract price spread rose from $3.44/b to $4.29/b. During the same period, the WTI 1st–13th month futures contract price spread declined from $3.60/b to $2.40/b.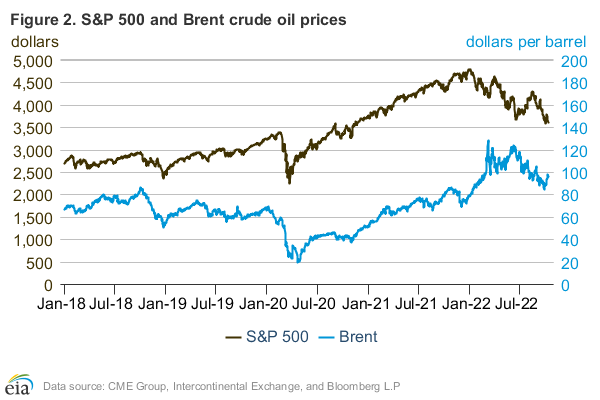 During September and through the first week of October, the probability that the December 2018 WTI crude oil futures contract will expire at $70/b increased sharply. A probability calculated using futures and options data indicates that WTI futures prices have a 75% chance of reaching $70/b at expiration as of October 4 (Figure 3). The probability of reaching $70/b was at just 42% on September 4.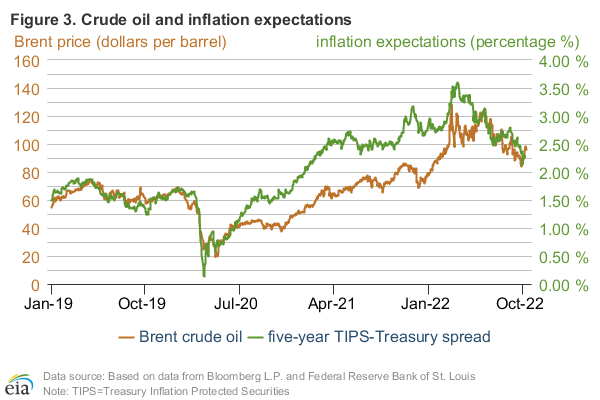 Economic Growth:
Some developed and emerging market economies may be starting to experience slower economic growth, which could result in lower-than-forecast oil demand, especially if crude oil prices continue to rise.
The CPB Netherlands Bureau for Economic Policy Analysis (CPB) publishes monthly data on global and regional industrial production, an important gauge for economic activity. Using a three-month moving average to smooth out short-term fluctuations, data from the CPB show that industrial production growth in advanced economies has begun to decelerate in January 2018 (Figure 4). Industrial production growth in emerging economies has also recently experienced a slight deceleration.
Among advanced economy regions the CPB tracks, the United States is the only region with accelerating industrial production growth, while Japan, the Euro Area, and Other advanced economies are all decelerating. Industrial production growth in the Euro Area, in particular, showed a year-over-year decline in July 2018, the first decline since the beginning of 2017, as industrial production in Germany and Italy showed slowdowns.
Further, growth in gross domestic product (GDP) in 2019 for countries both within and outside the Organization for Economic Cooperation and Development (OECD) has been revised down in recent months. The April 2018 STEO forecast OECD GDP growth of 2.2% for 2019; however, the current STEO forecast OECD GDP to be 2.0% next year. Similarly, non-OECD GDP growth was revised down from 4.3% to 3.8%. This decline in forecast growth is part of the reason that global oil demand growth for 2019 is forecast to be 1.5 million b/d in the current STEO, compared with 1.8 million b/d in the April STEO.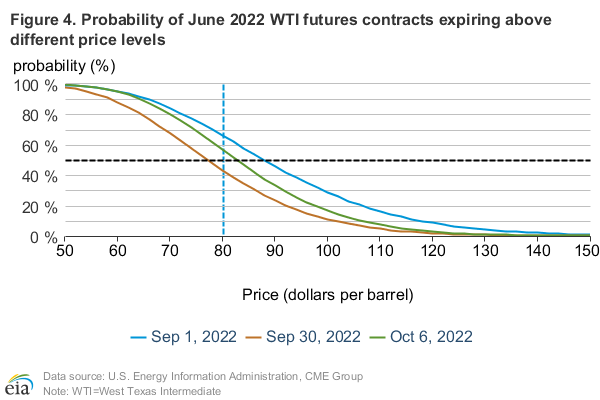 Equity markets:
A divergence between the economic outlooks for the United States compared with that of other countries can be seen in equity market returns. From January 2, 2018, to October 4, 2018, the S&P 500 rose 8% (Figure 5). In contrast, the MSCI Emerging Markets Index fell 14% during the same period. The MSCI Emerging Markets Index consists of equities in 24 developing countries, and Chinese shares account for 30% of the index.
General trends affecting this divergence include interest rate increases by the U.S. Federal Reserve, the strengthening U.S. dollar (USD), and weakening emerging market currencies. Better returns in less risky assets along with concerns about high dollar-denominated debt in certain countries may have affected the outlook and investment in emerging markets more broadly.
Country-specific issues have also affected the MSCI Emerging Markets Index. Weaker-than-expected economic data from China and larger portions of the U.S.-China trade flow that are subject to tariffs have negatively affected Chinese equities. During past several weeks, the Indian rupee fell to record lows against the USD, increasing the cost of imports and resulting in domestic fuel prices reaching record highs. The Indian government may try to support its currency by further increasing interest rates and limiting imports. In Brazil, political uncertainty, currency depreciation, a strike related to high fuel prices, and weak economic fundamentals resulted in a selloff in Brazilian equities earlier in the summer. Rising oil prices could begin to affect oil demand in countries experiencing currency depreciation and/or a slowdown in their economic fundamentals.