Crude Oil
Prices: The front-month futures price for Brent crude oil settled at $29.94 per barrel (b) on April 2, 2020, down $21.96/b from March 2. The front-month futures price for West Texas Intermediate (WTI) crude oil for delivery at Cushing, Oklahoma, decreased by $21.43 /b during the same period, settling at $25.32/b on April 2 (Figure 1).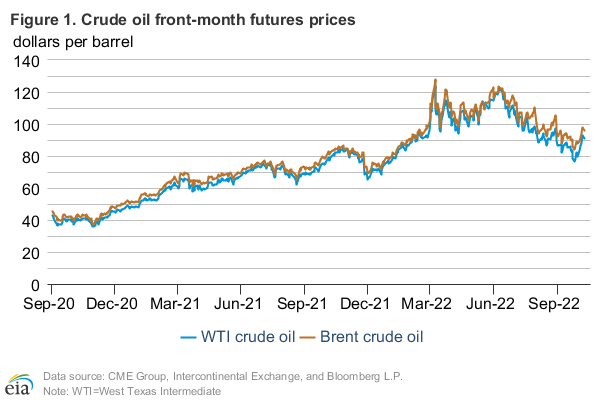 Oil and other financial markets reached all-time high levels of volatility in March. Several economic indicators suggest the global economy entered a recession, primarily as a result of containment efforts related to the 2019 novel coronavirus disease (COVID-19).
Although real-time data remain limited, EIA estimates global liquid fuels consumption declined by 11.4 million barrels per day (b/d) in March from the 2019 annual average and forecasts demand to decline by 17.1 million b/d in April from the 2019 average. For 2020, EIA estimates that global liquid fuels consumption will average 95.5 million b/d, down 5.2 million b/d (5.2%) from 2019. If realized, 2020 would see the largest year-over-year percentage decline in global oil consumption since at least 1990, the year EIA began tracking global consumption levels. In the United States, EIA forecasts that total oil consumption will decline 6.5% in 2020 to average 19.1 million b/d, which would be the largest percentage decline in consumption since 1980 and the second-largest decline since 1949, the earliest EIA data available.
Aside from these significant changes to oil demand, EIA expects global oil supply to remain near first-quarter 2020 levels in the coming months. Upstream supply projects from countries outside the Organization of the Petroleum Exporting Countries (OPEC) require years of development and, once brought online, continue producing in low oil price environments as operating costs per barrel are generally low. However, EIA forecasts that low oil prices will immediately reduce U.S. Lower 48 crude oil production in the second quarter of 2020 as drilling activity slows significantly. In addition, as a result of OPEC and partner countries no longer restraining production, several OPEC members have begun increasing crude oil production by bringing previously idle spare production capacity online and selling additional crude oil from storage.
These supply and demand developments are contributing to significant increases in liquid fuels inventories. EIA estimates that second-quarter 2020 global petroleum inventories will increase at an average rate of 11.4 million b/d, which would be the largest rate of inventory increases since EIA record keeping began. Within the Organization for Economic Cooperation and Development (OECD), the highest stock levels recorded dating back to 2003 was in July 2016, when total commercial petroleum inventories ended the month at slightly more than 3.1 billion barrels. EIA forecasts inventories will surpass this level, but it remains uncertain how much commercially available storage capacity exists globally, particularly in non-OECD countries. Trade press is reporting an increase in unconventional forms of storage, such as floating storage, as becoming used increasingly as on-land storage quickly fills.
EIA expects these large stock builds to keep downward price pressure on crude oil prices for several months. As a result, EIA forecasts Brent crude oil to average $23/b in the second quarter of 2020. As non-OPEC crude oil production begins declining in the fourth quarter of 2020, and global liquid fuels demand increases, prices will increase gradually. EIA forecasts Brent crude oil will increase from the lows of the second quarter of 2020 to average $46/b in 2021.
Crude oil price spreads: In addition to the decline in front-month crude oil futures prices, the market structure for crude oil along the futures curve developed significant levels of contango (when near-term crude oil prices are lower than longer-dated ones). Both the Brent and WTI 1st–13th spreads declined to the lowest levels since the global financial crisis of 2008–09, settling at -$9.20/b and -$9.59/b, respectively, on April 2 (Figure 2). The immediate and large loss of demand means that oil must be put in storage, as options for reducing crude oil production are limited in the short-term. Various trade press reports indicate that market participants are leasing tankers for floating storage, which is significantly more expensive than on-land storage.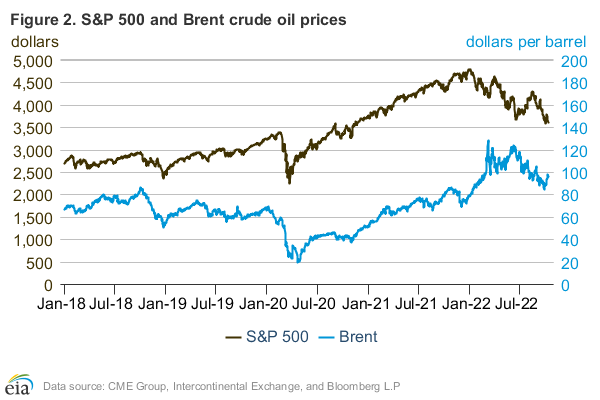 Not only do crude oil inventory builds reflect price contango, but changes in price spreads between WTI for delivery in Cushing, Oklahoma—the delivery point for the WTI futures contract—and other light sweet crude oils in the United States suggest on-land storage in Cushing could begin filling rapidly. WTI Midland reflects crude oil prices at the point of production in the Permian region of Texas and New Mexico, and Magellan East Houston (MEH) crude oil reflects the price of light sweet crude oil on the U.S. Gulf Coast. Both WTI Midland and MEH developed discounts to WTI Cushing in March, when they had been averaging premiums of 88 cents/b and $3.24/b, respectively, since the fourth quarter of 2019 through February 2020 (Figure 3).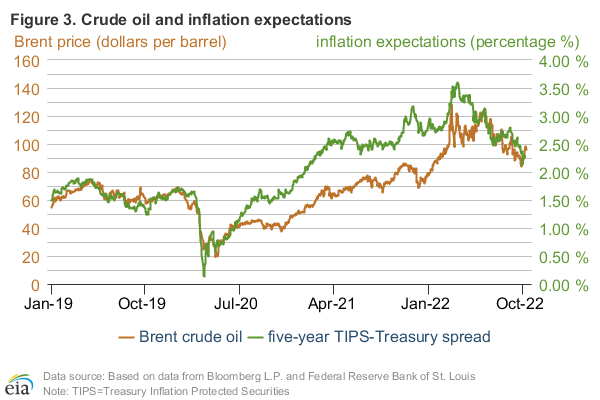 The WTI Midland discount to WTI Cushing was large when there was a lack of available pipeline capacity from the Permian production region to transport crude oil to Cushing. However, after several pipeline projects came online in the second half of 2019, there was more capacity than current production, contributing to a slight premium in WTI Midland prices. Houston, on the other hand, is a destination point for crude oil from Cushing because local refineries can use it or it can be exported. The typical premium of MEH crude oil to Cushing generally reflects the cost of shipping crude oil by pipeline to the U.S. Gulf Coast. The rare discount that developed in late March provides a strong indication that barrels are being bought for storage in Cushing amid a significant decline in purchases from both U.S. and international refineries. Crude oil inventories in Cushing increased 3.5 million barrels for the week ending March 27, the largest week on week build in two years.
Oil company bond yields: Higher bond yields reflect increased risk aversion among bond investors and indicates tightening credit availability among companies. Bond yields for crude oil exploration and production companies increased in March, particularly for companies with a credit rating below Investment Grade, also called high yield bonds. The Bloomberg Barclays Energy High Yield Corporate Bond Index's yield-to-worst (YTW), which represents the minimum achievable yield on the bonds after accounting for early prepayment, increased to 23.9% on March 20, the highest since at least 2010 (Figure 4).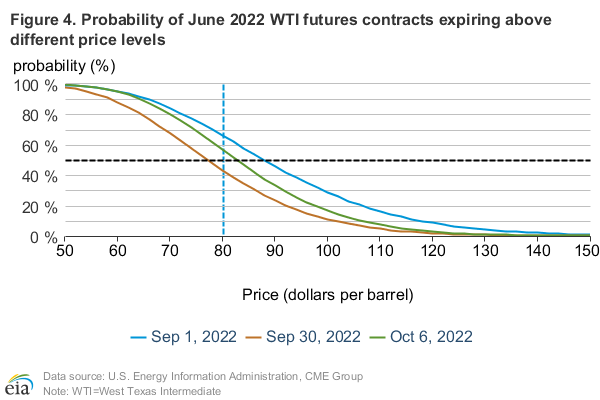 According to the latest Dallas Fed Energy Survey, nearly 40% of survey respondents from exploration and production companies would be able remain solvent for two years or less if WTI crude oil prices stayed at $40/b. As discussed in the crude oil price spreads section, many U.S. producers are receiving prices at large discounts to WTI Cushing crude oil prices, and some trades are as low as $10/b or lower. These prices could lead to asset impairments and bankruptcies among U.S. oil companies, and perhaps some producers will shut in wells if conditions persist.