Crude Oil
Prices: The front-month futures price for North Sea Brent crude oil settled at $68.33 per barrel (b) on April 5, an increase of $4.50/b from March 1, 2018. Front-month futures prices for West Texas Intermediate (WTI) crude oil for delivery at Cushing, Oklahoma, increased by $2.55/b during the same period, settling at $63.54/b on April 5 (Figure 1). March Brent and WTI monthly average spot prices were 70 cents/b and 49 cents/b higher, respectively, than the February average spot prices.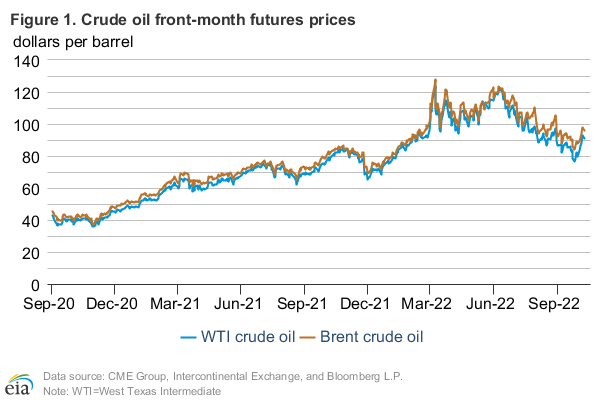 Continuing draws in U.S. and global oil inventories as well as actual and potential supply disruptions may have put upward pressure on crude oil prices in March. Economic and political instability in Venezuela continues to affect its crude oil production. EIA estimates Venezuelan crude oil production averaged 1.5 million barrels per day (b/d) in March, a decline of about 24% year-over-year. In addition, whether or not the United States will extend the Joint Comprehensive Plan of Action (JCPOA) remains uncertain. Without an extension, it could lead to the reinstitution of sanctions on Iran, which could affect Iran's oil production and exports.
Commercial crude oil inventories in the United States fell lower than the previous five-year average for the week ending March 16, 2018, the first time inventories were lower than the five-year average since 2014. Large inventory declines in the United States during the past year contributed to the 267 million barrel decline in total petroleum inventories since January 2017 in countries in the Organization for Economic Cooperation and Development (OECD), which are estimated to be 2.8 billion barrels as of the end of March.
Despite these supply developments, demand-side factors could have tempered some of the upward oil price pressures in recent weeks. Both the United States and China announced potential tariffs on several billion dollars' worth of each other's goods in March. A slowdown in global trade could affect oil demand and presents downside risks to the global oil consumption forecast, although the forecast was revised higher from EIA's previous STEO. EIA forecasts that global oil consumption will grow by 1.8 million b/d in both 2018 and 2019.
Crude oil price spreads: Crude oil production in the Permian region of Texas and New Mexico could be facing pipeline constraints, which is reflected in a widening discount of WTI Midland crude oil prices to Magellan East Houston crude oil prices. The WTI Midland price discount settled at -$8.70/b on April 5, the largest discount since price postings for Magellan East Houston began in 2016 (Figure 2).
According to EIA's March Drilling Productivity Report (DPR), crude oil production growth in the Permian region is forecast to accelerate in March and April, growing month-over-month by 0.07 million b/d and 0.08 million b/d, respectively. The latest pipeline out of the region to begin service is the 0.4 million b/d Midland-to-Sealy pipeline, which began service in the fourth quarter of 2017 and is starting full operations this month. However, the widening price spreads suggest that takeaway constraints could already be affecting oil producers. New pipelines and pipeline expansions are not expected to be completed until the middle of 2019, which could lead to further price volatility for Midland crude oil.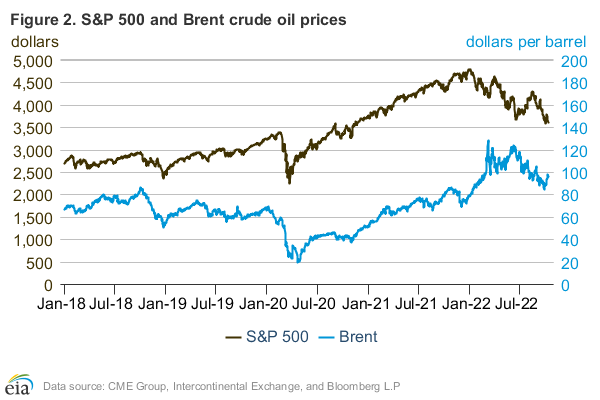 Fourth-quarter 2017 financials: Quarterly financial results for 46 U.S. oil exploration and production companies reveal significant effects from the changes to corporate income tax law enacted at the end of 2017. These producers collectively claimed $7 billion in tax benefits in the quarter, contributing to an annual effective tax rate of -147%, which was likely because of a one-time revaluation of the estimates of their future tax liabilities at the lower corporate rate (Figure 3). In addition to the lower corporate income tax rate, U.S. companies are also allowed to accelerate the depreciation of capital investments made through 2023. These two factors could contribute to an increase in investment in upstream production.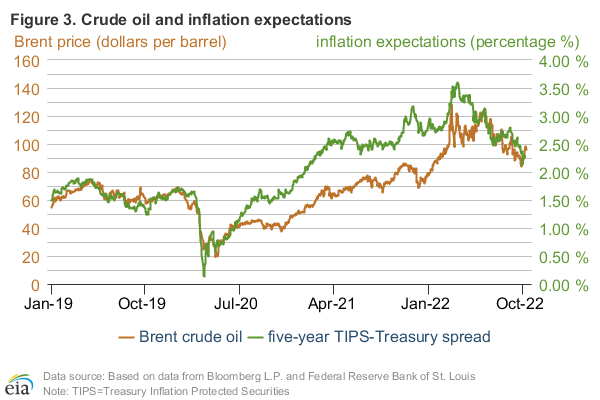 Market-derived probabilities: The June 2018 WTI contract averaged $63.64/b for the five trading days ending April 5 and has a market-derived probability of exceeding $65/b of 38% (Figure 4). This contract had a 32% market-derived probability of exceeding $65/b as of March 1. Implied volatility decreased slightly since March 1, but the increase in WTI prices contributed to increasing the probability of exceeding $65/b.