Crude Oil
Prices: The front-month futures price for Brent crude oil settled at $92.36 per barrel (b) on September 1, a decrease of $7.67/b from the August 1 price of $100.03/b. The front-month futures price for West Texas Intermediate (WTI) crude oil for delivery at Cushing, Oklahoma, decreased by $7.28/b during the same period, settling at $86.61/b on September 1 (Figure 1).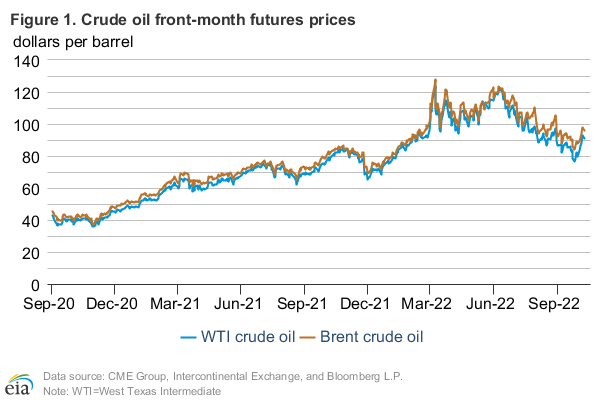 Crude oil prices were lower on average in August than they were in July before ending with a rapid decrease in the week before Labor Day. From August 29 through September 1, the Brent crude oil price decreased $13/b and the WTI price decreased $10/b. The monthly average Brent front-month futures price was $98/b in August, about $7/b lower than in July, and the WTI price was $91/b, $8/b lower than in July. The lower prices in August likely reflected overall increases in global petroleum inventories. The increase in inventories came with ongoing growth in global production of crude oil and other liquid fuels, which we estimate reached 101 million barrels per day (b/d) in August, the highest global production since December 2019.
We estimate that crude oil prices will generally remain near August average levels through the end of 2023. Although we expect average crude oil prices to mostly remain between $90/b–$100/b through next year, the possibility for significant volatility around those averages is high. Recent events contributing to increased uncertainty in the crude oil market and in our forecast include:
The impact of the recent OPEC decision to reduce crude oil production by 0.1 million b/d in October and whether there will be further production cuts in the future
The threat of increasing conflict following the outbreak of violent clashes in the Libyan capital of Tripoli
Uncertainty around the potential expiration of the current coordinated petroleum release from strategic reserves in November
The potential return to an Iran nuclear deal that could lift sanctions on the country and allow Iran's crude oil exports into the market
The risk of hurricanes that could result in potential production outages and limited export traffic along the U.S. Gulf Coast
Crude oil front-month to third-month futures price spread: The front-month to third-month crude oil futures price spread (1-3 spread) is a measure of market backwardation, a market environment that encourages crude oil to flow out of inventories and into the market (Figure 2). Backwardation occurs when crude oil futures contract prices in the near term are higher than crude oil prices in the long term. In response to Russia's full-scale invasion of Ukraine in the spring, the 1-3 spread for Brent increased from an average of $1/b in January to nearly $7/b in March. Following a decline in April, it returned to near $7/b levels in July. In August, the spread narrowed to $3/b, the narrowest spread since April. The decrease in backwardation in August suggests that the market call to draw oil from inventories has decreased since midsummer, indicating market conditions that are more balanced between supply and demand than earlier this year.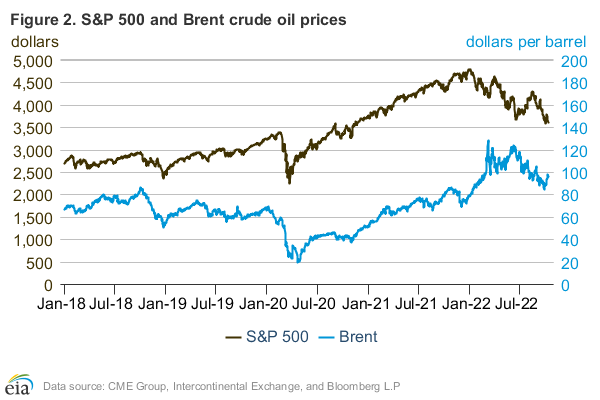 Manufacturing Purchasing Managers' Index: Regional Purchasing Managers' Indexes (PMIs) for manufacturing in July decreased in the United States, Europe, and China (Figure 3). A PMI serves as an indicator of increasing or decreasing manufacturing activities. An index rating above 50 represents growth in activity while a rating below 50 indicates a contraction. The U.S. manufacturing PMI decreased in July to 52.8, its lowest rating since June 2020, suggesting a slowing rate of growth. In Europe, the PMI value dropped to 49.8, also its lowest rating since June 2020, while the drop below 50 also suggests market contraction. The latest Europe and U.S. PMIs suggest that these conditions have continued into August, contributing to further concerns about economic conditions and petroleum demand. The low PMI signals a weakening economic environment in Europe, further exacerbated by the decreasing value of the euro, which fell to parity with the U.S. dollar in late August.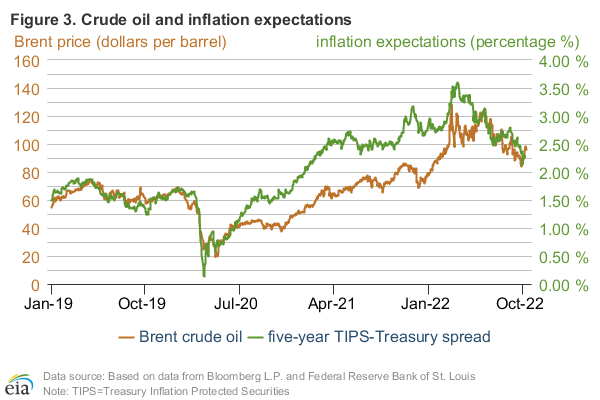 U.S. drilled but uncompleted wells and rig count: Since July 2020, the number of U.S. wells that are drilled but uncompleted (DUCs) has been decreasing and has fallen below the number in 2014 (the earliest year in our dataset) in 2022 (Figure 4). DUCs are oil and natural gas wells that have undergone their drilling phase but have not yet undergone casing, cementing, and other procedures that are necessary to establish a fully operational well. Prior to the onset of the COVID-19 pandemic, the number of DUCs had been steadily growing since 2017 in the United States, driven primarily by new production in the Permian Basin. Since July 2020, however, the number of DUCs has been decreasing at a relatively steady pace. At the same time, the Baker Hughes rotary rig count for oil producing wells has been increasing, rising above 600 rigs in July, the highest it has been since March 2020.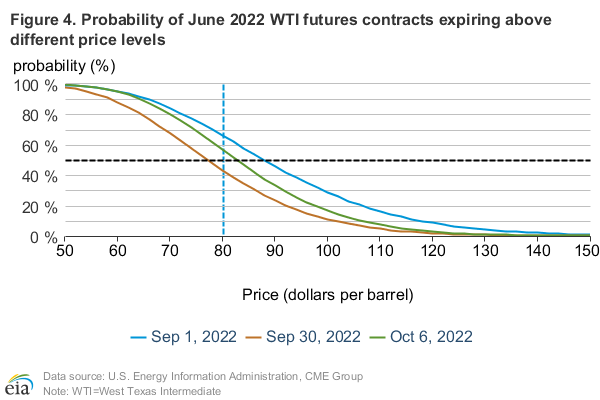 The number of DUCs serves as an indicator of the relative supply of wells that may be transitioned to operational status, and the increasing rig count reflects the higher number of wells being drilled. Growth in crude oil production in the United States since 2021 has largely consisted of completing wells from the available DUCs, while new drilling in response to high crude oil prices appears to be lagging the rate of completion. Continued U.S. production increases are likely to continue drawing on available DUCs that are viable candidates for completion at current prices. Continued increases in rig counts will contribute to more drilled wells, which could soon outpace well completions and increase the number of DUCs. However, on September 2, the latest weekly rig count indicated a decrease in 9 rigs from the previous week, down to 596, the largest week-on-week decrease since September 2021.
Our August Drilling Productivity Report showed the smallest monthly percentage decline in DUCs since July 2020. We currently forecast that U.S. crude oil production will increase to 12.2 million b/d in the fourth quarter and will rise to an average of 12.6 million b/d in 2023. This increase would constitute an annual increase of 0.5 million b/d in 2022 and an additional increase of 0.9 million b/d in 2023.