Crude Oil
Prices: The front-month futures price for Brent crude oil settled at $64.86 per barrel (b) on April 1, 2021, down from an intraday high of $71.38/b on March 8 but up from $63.69/b from March 1. The front-month futures price for West Texas Intermediate (WTI) crude oil for delivery at Cushing, Oklahoma, increased by 81 cents/b during the same period, settling at $61.45/b on April 1 (Figure 1).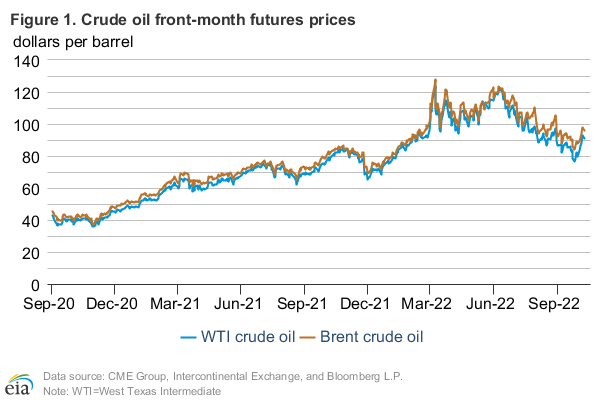 Monthly average Brent crude oil prices in March were the highest since late 2019. Crude oil prices in early March reached $70/b following OPEC+'s March 4 announcement that it was extending production limits through April. However, prices subsequently declined, which partly reflected slowing global oil demand growth as COVID-19 cases increased, notably in Europe.
On April 1, OPEC+ announced it would ease existing limits on production beginning in May. This announcement was generally consistent with EIA's assumption in last month's STEO. However, Saudi Arabia also announced they would gradually relax its voluntary 1.0 million barrel per day (b/d) cut over the May–July period. If implemented as announced, Saudi Arabia's increase would occur more slowly than we had previously assumed. We revised our forecast for second quarter 2021 OPEC crude oil production down by 0.5 million b/d from the March STEO.
With lower production from OPEC than in the March STEO, EIA expects markets will be somewhat tighter in the second quarter than previously forecast, contributing to some upward price pressures. We forecast that the Brent crude oil price will average $65/b in the second quarter, when quarterly stock draws average 1.5 million b/d. Although that rate represents a significant draw in stocks, it is down slightly from the first quarter of 2021, when we estimated stock draws averaged 2.1 million b/d.
In the second half of 2021, EIA expects global oil markets to become much more balanced, with forecast global stock draws averaging 0.2 million b/d. From the second quarter to the third quarter, our forecast for global liquid fuels production grows by 3.2 million b/d. Of this increase, 1.9 million b/d is from OPEC. Additional supply growth in the forecast comes from Brazil, Canada, and the United States. We forecast global growth in oil demand between the second and third quarters will be 1.9 million b/d.
As global stock draws moderate, EIA expects upward price pressure on crude oil to ease. The higher crude oil price forecast reflects tighter markets through the second quarter, resulting from a slower relaxation of Saudi Arabia's voluntary cuts than we had forecast. Stronger second-quarter inventory draws will leave global oil inventories during the second half of the year lower than previously expected. We forecast that the price of Brent crude oil will average $61/b in the second half of the year, which is $3/b higher than forecast in the March STEO. However, as recent increases in price volatility indicate, significant uncertainty remains both in market expectations and in our forecasts.
Crude oil and inflation expectations: The percentage difference in yields for five-year Treasury Inflation-Protected Securities (TIPS) compared with U.S. treasury bonds is often used to measure market expectations of inflation. Economic responses to the COVID-19 pandemic resulted in a dramatic decline in demand for goods, significantly reducing petroleum and other commodity prices in early 2020. Because crude oil and other commodity prices are inputs to other sectors of the economy, changes in crude oil prices can also affect inflation expectations. The TIPS-Treasury spread decreased to a monthly average of 0.7% in March 2020, reflecting low inflation expectations as a result of lower prices and economic contraction (Figure 2).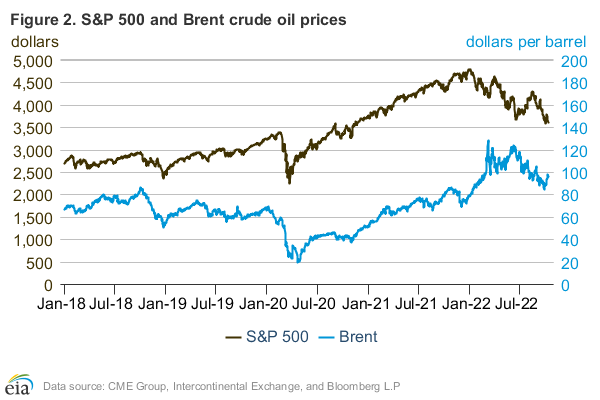 Increasing crude oil and other commodity prices over the summer of 2020 contributed to increasing inflation expectations through the end of August, and the TIPS-Treasury spread increased from 0.8% in May to 1.6% in August. Since then, however, inflation expectations have increased at a faster pace than crude oil prices. Rising prices of non-energy commodities, combined with fiscal and monetary stimulus in response to the COVID-19 pandemic increased inflation expectations more rapidly than crude oil prices over the summer. In addition, reports of supply bottlenecks for various goods may have also contributed to higher inflation expectations. By December 2020, the TIPS-Treasury spread increased to 1.9%, before increasing higher than 2% in January 2021, averaging 2.3% in February and 2.5% in March. On March 16, the TIPS-treasury spread reached its widest point since July 2008. Improved demand outlooks because of the distribution of the COVID-19 vaccine as well as continued fiscal and monetary stimulus has further contributed to rising prices across most commodities and higher inflation expectations.
WTI options open interest ratio: The put-to-call WTI open interest ratio decreased in March, suggesting a change in market expectations around future crude oil prices, and potentially hedging against future crude oil price increases. The monthly aggregate put-to-call open interest ratio for WTI crude oil options decreased in March to 0.63, down from 0.75 in February and the lowest for any month since July 2017 (Figure 3). The decrease was driven by an increase in call option open interest compared with small changes in put options from February. The total number of call option contracts increased from 0.96 million contracts in February to 1.17 million contracts in March, while the number of put option contracts increased from 0.72 million in February to 0.75 million in March.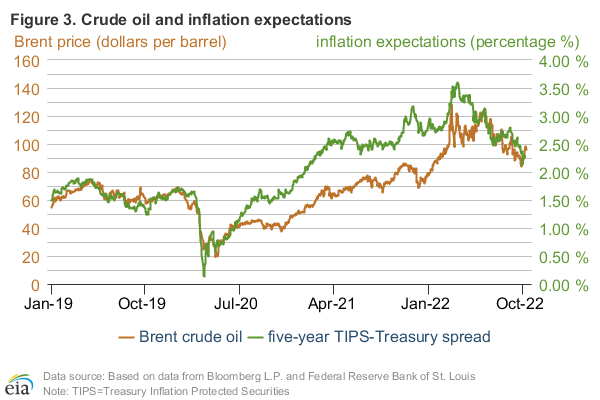 U.S. oil company debt and equity issuance: Since September 2020, debt and equity issuance has increased in all but one month, suggesting that increasing crude oil prices are encouraging U.S. crude oil producers to raise money to refinance debts, resume drilling activities, or purchase acreage. In March 2021, debt and equity issuance announcements among publicly traded independent U.S. exploration and production companies totaled $4.4 billion, the highest since August 2020 and higher than the five-year (2016–20) median of $2.4 billion (Figure 4). In addition, low interest rates have lowered the cost of issuing debt and have likely contributed to the recent growth in debt and equity issuance. The federal funds rate, which affects interest rates across the market, has been held at a target of 0.00%–0.25% since March 2020, according to the Federal Open Market Committee. In addition, the Moody's seasoned AAA corporate bond yield, which represents average bond yields for investment grade companies, averaged 2.70% in February, which is less than the 2011–20 average of 3.78%. Lastly, energy sector corporate bond yields for companies with a rating lower than investment grade are also at multi-year lows. Although primarily a result of higher crude oil prices, high capital availability for U.S. producers also supports EIA's forecast for U.S. crude oil production to increase from 10.7 million b/d in first-quarter 2021 to 12.2 million b/d by fourth-quarter 2022.