Crude Oil
Prices: The front-month futures price for North Sea Brent crude oil settled at $73.62 per barrel (b) on May 3, an increase of $5.98/b from April 2. Front-month futures prices for West Texas Intermediate (WTI) crude oil for delivery at Cushing, Oklahoma, increased by $5.42/b during the same period, settling at $68.43/b on May 3 (Figure 1). April Brent and WTI monthly average spot prices were $6.09/b higher and $3.53/b higher, respectively, than the March average spot prices.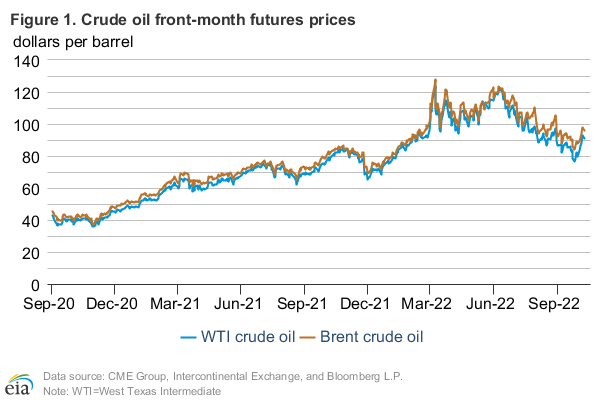 At the end of April, crude oil prices reached their highest levels since 2014, following five consecutive quarters of global oil inventory draws. Since January 2017, the beginning of the crude oil production cut agreement among certain countries within and outside the Organization of the Petroleum Exporting Countries (OPEC), global petroleum inventories have declined at an average rate of more than 0.5 million barrels per day (b/d). Excluding Libya, Nigeria, and Equatorial Guinea— countries not subject to the production reductions—OPEC countries produced an estimated 29.3 million barrels b/d in April, the lowest levels since April 2015 and 0.4 million b/d below the agreed-upon production reductions.
Oil prices may have also risen in anticipation of the potential reinstitution of sanctions on Iran, which could contribute to declines in the country's crude oil production. Uncertainty surrounding extension of the Joint Comprehensive Plan of Action (JCPOA) could contribute to increased price volatility.
Further, strong global oil demand growth has added to upward price pressures. EIA estimates that global oil consumption in the first quarter of 2018 was 1.9 million b/d (2%) higher than it was in the first quarter of 2017.
Backwardation (when near-term prices are higher than longer-dated prices) also increased in April and reached the highest levels since 2014, indicating high demand for immediate oil deliveries. The Brent and WTI 1st–13th spread increased $1.05/b and $1.50/b, respectively, from April 2 to settle at $5.66/b and $6.23/b, respectively, on May 3 (Figure 2). The increase in the backwardation of crude oil prices suggests there is an incentive for holders of oil in physical storage to sell on spot markets. STEO estimates that U.S. commercial crude oil inventories in April were 1.5% lower than the five-year average for that month, and total petroleum inventories in countries within the Organization for Economic Cooperation and Development (OECD) are estimated to have ended April slightly below the five-year average.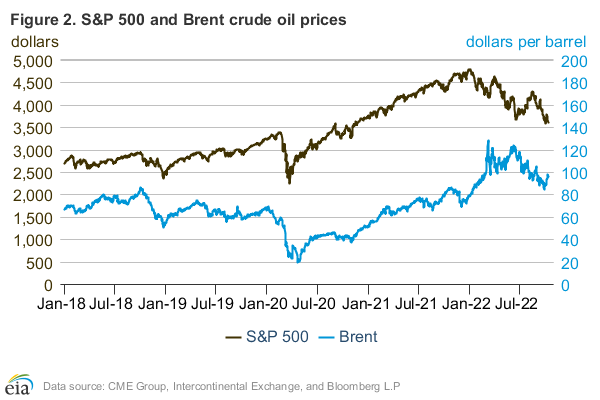 Crude oil price spreads: WTI crude oil priced in Midland, Texas, declined sharply compared with Brent in April. Pipeline constraints in the Permian region continue to contribute to lower crude oil prices there relative to other regions, as discussed in the April STEO. As production grows beyond the capacity of existing pipeline infrastructure, producers must use more expensive forms of transportation, including rail and trucks. As a result, WTI Midland price spreads widened to the largest discount to Brent since 2014. The WTI Midland differential to Brent settled at -$17.69/b on May 3, which represents a widening of $9.76/b since April 2 (Figure 3).
U.S. light, sweet crude oil priced outside of the Permian region also declined in comparison to Brent, but not to the same extent as WTI Midland crude oil. Transportation constraints are not a significant factor for crude oil priced in Cushing, Oklahoma, or on the U.S. Gulf Coast. However, more negative U.S. light, sweet crude oil differentials may suggest other constraints, including limitations in processing increasing amounts of this type of crude oil on the part of U.S. refineries. Midwest and Gulf Coast refinery inputs are at or near all-time highs for this time of year. Light Louisiana Sweet crude oil prices reached their lowest level compared with Brent prices in more than two years in late April, settling at -$1.59/b below Brent on May 3. WTI Cushing spot prices also fell relative to Brent, declining by $1.06/b from April 2 to settle at -$5.19/b on May 3. In addition to some potential refinery constraints, infrastructure at export terminals on the U.S. Gulf Coast could limit the scale of U.S. crude oil exports in the near-term. These low differentials may reflect the additional transportation costs to export light sweet crude oil to other regions such as Asia.
By mid-2019, EIA expects enough pipeline capacity will exist in the Permian region to transport crude oil to the U.S. Gulf Coast, eventually decreasing the spread between U.S. and international crude oil prices.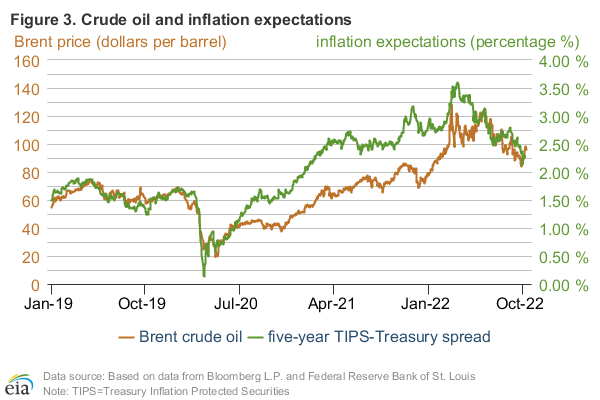 EIA is revising higher its Brent price forecast for 2018 and 2019 by $7/b and $3/b, respectively, from the April STEO. EIA projects Brent prices to remain higher than $70/b through the remainder of 2018, and then decline to $65/b by the end of 2019. Because of the increasing transportation and export constraints in the United States, EIA expects the spread between Brent and WTI to average $5/b in both 2018 and 2019. Despite these factors, WTI prices are still expected to be higher than forecasted in the April STEO.
Because of the higher price environment, EIA is increasing its U.S. crude oil production forecast for 2019 by 0.4 million b/d, compared with the April STEO. EIA now expects U.S. crude oil production to average 10.7 million b/d in 2018 and 11.9 million b/d in 2019. However, because crude oil prices in the Permian region are expected to remain significantly lower than WTI Cushing prices until mid-2019, EIA does not expect crude oil production in that region to rise as sharply as it would under a scenario with no transportation constraints.
The revised U.S. crude oil production growth forecast is the main contributor to increased global liquid fuels supply in 2018 and 2019. With increased U.S. crude oil production, EIA expects global petroleum inventories to increase by 0.6 million b/d on average in 2019, compared with the expectation of a less than 0.2 million b/d build 2018. EIA expects the higher forecast inventory growth in 2019 compared with 2018 will put downward pressure on oil prices toward the end of 2018 and into 2019.
Money manager positions: Money managers increased their net long positions in both Brent and WTI futures contracts in March and April, pushing the ratio of their long positions to short positions to the highest level since 2011, when data on Brent positions first became available (Figure 4). Combined money manager long positions increased by 41% during the past year, whereas short positions declined by 72%. Money manager net long positions tend to increase when crude oil prices increase. Other sentiment indicators include an increase in the price of call options (derivatives that increase in value when the underlying security price increases) compared with put options (derivatives which increase in value when the underlying security price decreases). Declining crude oil inventories and increased geopolitical concerns have contributed to a more bullish sentiment in crude oil markets.