Crude Oil
Prices: The front-month futures price for Brent crude oil settled at $104.65 per barrel (b) on July 7, 2022, down $11.64/b from the June 1, 2022, price of $116.29/b. The front-month futures price for West Texas Intermediate (WTI) crude oil for delivery at Cushing, Oklahoma, decreased by $12.53/b during the same period, settling at $102.73/b on July 7 (Figure 1).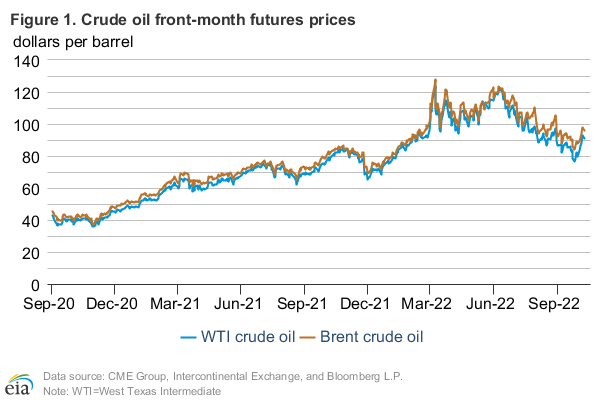 Crude oil prices decreased in early July in response to some indications of slowing economic growth. In June 2022, the United States reported its lowest manufacturing Purchasing Manager Index (PMI) since July 2020. In addition, the euro area reported its lowest PMI since August 2020, and India reported its lowest PMI since September 2021, indicating that growth in the manufacturing sector is slowing in some of the world's largest economies. The United States also reported in June that May's month-over-month inflation-adjusted personal spending decreased for the first time of the year. In addition, the Federal Reserve's interest rate increase of 75 basis points on June 15 is likely reducing expectations for economic growth and inflation, both of which could decrease the price of crude oil.
Despite these economic data, crude oil prices remain high, likely as a result of low inventories and continued uncertainty surrounding Russia's future oil supply. We estimate OECD inventories ended June at 2.7 billion barrels, 10% less than the five-year (2017–2021) average for that time of year.