Crude Oil
Prices: The front-month futures price for Brent crude oil settled at $40.93 per barrel (b) on October 1, 2020, a decrease of $4.65/b from September 1, 2020. The front-month futures price for West Texas Intermediate (WTI) crude oil for delivery at Cushing, Oklahoma, decreased by $4.04/b during the same period, settling at $38.72/b on October 1 (Figure 1).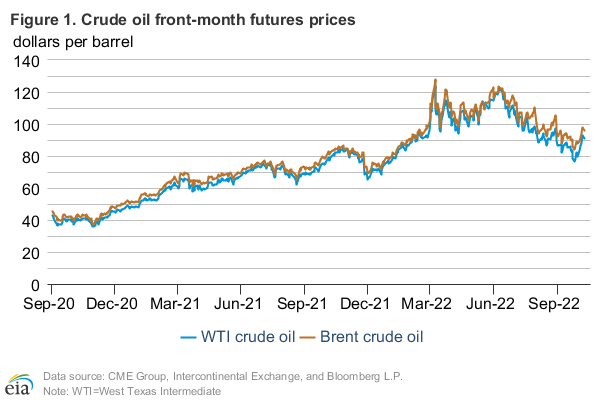 During early September's heightened volatility, Brent crude oil prices fell to less than $40/b then began to stabilize from mid-September through October 1, trading at an average level of $42/b. Some of the initial decline in prices came as a result of announcements that opposing parties in Libya had agreed to lift the export blockade that had reduced production in the country from 0.8 million b/d in January (the month before the blockade began) to less than 0.1 million b/d in August (the month before the blockade was lifted).
Because Libya is excluded from the current production agreement among members of the Organization of the Petroleum Exporting Countries and partner countries (OPEC+), an increase in crude oil production from the country could significantly affect crude oil supply and inventories in the coming months. In addition, EIA estimates the rate of global oil demand growth slowed in August and September compared with the initial recovery from June and July. June and July's global oil demand increased by 6.0 million barrels per day (b/d) and 3.1 million b/d, respectively, whereas EIA estimates August and September demand increased by 0.6 million b/d and 1.3 million b/d, respectively. Recent increases in cases of COVID-19 in some countries have led to some renewed government imposed restrictions, albeit to a much lesser extent than in March and April 2020, which could also be contributing to some downward pressure on crude oil prices.
Brent–WTI futures price spread: Three developments this year have contributed to a reduction in the Brent–WTI futures price spread, which closed at a four-month low of 48 cents/b on September 30 (Figure 2). First, the pace of crude oil production changes in the United States compared with the North Sea has likely affected the two crude oils' relative prices and contributed to a narrowing of the price spread. The significant crude oil price decline in the second quarter resulted in a faster crude oil production response from U.S. crude oil producers, who curtailed or shut in some wells to avoid financial losses. Although U.S. crude oil production has risen since the second quarter, the estimated September 2020 production level in the United States is 1.0 million b/d lower than the 2019 annual average production level of 12.2 million b/d. In contrast, EIA estimates total production in Norway and the United Kingdom—much of which is delivered or priced against Brent crude oil—was slightly higher than the 2019 annual average in September of 2020. Because North Sea production has not declined while U.S. production has declined, it is likely putting downward price pressure on Brent relative to WTI.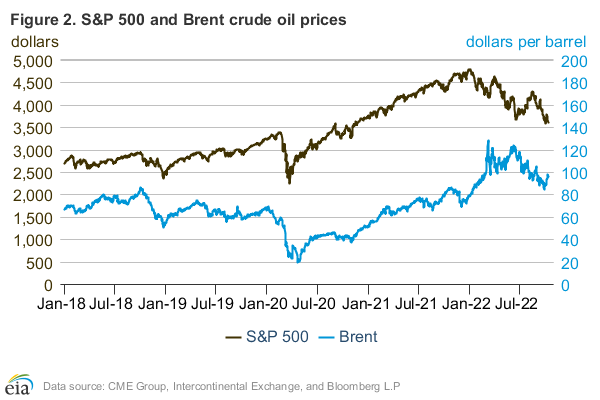 Second, the pace of global oil demand recovery from the second quarter has been slower than EIA estimated in the September STEO. A higher share of crude oil demand from importers in Asia could be met from a combination of inventories as well as rising OPEC+ production. EIA expects this trend will persist as global demand recovers into 2021, which could reduce export demand for U.S. crude oil from the most distant refining markets in Asia.
Third, crude oil export infrastructure has continued to expand along the U.S. Gulf Coast, which has improved efficiency and lowered U.S. crude oil export costs. As a result of all these developments, EIA forecasts the Brent–WTI spread will average $1.50/b in the fourth quarter of 2020 and $2.35/b in 2021, a decrease of $1.50/b and $1.65/b, respectively, from the September STEO.
Oil rigs: Oil-directed rigs in the United States increased in September from 180 rigs as of the last week in August to 183 rigs as of September 25, according to the weekly rig count from Baker Hughes (Figure 3). September marked the first monthly increase in oil-directed rigs since the 2020 high of 683 oil-directed rigs in March.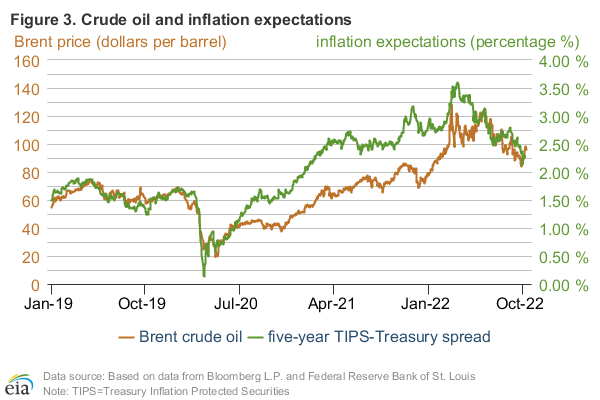 Even as rigs declined during the summer, Lower 48 states' (L48) production rose from 8.0 million b/d in May to an estimated 9.0 million b/d in the third quarter as a result of operators bringing curtailed wells back online. However, EIA forecasts L48 crude oil production will decline to an average of 8.6 million b/d in the first half of 2021. Most curtailed production has already been brought back online, and although EIA expects rig counts to increase in some of the most highly productive areas of the Permian region, the total L48 new drilling activity is not expected to generate enough production to offset declines from existing wells. Because EIA forecasts WTI prices to average at or higher than $45/b from May to December 2021, EIA assumes producers will increase drilling activity in response to the higher oil prices, and forecasts L48 production will return to an average of 8.9 million b/d in the fourth quarter of 2021.
Market-derived probabilities: The December WTI futures contract averaged $40.08/b for the five trading days ending October 1 and has a 20% probability of expiring higher than $45/b (Figure 4). The same contract for the five trading days ending September 1 had a 38% probability of expiring higher than $45/b. The probability is calculated from futures and options prices.