Crude Oil
Prices: The front-month futures price for Brent crude oil settled at $80.54 per barrel (b) on November 4, 2021, up $1.26/b from $79.28/b on October 1. The front-month futures price for West Texas Intermediate (WTI) crude oil for delivery at Cushing, Oklahoma, increased by $2.93/b during the same period, settling at $78.81/b on November 4 (Figure 1).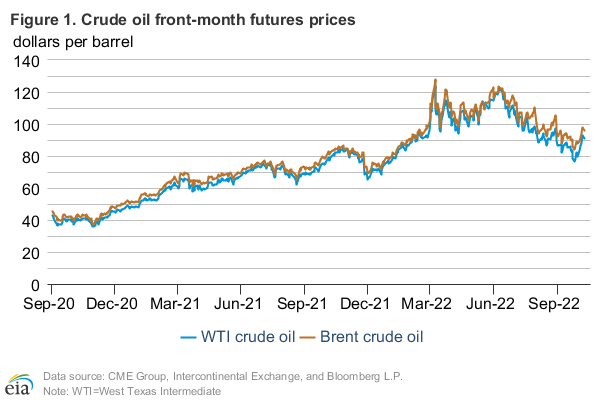 The front-month Brent crude oil price averaged $84/b in October, an increase of $9/b from September, and the WTI price averaged $81/b, an increase of $10/b from September. Without adjusting for inflation, these prices were the highest monthly average nominal prices since October 2014. Restraints on global production and expectations of higher demand this winter continue to contribute to upward price pressures. Trade press has indicated increased purchases of oil and petroleum products from electric generators in parts of Asia and Europe that may switch fuels from natural gas to oil in the winter. Furthermore, several countries, such as Thailand, Israel, Australia, and the United States, eased international border and travel restrictions in early November, which could support more fuel demand for air travel in some locations this winter.
Differences in prices between crude oil contracts for delivery in the near term compared with contracts for delivery further into the future indicate market expectations that stock draws will moderate in the future. Crude oil stock levels, among other factors, affect the relationship between near-term and longer-term futures prices. Because crude oil stocks are currently low globally and in the United States, both Brent and WTI are backwardated (when near-month prices are higher than longer-dated ones) (Figure 2).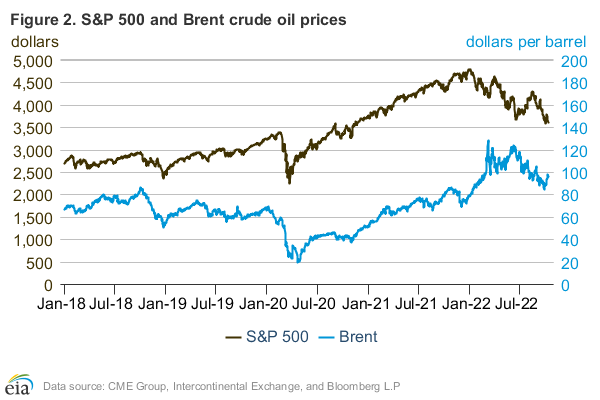 The five-day moving average of the spread between prices for the 1st month futures contract and 13th month contract for Brent increased to $9.04/b on November 4 (up from $7.05/b on October 1), and on November 2 was at its highest spread since September 13, 2013. The 1st-13th spread for WTI increased to $11.20/b on November 4 (from $6.78/b on October 1), and on November 2 was at its highest spread since September 20, 2013. We estimate total U.S. crude oil stocks ended October at 435.4 million barrels, the lowest October level since 2018 and 6.2% below the five-year (2016–2020) average for the month. Crude oil inventories are especially low in Cushing, Oklahoma, the delivery point for the WTI crude oil futures contract. In the week ending October 29, crude oil inventories in Cushing were 24.0 million barrels, meaning Cushing's storage capacity utilization was only about 31%. We forecast global stock builds starting in the spring of 2022, which likely will reduce some of the tightness in the market that may be contributing to high front-month prices.
During the past decade, similarly high levels of backwardation in Brent and WTI crude oil have typically only occurred during periods of large, unplanned supply disruptions. This year, however, the significant decline in inventories and resulting backwardation are the result of a strong increase in oil demand as well as restrained crude oil production levels among OPEC+ members. At its early October meeting—and reaffirmed at its November 4 meeting, OPEC+ committed to maintaining its scheduled crude oil production increase of 400,000 barrels per day (b/d) in December rather than increase production by more in response to high crude oil prices and increasing demand.
We estimate that world crude oil consumption has exceeded crude oil production for five consecutive quarters going back to the third quarter of 2020. During this period, total petroleum stocks among countries in the Organization for Economic Cooperation and Development (OECD) fell by 424 million barrels—from 9% above the five-year average in June 2020 to 7% below the five-year average at the end of September 2021. We forecast global crude oil demand will exceed global supply through the end of the year, contribute to some additional stocks draws, and keep the Brent crude oil price above $80/b through December. However, we forecast that global oil stocks will begin building in 2022, driven by rising production from OPEC+ and the United States, along with slowing growth in global oil demand. We expect this shift will put downward pressure on the Brent price, which averages $72/b for 2022 in our forecast.
Crude oil price spreads: The price for crude oils with high levels of sulfur declined relative to those with lower levels, as a result of both rising crude oil exports from OPEC and high natural gas prices that may be affecting the costs of certain refinery operations, among other factors. OPEC has been increasing production and exports during the second half of 2021. Crude oil production from many OPEC countries tend be a sour grade. The increase in OPEC exports has added to global supplies of sour crude oils. Additionally, sour crude oils must first be treated with hydrogen to meet low-sulfur fuel specifications and to avoid damage to refinery units. Because natural gas is used in hydrogen production, the recently high global natural gas prices have contributed to higher refinery feedstock costs, particularly in Europe and Asia. When the cost of natural gas increases, sour crude oils become more costly to run. Higher treatment costs of sour crude oil have likely made them less economic for refiners as global natural gas prices have increased, contributing to higher demand for sweeter crude (lower sulfur) oils such as Magellan East Houston (MEH) and lower demand for more sour crude oils, such as Mars.
These factors are likely reducing the price of certain grades of crude oil that require more processing to be converted to finished petroleum products. For example, Mars crude oil, which is produced in the Federal Offshore Gulf of Mexico and has a sulfur content of 1.93%, decreased in price in October relative to light sweet crude oils such as MEH and Brent, which both have sulfur contents of 0.45%. The Mars–Brent spread widened to an average of -$4.93b in October, from -$3.58/b in September. In comparison, MEH crude oil prices narrowed slightly relative to Brent in October (Figure 3).