U.S. Energy Information Administration - EIA - Independent Statistics and Analysis
Crude Oil
Prices: The front-month futures price for North Sea Brent crude oil settled at $68.07 per barrel (b) on January 4, an increase of $4.34/b since December 1. Front-month futures prices for West Texas Intermediate (WTI) crude oil for delivery at Cushing, Oklahoma, increased $3.65/b during the same period, settling at $62.01/b on January 4 (Figure 1). December Brent and WTI monthly average spot prices were $1.66/b and $1.24/b higher than the November average spot prices.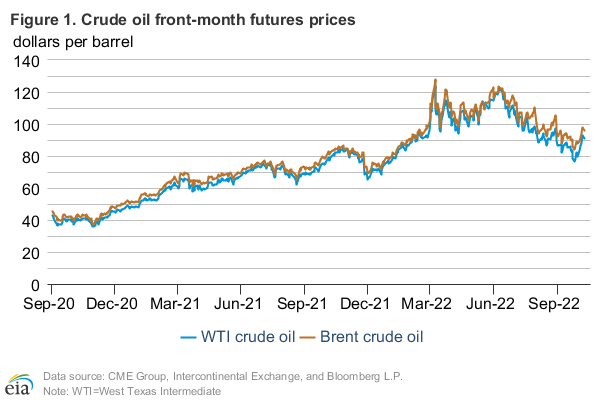 Crude oil prices reached the highest levels in more than three years during the first week in January. The rise in Brent crude oil futures prices likely reflected global oil inventory draws that were estimated to be 0.3 million barrels per day (b/d) during the fourth quarter of 2017. Prices were likely also supported by the shutdown of the Forties Pipeline in the North Sea on December 11 because of a crack in the pipeline, which remained closed through December 30. A brief pipeline outage in Libya may have also affected waterborne crude oil supplies and contributed upward price pressure.
With respect to crude oil demand, U.S. crude oil refinery inputs reached a record high for the month of December during the week ending December 29, 2017, of 17.6 million b/d. Global economic growth and leading economic indicators of manufacturing activity continue to show expansion, which could also support crude oil and petroleum product demand in the coming months.
Price Summary
2016
2017
2018

projected

2019

projected

aWest Texas Intermediate.

WTI Crude Oila


(dollars per barrel)

43.33
50.79
55.33
57.43
Brent Crude Oil


(dollars per barrel)

43.74
54.15
59.74
61.43
Global Petroleum and Other Liquids
2016
2017
2018

projected

2019

projected

aWeighted by oil consumption.
bForeign currency per U.S. dollar.

Supply & Consumption

(million barrels per day)

Non-OPEC Production
57.98
58.66
60.69
61.98
OECD Consumption
46.74
47.11
47.61
47.95
Non-OECD Consumption
50.20
51.28
52.50
53.81
Total World Consumption
96.95
98.39
100.11
101.76
Primary Assumptions

(percent change from prior year)

World Real Gross Domestic Producta
2.7
3.2
3.4
3.2
Real U.S. Dollar Exchange Rateb
2.1
-1.0
-2.0
-1.0